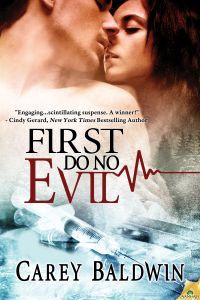 Purchase
One killer is in her blood. The other is in her house.
Blood Secrets #1
Samhain Publishing
June 2012
On Sale: June 26, 2012
Featuring: Dr. Skylar Novak; Daniel Benson
ISBN: 1609288815
EAN: 9781609288815
Kindle: B0083JWUIK
e-Book
Add to Wish List

Other Editions
Trade Size (reprint - May 2013)
There's a killer lurking in Dr. Skylar Novak's family tree: the gene for breast cancer. That's why her brilliant brother invented the Bella vaccine. But even if the miracle drug protects her from the cancer that took her mother's life, it can't save Sky from the flesh and bone evil stalking her in secret.
When the killer strikes, detective Daniel Benson finds himself in the wrong place at the right time. The bold detective manages to save Sky's life...just in time for her to return the favor. Survival leads to seduction, and Danny risks everything—his career, even his life, to keep Sky safe. But will the buried sins they uncover cost him her heart?
Danny's strong arms may hold her close, but only Sky can stop the terror that's coming next...
Warning: Contents include: One heart–melting hero—good luck getting this delicious detective out of your head. One reluctant heroine—wielding a Glock was never on her to–do list. One crazed villain—an entire flock of baa baa black sheep won't be enough to put you to sleep. And a lifesaving vaccine with one deadly side effect—murder.
Author Note
Dear Reader,
Why call this a romantic thriller? The answer is simple. If you want romance that leaves your heart sighing with satisfaction, this book has that. If you crave thrills that send you scurrying to check your locks for the third time before falling asleep, this book has those too. FIRST DO NO EVIL is absolutely a romance, but it is also a full–fledged thriller. If, like me, you love both, this story just might be for you.
Comments
33 comments posted.
Re: First Do No Evil

I do like some smexy with my suspense. I think with all the
heightened moments of tension, it's a perfect way to push
along a relationship that might have been a little slower
paced. Heightened emotions and that life of death part of a
book can really ramp up things in the bedroom at the same
time. A perfect match if you ask me.

Hey, look at that! You did!

Great topic. =) Congrats on the new release it's in my TBR
pile.
(Taryn Elliott 2:48am July 1, 2012)
I think that if the story is helped by love or sex scenes then by all means inclued it. I don't agree with adding them just to be doing so, a lot of books are helped by love scenes but I have read a couple where there were way too many of them and they didn't really help the progression of the story.
(Denise Boyd 3:01am July 1, 2012)
I agree with Denise. As long as the sex scene(s) help the progression of the stories and its characters why hold back? If the faint of heart can't handle the heat, then they should put the book down and slowly back away lest they spontaneously combust.
(Nacomy Blue 7:34am July 1, 2012)
It really depends on the story. I want to feel like the story is complete.
(Maureen Emmons 9:00am July 1, 2012)
I enjoy all levels of heat in suspense books as long as it goes with the flow.
(Colleen Conklin 1:53pm July 1, 2012)
I like the sex as long as it doesn't overshadow the romance or suspense.
(Cheryl Castings 2:11pm July 1, 2012)
I truly think this is a matter of personal preference. And for me, I like my suspense to have some level of heat to it. I will read "sweet" suspense, but it's not my favorite. And great authors, do the scenes so well, that it usually adds to the book for me. Looking forward to reading First Do No Evil.
(Rachel Kall 2:24pm July 1, 2012)
Taryn and Rachel, I have to admit I too, like the Smexy (the smart and sexy)
forms of suspense more than the sweet. But, that said, I agree it isn't
essential. Hey, look at Pride and Prejudice!
Nacomy, I love the idea of readers spontaneously combusting!
Denise, I agree about some books having too many love scenes. I hate to read
a story where sex is used as filler because and isn't much substance.
Maureen, Collen and Cheryl, you make good points. It needs to be in service
of the story. Making the story real and complete is what this is all about!
Thanks for joining the conversation!
Carey
(Carey Baldwin 2:43pm July 1, 2012)
Carey, congratulations on your debut! I so agree with you on love scenes, and
the dark and gritty 'sex' scenes too. I'm all about realism, and I feel cheated
when I work so hard in a story as a reader, rooting for the hero and heroine to
overcome all the obstacles and fall in love, only to have the bedroom door slam
shut in my face. I want to experience that love scene as if I were the heroine.
And I want to see how the hero treats the woman he's falling in love with. Good
luck with your debut.
(Lena Diaz 3:24pm July 1, 2012)
Best wishes on your debt. I like good love scenest in my suspense books. Gotta have a little romance, right?
(Pat Lieberman 3:37pm July 1, 2012)
Sizzling hot is fine with me. Really like the playfulness between male and female characters and who has the power in the relationship.
(Alyson Widen 4:16pm July 1, 2012)
I like sexy with my suspense and suspense with my sexy...bring it on...
(Linda Scarchuk 5:06pm July 1, 2012)
Me too Linda!
Right, Pat, and thanks!
Lena and Alyson, you make such good points about how the love scenes can
elucidate how the partners treat one another, and who holds the power.
Thanks!
Carey
(Carey Baldwin 5:29pm July 1, 2012)
I like smexy in my suspense. :) Nothing wrong with having some human emotions in a suspense... Makes it more emotional!
(May Pau 5:45pm July 1, 2012)
Honestly, the mystery-suspense factor is more important to me in RomSuspense books. I like some romance and I always love good character development. But I really want good suspense.
(G S Moch 8:01pm July 1, 2012)
Hotness depends on the characters and story.

I am currently reading FIRST DO NO EVIL and loving it! Congratulations on the release!
(Mary C 8:34pm July 1, 2012)
Thank you Mary Chin! I'm so glad you are enjoying the book! I love
hearing that, especially as a debut author.
(Carey Baldwin 9:45pm July 1, 2012)
Mary Pau and GS Thanks so much for commenting. Without a strong story,
the romance will fall flat. But I love chemistry between the h and h to
make the perfect blend!
(Carey Baldwin 9:47pm July 1, 2012)
If an author decides that making their story hot, that's fine with me, as long as it's tastefully done. I've read some books that were written, and when it came to the love scene, when it was described, the scene was so poorly written, that I actually burst out laughing!! The choice of words were in poor taste, I guess you could say. There isn't a real easy way of putting the act beforehand and the act itself into words, so an author has to tread carefully to keep the integrity of their book intact. I'm anxious to read your book, since my Sister suffered from Breast Cancer. The plot caught me right away, and I've always been drawn to medical suspense stories. I loved the cover as soon as I saw it. Good luck with your book and your future endeavors. I'm sure you'll do fine since you've taken the time to ask for input.
(Peggy Roberson 10:32pm July 1, 2012)
Definately, a few love/sex scenes are in order for suspense
(Sharlene Wegner 11:05pm July 1, 2012)
Sorry, for suspense & romance. I like some description, but I don't need too much detail.
(Sharlene Wegner 11:07pm July 1, 2012)
Peggy, you are so right that it is difficult to get the scenes right and not
use purple prose etc. I tried to stay true to the characters, and
sometimes that got uncomfortable with the bad guy. On another note,
my heart is with your family. I know it is in part my hope (as well as my
expectation) that we will have a REAL vaccine soon, and also my own
fears (since I lost my mom to breast cancer) that triggered me to spin
this story.
All my best,
Carey
(Carey Baldwin 12:54pm July 2, 2012)
Sharlene, Thanks for your comment. I think there are many wonderful
novels that do not contain detailed love scenes. For me, for this story, I
wanted the detail. That's why I think it's good to have level of sensuality
spelled out somewhere, so readers can choose what's right for them.
Best,
Carey
(Carey Baldwin 12:58pm July 2, 2012)
I do like for romance suspense to be sexy. Thanks for the chance to win!!
(Natasha Donohoo 2:23am July 2, 2012)
I, too, like it hot :-) - it always depends on the story, though - LOL - BUT - when it is called for - bring it!
(Felicia Ciaudelli 10:37am July 2, 2012)
Natasha and Felicia, thanks so much for your input!
Carey
(Carey Baldwin 11:05am July 2, 2012)
I think a romantic relationship adds something to a story and the sex adds to the tension in mystery and suspense. Some writers, however, let the sex overwhelm the mystery plot. The question becomes more will this love story work out than will we catch the madmen who is killing old people? The balance is key, Carey, and I haven't read your book (yet) but it seems like you have it just right. I applaud your choice.
(Connie Flynn 1:19pm July 2, 2012)
Depending on my mood, I like a little to a lot in my suspense as long as it fits with the storyline..
(Anne Muller 1:56pm July 2, 2012)
Depending upon the story, when it's right, I do think it adds something. I dislike an author that makes the romantic sex interlude too stupid or brief, that it leaves me feeling like, why bother. Detail is important as long as it doesn't get to drawn out. Most books I've read are pretty tastefully done.
(Linda Luinstra 5:21pm July 2, 2012)
Hi Connie! I'm so glad you stopped by!If you do get a chance
to read FDNE I'd love to hear your thoughts. I think it's
hard to strike that balance, and in my case, I had focused
on the plot so much that I knew I needed to fill out the
romance just a touch before the final version. Hopefully it
works!
Anne and Linda,
Thanks for your comments. I think the comments seem headed
in the direction of "be sure it enhances rather than
detracts from story".
Carey
(Carey Baldwin 5:54pm July 2, 2012)
Hi,
I like suspense to reflect real life. Now, I don't think people jump into bed half as often as they do in books, nor does it always work as well as in books, but finding another person sexually attractive and experiencing lovemaking with them is certainly part of life. It adds a pleasant sexual tension to the story or shows the gradual change of a relationship perhaps. I find that in one particular series where there is a man and a woman later in life who don't get anywhere in terms of a relationship, there is a definite feeling that the atmosphere is flat.
(Clare O'Beara 6:04am July 3, 2012)
If the story line is helped by having a sexy scene, by all means add it.
(Christine Schultz 6:37pm July 4, 2012)
I enjoy a romantic love sence but not a detailed bed scene. Nothing makes me stop buying an author's books than several sex scenes that are anywhere from 8-18 pages long. I read for the story line and I can understand a sex scene to move the story along. I threw one author's book in the trash, half-way through the book and still no plot other than how many times to get in bed. That started on page 2 withing minutes of meeting each other. By the way, it was listed as MILD on the sex scenes. It should have been in Erotica. I love romantic suspense, Christian Fiction both Suspense, Amish & just really great books
(Pat Moore 2:42pm August 1, 2012)
Registered users may leave comments.
Log in or register now!