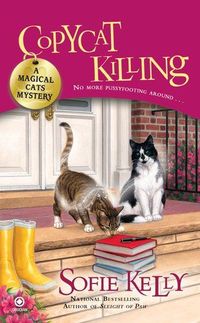 Purchase
Magical Cats #3
Signet
May 2012
On Sale: May 1, 2012
Featuring: Kathleen Paulson
336 pages
ISBN: 0451236629
EAN: 9780451236623
Kindle: B0072NWJUC
Paperback / e-Book
Add to Wish List

Everyone thinks their cats are special—but Owen and Hercules have powers that go far beyond an adorable look or an irresistible purr. Along with their owner, librarian Kathleen Paulson, they have an uncanny instinct for solving crimes...
It's been raining cats and dogs in Mayville Heights. The small town's been deluged, and now the local artists' co- op is on the verge of flooding. Kathleen has been up all night helping her friends move their creations to the safety of the upstairs studio.
The artwork survives, but when controversial mask maker Jaeger Merrill is found drowned in the co-op basement, Kathleen questions whether the death was accidental. After she discovers the artist was using an assumed name, she realizes she can't actually assume anything about him. With the help of handsome detective Marcus Gordon—and her cats' extraordinary powers of detection—it's up to Kathleen to unmask a killer.
Magical Cats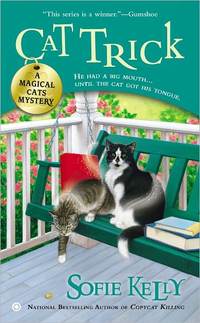 Cat Trick
#4.0
Amazon.com | BN.com | Apple Books | Kobo | Google Play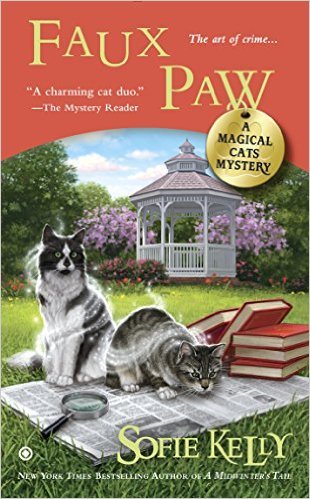 Faux Paw
#7.0
Amazon.com | BN.com | Apple Books | Kobo | Google Play
Comments
32 comments posted.
Re: Copycat Killing

Nothing more wonderful than a story that includes cats! Good for you!
Blessings,
Marjorie
(Marjorie Carmony 8:51am June 6, 2012)
Well, sort of - the actor Alex O'Loughlin ¢¾ (plays Steve McGarrett on HI - 5-0) is so gorgeous and likeable. It's a little embarassing to admit seeing that he is 30 years younger than I am. I can see your fascination with Matt Lauer, though. :)
(Karen Gervasi 8:59am June 6, 2012)
MY GUILTY PLEASURE CRUSH IS..ROBIN ROBERTS!
(Silvana Moscato 9:00am June 6, 2012)
i would love to read this book sounds so good
(Denise Smith 9:17am June 6, 2012)
my major crush right now is on Joe Manganiello who plays werewolf Alcide Herveaux on True Blood. he makes my blood boil in a good way. i've never felt this way toward a celebrity before, so it is quite embarrassing! LOL
(Angie Lilly 9:40am June 6, 2012)
Matt Lauer is a great host but Al Roker is a great side kick.
(Maureen Emmons 10:46am June 6, 2012)
No crushes, but I love to read books with animals. Have had cats in the past, now have four dogs. Book sound great.
(Sheila True 11:05am June 6, 2012)
Conan O'Brien!
(Lisa Elwood 12:38pm June 6, 2012)
Had a huge thing for Michael Ironside - still have a thing for Oliver Platt :)
(Pamela Faye Howell 12:55pm June 6, 2012)
Lots of more-than-slightly-embarrassing crushes, but none I really want to share. They're much too embarrassing!!

But, having been cat-owned, and been given one of the Magical Cat mysteries by a friend who is a librarian (I'm the daughter of TWO librarians, and a former student employee of my university's major research library - no Dewey Decimal System for me, thank you very much!), I totally know that cats are more than able to be magical, and that they love to read just as much as I do (especially if it's the book I'm trying to read as they sit on my chest blocking my view!!).

Later,

Lynn
(Lynn Rettig 2:24pm June 6, 2012)
I married my biggest crush so it's not embarrassing at all.
I love to read and win books.
(Mary Hay 2:41pm June 6, 2012)
I used to have a big crush on Johnny Depp, because he's such a talented, handsome actor. He's doesn't like to dance and will only do it, if he has to, for a movie. Love your cute cover for Copycat Killing which sounds so good!
(Linda Luinstra 3:26pm June 6, 2012)
My only crush is my husband.
(Kathleen Bianchi 3:31pm June 6, 2012)
I had a crush on a guy at college, then found out he was my boyfriend's brother
(Susan Clickner 3:34pm June 6, 2012)
Nope, I'm not the type to have celeb crushes, embarassing or not. In real life as a teen/young adult, I kept my crushes on the down low so I was never embarrassed either.
(Anne Muller 3:35pm June 6, 2012)
No current crushes! Married 50 years--one man at a time please. Love all
animals in books. Keep up the good work!
(Sandra Spilecki 3:39pm June 6, 2012)
I'm kind of a political nerd---so I have a crush on our current governor, Mark Dayton---he also has the most wonderful dogs.
(Sue Farrell 3:49pm June 6, 2012)
No crushes really. I read about an actress who had a crush on Matt Lauer but I can't remember her name. I love cats, cozy mysteries, and the library where I use the internet.

I thought I had a magical cat because he (Smudgey) kept escaping from the house and I couldn't figure out how he got out. Turns out there was a hole in the window screen and he got out even though he was a big, heavy cat (about 15 pounds). After I brought him in I watched him and I saw him go for the window.
(Michelle Fidler 4:26pm June 6, 2012)
Hello, everyone. Thanks for your warm welcome. And thank you for sharing your
crushes. My current crush has big brown eyes and has just buzzed his hair off
for summer. (He's my five year-old nephew.)
(Sofie Kelly 5:26pm June 6, 2012)
I get crushes from time to time on the characters in my books or on t.v. An example from t.v would be Richard Castle from the show Castle. I am looking forward to reading this book.
(Chelsea Knestrick 7:13pm June 6, 2012)
johnny depp, and love all animals in books!!!
(Jennifer Beck 9:04pm June 6, 2012)
I love comfy mysteries! Can't wait to read this.
(MaryAnne Banks 10:12pm June 6, 2012)
I have a crush on Robert Downey, Jr, and have had it ever since he was on Ally McBeal!! My Husband even knows this, and when I see him on tv, I melt in my chair!! Don't ask me why, but I like his acting ability, and I've overlooked his drug habit. I'm sure he had his reasons for it, and he's clean now. Everyone has a fault. He just makes acting look easy, and he's easy on the eyes. He has a sexy cockiness about him that I like, and he's welcome here any time - permanantly!! lol As for your book, I'd love to read it. I'll even swap you one of 8 kittens that are running around my apartment this very minute!! There were two strays that I befriended, and they decided that they wanted to have their babies here, so we now have 8 kittens that we have to find homes for. I should say 6, because there's 2 that I'd love to keep. Anyway, I love the cover, and being a dog and cat lover, the book has to be a keeper!!
(Peggy Roberson 10:14pm June 6, 2012)
I do like Mark Harmon as Gibbs in NCIS.
(Mary C 10:17pm June 6, 2012)
Looks really interesting!
(Rachael Whitzman 10:45pm June 6, 2012)
I thought Dean Cain was the ultimate man for many moons!
(Darci Paice 11:58pm June 6, 2012)
It's been a long time since I've had any crushes. But I DO have a crush on the writing on CASTLE and NCIS!! ;) So do fictional characters count?? Sounds like a fun book to read.
(Penny Mettert 1:36am June 7, 2012)
I have a crush on the boys on SUPERNATURAL. Tres embarrassing!!
(Mary Preston 5:25am June 7, 2012)
Well, I have had so many crushes over the years that I cannot keep track of them all, but the biggest crush I ever had was on Sly Stallone back when the first Rocky came out (I was in 8th grade at the time) - posters, posters, posters everywhere - all I needed was an altar, candles and incense and I would have been good to go.
(Felicia Ciaudelli 8:48am June 7, 2012)
When I was teenaged I had a crush on Kerr Avon, the character played by Paul Darrow in Blake's Seven, a BBC SF series. Looked at now, he wasn't a very nice person, being emotionally shut down, untrusting and a computer criminal. But he had brains and was quick-witted in a crisis (there was a crisis every week of course) and he had all the best lines.
I buy lots of books featuring animals, Carol Lea Benjamin, Susan Conant and Virginia Lanier being my favourite dog crime authors, Rita Mae Brown for cats and dogs.
(Clare O'Beara 8:54am June 7, 2012)
Another crush on Johnny Depp here,
(Shirley Nienkark 2:49pm June 9, 2012)
I have likes, but not crushes.
(Alyson Widen 4:07pm June 10, 2012)
Registered users may leave comments.
Log in or register now!