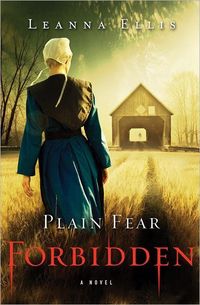 Purchase
Forbidden
Plain Fear #2
Sourcebooks Landmark
August 2012
On Sale: August 1, 2012
Featuring: Rachel Schmidt Nussbaum; Josef
432 pages
ISBN: 1402267533
EAN: 9781402267536
Kindle: B008BWAAS6
Paperback / e-Book
Add to Wish List

Rachel Schmidt Nussbaum, a young widow, is now seven and a half months pregnant with her first child. She blames herself for her husband Josef's death and she believes that she is being punished by God for her past sins.
So when a stranger arrives claiming to be an old friend from her wilder years, saying only she can fix things for him, for Josef, and for herself, she makes an impulsive decision to follow him. Thus begins a journey that will lead Rachel to the depths of ultimate danger, the potential for new love, and a battle that will decide both the fate of her soul and the life of her unborn child.
Plain Fear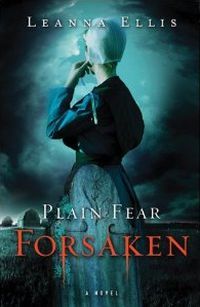 Plain Fear: Forsaken
#1.0
Amazon.com | BN.com | | |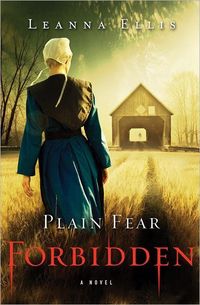 Plain Fear: Forbidden
#2.0
Amazon.com | BN.com | | |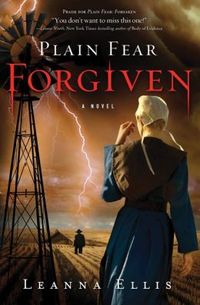 Plain Fear: Forgiven
#3.0
Amazon.com | BN.com | | |
Comments
30 comments posted.
LOVE YOUR BOOKS THEY ARE MARVELOUS. CAN'T WAIT TO READ THIS
ONE ITS SOUNDS EXCITING. LOVE TO WIN..
(Shelly Caggiano 10:20am August 31, 2012)
I think there's always room for another vampire story as long as it's well done.
(Sandy Giden 10:33am August 31, 2012)
How different!!! Vampires and the Amish, that's one book that I would to read! Good luck on the series.
(Lori Yost 10:42am August 31, 2012)
Of course there can never be too many vampires! Can't wait to
read this next book.
(Ashley C 10:49am August 31, 2012)
I think there is always room for more vampires as long as the
story is well written. I look forward to reading your book.
(William Cheney 10:54am August 31, 2012)
Each book sounds awesome!
(Nancy Gallagher 11:07am August 31, 2012)
That's an interesting angle. :) Love to read it!
(May Pau 11:10am August 31, 2012)
My interest in coffee is plain black caffeinated. My interest in books is much wider. You have a new thought. Good for you!
Blessings,
Marjorie
(Marjorie Carmony 11:15am August 31, 2012)
Vampires and Amish---what a new and strange combo---I must try.
(Sue Farrell 11:21am August 31, 2012)
I'm the same way. Like yesterday, the weather was hot and humid in L.A. I don't venture out of the office and usually stay in for lunch. But I went since I had to incentives that are influencing me to do my walking exercise during lunch. I went to McDonald's for a Mango-Pineapple smoothies. When I got back to the office, I was filling the empty space with crushed ice in my smoothie and my co-workers just told me to give it up.

I was hot and thirty. I wanted my smoothie to be as cold as possible. I told them I was going to make the ice fit into the cup no matter what.

Yeah, they got a good laugh at me.
(Kai Wong 11:55am August 31, 2012)
I think this is such an unusual style of vampire story. Am intrigued.
(G. Bisbjerg 1:06pm August 31, 2012)
This is a combination. I don't think the Amish like vampires at all.
(Kathleen Yohanna 3:07pm August 31, 2012)
The Amish are such a unique people....will have to see how this novel plays out.
(Susan Coster 4:50pm August 31, 2012)
I always love a good vampire story, and I think it's great that, in recent years, the genre has really taken off again.
(Kelli Rolvaag 5:03pm August 31, 2012)
You have a unique and unusual book, meshing vampires into your Amish story. I think it sounds great...I can't wait to read it! Love your book cover which is very beautiful and captivating!
(Linda Luinstra 5:33pm August 31, 2012)
Of course this book has to go on my TBR list!! I read all the books that have to do with the Amish. I love to read about them, and have met and spoken to them in person. I actually had a couple of them at my house, and enjoyed their company very much. They're very nice people, and for some reason I know I'm not the only person that is fascinated with them. Whether it has to do with their lifestyle, or their mannerisms, or just because they act a little different than we do, it's like they have a built in magnet that draws you to them immediately!! I'll be waiting to read this book with baited breath!! It's a wonderful cover. The artwork was tastefully done. Congratulations on your book and the great reviews!!
(Peggy Roberson 6:16pm August 31, 2012)
It looks like a fascinating story and there can never be to many vampires.
(Maureen Emmons 6:49pm August 31, 2012)
Sounds like a really good read!!! Thanks for the chance to win!
(Natasha Donohoo 6:54pm August 31, 2012)
I have never read a vampire story. So I quess an Amish one would be a good place to start.
(Kathleen Bianchi 7:00pm August 31, 2012)
i want to read this book
(Debbi Shaw 7:25pm August 31, 2012)
I've never read one of your books. I would love to win the contest, what better way to try out a new author (for me) and add them to my to-buy-list at the local indy bookstore. They order my books by a list of authors - I never can remember titles so I give them my list & they order the books as they are released for each author on the list.
(Pat Moore 7:30pm August 31, 2012)
OK...you sold me. I want to read a vampire book.
(Diane Chenier 8:08pm August 31, 2012)
I haven't read your books yet! I've been seeing this one around and it looks truly wonderful. I've got it on the wishlist. I'd love to be entered to win this one. (No, you can never have too many vampires!!)
(Martha Lawson 8:16pm August 31, 2012)
sounds like a interesting read, lets hope i win..thanks
(Kimberly Hoefs 8:50pm August 31, 2012)
I would love to read a story about Amish and vampires. Talk about from one extreme to the next. What could possibly happen here?
(Angelina Daniels-Shaw 8:52pm August 31, 2012)
What?!! Guess that's an interesting idea!
Thanks for the chance to win.
(Mary Hay 10:30pm August 31, 2012)
This book sounds very interesting. Thanks for giving me a chance to win your book.
(Linda Hall 10:57pm August 31, 2012)
it depends on whether the vampires are blood sucking mnsters, or elegant,and sexy
(Sue Hieber 11:10pm August 31, 2012)
I think the shift in thinking about modern vampires has so much to do with Twilight. Previously we had the Salem's Lot archetype and there were not really a lot of places you could go with that. The film The Lost Boys was absolutely brilliant. But Twilight brought vampires to live in society and blend among us, if with difficulty. It has to be remembered that the benign vampires are always in the minority, be it in True Blood or Twilight.
The idea of blending a vampire story with an Amish community is fascinating. There is no reason why these people should be immune to strangers hiding out and their religious life and innate goodness might be enough to deter pursuers. I'd find that a very interesting read.
(Clare O'Beara 5:59am September 1, 2012)
No, there cannot be too many - love them ;)!
(Victoria Sloboda 12:15pm September 1, 2012)
Registered users may leave comments.
Log in or register now!