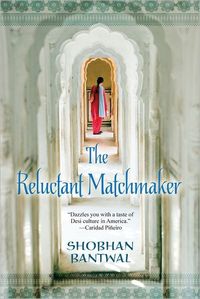 Purchase
Kensington
July 2012
On Sale: June 26, 2012
Featuring: Meena Shenoy; Prajay Nayak
352 pages
ISBN: 0758258852
EAN: 9780758258854
Kindle: B00746P0NU
Paperback / e-Book
Add to Wish List

In her thought-provoking, uplifting new novel, Shobhan Bantwal vividly blends the nuances of contemporary Indian-American culture with an unconventional romance. . .
At thirty-one, Meena Shenoy has a fulfilling career at a New Jersey high-tech firm. Not that it impresses her mother and aunts, who make dire predictions about her ticking biological clock. Men are drawn to Meena's dainty looks and she dates regularly, but hasn't met someone who really intrigues her. Someone professional, ambitious, confident, caring. Someone like her new boss, Prajay Nayak.
Just as Meena's thoughts turn to romance, Prajay makes an astonishing request. He wants her to craft a personal ad that will help him find a suitable wife: a statuesque, sophisticated Indian-American woman who will complement his striking height.
Despite her attraction to Prajay and the complications of balancing work and her "marriage consultant" role, Meena can't refuse the generous fee. And as her family is thrown into turmoil by her brother's relationship with a Muslim woman, Meena comes to surprising realizations about love, tradition, and the sacrifices she will--and won't--make for the sake of both.
Videos
Comments
32 comments posted.
I think its great. My hubby is 6'2and im 5'1. It never stopped us. I would
love to read your book.
(Kim Cornwell 5:00pm July 8, 2012)
I cannot believe so something as superficial as height would have an
impact on the success of a relationship. It really depends on the attitude of
the individual's involved I guess.
(Liesl Lane 3:44am July 10, 2012)
my father in-law is 6`2 and my daughter is 13 she is as tall as me so i do know a little about this my husband is 6`0. i dont think it depends on height either it is who the person is inside that makes up how the relationship will be. the book looks very interesting im excited to get a copy of it i hope im one of them thanks
(Denise Smith 6:48am July 10, 2012)
This book sounds very interesting to me. Is it out as an audio book? I love listening to books while I work. I see couples that one is so much taller than the other and wonder how they work things out. I believe it is the heart that matters not the physical attributes and if the heart loves enough they can ovecome any obstacle in their path! I am a romantic at heart and always will be!
(Teresa Sullivan 11:14am July 10, 2012)
I had a really tall boyfriend once. It just did not work out between us. I think the difference in our heights was just a very, very small reason for us not staying together. The main reason we did not click was that our thoughts and beliefs were astronomically different.
(Sandy Fielder 12:04pm July 10, 2012)
I was in a relationship with someone who was quite a bit taller than I was. Although I was teased about it constantly, eventually the teasing died down. Eventually, so did the relationship. Don't get me wrong. He was a really nice guy and all, but I found out in time that we just didn't have enough in common to have a long-term relationship. He seemed to be more attached to his Mother than he was to me. In fact, he was more attached to his Father and the rest of his family. It's a long story, but when you hit your 20's, you should start being an adult, don't you think?? Your book sounds interesting, and I would love to read it. I'm sure it would bring back some memories, both good and bad. I love the cover, too!!
(Peggy Roberson 12:28pm July 10, 2012)
I know a couple where the man is a foot taller than the woman and it seems like he is extra protective of her because of this. It is actually very sweet to see.
(Susan Atkins 1:48pm July 10, 2012)
My husband (6') and I (5'6") are a good match height-wise. I've often wondered about couples with great disparity in height, it can make physical intimacy a little more challenging. But I'm sure if the couple are compatible in other ways, they can work around it.
(Monica Vargo 1:58pm July 10, 2012)
sounds like an interesting idea
(Debbi Shaw 2:33pm July 10, 2012)
Personally I'm short (five feet one or two) and I think it's weird when a guy's really tall (like 6'4") and then you have to crane your neck to look up at him. I guess it's a bit intimidating when someone is a whole lot taller than you.
(Michelle Fidler 3:37pm July 10, 2012)
I'm 5'0 and have dated several guys over 6 feet. The height difference has never really bothered me.
(Pam Howell 3:49pm July 10, 2012)
It's interesting to see it from this perspective. I have several friends and have read many books where the heroine is tall and has a hard time finding a man to meet them head to head. They say they never get treated with any chivalry that people always expect them to be independent.
(Lisa Elwood 4:10pm July 10, 2012)
Like Sandra above, I was involved with someone considerably taller than (5'5" and 6'7", respectively), which also didn't work out because of differing thoughts and beliefs.

However, the height differential didn't have anything to do with the breakup. Remember, when horizontal, everyone is the same (or very close to the same) height! The taller of the pair will have to make some adjustments, but otherwise, it works.

Also, my parents were a foot apart in height, and they lasted for 57 years, until the death of my mother.

Later,

Lynn
(Lynn Rettig 4:10pm July 10, 2012)
I always date tall men!! I'm 5' and I like my man to be at
least 5'9"-6'5" :)
(Ashley Applebee 4:11pm July 10, 2012)
How creative to request a date by height. I know that relationships can get around fine without throwing a difference in height in the situation.
(Alyson Widen 4:21pm July 10, 2012)
I remember a couple from my teenage years that were total opposites---she was short and skinny, he was very tall and quite husky. They thrived on the difference.
(Sue Farrell 4:26pm July 10, 2012)
My hubby is almost a foot taller than I am. No big deal. My daughter is
shorter than I am but my 2 sons are tall like their Dad. I kind of like it.
Feel very protected because of it. My boys watch out for me, reach things
on the top shelf, etc.
(Vicki Hancock 4:39pm July 10, 2012)
My parents were almost a foot apart in height (my dad was 6'1" and my mother 5'2"). The only time height was an issue that I remember, was when my mother drove her car. She always needed a pillow to sit on in order to see over the steering wheel. Height never had any effect on their relationship and they were married almost 50 years, until the death of my dad.
(Linda Luinstra 4:40pm July 10, 2012)
Height really doesn't matter in a relationship...all that matters is their personalities
(Bonnie Capuano 7:14pm July 10, 2012)
My husband was 6 ft. 1 in. when I married him and I was 5 ft. 3 in. Height did not matter. I told him it made it perfect for kissing to reach up to kiss him. I remember my gym teacher in Jr. High was 4 ft. 11 in. and married a much taller man. She said she had to step up on a block to be able to kiss him but she loved him and that was all that mattered. So it does not reflect the relationship. My husband and I have been married 33 years now.
(Jane Squires 7:18pm July 10, 2012)
Thanks to all of you who posted such insightful comments and your own experiences. I totally agree with many of you who said it's silly to get hung up on physical differences in a relationship. I feel the same way myself. However, I've come across some people who are so obsessed with looks and physical compatibility that I thought it would make a good plot for a fun romance. After all, it's everyday life that sparks some great book ideas, right? Happy Reading & Good Karma to all of you!
(Shobhan Bantwal 7:24pm July 10, 2012)
This sounds like an interesting book...but I think it's a bit
silly to worry about such things. There's plenty of more
important things to consider in a relationship.
(Mary Hay 7:44pm July 10, 2012)
I am 5'2" and I always seemed to be asked out by guys over 6' tall. I think they got a charge out of towering over me. I ended up marrying a fellow 5' 5" and it is great. No cricks in the neck.
(Gladys Paradowski 8:47pm July 10, 2012)
I once dated a man a full foot taller than I am. It didn't bother either of us. I ended up marrying a man shorter than I am. I have had people ask me point blank if it makes us uncomfortable. What? On our wedding day I wore heels and a tall headpiece. It has never bothered us!
(Jennifer Beyer 8:50pm July 10, 2012)
I used to have a teacher and she 4'9" while her husband was
6'5". It was really interesting to watch her walk down the
high school hallways. She was so short that even when she wore
heals she was way shorter than the vast majority of the
students. This looks like a great read!
(Melanie Isaac 11:53pm July 10, 2012)
Difference in height has never been an issue for me.
(Mary C 12:17pm July 11, 2012)
I am taller than my husband and this is sometimes a problem. I cannot wear heals.
(Kathleen Yohanna 2:47am July 11, 2012)
My man & I are both on the short side, so that works. It must be a bit awkward when the height is greatly different.
(Mary Preston 6:08am July 11, 2012)
Well as an extreme, a case here shown in the bio film of the book Frankie Starlight, showed a boy who grew to 'little people' height because of a dwarfism gene who married a girl of normal height.
(Clare O'Beara 6:44am July 11, 2012)
My dad is a foot taller than my mom. He always gets things down from the top shelf for her. The Reluctant Matchmaker is on my to be read list, it sounds wonderful!
(Yuka Liew 3:20pm July 11, 2012)
It's been great reading your remarks and learning about some of your personal experiences. I appreciate your taking time to read my blog and posting your comments. Happy Summer Reading to all of you!
(Shobhan Bantwal 10:23am July 12, 2012)
My grandmother was about 4'11". My grandfather was around 6'4". Her head barely came above his belt. He could hold his arms out & she could walk right under without even touching his sleeve. No the marriage didn't work out but not due to the height difference. He never liked tall women. So height shouldn't be a diff. My girlfriend was taller than her husband, my aunt taller than my uncle - they had wonderful marriages that lasted until death.
(Pat Moore 2:34pm August 1, 2012)
Registered users may leave comments.
Log in or register now!