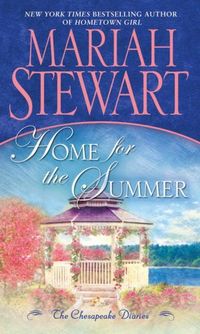 Purchase
Chesapeake Diaries
Ballantine
June 2012
On Sale: May 29, 2012
Featuring: Clay Madison; Lucy Sinclair
352 pages
ISBN: 0345531221
EAN: 9780345531223
Kindle: B005O1BYNW
Paperback / e-Book
Add to Wish List

ome of Lucy Sinclair's best days were those spent growing up in small town St. Dennis—working at the family inn and enjoying summers filled with swimming, sailing, tennis, and the company of Clay Madison, her best friend. But Lucy's darkest day, the one that shattered her innocence with violence and fear, also happened in St. Dennis. And the town she once loved became the place she gladly left behind—along with the terrible secret she's kept for twenty years.
While Lucy headed off for college and a career, Clay remained—more than satisfied with the life St. Dennis had to offer. But now, even after inheriting his family's thriving farm and starting up an organic brewery, he can't help feeling that something's missing. And when Lucy comes back to town to plan a celebrity wedding at the Sinclair family inn, she and Clay reconnect, and find themselves reevaluating their long–sleeping friendship that could blossom into something deeper.
Like a bookend to those distant childhood days, this summer will be Lucy's chance to finally confront her hidden pain, make peace with the past, and plan her own whole new future.
Chesapeake Diaries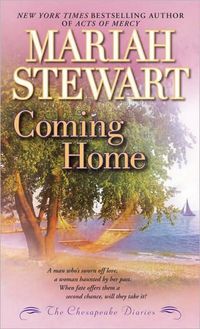 Coming Home
#1.0
Amazon.com | BN.com | Apple Books | Kobo | Google Play

Home Again
#2.0
Amazon.com | BN.com | Apple Books | Kobo | Google Play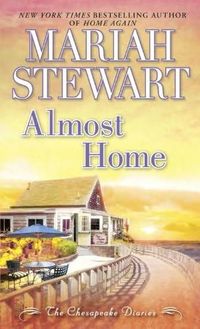 Almost Home
#3.0
Amazon.com | BN.com | Apple Books | Kobo | Google Play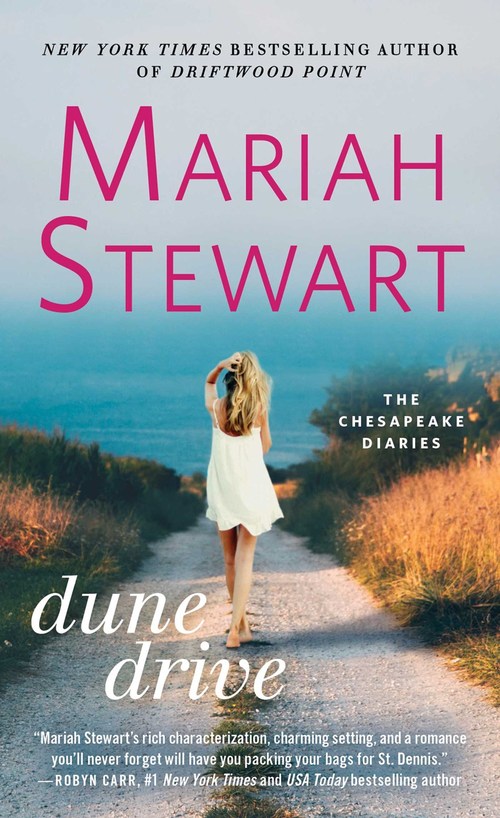 Dune Drive
#12.0
Amazon.com | BN.com | Apple Books | Kobo | Google Play
Comments
47 comments posted.
Home for the summer for me was at my cousin Kitty's house. It was wonderful. A nice green neighborhood full of big trees. We would go bicycle riding,play monopoly and life with all the other kids. We swam in the girl across the street's pool. It was a glorious time. Nothing bad happened. I just grew up. Moved away and got married.
(Kathleen Bianchi 1:19pm June 4, 2012)
Went to the beach summers and had barbeques in my family's back yard.
(Pat Lieberman 1:27pm June 4, 2012)
I spent my summers swimming and playing with my friends in the neighborhood and, of course, reading since my mother always signed us up or the library's summer reading program.
(Maureen Emmons 1:31pm June 4, 2012)
Taking a ride on our boat, packing a picnic lunch, dropping anchor near the beach and having a swim.
(Helen Livermore 1:40pm June 4, 2012)
i had surgury this morning and i just got onto fresh fiction and saw your book and would love to win this. i will have plenty of time to read and i would enjoy reading this sounds wonderful
(Denise Smith 2:00pm June 4, 2012)
Summers for me had plenty of pool time... hanging out with friends and playing ball in the street... then for a few years it was camp and alot of different activities... my family always went on vacation right before school began... we would go to the beach for a week.
(Colleen Conklin 3:35pm June 4, 2012)
Seems like a perfect book for summer! I remember summers spent by the pool, hanging out with friends, and vacations with the family. Now I'm home with kids of my own trying to create a meaningful break! Would love to read your book, thanks!
(Monica Tillery 4:10pm June 4, 2012)
I spent a lot of the summers staying with my girlfriend and her father was a lock keeper so she lived near the river so we spent time on the little beach there and went swimming in the river. My sister still lives where I grew up so I visit quite often. Love small town stories.
(Gail Hurt 5:19pm June 4, 2012)
Babysitting to earn money for school clothes!
(Darci Paice 6:01pm June 4, 2012)
I spent my summers sewing clothing with my babysitting money and money I earned picking strawberries on a farm. I enjoyed playing softball with neighbor friends and biking. I played board games with friends while playing my 45's on a record player. Loved reading books and still do. HOME FOR THE SUMMER sounds great--I know I'd love to read it!
(Linda Luinstra 6:32pm June 4, 2012)
Home for the summer---for several years when I was a kid we lived in Alaska and home for the summer meant that we came back to the states for a couple months.
(Sue Farrell 6:35pm June 4, 2012)
Being the oldest of eight kids, summer was just a time for staying outside from morning to night. Thanks
(Sheila True 6:39pm June 4, 2012)
We spent our summers on picnics and camping and telling scary ghost stories around the campfire.
(Alyson Widen 6:40pm June 4, 2012)
Are family spent our summers camping and fishing. I will always will remember these times. Thank you for giving me a chance to win your book.
(Linda Hall 6:50pm June 4, 2012)
I spent most of my summers away at camp. The summers I did not go away we went to the Jersey shore for a couple of weeks.
(Shirley Younger 6:51pm June 4, 2012)
I love to remember my days at the creek when I was a child.
(Lisa Garrett 6:57pm June 4, 2012)
We always went to visit my Grandmother in West Virginia. How I loved to wade in the creek and eat such good food cooked over an open fire. My folks are gone so summers are spent here on our farm. That is wonderful as well.
Blessings,
Marjorie
(Marjorie Carmony 6:59pm June 4, 2012)
I spent a lot of time fishing, hiking, exploring and camping with my brothers and friends. Enjoyed reading comic books. Love the memories of those days! Hope to win your book.
(Rich Cook 6:59pm June 4, 2012)
We would take a trip or I would go camping with relatives for a week than I spent the rest of summer at the beach and hanging out with my friends.
(Cheryl Lynne 7:12pm June 4, 2012)
Home for the summer meant having the time to read all the
books I wanted
(Mary Primorac 7:23pm June 4, 2012)
"Home for the summer" for me actually meant leaving my home and going off to music camp for 2 months or so during my HS years. A few years later, whilst in college, it meant going off for 2 weeks to a month or so in Europe for - you guessed it - a chamber music workshop and some general traveling.

And now? Well, it means hanging out with friends, both in person and on-line, and wishing I could get back to Europe again!!

Later,

Lynn
(Lynn Rettig 7:26pm June 4, 2012)
Spend time with friends, vacation with family, and read
books
(Jan D 7:30pm June 4, 2012)
Lookes like a grest book to read this summer.
(Kiki Winn 7:31pm June 4, 2012)
A week at the beach for family vacation, two weeks each at both sets of
Grandparents, summer camp, swim lessons and playing outside -- of course,
that was all before adding in band camp!
(Shannon Scott 7:38pm June 4, 2012)
When we were kids, my grandmother's house was the meeting place for all the cousins in the family. My cousin would always say, "Aunt Sue will take us to the zoo." He loved to tease the raccoons. He would get some cotton candy and feed it to the raccoons who always wash what they eat. The cotton candy would disappear in the water, and the poor little raccoon would just get so angry! That was the same cousin that would pull a feather OUT of a bird if he thought it was pretty....or try and take an egg home one of the birds had laid.
We all had so much fun together! Sleeping at grandma's house was such fun! We would all bunk up together and talk until we just could no longer keep our eyes open.
Grandma would go to the Farmer's Market and buy the double yolk eggs and make a cake that would be so yummy you felt like you were in heaven. And sitting at the "kids table" was such a blast! We had much more fun without the grownups!
(Sandy Fielder 7:44pm June 4, 2012)
Sometimes we went to the beach, a park, or the zoo. One time we had a picnic at the park across from the zoo. Oh, but the best thing was going to the Ohio State Fair in August. It's a great fair. I love it.
(Michelle Fidler 8:18pm June 4, 2012)
As a kid I spent my summers camping and riding my bike...and I still live in the same town lol
(Holly Sines 8:26pm June 4, 2012)
Every summer the whole family went to the beach for a week. Then we would usually try to do something else. Sometimes visit family, go to Disney, check out historical sites etc.
(Jennifer Beyer 8:32pm June 4, 2012)
We used to be out all day long. And our neighbors had a pool
we go to use. Then our family would take a driving/camping
vacation usually hitting historical sights. Still live in my
hometown.
(Diane Sallans 9:01pm June 4, 2012)
we swam in any body of water we could find that was deep enough--stayed up all night to read
(Audra Holtwick 9:02pm June 4, 2012)
Because my Dad worked so much, I did what most kids did during the summer. I rode my bike around the neighborhood, played with my friends, went to the library, rollerskated with my friends, played basketball, played baaseball on a church team, helped my Mom around the house, and went Downtown with my Mom and Sisters once a month to a special theater to see a movie, then go to lunch. My Mom was also active with us, and we played games in the house, as well as playing with our Barbie dolls. I'd say it was a pretty full childhood. All of it wasn't fun and games, nor was it all pleasant, but it had its' good times. I would love to read your book, for I could relate to the story in a weird sort of way. I now live about 100 miles from home, and don't go back unless it's necessary.
(Peggy Roberson 9:12pm June 4, 2012)
My summers were spent working on the farm. That was many years ago. Now that I'm retired, I spend my time doing things like reading, craft work, etc.
(Wilma Frana 9:18pm June 4, 2012)
When I was a kid summers were first spent traveling to
grandparents, then we moved to England and summers and any
holidays were spent traveling through England and Europe
(Alisha Woods 10:16pm June 4, 2012)
Summer meant playing softball and visiting family in Ft Wayne, IN. Oh,
yes, there was chasing lightning bugs but also frogs!
(Kelli Jo Calvert 10:25pm June 4, 2012)
we spent it in summer school or work depend on the mood my mom was in the oldest of 5 chose work and summer school when it was over dad say go campoing to the trailer for up to 2 week and t hen go to auction all most every day
(Desiree Reilly 10:40pm June 4, 2012)
We had umpteen youngsters in our small neighborhood when I was growing up and we thought of all sorts of things to do..from climbing trees to planning picnics. When I went away to college it was great to come home, see my family, go places with my high school chums, even date a few of my high school classmates. I enjoyed college, but I loved my hometown, too.
(Gladys Paradowski 11:34pm June 4, 2012)
When I was less than 9, I usually spent the summer with my younger brother and friends from our street, playing in our or some other child's yard. Starting when I was 9, I usually went to summer camp or for car trips to National parks or to visit friends farther away, like our first trip from Winnipeg to Yellowstone and Grand Teton Parks. When I was home during the holidays as of age 13, we had a large yard and a river to play in--though I preferred to read instead of walk on the sticks and stones in the river.
(Sigrun Schulz 11:46pm June 4, 2012)
With our large family, big vacations were few. My
summer with an aunt when I was 8/9 was interrupted by
WWII, rather, my uncle leaving for the S. Pacific! Then
there was the week spent on the beach at Corpus Christi,
TX which resulted in a terrible sunburn. My favorite
summer activity was the weekly trips to the library with
each of us coming home with arms full of books! As for
coming back home, there was no such occurrence since I
never left! I've resided in Houston everyone of my 75
years.
(Patricia Cochran 1:17am June 5, 2012)
Summer often meant Girl Guide camp.... family holidays abroad were not common at the time and very costly, before cheap flights. So I went to Wales, England and Switzerland with the Girl Guides before I left my country with my family.
(Clare O'Beara 6:04am June 5, 2012)
Summers were spent with family on large family vacations, usually to the beach or going camping in the mountains. My family is all gone now execpt for a sister and we spend lots
of time together! We both enjoy reading and sharing books together!
(Ann Thaxton 8:41am June 5, 2012)
Home for the summer was time at the lake and friends.. Swimming, boating, sking.. Wonderful memories!
(Cate Sparks 10:37am June 5, 2012)
We spent summers playing with friends and taking lots of lessons--swimming, tennis, and bowling, especially!
(G S Moch 1:20pm June 5, 2012)
We spent summers going to the beach with my parents and grandparents and going to ballgames.
(Karen Triolo 1:58pm June 5, 2012)
Neighborhood bike rides, biking picnics, family clambakes, beach going,
planting small gardens, baseball, lawn mowing, puzzle making and reading and
making clothes for the next school year--only partial activities of our summer at
home.
(Sandra Spilecki 2:44pm June 5, 2012)
We were just home. Lightning bugs, mud puddles, lots of reading, climbing trees, riding bikes (be home by the noon whistle), going to one of the grandparents every Sunday, spending the night with cousins...just long lazy days. When I look back I wonder why the summer was so long then and so short now. :) My own kids summers were spent a lot the same except for the added attraction of spending weekends at the lake cottage. I don't know how I would get my summers or theirs back, the town has changed too much.
(Penny Mettert 2:08am June 6, 2012)
I do remember by childhood summers fondly. Our family always had picnics and sometimes if were lucky babrbecues. We liked to visit the parks and lounge there for most of the day and that was when we weren't hiking or exploring the local lakes. Outdoors were so much fun in the summers.
(Na S 2:54pm June 6, 2012)
Mariah, I love your books and have read most of them. Anyone that hasn't tried your books then I highly recommend them. They are suspense, there's romance and always a great story. Keep the good books coming.
(Pat Moore 2:49pm August 1, 2012)
Registered users may leave comments.
Log in or register now!