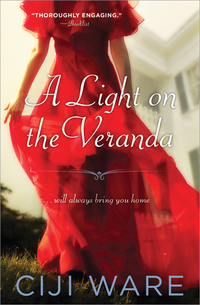 Purchase
A Light On The Veranda
Ciji Ware
Sourcebooks Landmark
March 2012
On Sale: March 1, 2012
ISBN: 1402222734
EAN: 9781402222733
Kindle: B007GCCAP8
Trade Size / e-Book
Add to Wish List

Contemporary | Women's Fiction
A secret may hold for a hundred years... and then it's time for the past to take revenge
Daphne Duvallon vowed never to return to the South years ago when she left her philandering fiance at the altar. Now family has called her back to Natchez, Mississippi, a city as mysterious and compelling as the ghostly voices that haunt her dreams.
From a time when the oldest settlement on the Mississippi was in its heyday and vast fortunes were made and lost, Daphne begins to uncover the secrets of an ancestor whose fate is somehow linked with her own. In a compelling and mesmerizing tale, now Daphne must right the wrongs of the past, or follow the same path into tragedy...
Comments
38 comments posted.
I like your description and pictures of Natchez, Mississippi. Years ago, a lovely lady said we learn much from each book, regardless of the type. I have taken journeys to many places through the books I've read and appreciate the accuracy in the description.
(Anna Speed 1:14pm March 30, 2012)
Thank you for your fantastic descriptions - and yes, the settings are also characters - DEFINITELY. I am an armchair traveller and books are my means of going to places I would never otherwise see.
(Felicia Ciaudelli 1:27pm March 30, 2012)
The character of the place is an often used phrase. I think a good description of a setting sets the story and gives the reader some insight to the main characters.
(Pat Freely 1:38pm March 30, 2012)
I definitely think the setting is a "character" because
that shapes and changes us thru our lifetime. Books that take place somewhere I have been (like New Orleans) add another level to the enjoyment, as long as they are accurate.

Your book sounds like a good read. Thank you for having the drawing.
(Linda Howell 1:58pm March 30, 2012)
The setting is very important to me---I even look for books set in certain places---like New Orlearns or here in my home state of Minnesota.
(Sue Farrell 2:16pm March 30, 2012)
Setting is definitely a character. Your book Cottage by the Sea (one of my favorite all time reads) is a good example of that. I felt like I was There!!
(Karen Gervasi 2:21pm March 30, 2012)
I agree that the setting is a major player in any story. I, like many other readers, read in order "to go" to other places to visit and meet new people. Therefore, I must be able to easily "see" this new place I am visiting and get to know it well. This will only happen if the author makes the setting "come alive" to the reader. Your book sounds fantastic! I am hoping that I will be the Lucky winner so I can "visit" this magical, mysterious place called "Natchez". Although I will wish everyone luck in your contest, I still will hope that I will win. Thank you for having this contest for us. Have a wonderful day!!
Cheri
(Cheri Minott 3:02pm March 30, 2012)
I, too, travel through reading. I love to visit many
different places in stories but really like them to be real.
(Mary Hay 3:09pm March 30, 2012)
The setting gets the imagination going.
(MaryEllen Hanneman 3:12pm March 30, 2012)
Your book sounds really good. The places where the characters are from
couldn't be more different. It will be interesting to read how they mesh together.
(Joy Isley 3:43pm March 30, 2012)
Thanks for the fantastic post! I love the premise of this new
book!
(Erin Fender 3:58pm March 30, 2012)
I've always wanted to travel along the Mississippi - looks
like a great setting for a story.
(Diane Sallans 4:51pm March 30, 2012)
The setting can be a "character in a book.
(Cheryl McEwen 5:08pm March 30, 2012)
I love ghost stories. Hopefully this is one!
(Molly Wilsbacher 5:29pm March 30, 2012)
The setting gives the foundation and is a "character". It is even more interesting when authors, such as yourself, take the time to explore and do the research for their books to take us on a more fascinating, descriptive and captivating journey with some factual history of actual places and/or events thrown in.
(Linda Luinstra 5:44pm March 30, 2012)
This story sounds great as I really enjoy a good ghost story. The pictures are very good and gives a little insight to Natchez. We can all learn through books because of authors that give us accurate descriptions to arrive at their setting and premise for an intriguing story.
(Rich Cook 5:53pm March 30, 2012)
Of course the setting is a charactor in the story!! Most stories couldn't be written without a setting, so if you don't consider it a charactor, then the story, at least to me, really isn't worth reading!!

And now, with the chance of winning a book that showcases three parts of my life (classical music [I'm a violist], photography [I'm also a B&W film photographer], and Mississippi [my mother was from Gulfport, and I had cousins from Natchez!]), it's even more of a charactor!

Later,

Lynn
(Lynn Rettig 6:00pm March 30, 2012)
ooh, Natchez sounds lovely! I've never managed to go there ... yet! I imagine it makes a wonderful setting for your book!
(Joanne Schultz 6:11pm March 30, 2012)
Sounds like a great story.
(Kiki Winn 7:22pm March 30, 2012)
Hi Ciji Ware, :)
Thanks so much for all the great work that you do!
(Donna Long 8:31pm March 30, 2012)
There are certainly times that I want a bare bones story. Usually, I want details, history and setting to help me form a picture in my mind.
(Jennifer Beyer 8:42pm March 30, 2012)
I fully agree that the background and other details are very much inportant to the story. Sex scenes with no "filler" are boring.
(Marilyn Nowlin 9:34pm March 30, 2012)
When you travel to cities in the South, they seem to drip of History, as well as love. What better setting for a book than Natchez. When you take the History, the people, the Heritage, and the backdrop, the entire city oozes romance!! Pardon the expression, but I am chomping at the bit to read this book. I know it will take me away to a wonderful world, if only for a while, but it will be well worth it!! Thank you for being our expert travel agent!!
(Peggy Roberson 9:43pm March 30, 2012)
The setting is another element to the story.
(Mary C 10:19pm March 30, 2012)
I love seeing a place or things through the character's eyes... visiting so many places through the pages of a book... enjoying locales that I never seen...
(Colleen Conklin 11:09pm March 30, 2012)
i love this book i hope i win
(Denise Smith 11:39pm March 30, 2012)
Informative post, I enjoy learning the history behind the story and I enjoy learning the setting.
(Lisa Kendall 11:43pm March 30, 2012)
The setting in a book helps the reader to build a better understanding of character. Is it character, no, it is a part of the characters.
(Diane Chenier 11:49pm March 30, 2012)
I love stories set in the old south ,they have so much history. I also love ghost stories. Thanks for giving me a chance to win your book.
(Linda Hall 11:59pm March 30, 2012)
What a fascinating post thank you.
(Mary Preston 5:20am March 31, 2012)
I enjoyed reading this, I bet the book is really good.
(Debbie Penny 6:43am March 31, 2012)
Oh definitely the setting is a character in it's self. Without the proper setting for the characters and a good description to enable the readers to SEE. It's like saying "they were in a town"...ok, where? How large? Historical? Points of interest? What's there, why are they there, this Town needs to be described or your reader has lost an important part of the story. I'm not sure if that was a good way to put it but, Yes the setting is a very important 'character'. Thanks
(Margie Gagarin 9:40am March 31, 2012)
Sounds like a very good book, thans for the chance to win!
(Natasha Donohoo 3:04pm March 31, 2012)
Setting gives the structure on which the scenes play our. It helps set the history in the readers mind by offering anchors to hang onto.
(Alyson Widen 4:09pm March 31, 2012)
I do think a setting can be very important and add so much to the story, but first let me care for the characters :)
(Jeanne Sheats 7:21pm March 31, 2012)
I always believe tht book is world's window. The settings took an important role of it. With a good description, the readers could imagine, feel, and see tht place which even they nvr visit it before.
(Rina Darmayanti 11:36pm March 31, 2012)
The setting may be secondary to characters and plot but it can add another layer to the story.
(Nan Zahar 10:08am April 1, 2012)
Some of the above writer's work I may have--very reluctantly--read in my former life. I've always wanted at least a few true facts of history even in my historical romances but definitely prefer historical novels. I'm interested in getting at least some taste of the people, events and surroundings in a different era. The more, the better.
(Sigrun Schulz 11:36pm September 2, 2012)
Registered users may leave comments.
Log in or register now!