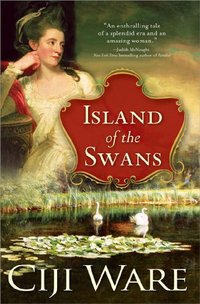 Purchase
Island Of The Swans
Ciji Ware
Sourcebooks Landmark
February 2010
On Sale: February 1, 2010
592 pages
ISBN: 1402222688
EAN: 9781402222689
Paperback (reprint)
Add to Wish List

Re-issued in its original full length, this acclaimed and bestselling romantic historical novel by award-winning author Ciji Ware tells the true story of passionate and flamboyant Jane Maxwell, the 4th Duchess of Gordon (1749- 1812). In love since childhood with Thomas Fraser, when she hears that he's been killed in America, she marries the Duke of Gordon with disastrous results. But Fraser, very much alive, returns to England to claim her love.
In addition to telling a heart-wrenching love story, Island of the Swans also paints a fascinating portrait of a powerful and controversial woman and the tumultuous era in which she lived. Patroness of poet Robert Burns, advisor to King George, painted by Sir Joshua Reynolds, Jane Maxwell was a towering figure in her own time and is an unforgettable heroine.
Comments
36 comments posted.
I don't write novels. I am, in fact, a horrible writer. I do, however, love reading. Yet I never though about the theme of a book before or even about how the Seven Deadly Sins can be applied to the book. This is all very interesting information.
(Alyn Yang 11:16am February 1, 2010)
This is an interesting take on the novel writing process. I am not a writer either, but I am an avid reader. I can relate though to this process in relation to revealing the theme of your life as you become older and wiser if that make sense.
(Pamela Romero 2:59am February 8, 2010)
Another reader-non-writer here! I wonder...do you think that a writer's theme might reflect some of that writer's life experiences? And are readers drawn to themes that reflect their history?
(Deborah Rosen 4:37am February 8, 2010)
I am just an avid reader who always has a book in her hand. You are a new to me Author and I definitely have to read Island of The Swans. I love reading stories about women who face trials and heartache but in the end they have a HEA. Thank you for an interesting post.
Carol L.
[email protected]
(Carol Luciano 5:49am February 8, 2010)
How wonderful to learn about what an author goes through in writing a great book. Thank you for the insight.
(Joanne Reynolds 6:23am February 8, 2010)
I have only recently developed an interest in historical fiction. Now I can't seem to get my hands on enough. This looks very intersting.
(Melissa Maringer 6:43am February 8, 2010)
thanks
(John Moldt 7:46am February 8, 2010)
I have not read any of your books but this one does sound interesting! I'd love to find out what happens to Jane in your story!
(Laurie Gommermann 7:52am February 8, 2010)
HI Ciji,
Very good topic. I am not a writer but an avid reader. I would have to say that of the themes mentioned Love conquers all and the battle of the sexes are two of my favorite themes.
I like that in most books the title of the book is somewhere used in the story as a defining line.
I cut my romantic teeth on historical romance when I was a young lass of 17. SO need less to say historical romance is one of my top favorite genres.
(Gigi Hicks 7:57am February 8, 2010)
I am one who tends to almost overthink the purpose of a book. I have been trying to just go with it these past few years and have found that without overthinking I have a much better understanding of a book when I am finished reading.
(Danelle Drake 9:58am February 8, 2010)
I am a reader, not a writer. I found your thought process fascinating. I had never considered fiction works (outside of those taught in literature classes way back when) as having a central theme. But of course they do! Thanks for a very interesting post.
(G S Moch 10:34am February 8, 2010)
Interesting, to be sure. Though I've noticed some books have no themes or poorly written themes.
(Cathie Veres 10:58am February 8, 2010)
Sounds like my kind of story plus it has a wonderful cover.
(Sherry Russell 11:42am February 8, 2010)
Thanks for the insight into the writing process.
(Shannon Scott 12:29pm February 8, 2010)
As a writer, I soak up tips and other shortcuts. Making sense from stories I always look for the point(s) being made.
(Alyson Widen 12:34pm February 8, 2010)
I am newly retired (4 weeks!) and am just getting back into the reading game. have always loved historical fiction
(Barbara Studer 12:47pm February 8, 2010)
Happy Valentine!
Blessings,
Marjorie
(Marjorie Carmony 1:11pm February 8, 2010)
Island of the Swans sounds like quite a fascinating historical romance.
(G. Bisbjerg 1:50pm February 8, 2010)
Thanks so much for putting us on the trail to finding the theme. In some books the basic theme is quite evident if we only look at it as such. I've just finished a book which embodies several of the themes that you brought up: redemption, greed and lust with love conquering all.
(Sigrun Schulz 1:56pm February 8, 2010)
Thanks for the insightful essay.
(Deborah Anderson 2:14pm February 8, 2010)
My favorite theme is the 'careful what you wish for' it's fits quite well with many of the events that have happened in my life and, if I were a writer, it is probably the theme my stories would have.
(Mary Lynn Hayes 2:22pm February 8, 2010)
As a reader I am in total awe & admiration of writers. The dedication & skill is one I envy.
(Mary Preston 5:29pm February 8, 2010)
I started writing the 1000 words per day just after Thanksgiving because I want to be a writer. As much as I read I never thought about theme. That is where I will start my next weeks writing on specific themes. Thanks for the idea.
(Sandra Dickey 6:16pm February 8, 2010)
A friend told me about your books she know that I love to read and I check out your wedsite and she gave me one of your books it was great, looking to get more of your books. Donna
(Donna Saltzman 6:30pm February 8, 2010)
When I was sixteen years old, I picked up my first romance novel. Within the first chapter I was addicted. So addicted that when my grandmother asked if I minded rubbing her feet, I told her only if she would agree to continue reading my book aloud for me and she agreed. Of course it came to a very explicit scene and my grandmother, true to her word, remained reading even though she wore the BIGGEST blush for having to read such a thing to her 16 year old grandchild. It is a memory I will never forget.
(Jeri Daniel 6:44pm February 8, 2010)
Thanks for the advice, it was very helpful. I'm attempting to write for the first time and any help I can get is greatly appreciated.
(Joelle Beebe 8:28pm February 8, 2010)
This reminds me of high school. Whenever a book report was assigned, one of the item is what is the theme. To understand the book and the story, you really need to know what is the theme.
(Kai Wong 8:47pm February 8, 2010)
Another reader-non-writer here
and as a reader, the theme
doesn't matter- only whether the
book grabs me enough to make me
forget that I AM reading.
(Lisa Richards 10:52pm February 8, 2010)
I had never heard the term "through line" before. Of course, I have heard of books having a theme. I read books for entertainment or enlightenment, and you will now have me looking for a theme. LoL
(Gladys Paradowski 11:09pm February 8, 2010)
Great advice from a very talented author!!!
(Mitzi Hinkey 11:22pm February 8, 2010)
I love historical fiction...thanks for adding a new author to my list.
(Janet Stewart 12:37pm February 9, 2010)
A very insightful post
(Diane Pollock 2:48pm February 9, 2010)
Yes, Please enter me in this fantastic Contest. I am now a Reader and in the future would love to be a Writer too God Willing. I love these Contests on Freshfiction.com and have Won some too and look forward to winning many more wonderful Author gifts.
God Bless You all, Cecilia Dunbar Hernandez [email protected]
(Cecilia Dunbar Hernandez 8:38pm February 9, 2010)
Book sounds interesting. Will need to stop by the bookstore to check it out.
(Kai Wong 9:03pm February 9, 2010)
Love the cover can't wait to read.
(Catherine Myers 9:51pm February 9, 2010)
Thanks for the great blog and advise! I will keep plugging away at my historical! LOL!
(Jane Lange 10:49pm February 9, 2010)
Registered users may leave comments.
Log in or register now!