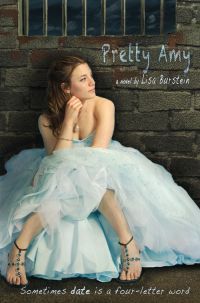 Purchase
Prom is a four-letter word
Entangled
May 2012
On Sale: May 8, 2012
Featuring: Amy
304 pages
ISBN: 1620611198
EAN: 9781620611197
Kindle: B0083OX03E
Trade Size / e-Book
Add to Wish List

Amy is fine living in the shadows of beautiful Lila and uber-cool Cassie, because at least she's somewhat beautiful and uber-cool by association. But when the girls get stood up for prom and take matters into their own hands—earning them a night in jail outfitted in satin, stilettos, and Spanx—Amy discovers even a prom spent in handcuffs might be better than the humiliating "rehabilitation techniques" now filling up her summer. Worse, with Lila and Cassie parentally banned, Amy feels like she has nothing—like she is nothing.
Navigating unlikely alliances with her new coworker, two very different boys, and possibly even her parents, Amy struggles to decide if it's worth being a best friend when it makes you a public enemy. Bringing readers along on an often hilarious and heartwarming journey, Amy finds that maybe getting a life only happens once you think your life is over.
Comments
34 comments posted.
Re: Pretty Amy

This sounds like a really interesting book and the cover looks great. I hope you have a great day.
(Chelsea Knestrick 3:33am May 10, 2012)
I love strong, beautiful and fearless woman too..my daughters are like that. Can't wait to read this book.
(Bonnie Capuano 7:06am May 10, 2012)
i love when the story has a powerful female it makes the book so much more interesting
(Denise Smith 8:01am May 10, 2012)
Sounds like a good book - Thanks
(Susan King 8:05am May 10, 2012)
I loved Liz Phair! I could totally get into a character similiar to Liz! I wish you much success!
(Renee Pajda 8:08am May 10, 2012)
Another book to put on my must read list!
(Julie Parrish 8:22am May 10, 2012)
Sounds like a great read!
Good luck and happy writing!
(Tracie Travis 8:29am May 10, 2012)
I'm so glad I'm not a teen anymore but I agree the music really helped feel better. But I would never have considered musicians role models.
(Pam Howell 10:11am May 10, 2012)
I would love a chance to read this book!It sounds good!
(Noelle Walker 11:39am May 10, 2012)
This sounds like a fun book to read.
(Anna Speed 11:59am May 10, 2012)
Sounds like a great and inspiring book, definitely going on my to-read list!
(Julianne Milne 1:19pm May 10, 2012)
Music is inspiring and can be a tension release, especially when you sing along. I'm anxious to read this interesting book, Lisa. Sounds good, and the book cover is really beautiful!
(Linda Luinstra 3:39pm May 10, 2012)
i love the cover & i want her shoes! this sounds like a good book, and i can't
wait to read it!
(Carolyn Berthelot 4:52pm May 10, 2012)
I ALWAYS felt like I didn't necessarily belong and I would escape into books because for the time I was reading, I was in that world and not my own. And, oh yes, I got lost in my music! Still do. Music has ALWAYS been my therapy - listening, playing, dancing, or singing.
(Kelli Jo Calvert 5:00pm May 10, 2012)
Lisa, I'd really like to read this book. Thanks for the
giveaway.
(Mary Hay 5:09pm May 10, 2012)
It sounds very much like a book my wife would enjoy reading.
(Ronald Marsh 7:37pm May 10, 2012)
I can get lost in a book or in playing music---I have been able to to that since I was a lonely child and books have kept me company for many years.
(Sue Farrell 7:41pm May 10, 2012)
I think it sounds like a great, and inspiring book. And I love the cover! It's on my to-read list!
(Stephanie Briggs 8:06pm May 10, 2012)
Grew up as a fat kid in a very controlling church that
stressed being in the world but not part of it... feeling
'empowerment' came in my late twenties. Now in my late 50's,
I'm glad your book is reaching out! Bravo, Lisa!
(Susan Jeffers 8:07pm May 10, 2012)
Your book sounds as though it will have a different "sound". Wonderful!
Blessings,
Marjorie
(Marjorie Carmony 8:30pm May 10, 2012)
Sounds like a really good book!! Thanks for the chance to win!!
(Natasha Donohoo 8:57pm May 10, 2012)
I think that every girl goes through that stage. Then she becomes a woman. That stage comes back to haunt her once again. What a shock!! It will come back to haunt her from time to time throughout her life, but she will become better at handling it. Yes, we've all listened to that one "special" song that has empowered us. As years go by, the song list grows longer, and we become more empowered and beautiful, inside and out. I would love to read your book, since I can relate to the story. There's such a sweet innocence to the cover that it's almost like looking in the mirror a long time ago.
(Peggy Roberson 9:47pm May 10, 2012)
YES...I, too, love great female singer-songwriters. ou named some terrific ones. I would add Jewel, Sade, Annie Lennox, Dido, Sarah McLachlan...and that doesn't include the greats who paved the way for them! Their words can really inspire young women.
(Catherine Lee 9:54pm May 10, 2012)
book sounds good....thanks for the draw
(Barbara Studer 10:22pm May 10, 2012)
I didn't have many friends as a teen but I did have a small group of really good friends. This book sounds really good.
(Kristin Bingham 10:28pm May 10, 2012)
anxious to read as it sounds like a great read
(Shelly Itkin 11:01pm May 10, 2012)
Sounds like a great read. Thanks for giving me a chance to win your book.
(Linda Hall 11:48pm May 10, 2012)
What a wonderful post. Being a teenager can be a crazy time. PRETTY AMY looks amazing.
(Mary Preston 12:40pm May 11, 2012)
I know exactly how you felt. What great songs to list, I have them downloaded..can't seem to get rid of them, they are so imbedded in me.
(Carla Carlson 7:22am May 11, 2012)
The teenage years are tough and I think it's great to have books and music out there that show girls that they are not alone.
(Maureen Emmons 9:58am May 11, 2012)
Looks like a good read and I love it when a few lines of music set the mood for the chapter, especially if I recognize it and can hum along reading. I think music makes you feel more.
(Alyson Widen 7:18pm May 11, 2012)
Thank you for giving all of us a chance to get to know you and your books, I love finding new authors! :) Pretty Amy sounds like a fabulous book!
(Krissy Malott 1:55am May 12, 2012)
Music appeals to the individuality in all us us which can, of course, become loneliness. Our lives are so individual and yet this artist has clearly lived through something similar in order to touch our hearts and enter our thoughts. Scottish author Ian Rankin wrote his ongoing playlist into a couple of his Rebus police novels - unfortunately he was living through some very difficult times, and the songs were depressing. Naturally the character was undergoing equally tough times. I would look forward to reading a novel with the positive anthems you describe as the theme.
(Clare O'Beara 12:40pm May 12, 2012)
Thank you! I have just been notified I won the draw! I look forward to reading Pretty Amy soon!!!
(Krissy Malott 6:44pm May 15, 2012)
Registered users may leave comments.
Log in or register now!