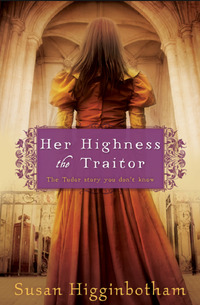 Purchase
Sourcebooks
June 2012
On Sale: June 1, 2012
Featuring: Jane Dudley; Jane Grey; Frances Grey
368 pages
ISBN: 1402265581
EAN: 9781402265587
Kindle: B007VEQ88Q
Paperback / e-Book
Add to Wish List

When Henry VIII dies, leaving behind his nine-year-old son as his heir, a deadly series of power struggles begins, transforming the lives of two women.
A daughter can be a dangerous weapon in the battle for the throne of England
Frances Grey harbored no dream of her children taking the throne. Cousin of the king, she knew the pitfalls of royalty and privilege. Better to marry them off, marry them well, perhaps to a clan like the Dudleys.
Jane Dudley knew her husband was creeping closer to the throne, but someone had to take charge, for the good of the country. She couldn't see the twisted path they all would follow.
The never–before–told story of the women behind the crowning of Jane Grey, this novel is a captivating peek at ambition gone awry, and the damage left in its wake.
Comments
30 comments posted.
Boy this sounds like a good book to read...thanks for the chance and good luck in the future...
(Bonnie Capuano 8:26am June 1, 2012)
It always amazes me how easily something can be changed by a persons fabricated account of an event. It always makes me wonder if perhaps they were the only one that couldn't hold the secret.
Even so, great history lesson and of course makes me thirsty to read your book.

Good luck and happy writing!
(Tracie Travis 8:42am June 1, 2012)
this sounds so good love to win
(Denise Smith 9:09am June 1, 2012)
British historicals are my favorites!
Blessings,
Marjorie
(Marjorie Carmony 10:19am June 1, 2012)
Very interesting
(Roxana Perez 10:44am June 1, 2012)
I've been wanting to read this author for some time now. This sounds like a good place to start.
(Nan Zahar 11:02am June 1, 2012)
I can't wait to read this. I'm in the middle of 'Queen of Last Hopes'
(Ralphine Lamonica 11:39am June 1, 2012)
This reminds me of Josephine Tey's book The Daughter of Time which refers to truth coming out in time. The subject was Richard the Third. In the past it may have been wiser to believe whatever one was told, and no doubt many foul deeds and twistings of truth did occur, but there were also excellent records, letters and accounts so one way or another we can see some evidence. Sounds like a very interesting book and I'd love to read it.
(Clare O'Beara 11:41am June 1, 2012)
This sounds like an interesting book and I look forward to reading it. Have a great day.
(Chelsea Knestrick 11:56am June 1, 2012)
"I stuck as closely as possible to the known facts and tried to see their stories through fresh eyes. As these people are no longer in a position to defend themselves, it is the least they deserve."

YES! YES! YES! Even in historical fiction, I'm leery of made-up crap, as I don't have time (or usually inclination) to separate fact from fiction--I have my own research (in a different century) to conduct and sift and judge. Having known Susan Higginbotham for several years online, and read her blogs and books, I'm grateful for her integrity of research and presentation.
(Christy Robinson 12:20pm June 1, 2012)
This sounds like a an interesting read, I have become
interested in Lady Jane Grey after I found out that my
ancestor was probably a tutor to her.
(Barbara O'Reilly 12:57pm June 1, 2012)
Love the research -- nobody does pagentry better than England.. which you can see this weekend with the Diamond Jubeliee!!
(Cate Sparks 1:10pm June 1, 2012)
I love reading historical fiction that is well researched.
(Kathleen Bianchi 2:09pm June 1, 2012)
Sounds like a great read. Count me in. Thanks
(Sheila True 2:29pm June 1, 2012)
Susan's previous works are well-researched and well-told, and I'm looking forward to this one too! I hope I win, I hope I win...
(Jo Ann Butler 2:33pm June 1, 2012)
This book sounds great. I'd love to win a copy. Best of luck with it.
(Nancy Reynolds 2:51pm June 1, 2012)
Interesting...What was your research process like? I appreciate, as a librarian, that you tried to stick closely to the known facts.
(Catherine Lee 3:08pm June 1, 2012)
I would love to win this book. I love your books and I'm sure
I'll love this one too.
(Tanja Haack 4:44pm June 1, 2012)
Susan you have whetted by appetite!! John Dudley imo was a scapegoat, he was by no means a saint but history has not been kind to him. I need to read more !!!!! Good luck with this one.
(Anne Tudor 5:20pm June 1, 2012)
How cool - thank you for this excellent history lesson - and for the opportunity to win this book!
(Felicia Ciaudelli 6:40pm June 1, 2012)
This story sounds incredible. Thanks for the chance to win it!
(Michele Hayes 7:45pm June 1, 2012)
To take a period of time that others would normally find to be dry and boring, you found a way to draw people in, and not only keep their interest, but make the story inviting and intriguing. I would love to read this book and find out how it unfolded, from the very beginning, until the very end. Even the person who did the cover took utmost care to make it subtly classy. I love the wrought iron effect going across the front, almost as if it's part of a gate, or cell door, since you went into some detail with the story line. Congratulations, and I have to make sure to read this one!!
(Peggy Roberson 9:22pm June 1, 2012)
wow that is part of history I haven't thought of. I know part of the recient part of royal family
(Patricia Kasner 10:16pm June 1, 2012)
I love my history wrapped up in a fabulous book.
(Mary Preston 10:46pm June 1, 2012)
I love books like this one that mix a little history with myth and fiction. Can't wait to read it.
(Molly Wilsbacher 11:38pm June 1, 2012)
Susan Higginbotham, superb synopsis, await full read with bated breath.
Not BAITED - the garlic was Thursday night!
(Gm Gilbert 4:48am June 2, 2012)
This sounds like a wonderful read! Keep up the great writing and historical research.
(Ann Thaxton 10:28am June 2, 2012)
sounds like a good read through the history reimagined with intrigue and asking more questions than it can possibly answer leaving the reader begging for more.
(Alyson Widen 3:00pm June 2, 2012)
I find English history facinating and enjoy historical fiction. I will put your book on my to read list.
(Mary Primorac 11:23pm June 2, 2012)
Sounds very interesting!! I enjoy good historical fiction.
(Penny Mettert 5:43am June 3, 2012)
Registered users may leave comments.
Log in or register now!