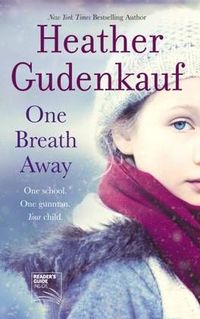 Purchase
MIRA
July 2012
On Sale: June 26, 2012
Featuring: Will Thwaite; Evelyn Oliver; Meg Barrett
400 pages
ISBN: 0778313654
EAN: 9780778313656
Kindle: B0080GUZDS
Paperback / e-Book
Add to Wish List

On a bitter March day, as a sudden snowstorm envelops the small town of Broken Branch, Iowa, an unknown man with a gun enters the town's only school and takes a classroom of children hostage. As awareness of the situation spreads, the panicked community is ready to do anything to protect their children, but can only watch and wait.
As a teacher with a long career behind her, Evelyn Oliver is ready to enjoy retirement with her loving husband. But now, faced with a crazy man armed with a gun, terrorizing her classroom, she'd rather die than fail to protect any of her students. But why is he doing this? Evelyn's been scouring her mind but doesn't recognize the intruder. Maybe one of the students is the key?
Holly Thwaite left Broken Branch and her family behind without a word eighteen years ago, vowing never to return. But after a debilitating accident leaves her recovering in a hospital in Arizona, she's forced to send her children to her hometown to be looked after by their grandfather, the man she never wanted them to meet. Will Thwaite never understood why his estranged daughter, Holly, ran away all those years ago. But now that her children are in his care, he refuses to fail his daughter again. One way or another, Will is going to get his grandkids, P.J. and Augie, out of that school safely even if he has to go in and get them himself. What Will doesn't know is that thirteen-year-old Augie is just as determined to rescue her little brother from the killer and help her classmates, even if it means putting herself in the crosshairs of the gunman.
Police officer Meg Barrett wants to know who the intruder is and why he's doing this. Whoever it is, there's no excuse for this. Meg should know. She's had plenty of hardships herself. But with innocent lives at stake, Meg is prepared to risk her own life to save these hostages, although it means disobeying orders and taking on the gunman face-to-face.
As the standoff progresses and the snowstorm rages outside, anxiety and frustration start to build to dangerous levels. But everyone knows how precarious the situation is. One wrong move, even a breath, could have the most devastating of consequences.
Comments
12 comments posted.
Re: One Breath Away

I read romance primarily for the HEA, the good endings, no sad endings; suspense adds more story to the simple romance and makes it that more interesting.
(Diane Sadler 10:20am July 9, 2012)
I love suspense, murder mystery, etc. I now have to read some
contemporary romance just so all I read is not about the evils of life.
However first and foremost is thd first category. Guess I always want to
know the whys of the evil in the world, even uf it is through a book.
(Vicki Hancock 11:10am July 9, 2012)
Suspense is my favorite fiction
(Shirley Nienkark 12:13pm July 9, 2012)
Your book captured my interest. I enjoy a good suspense book. I remember reading Nancy Drew as a young girl and I read The Hardy Boys to my two sons.
(Robin McKay 4:18pm July 9, 2012)
I had never read the Boxcar children but my kids found the series and loved it.
(Maureen Emmons 6:46pm July 9, 2012)
I love mysteries and have progressed from the beginners of Nancy Drew and the Hardy Boys which got my toes wet. Then there were the classics like Poe to the ones like Les Roberts 13 series of PI with Milan Jacovich. I've even tried my hand at writing mysteries and will get back to the manuscript this summer.
(Alyson Widen 8:21pm July 9, 2012)
All I can say is -- What a story line!! I am sitting here tonight with baited breath, and can't wait to read the book!! The description of the book has me impatiently waiting to read page one of your story, and wanting to read the entire story!! Congratulations on a book that I'm sure will do well, and I'm sure will be recommended to others.
(Peggy Roberson 9:38pm July 9, 2012)
I read a lot of crime of all sorts; they are sometimes fun or challenging puzzles, sometimes social comment, particularly police procedurals. Suspense depends on the location and interesting information to grab my interest. I find I don't read much of the psychological thriller, not my thing. Historical crime, now that is great! Try A Plague On Both Your Houses by Susannah Gregory for a murder mystery set in Cambridge University during the Black Death.
(Clare O'Beara 6:15am July 10, 2012)
I really enjoy mystery too, especially if there is a little romance thrown in there too.
(Molly Wilsbacher 6:06pm July 10, 2012)
I enjoy reading suspense stories, but do like happy endings.
(Marilyn Nowlin 11:25pm July 10, 2012)
your childhood books were also my favorites. Another group that I loved were the Hardy Boys, Little House on the Prairie & an all time favorite was a Weekly Reader book club book called HALF MAGIC. Somewhere over the years I lost my copy. When they did a 50 yrs rerelease of the book I bought it again. Now my grandchildren are enjoying it.
(Pat Moore 2:37pm August 1, 2012)
This is a complex, but intriguing novel that will capture the reader's imagination and hold it through to the very end. Gundenkauf is a gift storyteller whose characters are real and personable. I highly recommend this book!
(Sharon Galligar Chance 3:09pm September 22, 2012)
Registered users may leave comments.
Log in or register now!