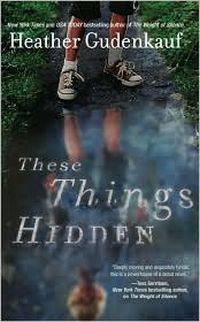 Purchase
MIRA
February 2011
On Sale: February 1, 2011
Featuring: Allison Glenn; Brynn Glenn
352 pages
ISBN: 0778328791
EAN: 9780778328797
Kindle: B004JF6830
Trade Size / e-Book
Add to Wish List

Heather Gudenkauf, acclaimed author of the New York Times bestseller The Weight of Silence, returns with a provacative, powerful and deeply moving novel about one little boy and the women who love him.
When teenager Allison Glenn is sent to prison for a heinous crime, she leaves behind forever her reputation as Linden Falls' golden girl. Her parents deny the existence of their once-perfect child. Her former friends exult her in her downfall. Her sister, Brynn, faces the whispered rumors every day in the hallways of their small Iowa high school. It's Brynn - shy, quiet Brynn - who carries the burden of what really happened that night. All she wants is to forget Allison and the past that haunts her.
But then Allison is released to a halfway house, and is more determined than ever to speak with her estranged sister.
Now their legacy of secrets is focused on one little boy. And if the truth is revealed, the consequences will be unimaginable for the adoptive mother who loves him, the girl who tried to protect him and the two sisters who hold the key to all that is hidden.
Comments
29 comments posted.
A good mother means having days when you feel you are the worst mother ever. And then smiling when you get a hug and a word whispered in your ear, "You're the best mother ever."
(Pamela Stewart 10:45am February 6, 2011)
A good mother tries to raise her children as the individuals they are,
encouraging them to dream and to follow those dreams. I too was one of 6
children (the oldest) and had a mom who often worked outside the home and
still managed to be there for us and have dinner on the table for family
dinners every night.
One of my favorite memories is sitting out on our lawn one night, bundled up
in blankets and sleeping bags. We lived out in the country with little or no
light pollution (this was MANY years ago before yard security lights) and the
stars in the sky were incredible. We had hot chocolate and watched a lunar
eclipse. It was an awe inspiring experience. It may have been a school
night, but she felt this experience was more important than an early bed time.
Unfortunately, she died of cancer at 47 and never got to see more than one
child married and none of her grandchildren. A great loss for us all. She
would have been a wonderful grandmother.
Thanks for bringing back good memories.
(Patricia Barraclough 11:13am February 6, 2011)
Being a good Mother is to teach your children to be the best adults they can be. It's also to teach them everything you know, from an early age, so they can absorb it, and take it with them to adulthood. By that I mean any talents you might have, if they should be girls, like cooking or crafts that could be useful. My Mother wasn't very talented, but did teach me how to be a good person, and I taught her how to do crafts as soon as I learned how to do them. She always did things with us from the time we were small, and sewed dresses for our dolls, as well as played with us. She passed away 8 years ago, and I miss doing things with her. We did things together until she got Alzheimer's disease, and was unable to do things. It robbed her of a wonderful future, and I miss her terribly.
(Peggy Roberson 11:39am February 6, 2011)
I think we all feel that we have not always been the best mother that we can be. I've talked to my grown sons about this and they always laugh and say that I was a good mother but they remember times when they were little brats trying to push my last button. Moms out there need to realize that we are human and to learn to stop trying to be some perfect thing that is impossible to achieve. Forgive yourselves for having a bad day now and then and learn to relax and enjoy your children. It's true that they do grow up way too fast.
(Connie Fischer 1:00pm February 6, 2011)
I think a good mom puts her kids first. Yes, a mom is still a
woman, but how can she be happy if the kids or miserable. It's
a fine balancing act that's for sure.
(Lisa Richards 1:52pm February 6, 2011)
Being a good mother means - doing what you think and feel is right at the moment and realizing you will make mistakes. It is a 24 hour job that comes with no manuals, no books, no courses but are full of lessons and experiences.
(Velma Greene 3:20pm February 6, 2011)
Being a good mother means making sure your children above all know that they are loved. My best memories with my kids are wandering in the woods and along beaches together.
(Diane Pollock 3:28pm February 6, 2011)
Being a mother means putting the child's needs ahead of
our own. Most of us don't do a very good job. We are too
wrapped up in what WE want and think we need!
(Clydia DeFreese 3:32pm February 6, 2011)
A good mother tries very hard to do what is right for her children. She knows she is going to make mistakes but she also knows she has done her best. The most important thing is to love your children for who and what they are and to let them know you will always be there for them no matter how old they are.
(Carol Mintz 3:44pm February 6, 2011)
Being a good mother means living for the small moments & planning ahead for the larger ones. To love unconditionally & be loved in return.
(Mary Preston 3:45pm February 6, 2011)
I think being a good mother is taking the time to read to them and color with them. Teaching them to become caring and responsible adults. To encourage them whether it is in school work, band, sports or whatever they try.
My granddaughter is 11 now and enjoys being in plays at a playhouse near us. She has done 4 plays and had the lead in the last one. Seeing her sing and dance just makes me so proud of her and also makes me want to cry . My husband and I try to be the best grandparents. We attend school functions and cheer competitions and plays and anything we possibly can attend. We also have a 4 year old granddaughter and have fun teaching her to sing and say nursery rhymes .
We love them undonditionally and sure do love hearing them say. Love you mama and Love you poppy.
(Mary Branham 3:52pm February 6, 2011)
A good mother reads to her children, supports them, advises them. A good mother is not a friend to her children, but a PARENT. As a teacher, I see many children whose parents have decided to be their child's friend. Children need discipline, routine, rules. Children need guidance and boundaries. A good parent always has the best interest of their child at heart, even if the child sometimes does not feel that way.
(Johanna Appel 4:00pm February 6, 2011)
I didn't have a good mother and I don't have any kids myself so I am going off what I have observed. A good mother is one that is firm, fair and consistent with her kids. One that the kids know is available to talk with and who will support her kids as needed to help them grow into responsible adults.
(Shay Williams 4:04pm February 6, 2011)
Being a mother is forever- all the feelings, caring,guiding,
worrying, joy- only start with giving birth.
(Brenda Jann 4:22pm February 6, 2011)
Being a good mother is like being a mother bear. You love,nuture,teach,protect your cubs 24/7.
(Joanne Hicks 5:51pm February 6, 2011)
I am lucky enough to have a great mother. She always encourage my sister and I to have confidence and believe in ourselves. She knows when to offer advice and support, and when to step back and let my figure out things by myself.
(Yuka Liew 5:58pm February 6, 2011)
Right now I want to strangle my 15 year old. So, to me at this moment in time, it's very frustrating to be a mother!
(Molly Wilsbacher 6:21pm February 6, 2011)
I don't have children so have not experienced being a mother. For a while I had stepchildren, and that was very hard because they were brought up with values instilled in them by their mothers, whom I did not agree with. It was a very difficult time for me to be respectful of them, and yet try to have them respect my values when staying in my home with their father. Especially because there Father didn't pay attention to them until they did something that was so outragous that they got his attention. That was hard!
(Brenda Rupp 6:32pm February 6, 2011)
I love being a Mom and I have loved every age my kids have gone through don't get me wrong it's not always easy but it is ALWAYS the best, Thay are the most important thing in my life and the best thing I have ever done and I would trade it for not one thing, I'd also do it all over if given the chance and not change a thing.
(Vickie Hightower 7:05pm February 6, 2011)
well the book look like good one and the cover is great many more to you
(Desiree Reilly 7:22pm February 6, 2011)
A mom is someone that gives you her ideas but stands back letting you do it your own way.When you wreck the car she just wants to know if you are ok, Someone when there just a little food she will give her's to you and just I'm not hungery.
(Patricia Kasner 7:26pm February 6, 2011)
Being a Mom means unconditional love always. My boys are 29 and 22 and I miss all the little things I took for granted now they are living 2-4 hours away. I miss them everyday and really look forward to the family time of the holidays. Thanks for the contest!
(Teresa Ward 7:50pm February 6, 2011)
My son is currently dealing with being bullied at school. We discussed the situation and I helped him figure out what he wanted to do to deal with the situation. Later, he told me that he always knows that I have his back! I felt like such a good mom at that point. I guess that would be my definition.
(Jennifer Beyer 9:53pm February 6, 2011)
To me a good mother means to love unconditionally. To put your child first and foremost and to nurture and protect your child no matter what comes before you. I may not always do the right thing but I am there for my children and grandchildren no matter what, I'm their number one fan, their cheerleader, their confident, their shoulder to lean on, the hug they need, their friend and their mother. I don't know any job in the world that is more demanding or more rewarding.
(Kimberly Bartlett 10:28pm February 6, 2011)
I think a good mother does whatever is necessary to ensure that their children grow up to be happy, productive people. They protect their children and above all else LOVE their children.
(June Manning 11:54pm February 6, 2011)
A mom is there to listen without judgment and love you no matter what.
(Robin Daily 12:17pm February 7, 2011)
I was born into a war. My mother later told me that, at least three times, I came very close to being killed. She had to breastfeed me for two years on very little food: she had little more than potato peels to eat--probably not the most nourishing food for either of us. Then, with her 16-year-old brother as helper, we finally fled to safety, to where my father had been able to find a university spot to study after the main hostilities had ceased. There she worked to put my father through school. She taught my siblings and me our values from the time I, the eldest, was able to learn. She loved us and protected us. She even learned to cook, something she had never liked doing as the eldest of five at home. She only worked for a short time after we emigrated to North America. There were four of us to take care of and she preferred to be a stay-at-home, and I was glad to come home to her. I always wanted to emulate her with my children--and maybe improve on a few things(?)--but I never had no children. Although I'm really more like my father in most respects, I've always taken her as my model. She left us in 2003, about 5 years after she developed Alzheimer's and more than 20 years after our father passed away. My siblings all have children and judging from the way they are, I'd say that they carried on many of my parents' teachings: accepting others for who they are without prejudices, helping those who need help, the value of being a good citizen, and many more.
(Sigrun Schulz 1:12am February 7, 2011)
Being a good mother means not only giving love, care, and attention to
your children, but also to yourself. I don't think I can be the mother my
daughter deserves if I am feeling stressed, overwhelmed, and resentful.

My best memory of times with my mother is when we went shopping
together or just relaxed at home with a cup of chai and a movie/TV.

My best memory of times with my daughter was a recent one. We were
watching HOW TO TRAIN YOUR DRAGON. I was sitting on the couch
and she was lying down with her head in my lap.
(Mona Garg 8:09am February 7, 2011)
A good mother is present for her children, but less hovering as they grow up. My mom read stories at night to 4 kids and we all love the art of reading. Little women and Lilttle Men are grat as chapter books read over time in a series at night we were all mezmerized.
(Alyson Widen 10:10pm February 27, 2011)
Registered users may leave comments.
Log in or register now!