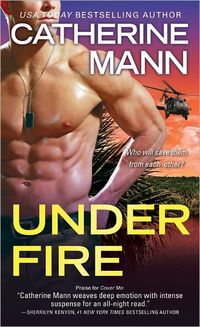 Purchase
Sourcebooks Casablanca
May 2012
On Sale: May 1, 2012
Featuring: Rachel Flores; Liam McCabe
384 pages
ISBN: 1402245017
EAN: 9781402245015
Kindle: B0076QZ5DI
Paperback / e-Book
Add to Wish List

No Holds Barred, In Love or War...
A decorated hero, pararescueman Liam McCabe lives to serve. Six months ago, he and Rachel Flores met in the horrific aftermath of an earthquake in the Bahamas. They were tempted by an explosive attraction, but then they parted ways. Still, Liam has thought about Rachel every day—and night—since.
Now, after ignoring all his phone calls for six month, Rachel has turned up on base with a wild story about a high-ranking military traitor. She claims no one but Liam can help her—and she won't trust anyone else.
With nothing but her word and the testimony of a discharged military cop to go on, Liam would be insane to risk his career—even his life— to help a woman who left him in the dust.
Comments
47 comments posted.
Re: Under Fire

I would have to say my mom is my behind the scenes special person in my life.
(Chelsea Knestrick 11:14am May 11, 2012)
Chelsea, how awesome you have your mom's support! My daugthers and I are very close too - I treasure the relationship. :)
(Catherine Mann 11:29am May 11, 2012)
I'm a military brat. Growing up I remember my dad (he was in the Navy) being shipped out quite often. My parents had married in the Philippines and he moved her over here right before he got deployed. How she was able to deal with a new country, where she had no family here and knew no one, I have no idea. She raised my sister and myself when he was overseas and when he served in Desert Storm, and I know she must have been scared but she was so strong.

I remember when my dad retired, during his retirement ceremony he made a speech where he thanked my mom for everything she did for him and the family. It was the first time I ever saw my dad cry (in public no less).

My mom has to be one of the strongest women I have ever known.
(Sharon D 12:10pm May 11, 2012)
Hi Catherine

Great stories you have and I love reading them all so much.

Who would I say is my behind the scenes person? I would have to say my kids age 5 and 9 are my biggest behind the scenes persons. They tell me like it is and will walk up to me and hug me without ever knowing that I needed it. :)
(Carrie James 12:24pm May 11, 2012)
i really am under fire . i want to read this
(Debbi Shaw 12:30pm May 11, 2012)
THIS SOUNDS SO GOOD . i have to say i have had 2 strong women in my life my mom and my mom-in-law. i am a strong women 2 because of them. would love to win
(Denise Smith 1:00pm May 11, 2012)
My mom is my behind the scenes special person. Thanks for the chance to win!!
(Natasha Donohoo 1:22pm May 11, 2012)
I am a military spouse. My hubby's in the Navy. I'm so proud of him. They say the toughest job in the military is that of a military wife.
My mom has to be the strongest person I know. She raised me to stand strong as well. I'm extremely proud of her too.
(Melissa Keith 1:33pm May 11, 2012)
Thank you for sharing with us! My grandmother was my rock... She was the greatest!
(Colleen Conklin 2:02pm May 11, 2012)
The military and the sacrafices made...there is not enough thanks in the world. My children are my stength. Wonderful kids that I try to tell daily how great they are..
(Lisa Barnes 2:42pm May 11, 2012)
My Mom is 87 and going strong...I wish I could say I'm doing
the same. Thanks for the contest.
(Mary Hay 3:17pm May 11, 2012)
Thank you for your post and giveaway, Catherine. The special behind-the-scenes people in my life are my mother and grandmothers. I'll honor them this Mother's Day by remembering them and all that they did.

Where they are now, they can't receive my cards and presents. But they live on in my heart.

Good luck with the release of "Under Fire".
(Mary Anne Landers 3:24pm May 11, 2012)
I have to say my mom. Even when I thought I dissapointed her, she proved to me how supportive she was and how she believed in me. I try every day to make sure she is always proud of me and all my decision are colored with thoughts of her. Love her so much, I strive to be as good as mom as she was to me
(Jolene Allcock 4:21pm May 11, 2012)
Sounds like an exciting book, I'd love to win it.
(Wilma Frana 4:29pm May 11, 2012)
I am anxiously waiting to read Under Fire!!
Char
(Charlotte Zimmerman 4:39pm May 11, 2012)
Hey there, folks! Thank you for the comments and sharing about the special folks in your life. It's also an added joy to see so many mothers celebrated as we cruise into Mother's Day weekend!!
(Catherine Mann 4:51pm May 11, 2012)
My husband was in the Air Force, serving in Viet Nam while the French were still there. Quite an experience.
Blessings,
Marjorie
(Marjorie Carmony 5:02pm May 11, 2012)
I don't really have an extra-special person in my life, but my cats are pretty special. My dad was in the Merchant Marines and is hoping the government will pass a bill so he will benefit from it.
(Michelle Fidler 5:16pm May 11, 2012)
Catherine,
Thank you and your husband for your great service to our
Nation. The behind the scenes special person in my life is
my husband of 32 years. We met while both active duty USMC;
were told it would never last. Hah! I don't know what I'd
do without him.
(Cynthia Netherton 5:39pm May 11, 2012)
I'd have to say my Dad. He always made me feel special growing up and added a lot of fun and support in my life. He was also kind-hearted to everyone. He is now deceased, but I think of him daily. He served in WWII in the Navy on the USS Montpelier naval ship.
(Linda Luinstra 5:42pm May 11, 2012)
My mom was one of the strongest women I knew. Thanks for giving me a chance to win your book.
(Linda Hall 5:56pm May 11, 2012)
I would have to say my unsung heroes are my hubby, my bestest friend and my sister. Those three people have been there for me through everything. They have been my support and my kick in the butt whichever it is I need most at the time. I also know people who are now or were once in the service and they are all very special people. I thank all of them for all they have done and continue to do to serve our country.
(Patti Paonessa 5:58pm May 11, 2012)
I was a military wife as was my sister-in-law, It's a hard job to raise a family with your mate so far away all the time. These men and women are wonderful people making our world a better place to live
(Joyce Bruner 6:13pm May 11, 2012)
Cathy--I have always admired military wives. You are special people. My mom's younger sister, my favorite aunt, was a military wife for 32 years. She was always an inspiration to me. Both she and my mom and dad are gone now. My parents were the wind beneath my wings but now my husband and daughter are my unsung heroes. My daughter is an inspiration to me every day--she is the best mom I know. Good luck with Under Fire--can't wait to read it!
(Mary Perry 6:59pm May 11, 2012)
Nothing like good time and I applaud you for synchronicity.
The military makes sacrifices that only gets solemn attention it seems when there's trouble or when they die. I like a man in uniform and know they can have long distance relationships if they desire.
(Alyson Widen 7:13pm May 11, 2012)
MY HUBBY WHOSE KEPT ME OUT OF A NURSING HOME AND DOES
EVERYTHING SINCE I'M SEMI-PARALYZED LEAVING ME TO ENJOY
FANTASY ROMANCE TO TAKE ME AWAY FROM MY PROBLEMS FOR A BIT.
(Linda Bass 7:47pm May 11, 2012)
please thank your husband for his service!! and thank you too!!
(Jennifer Beck 8:06pm May 11, 2012)
I don't have a military spouse but I have had a father, two
sisters and a brother with numerous cousins in all branches of
the service and 7 have retired. My nephew is currently a
marine. Love them all enough that they willing served.
(Christine Works 8:28pm May 11, 2012)
Thanks again to everyone for the comments today and support for military families!! Wishing everyone a stellar weekend. :)
(Catherine Mann 9:44pm May 11, 2012)
sounds like a good read. another to add to my TBR list. I have a close friend that has helped me through some low times...Bless the military and families:)
(Barbara Studer 9:46pm May 11, 2012)
I like the way you have God giving women extra hands, special abilities, etc. whose husbands or sons have very difficult jobs, need special grace and abilities to be able to deal with bigger issues like life and death often on a daily basis. My father and several cousins have been in the forces. My father definitely suffered from stress problems as well as shrapnel that lodged in his head so that some fragments caused problems almost 20 years after the injury occurred.
(Sigrun Schulz 10:00pm May 11, 2012)
i always love your books. I'd love to win a copy of this one. best of luck with
this one.
(Nancy Reynolds 10:01pm May 11, 2012)
No one military in my background, but love to read great stories.
(Diana Corlett 11:14pm May 11, 2012)
I'm an Army brat & loved when Daddy was stationed in
Okinawa. It was an adventure for me. He was Airborne Special
Forces Green Beret. My brother recently retired from the AF
EOD & my Uncle had a purple heart from when they stormed the
beach @Normandy in WWII. It's not an easy life being
married to a military man but I think my Momma did an
excellent job.
(Ivy Truitt 11:25pm May 11, 2012)
My Aunt would have to be my strength. She is currently 93 years young, and in a nursing home. Five years ago, my Husband lost his job, and we lost our house of 13 years, along with most of our belongings and furniture. Since my Father and family basically turned their backs on us, we were forced to live in our pop-up camper, and move from campground to campground, until we found a new place to live. During that time, I stayed in touch with my Aunt, and she continued to give me support, saying things about me that I never would have thought about myself. I don't think I would have been able to get through it as smoothly without her. I also understand the army way of life, and would love to read your book. My hat goes off to you and to your Husband as well. That takes a lot of sacrifice on both of your parts.
(Peggy Roberson 11:26pm May 11, 2012)
My Dad and now my daughter have always been my strengths. I would so love to
win this book. I already bought Hot Zone and Cover Me, Love your books.
(Tammy Yenalavitch 11:32pm May 11, 2012)
Wow, this sounds SO GOOD! Can't wait till it gets here. Thank you for writing SUCH a great one.

Sincerely,

Jimmie Carol Ellis
(Ms. JimmieCarol Ellis 11:49pm May 11, 2012)
I think the book sounds really interesting. I am not a military spouse but a "brat" so the sacrifices of our Service men and women as well as their families are something I understand. My father was in the USAF for 22yrs and we moved 7 times and spent 2 1/2 years without him while he was on remote tours.
(Denise Boyd 11:58pm May 11, 2012)
I love discovering new books on this site! Under Fire sounds great, and I will absolutely be reading it in the future! Good luck to everyone!
(Krissy Malott 1:52am May 12, 2012)
Oh Cathy... words spoken perfectly... makes me cry just reading this...My husband is Retired Navy, and this definitely brings back memories of when my he wasn't home, and I had to take care of things... like the time the Mall flooded where I worked...drowned lots of cars...my Astro van had 3 ft of water....inside.... oh joy!!.....or the time once when he was told...."your wife wasn't issued to you with your seabag"....lol.... but then the line from the CO when my husband made Chief..."The wives play a most important roll in their husbands career"...and then he proceeded to explain about the R&R trip the ship was making to New York....and I got to miss out on his Making Chief Ceremony....uummmm.....but through it all....I absolutely loved being a Military Wife.... Loved moving to new cities to explore....Loved clearing out old junk every time we moved... and loved the pride for my Military man...and the service he gave to his country... the service the whole family gives to our country... and I try hard every day to continue to support our active troups today...and the families they leave behind....and all the warriors when they come home...and continue to need our help... "When they come back, We give back"...my new motto... so thankful to all the military spouses...and their sacrifices.... thank you Cathy for writing this blog. ((hugs))
(Vickie Gerlach 12:07pm May 12, 2012)
That was lovely tribute to the military spouses. I would say my mother is my helper.
(Maureen Emmons 7:16am May 13, 2012)
Sorry I didn't see this sooner. I love THE MILITARY WIFE. It is so true. My DH
was in the Air Force for 24 years. During Vietnam, we did not have the
community support the families have now. Even with that support, it is a
difficult role and not for everyone. We loved it, most of the time. You make
friends unlike any you will ever make on the outside. There is a common
bond and understanding that it is difficult for an civilian to understand. We
just met up with friends we hadn't seen in nearly 30 years and it was truly like
it was only yesterday that we had last seen them. I hope UNDER FIRE does
well. Best of luck with your writting career.
(Patricia Barraclough 12:22pm May 14, 2012)
My hubby, too, is an Air Force guy; but we haven't had to move as often as you. I have found meeting so many folks connected to the military to be very interesting and actually very educational...so many hometowns, such different experiences,etc.
(Gladys Paradowski 7:06pm May 15, 2012)
Both military wives and 'army brats' are some of the strongest and most interesting women I have known.
(Shirley Nienkark 8:42am May 17, 2012)
My husband joined the Marine Corps in 1954. We were married in 1960 after
being school sweethearts for 7 years. He was a reservist until he was called to
Viet Nam in 1966, just as our 3rd child was born. He had 3 tours in Viet Nam
and numerous deployments over the years. His last overseas tour was Desert
Storm and he retired in 1992. It was a good life--many wonderful friends,
base housing that was so tightly woven with families who were like us, great
schools and activities for the kids, medical benefits and now a good
retirement. It was sometimes hell while he was so often gone, but I would not
have traded the life.
(Suzanne Gonneville 2:33pm May 17, 2012)
Thank you for writing these stories. I am in awe of any
woman who can keep it together with a husband that's in the
military. It's like being a single parent with conjugal
visits and all the worry of him being in active service. I
can't imagine...
Thanks again!
(Lenna Hendershott 1:28pm May 22, 2012)
sounds like a terrific read
(Pat Moore 2:53pm August 1, 2012)
Registered users may leave comments.
Log in or register now!