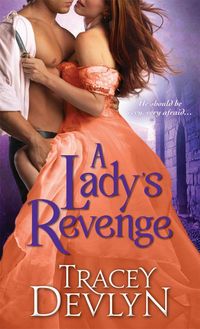 Purchase
A British agent flees her French captor?s torturous dungeon and falls in love with the decoder responsible for her imprisonment.
Nexus Trilogy #1
Sourcebooks Casablanca
April 2012
On Sale: April 1, 2012
Featuring: Guy Trevelyan, Earl of Helsford; Cora deBeau
448 pages
ISBN: 1402258224
EAN: 9781402258220
Kindle: B007HB5TGA
Paperback / e-Book
Add to Wish List

Romance Historical | Romance Suspense
British agent Cora deBeau has spent the last three years seducing secrets from the most hardened of French spies while searching for her parents' killer. When her latest assignment goes awry, she suffers at the hands of her French captor until Guy Trevelyan, the Earl of Helsford and master cryptographer, saves her during a daring rescue. Scarred and wary of men, Cora shies away from the one man who could heal her savaged heart.
After rescuing Cora from a French dungeon, Guy discovers it was one of his deciphered messages that led to her captivity. While her enemy tracks them across England, Guy strives to earn her forgiveness. But will he find the scars on her wounded soul run too deep?
Nexus Trilogy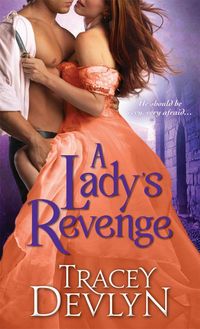 A Lady's Revenge
#1.0
Amazon.com | BN.com | | |

Checkmate, My Lord
#2.0
Amazon.com | BN.com | | |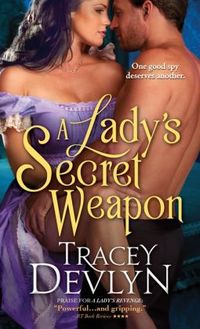 A Lady's Secret Weapon
#3.0
Amazon.com | BN.com | | |
Comments
32 comments posted.
Re: A Lady's Revenge

Whether I cheer on a vengeful heroine depends on the situation and the methods that are being used. If she has been really wronged and she is using justifiable methods then yeah I'll cheer her on, but if she is being too vicious or cruel about how she deals with it then she has become just as bad as those she is seeking vengeance against and a cycle of revenge could wind up being started with no one ever really getting even.
(Chelsea Knestrick 4:30pm April 23, 2012)
Since our heroine's mission has been defined, she is on a quest to right a grievous and personal wrong. How can that be vengeful? If she's courageous under adversity and cautious in all circumstances, then she undoubtedly will achieve her goal. In this instance, her progress will be vetted under the most trying conditions. So, if she can expedite the process with assistance, all the better. How can success not follow extreme effort and a well waged campaign. Since this is a romance starring such a determined heroine, villains will fall! May I be the fortunate winner to read Cora on!
(Carla Schuller 12:41pm April 26, 2012)
i think it depends on the cause and the situation. if it is for the sake of something trivial then i don't care for it but if it is for something like family,love,protect a loved one etc. then i cheer for her and hope the hero isn't so stubborn that he doesn't get it together until almost the end of the book.

tammy ramey
[email protected]
(Tammy Ramey 1:27am April 26, 2012)
I cheer on various heroine's, it really depends on the book I'm reading at the time. Can't wait to get started on this novel. Good luck to you in the future.

Britney
(Britney Barlow 2:54am April 26, 2012)
Sounds like a good book and one I'd really enjoy reading...thanks for the chance to win it!!!
(Bonnie Capuano 5:50am April 26, 2012)
Another factor that can determine whether or not I cheer the heroine on is who she is seeking vengeance against and whether or not their actions were intentional and understandable. Sometimes the target the heroine is seeking revenge against must change because the person they thought was responsible was really another victim. I hope you have a great day and I am looking forward to reading your book in the future.
(Chelsea Knestrick 6:03am April 26, 2012)
As long as there is a happy ending, I don't mind if there is a bit of darkness before that. Sometimes it is even preferable. I like the premise. Looking forward to reading the book.
(Pam Howell 8:09am April 26, 2012)
I'm not "turned off" by a vengeful heroine but I suppose it does depend on the
situation. In protection of family or friends, I am all for the heroine depending
on her method of choice. If, however, it's to get back for a 'slight' done to her
when she was 14, I'd doubt I'd be supportive of her efforts.
Looking forward to reading this...
(Jane Limback 10:18am April 26, 2012)
Nope... not turned off at all. I think it's the same for me whether the vengeful character is a man or woman...
(May Pau 10:26am April 26, 2012)
i love stories with spy`s and romance included i love happy endings so that is a must for me. the book sounds really good cant wait to read hope to win thanks
(Denise Smith 10:55am April 26, 2012)
What everyone here has said! It really does depend on the whole situation - how is THAT for a non-answer? Anyway, I already love this story - very compelling, to say the least - and would love the opportunity to win it - thank you for that chance, by the way!
(Felicia Ciaudelli 11:13am April 26, 2012)
Sounds like a great story, would love to read it.
(Wilma Frana 11:14am April 26, 2012)
I like a strong & feisty heroine, but I do want her to get her
HEA.
(Diane Sallans 12:10pm April 26, 2012)
I usually see the lighter side of this storyline in romance, would be interested to see it shown in a different light. Sounds gripping.
(G. Bisbjerg 12:16pm April 26, 2012)
It would all depend on what she is being vengeful about---If it's petty, it's a bad turn off.
(Sue Farrell 2:23pm April 26, 2012)
It depends. If the author writed the character in a way that give the heroine motivation then yes I root them on. It doesn't matter who's being the top dog, I've read books where the female takes the lead and found that I really enjoy it.
(Kristin Bingham 3:14pm April 26, 2012)
Righting a wrong and having a good reason for same is fine with me... but be certain that a wrong has been done.. This sounds like a great suspenseful read!!
(Cate Sparks 3:45pm April 26, 2012)
Chelsea, Carla, Tammy, Britney, Bonnie, Pam, Jane, May, Denise, Felicia, Wilma,
Diane, G, Kristin, Cate--

Thanks so much for sharing your thoughts on this subject! Cora has a very
compelling reason to seek vengeance/revenge...justice against the villain
Valere. :) Although Cora's journey might be a difficult, I do assure you she (and
Guy) will get her happy ending!

Hugs to everyone--have a happy Thursday!

Tracey
(Tracey Devlyn 4:05pm April 26, 2012)
As long as the characters work things out and get to their HEA... I am okay with it...
(Colleen Conklin 4:10pm April 26, 2012)
It really depends on the situation but there are plenty of stories that I read where it made sense for the hero or heroine to want revenge.
(Maureen Emmons 4:16pm April 26, 2012)
You seem to have chosen an unusual beginning for your story, but I bet it grabs the reader from the "git go." I look forward to finding out.
(Gladys Paradowski 5:52pm April 26, 2012)
Sounds like a very good book! Thanks for the chance to win!
(Natasha Donohoo 7:05pm April 26, 2012)
Looks like a Great book. Can't wait to read it.
(Kiki Winn 8:07pm April 26, 2012)
Colleen, Maureen, Gladys, Natasha, Kiki--

Thanks for stopping by!
(Tracey Devlyn 9:13pm April 26, 2012)
It depends on the situation and how she goes about exacting revenge.
(Janie McGaugh 9:56pm April 26, 2012)
Sometimes the best revenge is success , and getting the job done.
(Deb Pelletier 10:34pm April 26, 2012)
vengence plots can be a little tricky, but if well done and not mean or cruel spirited & with a good romance to it they can be enjoyable as well.
(d Kenney 10:53pm April 26, 2012)
With the right motivation I would cheer her on.
(Lisa Kendall 11:39pm April 26, 2012)
I myself am not much for revenge, but you have to walk in another's shoes to know whether it's worth it in the long run. After all, you have to live with whatever you do.

I guess I'm not a vengeful sort of person: I prefer to accept things as they are. It all comes back to my parents and how they raised us. I was born into the middle of a war. My mother told me about 3 incidents during my first year where I could easily have been killed, but I survived. My parents lost family, relatives, friends and neighbors. After that, my parents knew what war could do and refused to stress over things, even death. My father never found out what happened to his 2 brothers. After hearing how my father eluded a firing squad, I was just happy to have a father, though he never talked about the war to us. All we know we learned from my mother. Subconsciously, they taught us children to take each moment as a gift.
(Sigrun Schulz 12:55pm April 28, 2012)
P.S. That doesn't mean that I wouldn't like to read your book.
(Sigrun Schulz 1:19am April 28, 2012)
Not really turned off persay by a vengeful heroine. It really depends on the story itself. If there's a legit reason why, then I'm all for it.
(Joelle Beebe 10:31am April 29, 2012)
Spies intrigue me with the double life they lead and the stuff they want to keep hidden away. It seems like there's always a reason for revenge and to make right a horrible wrong to a family no matter how they're related. Right now there's a TV show called Revenge which is trying to get back at a family and has a whole bunch of double crossers.
(Alyson Widen 9:33pm April 29, 2012)
Registered users may leave comments.
Log in or register now!