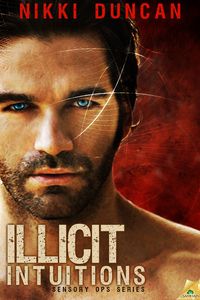 Purchase
Sensory Ops #3
Samhain Publishing
April 2012
On Sale: April 10, 2012
Featuring: Ava Malia; Dr. H
ISBN: 1609286405
EAN: 9781609286408
Kindle: B007OAHNVI
e-Book
Add to Wish List

Other Editions
Trade Size (reprint - March 2013)
Romance Suspense | Suspense Techno
Love could be their greatest liability.
Ava Malia knows three things. She was once a kickass covert operative. She will eventually adjust to her new team, the FBI Specialized Crimes Unit. And the only way to finally be free of her professional past is to solve her first case and get her hands on a game-changing technology. The only problem? Success rides on her ability to swallow her distaste for the persona she must adopt in order to earn the trust of a mysterious scientist.
Dr. H escaped childhood captivity with three things. His sister. Complete control of his gift. And an engulfing distrust of anyone in the government. Adjusting to a life of freedom hasn't been easy, but he's found peace in solitude. The sexy woman auditing his empathic studies, though, has a way of getting under his skin that's both arousing and disturbing. Plus, his psychic ability warns him of secrets so deeply buried in her psyche, they'd be better left alone.
Yet their instant attraction strips away all their protective barriers, down to the foundation of a new, fragile trust. And a vulnerability that, when an old enemy opens fire, could blast away any chance of a future.

Media Buzz
Good Morning Texas - July 2, 2012

Sensory Ops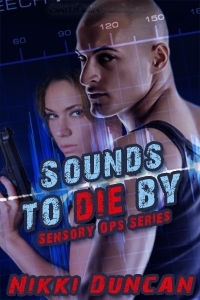 Sounds to Die By
#1.0
Kindle | BN.com | | |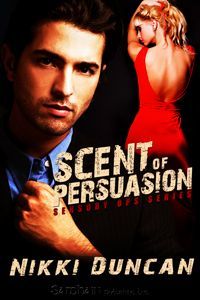 Scent of Persuasion
#2.0
Kindle | BN.com | | |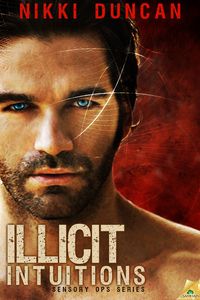 Illicit Intuitions
#3.0
Kindle | BN.com | | |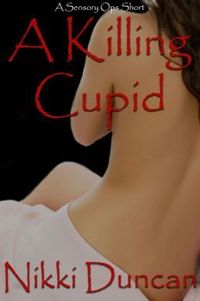 A Killing Cupid
#3.5
Kindle | BN.com | | |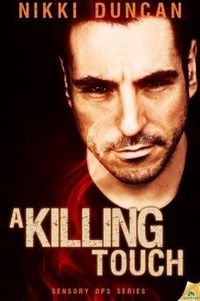 A Killing Touch
#4.0
Kindle | BN.com | | |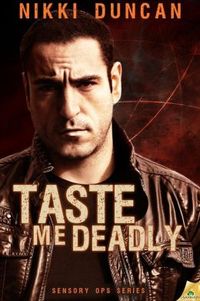 Taste Me Deadly
#5.0
Kindle | BN.com | | |
Comments
28 comments posted.
Sounds like at great read. Thanks for the giveaway.
(Mary Hay 8:50am April 10, 2012)
Kinda on pininterest -- but it sucks my life away... so I'm pretty scarce on it.. Thanks for the giveaway!!
(Cate Sparks 9:32am April 10, 2012)
My Illict day is just spending the day reading, sitting in my favorite chair with a cup of tea! Thank for the opportunity to enter your contest, I hope I win!
(Ann Thaxton 9:50am April 10, 2012)
Personally, I try to stay away from any more addictive
social networking sites. I am stuck on Facebook and use
Twitter occasionally, but I just don't need another time-
sucking interest. However, if I did try it I am sure I'd be
totally stuck.

Karin
(Karin Anderson 9:58am April 10, 2012)
I would rather it be on Facebook - I have no interest in becoming addicted to Pinterest and don't even want to go to that site... :D
(Kelli Jo Calvert 10:07am April 10, 2012)
I spend too much time on facebook now---I don't need another social website eating up my time so I can't get time to do what I really want READ.
(Sue Farrell 11:01am April 10, 2012)
I think suthor interactivity certainly brings reader loyalty, especially with "word of mouth" marketing. Facebook is, of course, easier for most of us to participate with. But, if you had a prize for participating via Pinterest, and very clear directions on how to access the site, I might be motivated since there would be fewer participants on Pinterest than facebook...and from what I understand, I might enjoy Pinterest more!
(Jan Terry 11:04am April 10, 2012)
My daughter is hooked on Pinterest, but I can't figure it out
so I won't be using it much.
(Laurie Peterson 11:37am April 10, 2012)
the book looks really interesting cant wait to read it
(Denise Smith 11:45am April 10, 2012)
Your book sounds great - and I love the title. I would love to be a winner, but will be getting the book to read one way or another. Beest of luck with it.
(Nancy Reynolds 1:30pm April 10, 2012)
I only belong to Facebook and that takes up enough of my time. I enjoy reading the blogs of the authors that I like. That is also my favorite illicit day. My life is not very exciting, I guess.
(Kathleen Yohanna 1:30pm April 10, 2012)
The book looks interesting, just my type. I hope I win it.
(Anna Speed 1:36pm April 10, 2012)
I have enough problems keeping up with people on Facebook so I
don't do Twitter, Pinterest or any other time consuming sites.
(Ilona Fenton 1:50pm April 10, 2012)
Actually never heard of Pinterest before... do not bother with alot of the social media stuff... would take up too much of my time...
(Colleen Conklin 2:22pm April 10, 2012)
When I think to look I can lose so much time on Pinterest. I try to stay away because there's way too much to see. Much like Youtube and Facebook and Twitter and the internet and...I'd much rather lose myself in a book or some dreamy baby blues.
Good luck and happy writing!
(Tracie Travis 2:58pm April 10, 2012)
I am completely addicted to Pinterest and I do pin books that I find interesting! I love giveaways as a way to get your name out there and show your fans you love them. Pinterest giveaways are fun too...you get entries into a giveaway for books or whatever by pinning stuff the author wants you to pin.
(Angie Lilly 3:31pm April 10, 2012)
This book sounds great!
I'm not on Pinterest.
(Cheryl McEwen 3:41pm April 10, 2012)
I don't know what Pinterest is. I pefer to read books. Thanks for giving me a chance to win your book,sounds great.
(Linda Hall 4:39pm April 10, 2012)
I'm a facebook person myself but I limit myself to how much time I spend there. I would rather spend my free time reading
(Susan Ashcraft 5:02pm April 10, 2012)
You know, I heard someone say recently that if you asked 100
people a question you would get 110 answers. That seems to
be true when you ask about any kind of Social Media. Of them
all, I seem to prefer Twitter and then Facebook. They all
have their pros and cons, ya know?

Also, I'm glad so many of you think Illicit Intuitions
sounds good. I had a great time writing it and am hoping
readers love it as much as I do.
(Nikki Duncan 6:19pm April 10, 2012)
Just hearing the buzz about pinterest, i think it is a great way to share between like minded people.
(Darci Paice 8:36pm April 10, 2012)
I'm not on pinterest, but have done boards on sites where you gather fashions and lipstick and nailpolish for a complete look like on Polyvore.com
My favorite kind of day includes going on a walk and having something decadent to eat because of working off the calories beforehand (at least that's what I tell myself).
(Alyson Widen 8:50pm April 10, 2012)
I don't have a Facebook account, nor do I do anything on Pinterest. I have a hard enough time trying to play catch-up with my e-mail. My Father, who just turned 90, had a fall in his house recently, and we almost lost him. Having to take a day trip to see him in the hospital (300 miles round trip) put me further behind, and I now have over 4000 e-mails!! If I got involved in Pinterest, I'd hate to see where I'd end up at!! Dial-up is no fun to deal with mail. As for Authors, I love it when they add a picture or two in their book - either something they want to share about their personal life in the back of the book, or else photos, if possible having to do with the plot of the book. By that I mean maybe a photo of the area written about to give more flavor to the story. That's only if the town isn't made up or it isn't Historical. It gives a little more flavor to the book and makes you feel like you're there. Sometimes authors write patterns or give recipes. If there was a small photo of the finished item so you could see what it looked like, that helps, too. I enjoyed your blog today, and I'm sure I'll enjoy your book!!
(Peggy Roberson 9:30pm April 10, 2012)
Oh...I LOVE this story - I have never checked out Pinterest, although I would love to - just lazy I guess - LOL - I do a lot on Facebook, Goodreads, and a bit on Twitter - they all have their good points and bad points - I have "networked" quite a bit on Facebook as far as authors, which is so cool - I would much prefer reading, also, though - and Peggy, I hope and pray that your father is doing better!
(Felicia Ciaudelli 9:39pm April 10, 2012)
No thanks. I can barely keep up with blogs and FB.
(MaryAnne Banks 10:26pm April 10, 2012)
I have seen the word Pinterest, but am in the dark as to how it operates and don't feel I have the time for it. I am not on Facebook and hate the fact that so many companies and sites almost try to force you to join Facebook to have any interaction with their site. Do you really like a company or site if they have to blackmail you into joining Facebook? I prefer sweepstakes or contests to interact with authors.
(Gladys Paradowski 12:49pm April 11, 2012)
I'm so excited for this book! I bought it right away.
I hope there's more in the series.
(Taryn Elliott 3:25am April 22, 2012)
I don't do Facebook or Twitter, gives me all the time I need to read my books. I like sweepstakes or contests also.
Thank You, for the giveaway...the book sounds like a great read.
(Lois Imel 5:38pm April 22, 2012)
Registered users may leave comments.
Log in or register now!