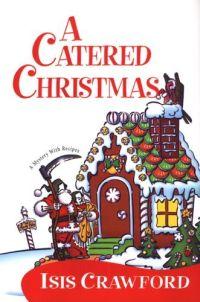 Purchase
A Mystery With Recipes
Bernie and Libby Culinary Mystery
Kensington
October 2005
312 pages
ISBN: 0758206879
Hardcover
Add to Wish List

As picturesque Longley, New York, gets ready to ring in the holiday season, caterers Bernadette and Libby Simmons are coping with their busiest time of year. If that's not enough to make them run around like crazed elves, they're recruited for a cooking show contest that pits celebrity chefs against each other—and gives rise to murder...
Visions of sugar plums are most decidedly not dancing in Libby's head—especially since she and her sister are set to appear on the Hortense Calabash Cooking Show. The premise is to give six professional caterers random ingredients and have them whip up a holiday meal. Libby knows that cooking under pressure is not her forte—plus, the camera adds ten pounds! She'll look like a stuffed Christmas goose.
The icing on the fruitcake is that Hortense Calabash is a grinch of year-round proportions. And the other contestants are some of the most demanding—and difficult—chefs in the business. But, as Bernie points out: the show will be great (and, more importantly, free) publicity for their store, A Little Taste of Heaven.
Bernie and Libby are thrown into the mix as arguments and accusations simmer on the set. Holiday spirit has left the building—and leaves a body—when Hortense, all dressed up as Santa Claus for the opening sequence, is killed by an exploding oven. It's soon clear that Hortense's demise was far from accidental.
Now as Bernie and Libby stir up the past, they open up a king-sized can of motives. Each contestant had a previous run-in with the horrible Hortense, who engaged in blackmail, rumor-mongering, and illicit affairs at every turn…but which chef couldn't stand the heat? With the holiday rush in full swing and a killer still on the loose, the caterers of Christmas present have no choice but to wrap up the mystery before their geese are well and fully cooked…
Comments
No comments posted.

Registered users may leave comments.
Log in or register now!