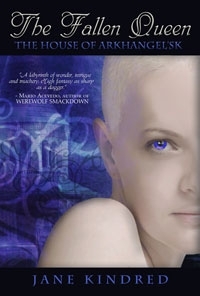 Purchase
House of Arkhangel'sk #1
Entangled
December 2011
On Sale: December 6, 2011
Featuring: Anazakia
342 pages
ISBN: 193704453X
EAN: 9781937044534
Kindle: B006GQ1P60
Trade Size / e-Book
Add to Wish List

Paranormal | Fantasy | Romance Paranormal
Heaven can go to hell.
Until her cousin slaughtered the supernal family, Anazakia's father ruled the Heavens, governing noble Host and Fallen peasants alike. Now Anazakia is the last grand duchess of the House of Arkhangel'sk, and all she wants is to stay alive.
Hunted by Seraph assassins, Anazakia flees Heaven with two Fallen thieves—fire demon Vasily and air demon Belphagor, each with their own nefarious agenda—who hide her in the world of Man. The line between vice and virtue soon blurs, and when Belphagor is imprisoned, the unexpected passion of Vasily warms her through the Russian winter.
Heaven seems a distant dream, but when Anazakia learns the truth behind the celestial coup, she will have to return to fight for the throne—even if it means saving the man who murdered everyone she loved.
House of Arkhangel'sk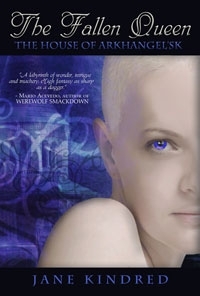 The Fallen Queen
#1.0
Amazon.com | BN.com | | |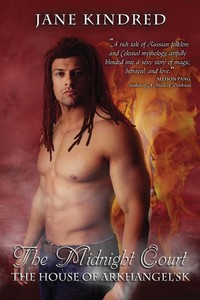 The Midnight Court
#2.0
Amazon.com | BN.com | | |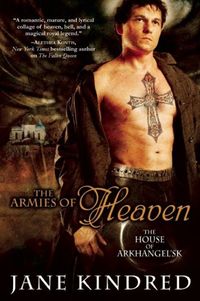 The Armies Of Heaven
#3.0
Amazon.com | BN.com | | |
Comments
46 comments posted.
Re: The Fallen Queen

The Scarlet Letter was always my favorite. Tale of Two Cities was one of my top ones too. Thanks for sharing yours!
(Dawn Staniszeski 1:42pm November 17, 2011)
I can't think of a specific one off the top of my head. I do love when love is found between a nobel and a peasant.
(Patti Paonessa 2:17pm November 17, 2011)
The Count of Monte Cristo has always been one of my favorites, too, Jane.

I just love the story of Anastasia and your book is phenomenal. All I can say is
thank you for writing it!
(Misa Ramirez 3:30pm November 17, 2011)
The Scarlet Letter is one of my faves too! Great post.
(Rachel Firasek 4:39pm November 17, 2011)
The book sounds soo good...can't wait to read it...count me in on the contest...would love to win a copy.....babyruthmac16@yahoo.com
(Lnda McFarland 6:11pm November 17, 2011)
A Tale of Two Cities was one of my favorites of the "Classics" we had to read in school...

Your book sounds great Jane!!! I can't wait to read it... :)

Lisa
(Lisa Kessler 8:00pm November 17, 2011)
My favorite story of class and conflict is Wuthering Heights'
- Catherine and Heathcliff are perhaps more realistic than
characters in other novels. They not only make mistakes, they
cause debacles, completely devastate both people and places
and ruin it all by blaming solely themselves.
(Diane Brixius 9:24pm November 17, 2011)
One of my favorite stories is The Secret Life of Bees, much of the story is the struggle for equal rights.
(Shirley Younger 9:43pm November 17, 2011)
"Les Miserables" would fit. Great story.
(Mary Preston 9:55pm November 17, 2011)
Thanks for the giveaway! I love those same movies but my
favorite is "The Great Gatsby"".
(Laura Henderson 9:59pm November 17, 2011)
Stories of class and conflice? Oooo, you have asked a tough one! Obviously, Upstair Downstairs is a classic along with Little Women and Wuthering Heights. But, a more modern interpretation is Jacqueline Carey's Kushiel's series. Plus, it epic!
(Jennifer Beyer 10:10pm November 17, 2011)
Oh, I love The Scarlett Pimpernel... The books were great... the movies so-so...
(May Pau 10:16pm November 17, 2011)
wow i can not really say because i have read so many good book thank you
(Desiree Reilly 10:17pm November 17, 2011)
I'm hoping that by reading your books, I'll be reacquainted with this period of History again. It's been quite a while since I studied about early Russia and their struggles. Anyway, Marie Antoinette came to mind as well as Henry VIII. You have sparked an interest in me to want to read your books and keep me up late at night. It's amazing that I could remember a little about the Bolsheveks while reading your post. Thank you for the spark!!
(Peggy Roberson 10:36pm November 17, 2011)
I love The Count of Monte Cristo.Other favorites are Jane Eyre and The Great Gatsby
(Jan D 10:56pm November 17, 2011)
little women!!!!
(Jennifer Beck 11:18pm November 17, 2011)
No book really stands out as being by favorite class and conflict.
(Sheila True 11:42pm November 17, 2011)
The movie I liked best of those mentioned is the Leslie Howard version of The Scarlet Pimpernel. I also enjoyed the book, but not the 1980s version as much. Maybe the Howard version was just less anachronistic.
Like others, I grew up with fairy tales--or shall I say royal tales--like Cinderella or Snow White. I have no real prejudices. Whether hereditary ruler or elected prime minister, president, or other official, what matters to me is how the person actually rules: compassionately, justly and frugally or not. I remember my mother's telling me about the abdication of King Edward VIII in favor of his brother while she was visiting Scotland in 1938. But my first "real" look at royalty was in 1951 when we were delayed getting off the ship from Europe which brought my family as immigrants to Canada. Princess Elizabeth and Prince Philip arrived on her first official visit to any Commonwealth country. At first our ship's passengers wondered if the red carpet we could see from the ship had been put out in our honor. We saw the royal couple again up closer a few weeks later and several other times over the years. My closest look was watching Queen Elizabeth's 1953 Coronation on a special film shortly after June 2 in a theatre--remember: there was no TV coverage at that time. I even had a Queen Elizabeth cut-out doll with lots of fancy gowns.
During the Canadian Centennial in 1967, my parents even got to attend a dinner for them and I saw them on the Britannia just small lawn and some water away from where I stood. I guess that fosters some "familiarity" even if you don't really know them.
(Sigrun Schulz 3:51am November 18, 2011)
Oh that early movie version of The Scarlett Pimpernel got me to read the book! It remains one of my favorites.
(Cate Sparks 10:14am November 18, 2011)
I'm wondereing when we'll start getting some fiction books about the current class conflict of the Occupy Wall Street movement?
(Sue Farrell 11:46am November 18, 2011)
I loved the book Scarlet Pimpernel but have only seen two of
the three film versions of it. Like you I loved the line about
marriage being a sentence :D
(Ilona Fenton 12:33pm November 18, 2011)
I like all of those you mentioned and THE PRINCE AND THE PAUPER.
(Penny Mettert 6:12am November 19, 2011)
My very favorites are the Scarlet Letter and Joan of Arc. I find the story intriguing. How she was a peasant girl (that dressed in mens clothing) born in France and led the French army to several victories during the Hundred Years' War. Then she was sold to the English and burned at the stake, being declared to be "a witch", at the young age of 19. Then 25 yrs. after her execution was pronounced innocent of the false charges by Pope Callixtus III and he declared her a martyr and named her, "Saint Joan of Arc". She is considered a heroine of France and a Catholic Saint.
(Linda Luinstra 5:03pm November 19, 2011)
I am not a great fan of fallen angels. But, My sister-in-law is crazy for this type of book so it would be great to see what she thinks about your book. Congrats on the new book.
(Kathleen Yohanna 12:35pm January 20, 2012)
I don't think that I have ever read a book about a fallen angel....Will have to check some out...Thanks for sharing!
(Dawn Staniszeski 10:05am January 20, 2012)
I don't recall ever reading about a fallen angel. The one angel that does come to mind that I did enjoy, however, was the movie Michael, with John Travolta. I suppose he was a bit of a fallen angel, and the movie did pull at your heartstrings a bit. I am looking forward to reading your book, since your storyline is so different from the norm. It sounds like you did a bit of research to come up with your story.
(Peggy Roberson 10:26am January 20, 2012)
I absolutely love stories about fallen angels and that is why
I will continue to read - and write - them. My favorite fallen
angel is Azazel, which is probably why I wrote about him!
Jane, your book sounds fantastic and I would love a chance to
read it!
(Margay Roberge 10:33am January 20, 2012)
What an interesting take you bring to Angel/Demon stories. I have never seen anything but the traditional mythos so am very intrigued with the tale you tell. My favorite angel is actually the character Seth from the movie City of Angels where an angel decides to fall in order to be with the woman he loves.
(G. Bisbjerg 10:44am January 20, 2012)
My absolute favorite genre is paranormal. Give me demons,
vampires, angels-especially hunky males, can't get enough!
Thank you for the contest & I hope to read you soon!
(Barb Kettler 11:29am January 20, 2012)
Sounds like an interesting book, different concept.
(Wilma Frana 11:36am January 20, 2012)
I can understand the misunderstanding about the title. It makes you think of
serious historical novels that are more history than story. That said I have
never read or seen a fallen angel story. We don't have a TV (for almost 40
years) and read all the time. I find the idea intriguing and it sounds like you
did a lot of research without burdening your book(s) with unnecessary details.
That makes me want to try it. Thank you for all your hard work.
(Sandra Spilecki 11:49am January 20, 2012)
Paranormals..vamps,weres,fallen angels,cats, etc. gimme,gimme. Historical romance and suspense, yes. I Love to read and have an excellent imagination so I can let everything go and loose myself in my reading. Oh and did I mention those covers...yes. This book sounds entertaining, can't wait to read it. Thanks and keep on writing.
(Margie Gagarin 12:31pm January 20, 2012)
I have not actually read too many angel books... love paranormals... have to add more angels to my reading pile.
(Colleen Conklin 12:38pm January 20, 2012)
I've been reading several fallen angel PNR and UF series lately, and I've really enjoyed them. It does seem like all of a sudden they're very popular, but given the lengthy publishing process, that's to be expected. There are still lots fewer books about angels than vampires or werewolves, so there's definitely lots of room for more!
(Rebecca Whitehead-Schwarz 12:41pm January 20, 2012)
I much prefer the non-traditional angel/demon storylines.
(Lisa Elwood 1:34pm January 20, 2012)
Fallen angels are more intriguing.
(Alyson Widen 5:06pm January 20, 2012)
I don't think I have ever read a book about fallen angels.Your book sounds very interesting. Thanks for giving me a chance to win your book.
(Linda Hall 5:46pm January 20, 2012)
It must be quitting time. I read one that comes to mind and cannot think of the title which is not normal for me. Grrrr, now it's going to plague me until I remember it. Even so...sounds like a great read!
Good luck and happy writing!
(Tracie Travis 6:24pm January 20, 2012)
Sneaking away from the day job to say thanks for having me on Fresh Fiction today! Thanks for all the great comments, everyone. I'd forgotten about the movie Michael...will need to see that again. And yes, I totally loved Seth in City of Angels. (Then again, I love anything Nick Cage does. ;) )
(Jane Kindred 6:32pm January 20, 2012)
I love Nick in City of Angels thats one of my favs and the angel in Its a Wonderful Life. I never thought about demons being in heaven before. I bet they stir up a lot of trouble.
(Christina Vanderford 7:07pm January 20, 2012)
HI JANE. I LOVE PARANORMAL AND HOPE IF I WHINE LOUD ENOUGH
SCROOGE WILL GIVE ME THE DEBIT CARD! LOL
(Linda Bass 8:04pm January 20, 2012)
SINCE I NEVER READ ANY, CAN I SAY ALL? LOL
(Linda Bass 8:05pm January 20, 2012)
There is a book I've read about a fallen Angel: Angel of Darkness by Cynthia Eden; a very good book.
(Diane Sadler 8:09pm January 20, 2012)
Love these types of books! If I am not a winner, I will be buying it! Cant wait to read it!
(Stephanie Briggs 10:35pm January 20, 2012)
I enjoy the concept and this type of book, in the end the angels are always redeeming themselves so it is cool to follow their journey.
(Darci Paice 11:45pm January 20, 2012)
I guess I won't win any prize this time. I can't remember reading about any fallen angels yet. However, it's not that I'm in any way averse to doing so. I just have too many other books still waiting to be read.
(Sigrun Schulz 9:19pm January 21, 2012)
Registered users may leave comments.
Log in or register now!