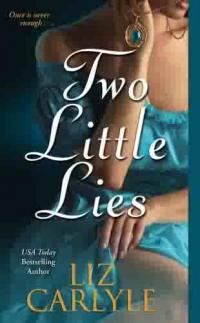 Purchase
Sins, Lies and Secrets trilogy
Pocket Books
December 2005
Featuring: Quin, the Earl of Wynwood; Countess Viviana Bergonzi
384 pages
ISBN: 0743496116
Paperback
Add to Wish List

Handsome scoundrel Quin Hewitt has been living a devil-may- care existence in London for years. But when his father dies unexpectedly, Quin finds himself saddled with an earldom he never wanted, a country estate that seems to suck the very life out of him, and a mama who won't quit crying. Reluctantly, Quin faces up his family duty, and decides to find himself a sensible, suitable wife so he can beget a sensible, suitable heir. And who better to marry than his best friend's governess, the proud and pretty Miss Esmée Hamilton?
But when Quin's euphoric mother throws an impromptu betrothal party, Quin finds himself faced with a very unexpected guest. The beautiful Viviana Alessandri has been called by duty back to England, the land she loathes. No longer the unknown opera singer Quin once kept as his mistress, Viviana is now the powerful Contessa Bergonzi di Vicenza, worshiped throughout Europe for her voice and her passion. But despite her new title and wealth, to Quin's eyes, his old love has not changed. She is not suitable. She is not sensible. And she still takes his breath away.
Comments
No comments posted.

Registered users may leave comments.
Log in or register now!