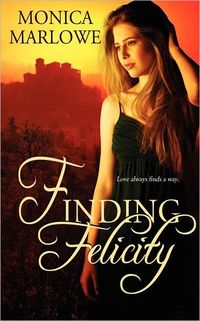 Purchase
Love always finds a way...
Eternal Press
August 2011
On Sale: August 7, 2011
Featuring: Anthony Lamberti; Madeline O'Connor; Tyler Reed
246 pages
ISBN: 1615724486
EAN: 9781615724482
Kindle: B005FQMVO2
Paperback / e-Book
Add to Wish List

Madeline O'Connor was happy. Or was she? When she learns that her estranged sister is gravely ill, she leaves behind her life in Manhattan to be at her sister's side in Italy. There, she discovers an ancient Benedictine monastery that accommodates travelers, and she decides to stay there, among the monks. Everything in her life turns upside down when she falls for Brother Anthony Lamberti, a soft-spoken Italian completely different from the men she knows in New York. Together Madeline and Anthony find love for the first time, and learn that life and love always find a way. Loving Anthony creates a new life for Madeline. A new life she would never have imagined and yet is perfect for her in every way.
Comments
38 comments posted.
Re: Finding Felicity

Thank you and Merry Christmas
(Sherry Lebow 12:56pm December 23, 2011)
Merry Christmas & thank you for the words you write!!
(Mary Preston 4:13am December 23, 2011)
Keeping in mind this is NOT a commercial holiday. Merry Christmas to you and yours. Your books sounds absolutely wonderful.
(Karen Gervasi 5:49am December 23, 2011)
Have a Happy and Blessed Holidays.
(Catherine Lemanski 6:51am December 23, 2011)
KUDOS FOR REMEMBERING THE REASON FOR THE SEASON!
(Silvana Moscato 6:51am December 23, 2011)
Merry Christmas and God Bless.
(Mary Smith 6:58am December 23, 2011)
Thank you for reminding people that Christmas is, or should be, all about the birth of Christ.
Blessings,
Marjorie
(Marjorie Carmony 7:09am December 23, 2011)
Merry Christmas and congratulations on your publication!
(Renee Brown 7:29am December 23, 2011)
Merry Christmas and Happy New Year Everyone!
(Cheryl English 7:59am December 23, 2011)
sounds like a good read..hapy hollidays to all....
(Mal Kaplan 8:23am December 23, 2011)
Since you asked that question, I just had an incident that happened to me. I sent an e-mail to my Sister that she misunderstood, and she got extremely angry with me. She also overreacted, and caused a big one-sided fight, which I won't get into. Anyway, since I still "love" her, I sent her a letter in the mail, asking for "forgiveness," even though I'm not at fault. Now I have to have "faith" that she'll understand not only what I meant, but that she'll accept the apology, and we can be a family again. If not, the loss will be great, and I'll just have to get on with my life, even though I won't be happy about it. I can't say I didn't try. Have a very Merry Christmas, and a Happy New Year!!
(Peggy Roberson 9:29am December 23, 2011)
Merry Christmas and Thanks for sharing!

staniszeski3824@comcast.net
(Dawn Staniszeski 9:49am December 23, 2011)
Yes the holidays are for remembering and time with loved ones not a shopping marathon and keep up with the joneses scenario.
(Darci Paice 10:17am December 23, 2011)
TO Peggy Roberson, I pray that you and your sister reconcile soon. It is a wonderful season to forgive and remember Jesus came to save us all.
(Kathleen Bianchi 10:24am December 23, 2011)
This book sounds wonderful - and I would love to be entered to win a copy. Best of luck with it. Happy Holidays. Nancy
(Nancy Reynolds 10:28am December 23, 2011)
I was totally amazed this year not to hear Christmas music in the stores--
nobody seems to know why. Then today I read a headline that said "No Church
Sunday because it is Christmas". This is not a time for me Me ME. This is the
Lord's time. He is the reason for the season!
(Sandra Spilecki 10:52am December 23, 2011)
I always try to find one special charity to give to during the holidays--usually one involving animals because I feel they get forgotten this time of year.
(Sue Farrell 11:23am December 23, 2011)
Merry Christmas and a Happy New Year! I usually donate to my church.
(Wilma Frana 12:30pm December 23, 2011)
We love getting toys for children... donate to our local toys collection each year... Merry Christmas!
(Colleen Conklin 1:19pm December 23, 2011)
Happy Holiday to all!
(Timothy Younger 1:41pm December 23, 2011)
Merry Christmas and thank you. This sounds like the type of story I am in a mood to read. My mother met and married dad while he was in the seminary. Thankfully he hadn't become a priest yet!
(Angee Bartlett 3:05pm December 23, 2011)
Your book sounds wonderful. Have to read it. Would love to win it.
(Mary Branham 3:18pm December 23, 2011)
Wow - I LOVE this story already! Thank you for sharing this with us!
(Felicia Ciaudelli 3:32pm December 23, 2011)
Yes, JESUS is the Reason for the Season and we all need to
reflect that better in our lives and others too. We always
need to be loving and kind and caring about others and always
treat others like we want to be treated and cared for. GOD
Bless YOU and others always. Thanks, Cecilia CECE
(Cecilia Dunbar Hernandez 3:40pm December 23, 2011)
It's a good time of year to remember the many hungry people that would so appreciate a few groceries to get by (and would be so appreciative). So remember, to grab a few canned or boxed goods that you may not really need in your cupboards or pantries and take them to any drop-off barrels and bins at your grocery stores, libraries, etc. to go to the food pantries that pass them out to the less fortunate and low-income families and the homeless. Many people are jobless and are struggling. You will feel good inside to know you made a difference in someone's life--which one day could be you! That's why everyone needs to care about others so they'll feel delighted at this time of year. I saw a couple men walk in the cold with backpacks yesterday just to go into our donation pantry for a couple loaves of bread. The one stopped and wished me, "A Merry Christmas". I had to stop and donate some food today just thinking about the high cost of food and how excited a person can get just for a loaf of bread! Merry Christmas to Everyone! Peggy Roberson...I'm sure your sister will come around, eventually. I have four sisters and we have our ups and downs. If she doesn't respond to your apology in a few days, she doesn't have a big heart like you do. Hope it all works out and best of luck.
(Linda Luinstra 4:01pm December 23, 2011)
Merry Christmas! I think forgiveness is the hardest thing to do but it is a good time for me to remember to be thankful and to not worry about the small things in life.
(Maureen Emmons 6:10pm December 23, 2011)
Faith - reminding my children that Christmas is a celebration of Jesus not of Santa (although he is pretty awesome!)
Love - telling the people I love that I love them.
Forgiveness - sometimes I have to remind myself that people are only human. I may want to get irked sometimes but I take a deep breath and try to remember that no one is perfect.
(Jennifer Beyer 8:50pm December 23, 2011)
help out at a food bank
merry christmas!!
(Jennifer Beck 9:06pm December 23, 2011)
Happy holidays to you too!
(MaryAnne Banks 9:13pm December 23, 2011)
Sharing the spirit of Christmas by donations of time and money to charities that help the working poor is one of our family traditions. Keeping materialism out of Christmas is hard to do...but IT CAN BE DONE.
(Joanne Hicks 9:40pm December 23, 2011)
I always donate to Salvation Army And Christmas day, we always take time to
appreciate our blessings and remember the people we have lost. Christmas is a
time for reflection.
(Tammy Yenalavitch 11:54pm December 23, 2011)
Tis the season to know that it is much better to
give than receive. Give, give, give. Go through the
closet, go into my wallet, choose a couple
children off the angel tree, and donate my time.
The world would be a better place if people
practiced this all year round. Never forget the
reason for the season. Have a Merry Christmas!
(Carla Carlson 11:01am December 24, 2011)
Merry Christmas to all of my internet friends. Wishing you warmth inside and out:)
(Barbara Studer 1:56pm December 24, 2011)
Do something nice for someone every day, and it always feels like Christmas. Make it a goal. I've been doing it for nearly 20 years now, and I always have a good day in the end, because I know I've been nice to at least one person each day, no matter how bad my mood may have been. :)
(Donna Holmberg 11:43pm December 24, 2011)
I hope to bring some assistance, happiness, company and His Word to whomever I can during this Holiday Season. Wishing you and yours a wonderful Holiday Season! Thank you for having this contest for all of your fans. Your book sounds very inviting and I would love to be the one to win. Good Luck to everyone! Merry Christmas!!
(Cheri Minott 6:00am December 25, 2011)
I would love win this and review it. Hope you have a blessed Christmas.
(Jane Squires 5:18pm December 25, 2011)
We received a large number of Christmas cards and I was honestly surprised that by far most of them had a religious theme. This thrilled me, for I hope people are beginning to realize what Christmas is really about.
(Gladys Paradowski 8:42pm December 25, 2011)
Slowing down makes me reflect on how my friends and family support me and my endeavors. Around the holidays and when out on the trails of many parks, I feel blessed and refueled ready to reface the world.
(Alyson Widen 1:50pm December 29, 2011)
Registered users may leave comments.
Log in or register now!