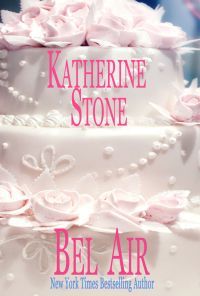 Purchase
All that glitters isn't gold. Sometimes, it's love.
Author Self-Published
July 2011
On Sale: June 28, 2011
372 pages
ISBN: 1463657064
EAN: 9781463657062
Kindle: B0069VODAW
Trade Size / e-Book (reprint)
Add to Wish List

All that glitters is not gold . . . Sometimes it is love.
Bel Air, California, where even the rich and famous marvel at the splendor of their surroundings. It is here, in the lush, sun-bright hills above Hollywood, that Allison, Winter, and Emily search for the courage to dream, to trust, to love. But there are dark secrets and hidden betrayals that must first be overcome.
A terrible accident has stolen Allison Fitzgerald's dreams, and it has taught her that life is too precious and too fragile to waste. So when she meets a man who evokes a passion in her that she has never known before, she surrenders to his love without questioning his secretive past.
Comments
58 comments posted.
Re: Bel Air

I love in Studio City but would love to read & review this novel set in nearby Bel Air. Nice cover art too!
(Michele Hunter 1:01am September 4, 2011)
This quote is from Harry Potter and it's stuck in my head: "Lord Voldemort showed me how wrong I was. There is no good or evil, there is only power and those too weak to seek it." Professor Quirrell, Harry Potter and the Sorcerer's Stone.
(Kai Wong 2:35am September 4, 2011)
My favorite ice cream is Edy's Dulce De Leche - LOVE IT!
(Diane Brixius 4:50am September 4, 2011)
I thought I was the only one in the blogisphere whose favorite ice cream is peppermint. I love it! For some reason the world thinks it is a s easonal flavor and I can only seem to find it around Christmas. I love the cover of your book - so enticing!
(Karen Gervasi 6:53am September 4, 2011)
favorite ice cream is raspberry chocolate chip from Graeters
(Pam Howell 9:06am September 4, 2011)
My favorite ice cream is raspberry swirl from Schwans.
(Wilma Frana 12:31pm September 4, 2011)
My favorite quote is actually a Dr Seuss one.."Be who you are
and say what you feel because those who mind don't matter and
those who matter don't mind." How true this is!!
(Melanie Adkins 12:35pm September 4, 2011)
Fav ice cream... cookie dough or oreo! YUMMY!
(Colleen Conklin 1:36pm September 4, 2011)
My favorite icecream would have to be vanilla!
(Gail Hurt 1:39pm September 4, 2011)
My favorite ice cream is pistachio, I can remember going to a parade with all of the family and afterward stopping at an Italian restaurant the meal was good but the ice cream was beyond good. Probably because the day as a whole was so memorable.
(MaryEllen Hanneman 2:38pm September 4, 2011)
Lime Sherbert
(Lisa Garrett 4:49pm September 4, 2011)
My favorite ice cream flavors (yes I have two) are egg nog and rum raisin.
(Shirley Younger 5:15pm September 4, 2011)
Rocky Road and Mint n Chip
(Trasina McGahey 5:18pm September 4, 2011)
I love a rich vanilla ice cream with caramel sauce. Mmmmm, mmmm, mmmm!
(Tracie Travis 5:19pm September 4, 2011)
What I love best is life, then I love chocolate/vanilla ice cream!!!!!!!!!!

"Everyday above ground is a good one!!!!!!!!
(Joanne Bozik 5:27pm September 4, 2011)
"There are more things in heaven and earth, Horatio,
Than are dreamt of in your philosophy."

Homemade strawberry and homemade peach are my favorites.
(r w 5:41pm September 4, 2011)
Strawberry cheesecake ice cream :)
(Vivian Mah 5:56pm September 4, 2011)
I love coffee ice cream with chocolate swirls and chocolate coated coffee beans on top. Ahhhh- yummy.
(Christine Arcidiacono 6:21pm September 4, 2011)
OK. You touched on my favorite thing: ice cream! I adore peppermint ice
cream. Christmas is almost around the corner. The stores should start stocking
it before too long. OK...I'm hoping it won't be toooooo long!! *Drool!*
(Connie Fischer 6:22pm September 4, 2011)
My favorite ice cream is apple pie ice cream. There was a small ice cream shop that used to make it from scratch. It was cinnamon ice cream, with pieces of apples and crust in it. It was so good, unfortunately, they went out of business, so I will never have it again.
(Debbie Penny 7:10pm September 4, 2011)
My favorite ice cream would have to be ... strawberry....Not that artificial
strawberry flavor...I like real strawberry ice cream with plenty of large
strawberries throughout
(Cheryl Schurmeier 7:14pm September 4, 2011)
Our city makes the best ice cream ever---TOFT'S---and any of their flavors are the best, altho i am partial to butter pecan or pralines and cream
(Barbara Studer 7:34pm September 4, 2011)
My favorite Ice-Cream Chocolate/Chocolate/Chip.
(Mary Preston 7:42pm September 4, 2011)
I love all kinds of ice cream; but my absolute favorite is Purity Chocolate Raspberry Truffle-real truffles in the ice cream-it is too yummy and worth every calorie!

My favorite quote is from John Wayne "Courage is being scared to death - but saddling up anyway.". I used this quote a lot when I was training my mare. Another favorite quote is "When you fall off the horse, get right back on." That can apply to everything in life. My passion is horses, I love everything about them!

Loved your questions!
(Jody Hollenbeck 7:53pm September 4, 2011)
I enjoyed reading your entry today, along with your quote, and I'm sure that I'll enjoy your book just as much. I don't know how you or your Husband slipped under my radar, but it looked like I have some catching up to do!! As for quotes, they're like potato chips - hard to pick just one, so I'll have to break the rules on this one. :) The first one is - Good things come in small packages. Anything that had any meaning to me always came in a small package. The next one is - Trust your gut feeling. This one I should live by, and never do. The consequences are always pretty bad when I don't. The last one is- Everything happens for a reason, and I've learned valuable lessons when the reasons are detremental, which have happened quite a bit over the past few years. They weren't all follow your gut problems, either. They just happened. As for ice cream, I like mint chocolate chip or black cherry. Have a wonderful evening!!
(Peggy Roberson 8:26pm September 4, 2011)
My favorite ice creams are strawberry and peach. When our children were young, the grandparents would come over on summer holidays and we would make ice cream. The old fashioned kind of ice cream with a hand crank ice cream maker. We would all take our tuns on the crank until the ice cream was ready. Oh, what delicious memories.
(Constance Biller 9:23pm September 4, 2011)
So many favorite things - it's hard to choose! It's probably easier to say - anything chocolate! Well, almost anything - I'll pass on chocolate covered ants. :)
(Edwina Cowgill 10:15pm September 4, 2011)
I have two favorites mint chocolate chip and Baskin Robbin Praulins and Cream
(Sheila True 10:46pm September 4, 2011)
One of my favorite things are turtles, actually Turtles, chocolate-covered pecans with a caramel centre. As for ice-cream, I've recently switched to frozen yogurt with strawberries, healthier than ice-cream.

Both are absolutely yummy, to me anyway.
(Sigrun Schulz 10:49pm September 4, 2011)
I love chocolate ice cream and mocha almond fudge. Baskin Robbins used to have a yummy Kahlua and Cream. Hot fudge and real whipped cream toppings a must.
(Pat Lieberman 11:00pm September 4, 2011)
My favorite ice cream is Chocolate covered cherry from Publix. It is wonderful!
(Linda Hall 1:06am September 5, 2011)
Oh... gummies... definitely...
(May Pau 8:46am September 5, 2011)
Favorite ice cream......peanut butter!! Love the cover of this book.
(Stephanie Strausberger 9:08am September 5, 2011)
Coconut ice cream with hot chocolate topping...it's like a mounds bar!!YUM..
(Robin McKay 9:32am September 5, 2011)
My favorite ice cream is cherry nut---YUM
(Sue Farrell 11:16am September 5, 2011)
Wow! Thank you all for your wonderful, delicious, and inspirational comments - both ice cream and quotes. I'm loving reading them and feel I should (must!)sample every suggested ice cream and will try my best to live by the wonderful quotes.
This blogging is fun!
(Katherine Stone 12:11pm September 5, 2011)
My favorite things are anything that smells nice, flowers, candles, body lotions ... oh, and my romance novels.
(Dianne Arsenault 2:08pm September 5, 2011)
Strawberry ice cream.
(Lisa Richards 5:20pm September 5, 2011)
my favorite ice cream -- what ever the heck is in the freezer!!! with chocolate sauce! unless there is fudge sauce... I love the poem! thanks!
(Cate Sparks 5:42pm September 5, 2011)
My favorite ice cream is chocolate.
(George Ferris 8:35pm September 5, 2011)
I love peach ice cream and Autumn.
(Brenda Jann 9:44pm September 5, 2011)
'A lie gets half way around the world before the truth has a chance to get it's pants on' Winston Chrurchill. What a great quote.
(Barbara Hanson 8:19am September 6, 2011)
What an interesting interview. Thanks for sharing with us. I
enjoy getting to know authors better.
(Robyn Roberts 8:55am September 6, 2011)
This may sound awful but my favorite quote, the one that motivated me to leave an abusive marriage, is this: "Divorce is like leaving a burning building through a door on fire, you know that to go through it you will be scarred but the alternative is to stay and die." I had it taped virtually everywhere and it gave me strength to save me and my children. I know that a few women who met me during and after that time used it also. Sorry it's depressing but the outcome was worth it. I now am with a wonderful loving and supportive husband!
(Patti Paonessa 9:09am September 6, 2011)
I like coconut ice cream (I had the best when I was in Mexico), Edy's Dulce De Leche, & chocolate.
Here are 2 quotes that I like:
"It takes as much energy to wish as it does to plan". - Eleanor Roosevelt

"Where your talents and the needs of the world cross - therein lies your vocation." - Aristotle
(Beverly Beltz 10:35am September 6, 2011)
More wonderful quotes - and ice creams. Thank you all so much. I was wishing I had some coconut ice cream, but, given great Eleanor Roosevelt quote above, I am now planning a trip to the grocery to get some.(Of course, energy and calories may not be the same thing, but who cares?!)

And, good for you, Patti, hooray for you, for daring to leave the burning building through fire - and finding happiness on the other side.
(Katherine Stone 11:49am September 6, 2011)
Golden vanilla ice cream seems very dull in comparison to the types selected by others, but that's what I prefer.
(Anna Speed 2:56pm September 6, 2011)
Oh... gummies for sure...
And congrats on your new book!
(May Pau 3:07pm September 6, 2011)
My favorite ice cream is Party Cake and a close runner-up is Edy's French Silk along with Butter Pecan.
(Alyson Widen 4:32pm September 6, 2011)
My favourite ice cream is taro. It's even better on a freshly baked bun, yes an ice cream bun!

Katherine, I'm so happy to see your books being re-issued, many of which are new to me and now I'll have chance to read them. I first discovered some of your books last year and The Cinderella Hour would have to be my favourite.
(Na S 4:48pm September 6, 2011)
All your books are well worth reading over and over.
(George Ferris 5:04pm September 6, 2011)
Breyers Black Raspberry with Dark Chocolate pieces - Yum!
(Diane Sallans 8:50pm September 6, 2011)
Well one of my favorite quotes (I have quite a few) is: "Twenty years from now you will be more disappointed by the things that you didn't do than by the ones you did do. So throw off the bowlines. Sail away from the safe harbor. Catch the trade winds in your sails. Explore. Dream. Discover."
— Mark Twain
This is one of my favorites because it reminds me to live life to the fullest so you don't have a life that you look back on a see its full of regrets.
(Katie Johnson 8:55pm September 6, 2011)
A Quote by Dudley Moore "I am trapped in this body and there is nothing I can do about it.
Except stop eating my favorite Ice Cream ,Chocolate Fudge Walnut. Oh.. My.. God ..,To Die For!
(Deb Pelletier 9:52pm September 6, 2011)
I love Choc-chip cookie doe. Best ice cream. If ice cream place that would be Cold Stone Ice Cream. That is the best. Birthday Cake-need I say more. Tastes just like cake and ice cream.
thanks for the giveaway and the chance to win.
(Chris Bails 11:17am September 7, 2011)
When I was a little girl, my mother took us on Sundays to an ice cream shoppe where the ice cream was handmade. My favorite back then was called, "Zebra" ice cream. It was a creamy vanilla with a cake-like brownie swirled through it, and it was so-o-oo good! I haven't forgotten how I looked forward to those huge scoops on our cones. Today, I have several favorites--strawberry cheesecake, cinnamon, apple pie, mint chocolate chip, etc.
(Linda Luinstra 7:32pm September 7, 2011)
I also am firstborn, and a Virgo - coming up on Sunday. Being the picky one, the perfectionist, the one the "parents experiment on" is never easy. I have so many favorite quotes - I think the song my grandmother taught me to get through everything, "Smile"... and since I developed food allergies I can no longer eat my favorite birthday cake - Cannoli! Please treat yourself to one, and have a Happy Birthday!
(Carla Carlson 9:30pm September 7, 2011)
My first and favorite car I owned as a teenager was a Bel Air (coincidentally, your book's title). My favorite quote,
"Live Well, Laugh Often, Love Much". There are so many good ones.
(Linda Luinstra 6:39pm September 8, 2011)
Registered users may leave comments.
Log in or register now!