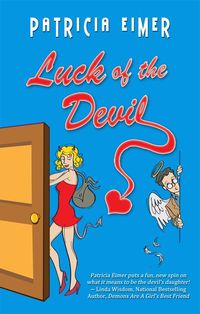 Purchase
Entangled
August 2011
On Sale: August 2, 2011
Featuring: Faith
294 pages
ISBN: 1937044114
EAN: 9781937044114
Paperback
Add to Wish List

Being the youngest daughter of the Devil isn't all it's cracked up to be. The days of teenage rebellion and vows of chastity made just to tick off her father are over, and now all Faith Bettincourt wants is a nice, quiet life. Unfortunately, thanks to the unexpected arrival of her demonically-downsized sister, a ditzy succubus roommate, and dear old Dad himself, Faith's plans for a relaxing vacation spent watching reruns go up in flames.
Now it's all Faith can do to keep the family reunion from Hell (literally) under wraps, and the angelically-inclined hottie across the hall from realizing there's something weird about his neighbor. And, thankfully, it's working. Until an angelic stalker shows up in a bid to steal her powers and take over the world.
Forget watching reruns. With the way things are going, Faith will need the luck of the Devil just to survive until Monday.
Comments
8 comments posted.
Patricia, I can't wait to read Luck of the Devil! I hear it's hilarious. Devilishly
funny is my cup of tea. So great to see you here!
(Misa Ramirez 5:44pm July 10, 2011)
I also started out writing fan fiction. Mine were take-offs from the Dragonriders of Pern Series, the Myth Adventures series, and Great Expectations by Dickens (I didn't like how it ended, so I wrote a new one.) They were great exercises in writing, although I don't think the authors would have considered me a fan if they'd seen it.
(Melissa Jarvis 9:24pm July 10, 2011)
Wow... sounds like it took a lot to get you where you are today, but you kept on plugging. Way to go! Can't wait to read your work.
(Donna Holmberg 11:43pm July 10, 2011)
Thank you for sharing your story. My daughter is
a tween and has caught the creative writing
bug..fanfiction. I love it. It's great that I can
share your story with her, gives her that glimpse
of the what the future could hold.
(Carla Carlson 1:40am July 11, 2011)
I think writing fan fiction is a fun, creative outlet. For writers/readers who love a
particular story that has come to an end, it's a way to visit with those characters
again.
(Chris Cannon 11:04am July 11, 2011)
It almost sounds like ghostwriting. Fanfiction is what authors want to hear from their readers and it sure is easier to write about a topic than to create on your own. Love reading comments from both readers and writers.
(Alyson Widen 4:53pm July 11, 2011)
English was always my favorite language in school. When I wrote stories in High School, my teacher singled me out and told me that I could become an excellent writer. I told my Mother that I would like to study English in college, and she discouraged me. I could kick myself now for not following my dream, and never going to college!! I wanted to just study English and see where it took me - perhaps write on the side, and maybe change my major down the road, but they were paying for my schooling, and I didn't want to disappoint them, so instead I just didn't go, and instead just disappointed myself in the end. I still have books inside of my head, and will probably take them to the grave with me. Now I don't have the time, nor the nerve to start them.
(Peggy Roberson 5:51pm July 11, 2011)
Love Dr Who!! I watched the PBS series, telling my age here. Fan fiction would be entree into writing and if the subject is a favorite character of subject I would be captured.
(Marcelle Cole 3:34pm July 12, 2011)
Registered users may leave comments.
Log in or register now!