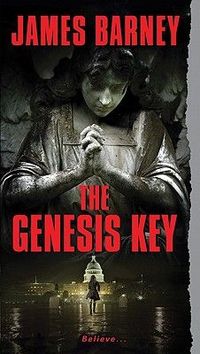 Purchase
HarperCollins
July 2011
On Sale: June 28, 2011
Featuring: Dr. Kathleen Sainsbury
480 pages
ISBN: 0062021389
EAN: 9780062021380
Paperback
Add to Wish List

Thriller Spy | Thriller Arcane
More than three decades ago, Dr. Kathleen Sainsbury's archaeologist parents were murdered at an ancient excavation site in Iraq. Now the gifted biologist stands on the brink of a miraculous breakthrough: the discovery of a gene that could extend a human life by hundreds of years. But at the moment of her greatest triumph, a mysterious phone call reveals a hidden truth that draws chaos and violence once again into Kathleen's world . . . and threatens to irreversibly alter the destiny of humankind.
For somewhere in the shadows, powerful unseen forces are watching . . . and waiting. Suddenly Kathleen is a target of covert government operatives as she races to uncover the mystery behind her parents' secret research and brutal deaths— a mystery locked in the human genome, in the sands of antiquity, and in the Book of Genesis. More than survival is at stake for Dr. Kathleen Sainsbury. The future of all humanity hangs in the balance . . . and the prize is the secret of life itself.
Videos
Comments
34 comments posted.
Re: The Genesis Key

The research you sifted through to make this book is amazing. It's some of what we wondered about years ago come to life.
(Alyson Widen 1:07pm July 27, 2011)
Wow! What a premise! I can't wait to read it!
(Renee Brown 1:39pm July 27, 2011)
This book sounds like such a wonderful read!! If someone came up with this particular gene, I'm sure the Government wouldn't use it on the population as a whole, because it would bankrupt the country, but I'm sure they would use it to keep their Scientists alive- at least those that knew enough technology to suit their needs, as long as they didn't have any dibiliating disease such as Alzheimer's. I am really looking forward to reading your book, then passing it along to my Husband. I'm sure I'll be telling the Head Librarian in my town to be sure to order it for our local library. Sounds like a great plot - a real page-turner!!
(Peggy Roberson 1:42pm July 27, 2011)
Wow, sounds amazing. I have often wondered about Genesis and the life span. It always talks of men that had their children in their 97th yr and went on the live another 789 yrs, etc. Were their years different or did they live that long? Anyways, the book sounds just up my alley and will have to definitely check it out. Congrats on your novel.
(Vicki Hancock 1:57pm July 27, 2011)
HOw interesting. I was talking with my son about this question just the other day. My grandmother is approaching her 94 birthday and she just keeps going.
(Heather Pearson 2:05pm July 27, 2011)
Sounds like an exciting read with a totally new premise. Very intriguing.
(Jeanne Sheats 2:32pm July 27, 2011)
This book certainly sounds like my cup of tea--anything with archeology does--never mind the other factors. One point, however: The Bible also say that Methuselah lived 969 years (Gen 5:7) and several other "patriarchs" lived long lives.

When I hear of our world's coming overpopulation, I always have to think of a Star Trek (original cast) show in which Kirk and company come to a planet where people don't die and the kinds of problem this caused. There was not enough room for everyone to even stand anymore. Luckily, we are still some ways from that dilemma.

I've been trying to find the relevant ST episode on Imdb.com but have been unsuccessful. It may be "The Omega Glory." (ST:2, Ep. 23) It's about longevity. I can't remember it all that well. After all, it aired in 1968.

I just read this passage in the Bible and God's limiting life to 120 years seems to come after men had lived these long lives. Now I am even more eager to see how you handle all this. I'm certain it makes for an interesting book.
(Sigrun Schulz 2:35pm July 27, 2011)
Very interesting review. Do I smell the next huge bestseller like The DaVinci
Code? I am betting that this book will truly be a huge hit. I truly look forward to
reading it. Congratulations!
Connie Fischer
conniecape@aol.com
(Connie Fischer 3:54pm July 27, 2011)
Sounds like a great book! The desireability of living a long time would depend on the quality of life. Even with good health, it could be a strain financially - not many people have good enough finances to live to 120.
(Carol Drummond 6:58pm July 27, 2011)
I love the idea of science and religion crashing in a book. Taking an idea
and formulating it into a novel that is interesting and compelling, is a
science and art. I love novels like this (James Rollins writes a mix like
this). Can't wait to read yours.
P.S. thanks for sharing, you never know where and when inspiration will
strike.
(Carla Carlson 7:19pm July 27, 2011)
As science evolves, conceivably longevity could be manipulated and advanced beyond currently documented records. Such development could be welcome where quality and utility of life were to be critical. However, the dangers inherent in complex selection and future accommodation as well could render such extension prohibitive.

Such an engineered prospect raises a multiplicity of troubling suspicions and calamities in the thoughts of this military brat!
(Carla Schuller 7:24pm July 27, 2011)
Your book sounds great...the title caught my attention and the description really drew me in. Can't wait to read it.
(Robin McKay 8:17pm July 27, 2011)
I think if I was going to increase my life span I would want my kids to do it too. I would hate to outlive my children.
This sounds like a great read!
(Patti Paonessa 9:12pm July 27, 2011)
Your book sounds very interesting. I don't want to live longer. My body is already falling apart and I'm not even 50 yet!
(Molly Wilsbacher 10:36pm July 27, 2011)
OK, i am really hoping I win this---this is definitely going on my TBR list!!!!
(Barbara Studer 10:53pm July 27, 2011)
I would love to win this
(Carolyn Baker 12:59pm July 28, 2011)
I don't think I would like to live for 120 years. I might be
extremely tired by then. I would love to read this book
though!
(Lisa Garrett 7:25am July 28, 2011)
This book sounds fascinating. And I wonder what someone would do with the last 20 years of life if they lived to 120.
(Pam Howell 9:48am July 28, 2011)
Extending life sound good if your 20 years old, at 60+ I'm not so intrigued but would love to read your book.
(MaryEllen Hanneman 9:52am July 28, 2011)
This sounds like a great book! Not sure I would like to live past 100 unless I knew my health was good
(Julie Parrish 10:08am July 28, 2011)
I believe that I have a time and a place that I have been given. If it could be extended then I might be interested if I knew that I would be healthy to enjoy it. The plot for the book sounds interesting. It definitely goes along with todays times.
(Pam Scott 10:57am July 28, 2011)
It's a topic I love reading about. Religion and Science are intrinsically opposed, yet work so well together. I look forward to reading this.
(Joan Richard 12:25pm July 28, 2011)
Sounds like a fun book.

I suspect it would depend on the quality of life you have. I know of a man in his 80s who is as active and keeps as busy as anyone in their 30s. And he doesn't show any signs of slowing down any time soon. But my husband had an elderly relative who lived well into her 90s and when the would tell her, "Oh I hope you many more good years, would always reply, "oh don't wish that on me. I don't want to live that much longer."

I think I would enjoy living past 120. I think I would have fun being a crazy old lady.
(Heidi Durham 12:37pm July 28, 2011)
I have mixed feelings about living a LONG time. It is a
bittersweet concept.
(Michele Powell 2:55pm July 28, 2011)
As long as I could be healthy I would love to live a long time.
(Jody Hollenbeck 2:58pm July 28, 2011)
It sounds very interesting and I look forward to reading it
(Amanda Boyer 3:05pm July 28, 2011)
It's a fascinating concept. I would like to extend my time on earth if I have both excellent physical and mental health and if my family and friends have the same option. Being the last leaf on the tree would be sad.
(Anna Speed 3:37pm July 28, 2011)
Your book sounds great!! I don't think that I want to live any longer unless I could stay young and healthy the whole time!
(Dawn Staniszeski 5:48pm July 28, 2011)
Sounds like an interesting book. Thanks for giving me a chance
to win it.
(Linda Hall 6:08pm July 28, 2011)
the book and the blurb would be interesting to read i like the cover it catches the eye
(Desiree Reilly 6:43pm July 28, 2011)
THE GENESIS KEY sounds great. I don't want to live past my expiration date. I want quality of life rather than quantity.
(Mary Preston 6:55pm July 28, 2011)
WOW, this book sounds like fantastic reading and I Pray that I win a copy too. YES, I would love to live a very long time so that I can Help out many people during my lifetime. What a Blessing that would be for sure. I cannot wait to read The Genesis Key and may God bless you with more Success too. Thank YOU very much. Cecilia CECE
(Cecilia Dunbar Hernandez 8:32pm July 28, 2011)
It sounds like a very interesting read that took time, effort and research to develop.
(Darci Paice 10:18pm July 28, 2011)
Did you know that scientists have been inserting human DNA into animals for some time now? Thanks for the contest!
(Susan Navidad 3:49am July 31, 2011)
Registered users may leave comments.
Log in or register now!