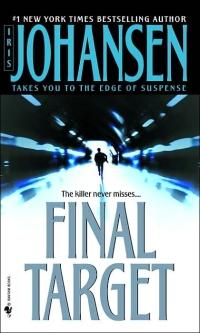 Purchase
Bantam
February 2002
Featuring: Jessica & Melissa Riley; Michael Travis; Sean Galen
416 pages
ISBN: 0553582135
EAN: 9780553582130
Paperback (reprint)
Add to Wish List

"No sooner does Melissa Riley arrive at her sister's isolated Virginia country home than she finds herself drawn into a drama she never expected. Years earlier, her sister, the renowned Dr. Jessica Riley, had pulled Melissa out of the darkness of severe catatonic trauma. Now she's attempting to do the same for the daughter of the President of the United States." "The last thing young Cassie Andreas saw was an organized team ruthlessly murder her nanny and the Secret Service agents on duty to protect her. And to free Cassie from the terrors in her own mind, Melissa and Jessica must risk their own safety and sanity and place their trust in a mysterious, charismatic man." "Michael Travis made his fortune in the international underworld. He risked everything to save Cassie during that terrible night of bloodshed. And he has entered into a secret bargain with the president to get revenge. But does he really want to help? Why? Or is his show of concern all a treacherous charade?" "Melissa and Jessica have no choice but to accept Michael Travis as their ally - even when he proposes a dangerous plan that will put all their lives on the line. Because far away from the safety of Virginia, an international game of deadly intrigue is under way. It is a game of powerful and dangerous underworld figures whose specialty is getting what they want - and whose means to do it is murder. And of one killer in particular who is obsessed with the very thing at the heart of Cassie's nightmares."
Comments
No comments posted.

Registered users may leave comments.
Log in or register now!