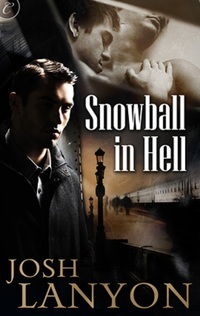 Purchase
Carina Press
April 2011
On Sale: April 4, 2011
Featuring: Nathan Doyle; Matthew Spain
ISBN: 1426891393
EAN: 9781426891397
Hardcover
Add to Wish List

Historical | LGBTQ Mystery | Romance LGBTQ
Los Angeles, 1943
Reporter Nathan Doyle had his reasons to want Phil Arlen dead, but when he sees the man's body pulled from the La Brea tar pit, he knows he'll be the prime suspect. He also knows that his life won't stand up to intense police scrutiny, so he sets out to crack the case himself.
Lieutenant Matthew Spain's official inquiries soon lead him to believe that Nathan knows more than he's saying. But that's not the only reason Matt takes notice of the handsome journalist. Matt's been drawn to men before, but he must hide his true feelings—or risk his entire career.
As Nathan digs deeper, it becomes increasingly difficult to stay one step ahead of Matt Spain—and to deny his intense attraction to him. Nathan's secrets may not include murder, but has his hunt put him right in the path of the real killer?
Previously published, newly revised by author.
Comments
33 comments posted.
Re: Snowball in Hell

How can anyone find historical fiction boring? I am in shock. I could always read their share as well.
(Mary Preston 4:37am April 7, 2011)
Personally I prefer broccoli to most desserts. Like the previous commenter, I prefer historical fiction/novels. I love history and actually learned at least some of it from authors beginning with historian Thomas B. Costain, Samuel Shellabarger, Frank Yerby and others. I don't mind a romantic historical, but I definitely prefer at least some verifiable history in my historical reading.
(Sigrun Schulz 5:45am April 7, 2011)
I can't imagine anyone finding historical fiction boring. There is always something new to learn about in history. I am afraid I couldn't even talk to a person that said historical fiction is boring, because chances are, they know nothing about history. That is so shallow.
I would love to read your books.
(Debbie Penny 5:49am April 7, 2011)
all of the books you wright are very inspireing .
(Shanan Moening 5:57am April 7, 2011)
I can't understand someone finding historical history boring. I enjoy it so much. You can learn a lot from it.
I would love to read the book
(Diane Castiglione 6:44am April 7, 2011)
Historical fiction books are my favorites as long as they are accurate. Of course I also enjoy mysteries and romance.
Blessings,
Marjorie
(Marjorie Carmony 6:57am April 7, 2011)
I love historical fiction. The amount of research that some authors do is
amazing.
(Beth Melito 7:22am April 7, 2011)
I always wanted to start reading historical fiction with a
good one.
(Carmela Francisco 9:39am April 7, 2011)
I enjoy many genres--as long as the writing is good and the story line interests me---historical fiction I find particularly interesting because if done well, you can enjoy yourself and get a bit of education at the same time.
(Sue Farrell 10:26am April 7, 2011)
I can't imagine anyone not liking historial fiction... I do find some books boring but it's more the author's writing style rather than the genre...
(May Pau 10:34am April 7, 2011)
I prefer to read historical fiction but I dismiss authors who prove not to be as
accurate as they should be. I will look for comments by authors for time
shifts to enhance a story before I read that book. If I find historical errors not
previously commented on I will not read that author again. They can truly
spoil the genre for the better authors who are more careful. Thankfully this
does not happen much.
(Sandra Spilecki 11:04am April 7, 2011)
Love Historial fiction, can't get enought
(Jean Mitchell 11:29am April 7, 2011)
'Streets Chandler never dreamed of'? High praise indeed! (and rightly so)
(Steve Leonard 12:34pm April 7, 2011)
I am a recent, big Josh Lanyon fan! I have yet to read this book, but I certainly do love historical fiction. From reading the reviews and comments about this book I am going to read this book when I finish Josh's first Holmes & Moriarty book!
(Anthony Salas 2:03pm April 7, 2011)
Just keep writing Josh. Your keen view of old time drama and modern day life makes for a good story. I like reading about areas that I'm familar with lots of detail. Pulls me in every time.
(Rosemary Simm 2:55pm April 7, 2011)
wow the book look great i have never read one but would like to have posted to my face book and twitter
(Desiree Reilly 4:20pm April 7, 2011)
I'm a fan of historical fiction, but that wasn't always the case. The stories and characters didn't make me want to know what was going to happen next.
That changed when I gave the genre another try. I was instantly drawn into the story and would not put the book down until I was finished.
I'm sure if people find stories that are written well, they will enjoy the genre, too.
(Leni Kaye 6:09pm April 7, 2011)
I have recently discovered and fallen in love with historical fiction. I have found so many different historical periods and topics. It's so exciting. I happen to be a fan of yours. I would love to read this. Maybe there will be greater tolerance in the future because of the upswing in gay fiction. We can only hope.
(Jennifer Beyer 6:44pm April 7, 2011)
love to win...
(Cynthia Teer 7:20pm April 7, 2011)
please enter me in this sweepstakes.
(Jason Young 7:21pm April 7, 2011)
SWEET giveaway!
(Sandra Greear 7:23pm April 7, 2011)
I think it depends on what type of historical fiction it is and how the author writes. I like reading historical fiction, actually I like most genres. I haven't read any of your books yet, but it sounds intriguing and I would like to get the chance to read it.
(Amy Christian 9:01pm April 7, 2011)
The write up by the Thrilling Detective Website really IS spot-on. I've been fortunate to see some of the places in Los Angeles where Snowball in Hell takes place and although I saw them in a modern setting, I was able to imagine what they looked like in the 1940s. More importantly, as you mentioned, I could connect to the emotional turmoil of the characters. It's a fascinating story. I fully understand why it's one of your personal favorites, Josh.
(Patty Vasquez 9:49pm April 7, 2011)
I have always been a fan of historical fiction - what an easy and entertaining way to learn. Josh, I've heard nothing but good things about SNOWBALL IN HELL. I know I won't be disappointed. HIS FOR THE HOLIDAYS rocked! BTW, nice to see you here!
(Cynthia Netherton 9:54pm April 7, 2011)
The book sounds like something I would love to read. Please enter me. dancealert at aol dot com
(Brenda Rupp 11:01pm April 7, 2011)
I think this book sounds like something I would like to read. Please enter me . Thanks.
(Brenda Rupp 11:03pm April 7, 2011)
I love historical fiction, especially if learn something new about the time period in wich the story is set!
(Diane Sallans 11:26pm April 7, 2011)
Hostorical fiction is the BEST fiction around. One of the things which makes it so good is when a new twist o side to a story comes out, which seems to be the case in this book. I'm all for it!
(Amy Conley 1:22am April 8, 2011)
I notice my reading habits tend toward romance in whatever genre I choose,
whether historical fiction, young adult, sci-fi, fantasy, etc. This hasn't always
been the case but it's my current reader m.o. I enjoy Tracy Chevalier and Philippa
Gregory but lately have been more likely to read Julia Quinn or Jennifer Ashley :)
(Bella Franco 1:27am April 8, 2011)
Boring? Well, I suppose some authors might not have the gift of generally writing intersting books, but to claim that a whole genre is boring is just wrong!
(Birgit Lehner 12:19pm April 8, 2011)
i enjoy a great historical, to a paranormal fantasy, to a contempory read, but my favorites are the cowboy stories...sigh...none of the cowboys i have ever meet live up to those great stories
(Chele Blades 12:44pm April 8, 2011)
I love historical fiction in general but it's got to have
more than history going for it. It's got to be exciting and
keep my attention. An prime example, P Gregory's books on
Henry VIII's wives were fascinating but her series the
Cousin's War were boring as they didn't have the mystery,
romance, or excitement in them that the earlier books did.
(Lisa Richards 2:41pm April 8, 2011)
Historical fiction entices me to read more and to know history better and see if the settings hold up.
(Alyson Widen 11:26am April 25, 2011)
Registered users may leave comments.
Log in or register now!