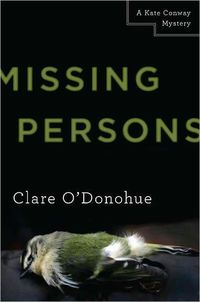 Purchase
An edgy new mystery about lost love, unsolved cases, bad television, and the dead husband's girlfriend, who keeps getting in the damn way.
Kate Conway #1
Plume
June 2011
On Sale: May 31, 2011
Featuring: Kate Conway
288 pages
ISBN: 0452297060
EAN: 9780452297067
Trade Size
Add to Wish List

The cause of death is "undetermined," but the cops peg Chicago television producer, Kate Conway, as the main suspect when her husband, Frank is found dead in the midst of their most painful divorce. To make matters worse--and weirder--Frank's girlfriend suddenly wants to be friends.
Happy for the distraction, Kate throws herself into a new work assignment: the story of Theresa Moretti, a seemingly angelic young woman who disappeared a year earlier. All Kate wants is a cliched story and twenty-two minutes of footage, but when the two cases appear to overlap, Kate needs to work fast before another body turns up -- her own.
Comments
51 comments posted.
Re: Missing Persons

There is a difference between insane and evil.
Blessings,
Marjorie
(Marjorie Carmony 7:12am June 25, 2011)
Fascinating thank you. Chilling too. Amazing how the killers justified being a killer & a good person.
(Mary Preston 7:45am June 25, 2011)
I would love to win this for my daughter - she loves these types of books. Sounds very interesting.
(Pat Lieberman 8:04am June 25, 2011)
I have come across a few psychopaths in my life (one being my mother). I feel like I am lucky to have survived them.
I would love to read your book.
(Debbie Penny 8:39am June 25, 2011)
I have never met a psychopath or at least I don't think so but I know there is evil in this world and it is so scary.
(Holly Caulfield 9:07am June 25, 2011)
I can't wait to read your book! It sounds like a fresh concept and you have an insider's view of what you are writing about. I worked as a dispatcher for a small town police department for over 10 years; and became very cynical during that time. Although it is still a shock when you hear that the "nicest" person has committed the worst crime.
(Jody Hollenbeck 9:42am June 25, 2011)
SOUNDS GREAT..I AM IN IT TO WIN IT!
(Silvana Moscato 9:44am June 25, 2011)
Sounds like a great book. Can't wait to read it.
(Christine Arcidiacono 9:51am June 25, 2011)
Your book sounds great...can't wait to read!
(Dawn Staniszeski 9:54am June 25, 2011)
Your book sounds like it has a lot of gripping action in it. I love your asides and think that anyone giving excuses has a lot to hide somewhere.
(Alyson Widen 10:07am June 25, 2011)
We all have hidden personalities and hidden secrets. Look around you. Watch
people around you wherever you go. See guilt and innocence showing on
various faces and ask yourself "Do I want to know this person?".
(Sandra Spilecki 10:34am June 25, 2011)
Fascinating book. I love a good mystery with twists.
(Elisa Varey 11:05am June 25, 2011)
Your post today was chilling, yet fascinating. It makes you wonder what makes people tick. I am definately hooked, and can't wait to read your book!! With your background, I'm sure it's going to be a real page-turner!! The cover even looks mysterious!! Best of luck with the book, and with your future endeavors.
(Peggy Roberson 12:17pm June 25, 2011)
Sounds like a great read!
(Mary Smith 12:28pm June 25, 2011)
What each of us is actually capable of is a mystery until the
moment we are challenged/pushed into action... People do scary
things out of desperation and emotional turmoil...Even really
'good' people.....
(Michele Powell 12:29pm June 25, 2011)
Amazing--each of these men is actually a sociopath--not a recognizeable crazy, but a person who feels their own goals justify any means. It is truly scary to think about how many of them walk among us.
(Janet Martin 12:33pm June 25, 2011)
There was this one story that chilled me. HBO I think did the special and
I was spellbound. It made me read this book about this man, called The
Iceman. Charasmatic, family man, every loves... but under the eyes glints
a monster unlike anything you would have thought. It was strange to like
this person and then see a flash of that darkness in his eyes during that
interview. I have to admit it was very intriguing but I don't know if I could
be the person sitting across asking those questions . You must have some
hesitation at times sitting across someone like that.. my fear is how often
we do without knowing
(Carla Carlson 12:42pm June 25, 2011)
What a fascinating story! I enjoy mysteries of this type.
(Anna Speed 12:51pm June 25, 2011)
Isn't it odd that such people can still believe they are doing a good thing? There must be something very skewed in their thinking. I've heard of similar rumors of other killers. Maybe if the mother was cruel to her child I could understand the father's sentiment. However, I also think that some people can become inured to murder if they watch too many murder shows and even read too many such books. I can remember once babysitting and the kids were watching TV. When one of the characters went to poison another, I sort of gasped. One of the kids asked about my reaction and I told him, then hastened to add, "But this is just a TV show and these people are just pretending. Nobody's really getting hurt." Afterwards I wondered whether I should have added that. Perhaps other people just forget that murder on TV is just pretend--and not to be done in reality.
(Sigrun Schulz 1:06pm June 25, 2011)
I"ve never met a psycopath but I have definately met many that have come close to the defination.
(Kathleen Bianchi 1:07pm June 25, 2011)
Your book sounds like a great read. With your experience as a reporter and interviewing killers, I look forward to reading about Kate Conway.
(Linda Leonard 2:39pm June 25, 2011)
This book sounds like a movie maker!!!!!! I wish you well in sales and look forward to reading it!!!
(Joanne Bozik 2:49pm June 25, 2011)
I seem to have an uncanny sense of getting away from people who are eerie and strange. Wish I could have had that feeling with my ex-husband!! Makes for a good read, especially at night in bed when you can pull up the covers and feel safe. This is a book I would enjoy reading, drop my name in the hat Clare.
(Rosemary Simm 3:16pm June 25, 2011)
You're sharing gave me chills! There is nothing worse than someone who has done something terrible but doesn't realize or accept that they have done wrong. Remorse and accountability are definitely not in their vocabulary.
Good luck and happy writing!
(Tracie Travis 3:19pm June 25, 2011)
Don't think I would like a job such as yours. OTOH, reading about it while safe at home could be interesting.
(Shirley Nienkark 3:43pm June 25, 2011)
this book sounds like a real thriller and I would enjoy reading it!!
(Jean Benedict 3:57pm June 25, 2011)
Bottom line to me is that a murderer has no conscience and thus they display an
air of -- So??? -- as if they don't understand why YOU don't think they're
normal. Scary to think that there are a lot of people like that out there.
Connie Fischer
[email protected]
(Connie Fischer 3:59pm June 25, 2011)
i really like that blurb and the bird on the book that is cool. hope the book does good and then i think it will full of supence
(Desiree Reilly 4:04pm June 25, 2011)
Fascinating column. Thanks. I look forward to reading your book.
(G S Moch 4:34pm June 25, 2011)
Your blog is fascinating, and I can hardly wait to read MISSING PERSONS!
(Cherie Michalec 5:00pm June 25, 2011)
wow sounds like a great book would love to win and loved the interview too
(Rachael Kennedy 5:20pm June 25, 2011)
Wow, the ability to compartmentalize the murder without it affecting their view of themselves as a good person, father, etc. astounds me!! Now how can you trust others in your acquaintance when you only see one side of them? scary!
(Sherry Weddle 5:25pm June 25, 2011)
It never ceases to amaze me what "good" people will do and find justification for it.
(Sue Farrell 5:35pm June 25, 2011)
sounds good
(Catherine Myers 6:04pm June 25, 2011)
Wow sounds wonderful.
(Patti Paonessa 6:18pm June 25, 2011)
Sounds most intriguing!
(Karen Gervasi 6:37pm June 25, 2011)
I see I was not the only one to get chills reading your blog---whew----sounds like a great read. In a well lighted room!!!
(Barbara Studer 8:15pm June 25, 2011)
Sounds like a fascinating book. Would love to win it so I can read it. Thanks for a chance.
(Linda Hall 8:34pm June 25, 2011)
WOW, Missing Persons sounds like a fantastic book to read. Please enter me in this great contest and I would love to win too. May GOD bless YOU with success too.
Thanks so much. Cecilia
(Cecilia Dunbar Hernandez 9:15pm June 25, 2011)
I love true crime stories. Some of these cold blooded killers really do believe that they are basically decent people. It is so creepy!
(Jennifer Beyer 10:56pm June 25, 2011)
Great research - not something I think I'd want to do to interview killers. But good research makes good stories - sounds very exciting.
(Jeanne Sheats 11:53pm June 25, 2011)
How very interesting!
(Robin Daily 1:42am June 26, 2011)
I met the mother of a killer once. She said he was a good boy and the police should leave them alone. I would love to win your book.
(Kathleen Yohanna 3:57am June 26, 2011)
Your profession as an author must indeed be tame compared to being a reporter near Joliet,IL! Add that to being a television reporter and you have mountains of material from real life experiences to draw upon. Hope I am fortunate and win this book! Looking forward to reading it.
(Janice Milliken 7:39pm June 26, 2011)
your research helps us readers try to understand what makes bad people tick-who knows may save some lives!!creepy!! jackie morris 06/27/2011 4:59 am
(Jackie Morris 7:59am June 27, 2011)
thank you for the interesting post. i look forward to reading your book
(Tammy Ramey 10:45am June 27, 2011)
Only goes to prove insane people are not stupid, they are chillingly clever or even evily so........
(Marcelle Cole 5:33pm June 27, 2011)
Sounds very interesting. Enjoy true crime.
(Renee Howell 3:23pm June 29, 2011)
I think having interviewed these actual killers, you are an exceptional author and expert on this subject.
(Stephanie Bondlow 3:23pm June 29, 2011)
Sounds like something I would like to read.
(Penny Mettert 6:39am June 30, 2011)
Crazy doesn't mean stupid. In fact cunning is a trait of these types. Sociopaths, psychos live inside their heads.
(Marcelle Cole 2:36pm June 30, 2011)
Registered users may leave comments.
Log in or register now!