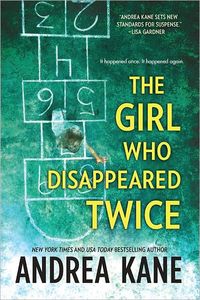 Purchase
The Girl Who Disappeared Twice
Andrea Kane
MIRA
May 2011
On Sale: May 31, 2011
Featuring: Hope Willis; Casey Woods; Krissy
400 pages
ISBN: 0778329844
EAN: 9780778329848
Kindle: B004Z2I524
Hardcover / e-Book
Add to Wish List

Other Editions
Mass Market Paperback (June 2012)
SHE COULDN'T STOP IT. NOT THEN. NOT NOW.
Despite all her years determining the fates of families, veteran family court judge Hope Willis couldn't save her own. If only she'd turned her head, she would have seen the car containing her daughter, struggling to get out.
Now she's frantically grasping at any hope for Krissy's rescue. Her husband dead-set against it, she calls Casey Woods and her team of renegade investigators, Forensic Instincts. A behaviorist. A techno-wizard. An intuitive. A former Navy SEAL. Unconventional operatives. All with unique talents, skills and personal reasons for being part of Casey's team, they'll do whatever it takes.
Able to accurately read people after the briefest of encounters, Casey leads her team to Krissy's home. There she picks up the signs of a nervous spouse, a guilty conscience, a nanny that hides on her cell. She watches as secrets beg to creep into the open.
Forensic Instincts will dig through each tiny clue and eliminate the clutter. But time is running out, and even working around the clock, the authorities are bound by the legal system. Not so Casey's team. For they know that the difference between bringing Krissy back alive and disappearing forever could be as small as a suspect's rapid breathing, or as deep as Hope's dark family history.
Comments
10 comments posted.
Re: The Girl Who Disappeared Twice

I love to read your books, stories with the FBI in it, has to be great. It was great that they let you work with them. Looking forward to reading this book.
(Frances Namuth 8:10am June 3, 2011)
The FBI is absolutely fascinating to many of us - me included! I would love to
read this book.

Connie Fischer
conniecape@aol.com
(Connie Fischer 8:34am June 3, 2011)
It is great that you have a good resources and can get help with the technology of all of it. Thank you for taking the time to make your books even more accurate to detail.
(Linda Pillow 4:16pm June 3, 2011)
You must have had the most amazing experiences, and I would give anything to walk a mile in your shoes. That's a nice way of saying that I'm envious. lol I know that writing books are no picnic, but I'm referring to the experiences that you've had with the FBI - that had to be not only eye-opening, but such a rush to be at the lifeblood of where it all happens!! I'm thrilled that you take that added time and pain to make sure that your books are to the "letter," so that the reader is not shortchanged in any way. I'm looking forward to reading your book very much, and it's also the type of book that I can pass on to my Husband when I'm through reading it. Congratulations on your award as well. You earned it!!
(Peggy Roberson 10:37pm June 3, 2011)
With all the shows about the FBI, it's probably easy to think that we know all about its workings. But it must be even more interesting to able to talk to agents about actual cases.

Congratulations on the special plaque.
(Sigrun Schulz 12:00pm June 4, 2011)
How brave to give a speech in front of FBI agents! I'm looking forward to getting to know your books, they sound great.
(Shirley Nienkark 9:59am June 4, 2011)
I love it when the author does hands on kind of research. How exciting and I'm sure it definitely shows in the story.
(Jeanne Sheats 3:28pm June 4, 2011)
Girl, your stories seem so close to the action, because you have the eyes and ears of intimate players in your hand.
(Alyson Widen 3:07pm June 7, 2011)
What a review! All I wanted to do was protect these little girls somehow. This
tells me that the author really knows how to draw the reader right into the
book. You feel like you're right there in the room! OK. I have to get this
book and finish reading it!
Connie Fischer
conniecape@aol.com
(Connie Fischer 2:36pm August 26, 2011)
My kind of book!!!!!!!!!!
(Joanne Bozik 4:04pm August 26, 2011)
Registered users may leave comments.
Log in or register now!