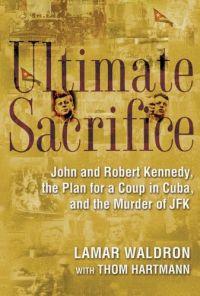 Purchase
Ultimate Sacrifice: John and Robert Kennedy, the Plan for a Coup in Cuba, and the Murder of JFK
Lamar Waldron, Thom Hartmann
Ultimate Sacrifice reveals, for the first time, John and Robert Kennedy's plan for a coup in Cuba on December 1, 1963 ? a plan that involved a U.S. military invasion.
Carroll & Graf
November 2005
Featuring: John F. Kennedy; Robert F. Kennedy
912 pages
ISBN: 0786714417
Hardcover
Add to Wish List

Unique, distinctly different, and far more advanced than any previously disclosed operation, this plan is corroborated by many declassified military and CIA documents that have never been quoted in any book before. It provides the missing piece of the puzzle regarding JFK's murder, and explains why Bobby Kennedy told close associates that the Mafia was behind his brother's assassination. The Mafia had managed to infiltrate the Kennedys' intended coup. Ultimate Sacrifice describes and documents an attempt they made to kill JFK in a motorcade several days prior to Dallas. This attempt had more than a dozen parallels to Dallas and was kept out of the press at the time by the Kennedys in order to protect the coup plan.
Building on the work of the seven governmental committees that investigated aspects of JFK's assassination, the four million documents that were declassified in the 1990s,.and exclusive interviews with many Kennedy insiders, the authors are able to tell the full story of these incidents.

Media Buzz
All Things Considered - November 16, 2005

Comments
No comments posted.

Registered users may leave comments.
Log in or register now!