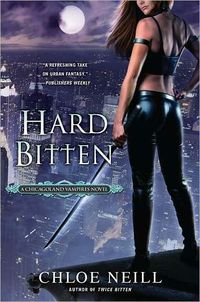 Purchase
Chicagoland Vampire #4
NAL
May 2011
On Sale: May 1, 2011
Featuring: Ethan Suullivan; Merit
368 pages
ISBN: 0451233328
EAN: 9780451233325
Paperback
Add to Wish List

Times are hard for newly minted vampire Merit. Ever since shapeshifters announced their presence to the world, humans have been rallying against supernaturals-and they're camping outside of Cadogan House with protest signs that could turn to pitchforks at any moment. Inside its doors, things between Merit and her Master, green-eyed heartbreaker Ethan Sullivan are...tense. But then the mayor of Chicago calls Merit and Ethan to a clandestine meeting and tells them about a violent vamp attack that has left three women missing. His message is simple: get your House in order. Or else.
Merit needs to get to the bottom of this crime, but it doesn't help that she can't tell who's on her side. So she secretly calls in a favor from someone who's tall, dark, and part of underground vamp group that may have some deep intel on the attack. Merit soon finds herself in the heady, dark heart of Chicago's supernatural society-a world full of vampires who seem ready to fulfill the protesting human's worst fears, and a place where she'll learn that you can't be a vampire without getting a little blood on your hands...
Comments
54 comments posted.
Re: Hard Bitten

Just went to the library yesterday - They are still alive and kicking. Got a few books, dvds and a cd for my dad-Beach Boys are still his summer fun. Would like to try out the vampire genre.
(Beth Elder 6:45am June 14, 2011)
The library in my hometown sucks big time, but then, of course, there are bookstores, yay!! Great suggestions!
(Birgit Lehner 6:58am June 14, 2011)
I rarely get to the library anymore. But my condo does a book exchange every year and that way I get rid of the books that I have read over the year and then get to select a new set of books for the year's reads. It allows me to try new authors and I really like that.
(Pam Howell 8:15am June 14, 2011)
My local Library does not stock all the books I like but I got a kindle for christmas - that helps. I have read some of your suggestions but will look into the others.
(Barbara Hanson 8:30am June 14, 2011)
Our library is so small and only 1 bookstore....my husband and I both have a kindle now...we love it!
(Dawn Staniszeski 9:12am June 14, 2011)
I love libraries. But, my local library doesn't carry much of a selection of the books I like to read.
(Crystal Broyles 9:27am June 14, 2011)
I love the library and have discovered some great authors there. Unfortunately it usually ends up costing me a fortune because then I want to read their back lists and all their new releases, cha ching! Love your cover art!
Good luck and happy writing.
(Tracie Travis 10:03am June 14, 2011)
Looking for something different to read - The Chicagoland Vampires books look interesting.

Thank you so much for the opportunity to enter this contest.

Happy Summer!

[email protected]
(Katherine Reese 10:43am June 14, 2011)
Great suggestions! I have read a lot of them, unfortunately I did not get them from my local library. They don't have a very good selection of current fiction. I do like to check out their travelogues though! I will definitely check out your other suggestions! Thanks!
(Cassie Holloway 10:51am June 14, 2011)
Chloe- I'm surprised that you didn't recommend your books!! lol There's also internet at a lot of the libraries now, so you can either take your laptop or use one of theirs, so that gives you options as well. For light, fun reading, you can't go wrong with Janet Evanovich. She always leaves you smiling. Since I live in a small town, our library is a little more lax. I do volunteer work there, and we have a knitting group that gets together there one day a week. I help teach the newcomers, and we have a great time!! It's not like the old days where you have to keep completely quiet.
(Peggy Roberson 10:51am June 14, 2011)
I love my library, they get your book from other libraries if necessary. They also have an excellent book sale section from donations. The hardbacks are a dollar and the paperbacks are twenty-five cents, I love it.
(Mary Shaw 11:21am June 14, 2011)
love the library,it is my home away from home and sometimes i even feel more comfortable there. what's not to love about books on every concievable subject you can think of,right. LOL
(Tammy Ramey 12:27pm June 14, 2011)
I would love to win a copy of Hard bitten! Thanks so much for the giveaway!
(Margaret Faria 12:40pm June 14, 2011)
Thanks for the ideas. I love visiting my library.
(G S Moch 1:23pm June 14, 2011)
I visit the library every week. Their supply is limited, but I enjoy looking to see what they have.
(Colleen Conklin 1:26pm June 14, 2011)
The Chicagoland Vampires sounds interesting.I will have to check the series out. Thanks for the giveway.
(Blanche Nixon 1:38pm June 14, 2011)
I have not been to my library in years, they have a very limited amount of new books, and my children are all teens now so we don't go anymore, I have to say that we spent many a day at the library when they were little, but all good things must end. Now they are more into phones,ipods and computers.
(Kris Bowers 2:26pm June 14, 2011)
I don't got to my library anymore but I do have 2 fantastic used books stores within 20 minutes of my house and I try to stop by there at least every couple of weeks.
(Amanda Boyer 3:21pm June 14, 2011)
I love libraries! My parents used to take me every week and I'm continuing the tradition with my son.
(Yuka Liew 3:41pm June 14, 2011)
Great suggestions. I use our local library throughout the year. With you suggestions, I'll be spending more time there. I'm within walking distance and will be great exercise on days when it's not too hot.
(Shirley Younger 3:54pm June 14, 2011)
Afraid never go to the library anymore, I wish there was one closer to where I was, miss it.
(Jean Patton 4:11pm June 14, 2011)
I'm always in the library and find many new books just by browsing. There's always something happening there and that's where I find about about community information, too.
(Leni Kaye 4:37pm June 14, 2011)
Please enter me in your fantastic contest and I love to enter and win contests from freshfiction.com too.
Thank YOU and GOD bless everyone, Cecilia
(Cecilia Dunbar Hernandez 4:41pm June 14, 2011)
Sounds like a great book. Would love to read it.
(Tabitha Monroe 5:00pm June 14, 2011)
I'm not crazy about The Know-It-All-- Jacobs's persona in it kind of aggravates me. But I like The Year of Living Biblically a lot.
(Mary Ann Dimand 5:03pm June 14, 2011)
Love, love, love vamps!!!!!
(Joanne Bozik 5:31pm June 14, 2011)
My wonderful Dad started taking me to the library before I could write my name. What a wonderful gift!
Blessings,
marjorie
(Marjorie Carmony 5:37pm June 14, 2011)
Historical fiction strikes my fancy now that the heat is on outside. Romantic fiction and Chic Lit are other faves of mine. I'm always checking out the books at the Friends of the Library sale and pick up a few a week. You could call me a voracious reader because I have a healthy appetite for books and always have one in my bag.
(Alyson Widen 6:40pm June 14, 2011)
I'm lucky enough that my library is part of a big network that does inter-library loans. Not only that but I can place holds on the internet. I've read your urban fantasy recommendations and most of your historical (I'll have to check out the Pink Carnation series). I'd also recommend Ilona Andrew's Kate Daniels series in urban fantasy
(Carol Drummond 6:52pm June 14, 2011)
As a child I loved the City Library and still do.
(Deb Pelletier 7:00pm June 14, 2011)
What great ideas--for another, take a kid and browse the children's books. These days I have a grandson who is happy to come with me, but in past years I've been happy to snag a coworker's to enjoy a fresh perspective and build some friendship points.
(Janet Martin 7:29pm June 14, 2011)
I must check out The Big Ass Book of Crafts!
(Lisa Garrett 7:46pm June 14, 2011)
I used to haunt the school library, then the public library and now my daughter uses the library all the time.
(Diane Sadler 8:00pm June 14, 2011)
Cool suggestions. I'm lucky enough to live close to my library but find I have to request most of the books I want to read or check out so I spend more time in the stores, most here include coffee shops so I have no complaints about it. Didnt know about the encyclopedia of crafts though (Martha is the queen) so I'm glad I read your post today. Love your series. Thanks
(Ramona Glass 8:21pm June 14, 2011)
Love going to the Library. I can search & put holds in online. I discovered Chicagoland Vamps at my library & they have become one of my top series. Thanks for the other suggestions, I am always looking for new authors. Can't relax at the beach without my book.
(Donna Wager 9:11pm June 14, 2011)
Thanks for all the great suggestions. I'm fortunate to live in a city filled with bookstores and several libraries. I'll have to check out your recommendations. Thanks again.
(Linda Leonard 9:59pm June 14, 2011)
The visit to the library is always greatly anticipated. You never know what treasures you will unearth.
(Mary Preston 10:04pm June 14, 2011)
Thanks for the book ideas. I love just walking around the bookstore and library and just seeing what jumps out at me.
(Jennifer Beyer 10:23pm June 14, 2011)
I love to use my library card. Enjoyed your blog, book sounds great.
(Sheila True 10:58pm June 14, 2011)
Very "cool" ideas for summer, indeed!
(Nancy Gazo 10:58pm June 14, 2011)
Good suggestions, I've made notes. I'm always looking for good reads!
(Diane Sallans 10:59pm June 14, 2011)
Your books sound like such a fun read. I visit our library about once a week, if not more than that. I usually get books on CD there, as my commute would be unbearable with them!
(Molly Wilsbacher 11:07pm June 14, 2011)
i love the library but sometimes it's hard to wait for a new book so i buy it..thanks can't wait to read this one!!
(Jennifer Beck 11:14pm June 14, 2011)
When kids were home, library was a regular stop. Not so much any more... then there was a fire and it was closed for SEVERAL months... just reopened about 3 weeks ago. Need to check it out.
(Lisa Kendall 11:36pm June 14, 2011)
We go to the library at least once a week. We rent movies, my husband rents CDs and my daughters, granddaughter and I have books checked out constantly. One of our favorite places.
(Kirsten Kimball 11:48pm June 14, 2011)
Would love to read your book
(Kara Lepard 12:07pm June 15, 2011)
I live in a town of 300, yes, you did read that right! Our library is sooo tiny, and hardly the place to hang out. I do, however have some fantastic memories of when I was younger, going to the library- I couldn't get enough, and thus, a geek was born:-)
(Patti DelValle 12:46pm June 15, 2011)
I live in a rural area and the library is too far to go to on a regular basis.
(Ginger Hinson 1:09am June 15, 2011)
Most of the books I like at my local library I donated. We are now at the point of a free book exchange for the summer. Bring in paperback books and get the same amount for free. Waiting for some new ones to come in because it didn't start until the last day of school. In the meantime, there's always Kindle and a plethora of worlds in books to be downloaded. Looking forward to the new one coming out from Erica Spindler this month. Love her suspense. Then there's Joe from Iris Johansen, she always keeps me up all night. Summer reading is just as much fun as the winter with a heating blanket, hot chocolate, and book. You just see the sizzle more.
(Christina Harrison 3:46pm June 15, 2011)
I love going to the library, it's still a place that hold a
great fascination with me, when i was younger i lived in a
village & our library was small but held a lot of books, to
get to the library you had to climb up this winding
staircase,with its solid wooden handrail, it had this
wonderful smell of old paper,newness & wood. I would love to
go back see if it holds the same memories.
(Sarahjayne Ohagan 4:16pm June 15, 2011)
As a kid and a teen I LOVED going to the library. as an adult my time is more difficult to manage, so I rarely go - and I'm afraid it'll take me so long to make a return trip that I'll have LATE FEES! :)
(Adriane Coros 8:00pm June 15, 2011)
The Chicagoland Vampires sound really good! gonna go check at the library but series books i'd like to get instead of the library so i could read at my leisure instead of having to worry about getting them back or if they have the next one when i go to get book 2 : )
(Lori Barnes 8:27am June 16, 2011)
i dont use the libray much anymore mostly use Bookstores .. online bookstores like bookdepository or Kobbooks.com for my new Kobo ereader

as librarys never seem to have the books im after and recent books are slim pickings (esp in the librarys round here) and i prefer my own new book anyways
(Rachael Kennedy 6:47pm June 16, 2011)
I rely heavily on the library and on-line resources. Because they have a fantastic on-line system I can request books on-line and either pick up the book, CD or read it electronically depending on what's available.
(TinaMarie R 11:59pm June 16, 2011)
Registered users may leave comments.
Log in or register now!