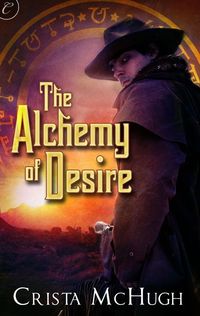 Purchase
Carina Press
May 2011
On Sale: April 25, 2011
Featuring: Diah Reynolds; Oni Matthews
ISBN: 1426891504
EAN: 9781426891502
e-Book
Add to Wish List

After winning the Civil War against the Confederate Wielders, the Union Machinists have outlawed magic to usher in a new age of steam-powered technology. Diah, an alchemist and the only non-wielder in his family, owes his brother for saving his life in the war; so when Cager is blackmailed into procuring the magical hide of the White Buffalo, Diah accompanies him to the Dakota territory.
Their guide is Oni, a half-Lakota woman with plenty of secrets to hide. She's a magic wielder with an illegal wand concealed in her knife—and she's a coyote shifter. To her people, killing the White Buffalo is not only sacrilege, it's dangerous. Oni has no intention of helping them actually achieve their mission—until she falls in love with Diah…
Comments
81 comments posted.
I usually like alpha, but it's nice to read a different twist now and then!
(Robin Daily 12:17pm April 25, 2011)
Hmmm... they don't always :-) I've read some pretty good books where the nice
guy was the winner. Made for a good read too.
(Colleen Poor 12:42pm April 25, 2011)
i have to say that i really don't have a preference. i depends on the story and the author. some authors are better at writing alpha male characters and some are better at writing the boy next door type of character. i try to stick with the authors that i know and then i check out the blogs and other sites like this to try and find information on other authors that might be good too.
(Tammy Ramey 12:51pm April 25, 2011)
I like variety. but nice guys are detinitely welcomed. Alpha males can be too much so. I like nice guys in real life, so I love reading about them, too.
(Gladys Paradowski 12:59pm April 25, 2011)
Oops! That should be "definitely."
(Gladys Paradowski 1:01am April 25, 2011)
I'm used to the Alpha/arrogant heroes(although they all have their quirks&secret soft spots!) I'm excited to read this not just for the change in leading men,but the entire era and the leading female sound like an awesome mix! Win or buy-looking foreward to reading it!
(Kim Adsit 2:31am April 25, 2011)
Thank you for your post, Crista. Though beta heroes are rare, I prefer them to alpha heroes. Nice, average guys appeal to me, and (I suspect) quite a few readers whose needs aren't being met.

Nowadays alpha heroes tend to be just too alpha! The bar has been raised so high that they're often caricatures of masculinity. How can a reader like me take them seriously, let alone find them appealing?

Sure, it's easier to write a romance in which the hero is a nasty, brutal, arrogant, cynical alpha. And even I can't deny how popular this type of character is.

Many readers demand an alpha hero so the heroine, the reader's surrogate, can fight and eventually subdue him. Usually this is couched in the notion that she's redeeming him, saving him from himself.

That's not my idea of real romance. I'd rather read about heroes---and yes, heroines---who are able to give love and worthy of receiving it. Romances in which the focal figures fight obstacles to their love rather than each other. Couples who have more going for their relationship than just sex. Stories that demonstrate the power of love, rather than provide power fantasies.

Hopefully the romance genre will become varied enough so that all of us can find works to our liking. In the meantime, what do I do to find my kind of romances featuring my kind of heroes? The same thing a lot of us are doing. I write my own!

Good luck with "The Alchemy of Desire".
(Mary Anne Landers 2:43am April 25, 2011)
Nice guys should always finish first! lol
(Charlotte Parscal 4:00am April 25, 2011)
Love alpha males but nice guys with backbone are delicious too.
(Lindsey Ekland 5:11am April 25, 2011)
I prefer a guy who is a combination of both alpha and beta a go getter but who can be nice too! All the powerful men do not have to be arrogant jerks.

A lover/hero has to be likable.
(Laurie Gommermann 6:18am April 25, 2011)
An alpha male is nice especially with an interesting woman character in the picture.
(Kathleen Bianchi 6:20am April 25, 2011)
I don't really class people as alpha or beta. I'm considerably more interested in male ccharacters who can converse and like to, who are interested in women as people and not just body parts. So I guess that, in terms of stereotypes, I prefer beta humans-- conquest bores me.
(Mary Ann Dimand 6:33am April 25, 2011)
I always prefer a nice guy. They're the ones you can depend on in the long run so I like reading about them too. Being nice doesn't mean boring!!!
(Arleen Lancaster 6:56am April 25, 2011)
I just have to like the character.
(Theresa Norris 7:33am April 25, 2011)
I like alpha actually. But there are some beta ones that I like when they are funny....
(May Pau 8:45am April 25, 2011)
i agree with charlotte parscal -- nice guys should always finish first! the world's full of alpha males who have no heart or brains; write a great story about a heroic gentleman and give the alpha's someone to whom they can aspire,....(i think i said that right)
(Kristie Jacobs 8:48am April 25, 2011)
LET'S HEAR IT FOR THE GOOD BOYS!
(Silvana Moscato 9:01am April 25, 2011)
I usually go for alpha heroes, but not TOO alpha, because then they border on just being jerks. However, it really depends on the story. There are some really good stories i just love where the hero is not totally an alpha.
(Beth Foster 9:06am April 25, 2011)
I am so intrigued by this character. I like the idea of the nice guy finishing first (I actually married one.). I cannot wait to read this book especially your treatment of this character!
(Renee Brown 9:43am April 25, 2011)
While an alpha hero is almost always hot, I think most women would like to have that beta hero every so often. They tend to be kinder, more considerate and sometimes that's exactly what us girls are yearning for.

Alphas are often leaders, therefore others depend on him requiring his time and attention. Betas are more often able to put their lady first in their life because they don't always have the same level of responsibilities you see with alphas, at least as portrayed in a significant portion of fiction.

So yes, I love the alphas but sometimes the nice-guy-beta is just what I need!
(Amy Petty 10:10am April 25, 2011)
Seriously? Why can't I have both? At the same time even LOL! The mix of the two would be the perfect man after all!
(Trasina McGahey 10:15am April 25, 2011)
I prefer the "bad boy" with redeeming qualities that soften the affection the the effect.
(Alyson Widen 11:19am April 25, 2011)
I'm always glad to see something new and this book sounds like a great one! No formula for you, good for you!
(Cynthia Stubbs 11:44am April 25, 2011)
I think I like to be surprized. Sometimes I liked a beta sometimes I like an alpha. I also like a beta that is really an alpha but doesnt know it until his leading lady is in trouble.
(Tabatha Basham 11:53am April 25, 2011)
Rainy weather makes for good reading
(Melisa Clark 12:05pm April 25, 2011)
Enjoyed the comments on your new book, sounds like a great read.
(Sheila True 12:41pm April 25, 2011)
I love both! Sometimes you need the alpha male if you have alpha female and a more beta male with a beta female. But I like when the mix too. A nice girl and alpha boy ususally make a really good story. And I love nerdy men, since my husband is a huge one! We need more books on them.
(Sherie Lagarde 1:03pm April 25, 2011)
Variety is great! Undiluted Alphas can get tiresome after a while.
(Carol Drummond 1:18pm April 25, 2011)
Alchemy is a great tropic for a book!
(Sandy Fielder 1:44pm April 25, 2011)
Nice guys should finish first but it never seems to be that way. I like nice guys with an edge.
(Kelly Zauner 1:45pm April 25, 2011)
I do love me some nice guys, but I also ADORE the wounded-warrior type hero! You know, the one's who need the love of their heroine to heal :-)
(Chelsea Brooks 1:57pm April 25, 2011)
I prefer Alpha Heroes but love reading about Beta heroes once
in a while. It's nice when the gentleman wins the girl too :D
(Ilona Fenton 2:19pm April 25, 2011)
I really like your different take on things. I think "beta" or nice guy males can also be very sexy!
(Diane Pollock 2:28pm April 25, 2011)
Heroes... my fav changes with my mood! So many to enjoy that my taste changes often.
(Colleen Conklin 2:39pm April 25, 2011)
I can't wait to check out your book! I love Alpha Heroes, but am ready to have a Beta Hero in my life too.

Love strong females too, as long as they aren't overbearing.
(Jody Hollenbeck 2:59pm April 25, 2011)
I usually go for the alpha, too, but I like sexy bookish
types, too.
(Margay Roberge 3:00pm April 25, 2011)
I prefer an alpha hero but it could be interesting to have the tables turned for a change
(Jeanette Jackson 3:10pm April 25, 2011)
I usually go for bad boy characters, but it would be nice to see more good guys every now and then too!
(Amanda Welling 3:23pm April 25, 2011)
Both should be available. Most alpha characters I read about tend to be shallow. I prefer brains, humor and compassion in real life as well as fictional characters.
(Shirley Nienkark 4:01pm April 25, 2011)
I like both alpha and beta men. It just depends on the character.
(Cathy Phillips 4:06pm April 25, 2011)
I like heroes who are intelligent and honest, with a sense of humor. I like to be able to see their struggles and growth in the novel. Thanks for visiting today.
(G S Moch 4:11pm April 25, 2011)
There's good and bad in just about everything so I like both Alpha and Beta Men! I am so glad that Authors change it up now and then. That's what keeps us readers coming back time and time again!
(Cheryl English 4:29pm April 25, 2011)
I love alpha and beta males - actually, in real life, it's the beta men that I fall for...
(Kelli Jo Calvert 4:51pm April 25, 2011)
I like MEN. I think that every type of man has a place. ;)

Good luck and happy writing!
(Tracie Travis 4:57pm April 25, 2011)
I love alpha heroes with an occasional beta once in awhile to give me some variety. Keeps me from getting bored.
(Cherie Japp 4:59pm April 25, 2011)
I used to like the alpha male, but lately he seems to cross the line to
extremely controlling in stories. I now prefer the nice guy who isn't a
doormat.
(Christina Young 5:13pm April 25, 2011)
Alpha or Beta males- they have be interesting.
(Roseann Moss 5:20pm April 25, 2011)
Someone who is in control of the situation. Maybe a little arrogant,but lovable.
(Deb Pelletier 5:25pm April 25, 2011)
Either one. It all depends on the story and how the characters grow as the story moves along.
(Leni Kaye 5:26pm April 25, 2011)
I like strong characters, but they can have a sense of humor.
(Wilma Frana 5:38pm April 25, 2011)
Nice guy should always finish last after I do a few times or what's the use of them being nice...
(Cynthia Teer 5:46pm April 25, 2011)
I like the strong silent type. Someone who is intelligent & sincere.
(Mary Preston 6:01pm April 25, 2011)
I think the nice guys need to win once in a while---I'm actually married to one of those nice guys and life is good.
(Sue Farrell 6:27pm April 25, 2011)
The strong silent type of guy that watches and knows what has to be done. Leaves a lot of room for good stories.
(Rosemary Simm 6:29pm April 25, 2011)
There's a VERY fine line between "alpha" and "jerk" so I prefer beta heroes more - more finesse and less domineering.
(S Tieh 6:33pm April 25, 2011)
I prefer a hero like my husband, honest. loyal, hard working, with a sense of humor.
Blessings,
Marjorie
(Marjorie Carmony 7:00pm April 25, 2011)
I think the nice guys should win too! For the long haul, a nice guy is what you want.
(Caroline Kolb 7:28pm April 25, 2011)
I like to read stories with beta males. The reason I say this is because it makes the story a little more on the "old-fashioned" style of love. Today, everyone is looking for that strong, he-man, "controlling" man. I'm getting a little burned out by it myself, and actually like the change. It was nice of you to ask for our opinion. Congratulations on your book, and best of luck with it. I'll be sure to keep an eye out for it!!
(Peggy Roberson 8:27pm April 25, 2011)
I'll always go for a nice guy, so bring them on. Of course, there are also "nice" alphas, but sometimes they can be downright menacing and rude. Those are certainly not my type.
(Sigrun Schulz 8:29pm April 25, 2011)
I always like nice guys, I think they should win too!
(Brenda Rupp 9:31pm April 25, 2011)
The alpha works with some story lines with the comparable heroine, but in the end the beta is the man that happily ever after lasts with. I like to think of that wonderful combination of both where the strength of the alpha is hidden beneath the kindness and gentle guidance of the beta. I tend to think of that movie The Wedding Date right now for that combo.
I also applaud you on steampunk - love it! We have parties at some of the places here that encourage dressing in costume.. a lot of fun and very imaginative.
(Carla Carlson 9:34pm April 25, 2011)
Of course Alpha is #1 but getting a nice guy hero every now and again is always pleasant. Sometimes they make the better hero.
(Lisa Kendall 10:01pm April 25, 2011)
It's usually the "man whore" alpha hero. I have read others, but, once again, it all depends on the author. Because, believe me, some of those betas are horrendous!
(Cynthia Netherton 10:46pm April 25, 2011)
I love reading stories about those bad boys who turn to be real nice guys as they get older.
(Linda Hall 10:49pm April 25, 2011)
I like both, but a mixture of good and bad is most interesting. A bad guy with a vunerable side or a good guy with a tough side makes things unpredictable.
(Ginger Hinson 11:39pm April 25, 2011)
Frankly, I love reading about nice guys winning the girl.
(G. Bisbjerg 11:44pm April 25, 2011)
Wow!! There are so many great responses! I'm an humbled by such an enthusiastic crowd. I'm going to work through in batches since I've been at work all day, but first off, thank you so much for dropping by and saying hi! :-)

Robin, I think you are in the majority in that most readers prefer an alpha. There's something to be said about a take charge attitude.

Colleen, I agree that sometimes reading about a nice guy is great - why else would I write one?

Tammy, totally understand where you're coming from. I have a stable of "auto-buy" authors like Shelli Stevens, Kate Pearce, Lisa Shearin and Nalini Singh, but I rely heavily on blogs, reviews sites, and fellow readers to discover new authors.

Gladys, I agree it's nice to read about nice guys. As a woman in a traditionally male field (in the day job, anyway), I easily get "alpha-ed" out. ;-)

Kim, I'm so happy the blurb caught your attention. It was so fun to take a historical, where gender roles are usually so rigid, and find a situation where they can be reversed. ;-)

Mary Anne, it's so true that the alpha male has grown a little out of control, especially in the paranormal and erotic genres. I would love to read more about nice guys and beta heroes. Best of luck to you with your writing! :-)

Charlotte, you're preaching to choir! Amen! :-)

Ok, going to a DTWS break and be back in a few minutes to keep responding. I'm loving the responses!
(Crista McHugh 11:45pm April 25, 2011)
OK, back from watching Mr. "Sex on a Stick" on DWTS. Yummy!

Lindsey, that's the whole idea of a beta. He's strong when he needs to be, but he's not so in your face.

Laurie, you are so right -- a hero, regardless of alpha or beta, needs to be likable. We need to fall in love with him.

Kathleen, so true -- a strong alpha needs an equally strong heroine to keep him check.

Mary Ann, good point. It's a fine line to walk, though, creating a "realistic" male. Most men are not very verbose, so I use my husband to read through my "men" to make sure they are "real". :-P

Arleen, Diah is definitely Mr. Dependable. His main dilemma it choosing between his duty to his family and his love for Oni. But he has his flaws, including being very stubborn and slightly suspicious.

Teresa, another vote for liking the character. :-)

May Pau, glad to know you like a bit of humor. I tend to have a snarky sense of humor that I try to infuse in my stories.

Kristie, so happy you like a good ol' fashioned gentleman who can teach those alphas a thing or two about manners. ;-)

OK, time for another DWTS break (I never get any good writing done on Mondays when it's on).
(Crista McHugh 12:04pm April 26, 2011)
OK, back. :-)

Silvana, another Amen from the choir. Of course, for those who like bad boys, there's Diah's brother... ;-)

Beth, I agree -- it all depends on the story. I definitely think an alpha would overwhelm a shy, demure heroine.

Renee, thank you! My editor, Deb, worked really hard to help me keep Diah a nice guy without making him a "wimp".

Amy, betas tend to be the quiet leaders. Yes, they aren't always large and in charge, but that doesn't mean he's not there for his lady when she needs him. As you pointed out, he might there for her more than an alpha would. :-)

Trasina, ook! A three-way? Maybe I need to write one of those... ;-)

Alyson, I think all of want a bit of a bad boy with heart of gold. Yummy!

Cynthia, I'm definitely an "outside of the box" type of writer. I freely admit to writing stuff that's too weird for traditional publishers. Thank goodness Carina publishes unique stories! :-)

Tabatha, you bring up a good point -- most betas don't rise to the "alpha" until their lady is in trouble. Then, look-out!

Melisa, LOL -- you're not in the NW, are you? I live in Seattle, where it's in a constant state of drizzle from November to June. No wonder we have such readers (and writers) here.

Shelia, thank you. And yes, there have been some awesome comments so far!

OK, time for another DWTS break. Be back soon!
(Crista McHugh 12:32pm April 26, 2011)
Sherie, I agree that it's fun to mix alphas and betas. And if you like nerdy men, check out the free read on my website. Greg, the hero of my naughty quickie, is a nerdy type of hero.

Carol, thank you. Yes, it's good to have a break from the alphas.

Sandy, thank you. My hero, Diah, is an alchemist. He was born into a family of mages but couldn't cast a spell to save his life. I wanted to give him something special only he could do.

Kelly, I agree that nice guys should come out on top more often. Maybe there need to more of them. ;-)

Chelsea, wounded warriors are very popular for a reason. I have a soft spot for them myself. :-)

Ilona, another vote for the gentleman. I'd rather be swept off my feet in a waltz than carried back to the bedroom... although I secretly harbor that Rhett Butler fantasy. ;-)

Diane, thank you. Again, it was all about balance. I wanted to write a nice guy that would still make readers swoon. Hopefully, I found it with Diah.

Colleen, good point -- I think everything I read varies with my mood. Sometimes I want sweet and sappy, and sometimes I wanted good headboard rattler. ;-)

Jody, thank you! You bring up a valid point - there's strong women, and then there are... well... can I swear here? ;-) Yes, "overbearing" would be the polite way of putting it.

OK, time for a samba break. Be back in a few!
(Crista McHugh 12:52pm April 26, 2011)
Love an alpha male who knows what he wants and is not afraid of doing whatever it takes to get it.
(June A, Manning 1:16am April 26, 2011)
Margey, I definitely like a man who's good at showing the pen is mightier than the sword. Bookish men are hawt!

Jeanette, it is fun to turn the tables, but everything comes full circle in the end.

Amanda, you're not alone with your love a bad boys - I'm working on Cager's story soon. Lot's of bad boy lovin' there. :-)

Shirley, so true. A good alpha hero is just as tricky to write as a good beta. You have to give depth or he comes off as just a caveman.

Cathy, again, so true. It does all depend on the character. :-)

GS, thanks for having me! I agree - -the character arch is sooo important to the story. If the characters don't grow or change because of the story, then why read it?

Cheryl, just as readers like to switch it up, so do writers. I'm currently working a alpha now -- secret service man. :-)

Kelli Jo, I think most of us women fall for betas in real life. While we fantasize about alphas, in reality, they just come up short.

Tracie, agreed -- men are yummy!

Cherie, yes, sometimes variety is good for the romantic soul. :-)

Christina, I think you've nailed why I'm not always a big fan of alphas -- they are too controlling. I think partners should be balanced and compliment each other.

Roseann, so true. Characters all need to their quirks to keep us reading. :-)

Deb, sounds like you're a lover of the alphas. ;-)

OK, almost done with DWTS, but I need to rewatch my favorite dancers. Thank goodness for TiVo.
(Crista McHugh 1:16am April 26, 2011)
Leni, so true. Most importantly, characters need to fit the story, but it's fun to turn things on their head from time to time.

Wilma, agreed. I need a laugh sometimes to balance out all the intensity. :-P

Cynthia, oh, I like the way your dirty mind works! ;-) OK, so yes, there are times nice guys should definitely finish last! :-)

Mary, yes, there's something so nice about the strong, silent type. *forming a nice daydream now*

Sue, nice guys do win -- your husband won you, right? :-)

Rosemary, yes, it's nice to have strong, silent type, but if he's too silent, he made fade into the background.

S, so true. Not all alphas are jerks, but some come dangerously close.

Marjorie, I think most of us married women married our heroes. :-)

Caroline, you bring up a good point. Alphas are fun to play with, but betas are the one's you keep. :-)

Going to take a quick break, but I'll be back in a few! This has been awesome so far!
(Crista McHugh 1:34am April 26, 2011)
Peggy, I love hearing readers opinions! It helps me come up with so many new ideas, and after all, my job as a writer is to give readers what they want. :-)

Sigrun, I've noticed that sometimes I have a hard time telling the difference between the hero in the villain because he's so alpha (in the bad ways). Take charge is good, but being too domineering is definitely a turn off.

Brenda, YAY! Another fan of nice guys!! :-)

Carla, I'm so jealous. I still need to make a Steampunk costume. I promise I won't overdo the brass goggles! I'm still working on fully exploring Steampunk -- the next book in the series is more urban and more "steamy". :-)

Lisa, nothing wrong with a good alpha, but yes, sometimes a nice guy is a better hero for the story.

Cynthia, good point - I have read some beta heroes where I wanted to smack them around and tell them to grow a spine. But then, I'm definitely an alpha female. :-)

Linda, good point -- the bad boy redeemed. yum!

Ginger, so true -- you need that mix to make a good hero. Too much alpha, and you have a villain. Too much beta (or omega), and you have the "Ducky" character from Pretty in Pink.

G., yay! I'm glad you love reading about nice guys getting the girl. I do, too -- there's something "fair" about it.

June Ann, yes, I love a man who knows what he wants and goes out to get it -- especially when it's the heroine. :-)

Ok, I think I responded to everyone. Did I miss you? I hope not.

Thank you all SO MUCH for commenting today! I am amazed by all the comments you've shared today. And be it alpha or beta, I wish you all Happy Reading!
(Crista McHugh 1:54am April 26, 2011)
Nice guys are detinitely welcome, looking forward to reading this.
(Frances Namuth 5:27am April 26, 2011)
I like a hero who is strong, but has flaws he has to work to overcome. To me it makes him more realistic.
(Debbie Penny 9:10am April 26, 2011)
A strong hero with knows who he is and what he wants, who doesn't hesitate in going after it.
(Diane Sadler 10:28am April 26, 2011)
Frances, thank you! Glad to know there are so many fans of nice guys out there. :-)

Debbie, agreed. Superman and Mary Sues are great for kids, but I tend to like my characters to be less than perfect when I read something. Actually, the more flawed, the better, so long as they rise above the flaws.

Diane, sounds like you're a fan of alpha heroes. :-)

Will check back later!
(Crista McHugh 11:04am April 26, 2011)
I can love and hate an alpha. Sometimes I want an alpha to take care of me and see to my needs, maybe that means I am an alpha because I come first. But when they get too alpha, I want to walk away. Too much baggage can come with the wounded (head and heart), just makes head games too much for me. I guess I am older and don't want to play the girly games anymore. If I like the alpha at that time, I keep reading, if not then I pass.
(Shonda Abercrombie 1:00pm April 26, 2011)
I love alpha males, but they have to have strong morals and know how to treat women with respect. I like when they can be strong, but can also admit when they are wrong without it being a big issue.
(Melinda Nazim 2:28pm April 26, 2011)
I like the kinda guy who helps around the house. Knows how to
do the dishes and the laundry and can help with all of the
usual everyday stuff that is required. And has a cheery
disposition
(Carol Donnermeyer 2:46pm April 26, 2011)
Registered users may leave comments.
Log in or register now!