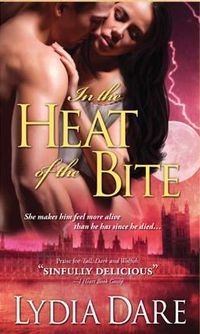 Purchase
In The Heat Of The Bite
Lydia Dare
When witch Rhiannon Sinclair meets Matthew Halkett, she discovers that romance and chivalry, like the charming earl, are far from dead...
Gentleman Vampires #2
Sourcebooks
July 2011
On Sale: July 1, 2011
Featuring: Matthew Halkett; Rhiannon Sinclair
384 pages
ISBN: 1402245106
EAN: 9781402245107
Paperback
Add to Wish List

Second in a trilogy of fresh original Regency vampire romances by author Lydia Dare, where the glittering world of English high society is a playground for the rich, titled, and supernatural.
Chivalry is far from undead...
Matthew Halkett, Earl of Blodswell, is one of the few men in the ton who can claim to be a knight in shining armor- because that's precisely what he was before being turned into a vampyre. When he spies a damsel in distress in the midst of a storm in Hyde Park, his natural instinct is to rush to her aid...
But not every woman needs to be rescued...
Weather-controlling witch Rhiannon Sinclair isn't caught in a storm-she's the cause of it. She's mortified to have been caught making trouble by the imposing earl, but she doesn't need any man-never has, and is sure she never will...
But when Rhiannon encounters Matthew again, her powers go awry and his supernatural abilities run amok. Between the two of them, the ton is thrown into an uproar. There's never been a more tempestuous scandal...
Comments
48 comments posted.
Sounds like a great book, especially Callista.
(Christine Arcidiacono 10:14am July 19, 2011)
These sound like books I need....I would love the chance to win, to start me on my Bite journey...Thank you!!!! [email protected]
(Leisa Prater 10:19am July 19, 2011)
Ron and the weasleys are great secondary
Characters in harry potter books. But I can't
imagine an entire series about them either.
So yes, I agree with you. Love the weasley
twins though. Your book sounds great!

Your book sounds great btw!
(May Pau 10:34am July 19, 2011)
LUV the weasley twins-plesae enter me into the book contest
(Audra Holtwick 10:37am July 19, 2011)
Definitely my kind of read!!!
The cover is great, too :-)
(Saskia Kanstinger 11:01am July 19, 2011)
We are having a heat wave here so what a great way to stay cool then to be inside with a/c running and read a hot book. This book sure sounds like it will do the trick so please enter me in the contest and I will stay on the edge of my seat to hear if I win. Love the cover..it is HOT too. It's okay to be independent as a lady and I use the word lady very loosely. ha ha susan Leech [email protected]
(Susan Leech 11:31am July 19, 2011)
I think that even in the classics, you learn to
distinguish a great writer based on the way they
can give dimension to the characters, including
secondary. I love secondary characters, they
bring a history, a sense of personality to the
main, they can lighten or darken the book
appropriately. Do I have a favorite.. no, I have
too many. I love it when I get to read their story
after being intrigued and having that early
character development and taste of them.
(Carla Carlson 12:07pm July 19, 2011)
What about doing a "pre" book about the Westfield's parents?
I am curious about their relationship. Love the series -
thank you for giving me those stolen moments! Kids whining,
husband asking for help with the kids, work contacting me -
your books allow me to go into a different world which makes
me a better mom, wife and employee! :)
(Jennifer Goodalld 12:24pm July 19, 2011)
historical meets paranormal...i love the stories...two of my favorite genre...how did i miss this series?
(Chele Blades 12:49pm July 19, 2011)
enjoyed your blog. Book sounds great.
(Sheila True 1:00pm July 19, 2011)
Over the years I have read quite a few books where a secondary character seemed interesting but not enough to warrant their own book. But that is why there are short stories and novellas. Love your books and the covers are sexy.
(Patti Paonessa 1:13pm July 19, 2011)
I have enjoyed some really great books with secondary characters that stand out... I love it even more when they get a chance to have their own story told! Thanks for sharing with us today!
(Colleen Conklin 1:23pm July 19, 2011)
Thank you for a very interesting and awesome review. I'm not normally into Vampire Historical Romance. However, this has fairly whetted my appetite and, I would love to be in with a chance to win it.

Many times after finishing a book that I've enjoyed, I always wonder what happens to the secondary characters that are mentioned in books. I think it's great that you have decided to explore this aspect.

By the way, I love the art work on the front cover. It's very sensual, and also, very appealing.
(Diane Diamond 1:37pm July 19, 2011)
I like stories that have secondary and even deeper characters and ones that continue using these secondaries as the main characters. A well-rounded book keeps my attention on the action in the scenes.
(Alyson Widen 1:43pm July 19, 2011)
I have liked a lot of secondary characters that wouldn't fit
in a book of their own, but I think that just shows how well
the authors can write any and all characters. The more you
like the secondary characters the more real all of them seem
:D
(Ilona Fenton 1:49pm July 19, 2011)
How wonderful that two authors can collaborate on their writing.
Blessings,
Marjorie
(Marjorie Carmony 1:56pm July 19, 2011)
Good luck with your books...I read anything that has Wolf in the title....I"m
drawn to wolves. So I'm sure I will like your stories.
(Jackie Wisherd 2:02pm July 19, 2011)
Sometimes a secondary character has so many character flaws that it is hard to imagine them as a hero in a book of their own. Their flaws are the things that make them so interesting in the first place. However a skilled writer can sometimes make the transformation from evil to good sound plausable. Your book sounds interesting. Good luck with that.
(Kathleen Yohanna 2:04pm July 19, 2011)
This series is new to me but I really enjoy vampire stories, will have to check these books out. I love stories with strong secondary characters and I always hope to see them have their own stories.
(Na S 2:05pm July 19, 2011)
My favorite secondary characters are of course the Harry
Potter clan and The Dark Tower bunch (Eddie, Jake, Susannah
and Oy)!!! I think they are what they are because of the group
dynamic. I might not love them as much alone!!
(Michele Powell 2:35pm July 19, 2011)
This is out of the vampire book genre, but I just got done reading Smokin' Seventeen by Janet Evanovich. One of my favorite secondary characters in the book is Ranger, but I couldn't see an entire book written just in his character alone, although it would be interesting. I would like to see a book written just with him and the main character, Stephanie Plum, though, if you're familiar with the series. I believe it would be funny, sexy, and mysterious all the way through. I absolutely love the cover on your latest book, am anxious to read it, and wish you the best of luck with your book!!
(Peggy Roberson 2:42pm July 19, 2011)
Book sounds good
(Lynn Lanzon 2:55pm July 19, 2011)
My daughter is reading "IT HAPPENED ONE BITE" and loves it so far, when I told her there is another one of your books here in a contest, she asked me to try and win this one for her.
(Jack Davis 3:08pm July 19, 2011)
I like the combination of historical and paranormal.
(Sandy Giden 3:13pm July 19, 2011)
Hi Tammy and Jodie! Welcome! Loved your blog and the cover of It Happened One Bite is beautiful. I would love to win it. I can't think of any secondary heroes right off hand since I have read about so many over the years. I think that good secondary heroes and heroines help make the story though, and if they are good they deserve to have their own book. I like them in the foreground or background.
(Cathy Phillips 4:22pm July 19, 2011)
Hi Ladies, I have seen a bit about this series and now I just know I will fall in love with it. Two of my most favs rolled in to one! One of my favorite secondary characters in a series did get his own novel and it is brilliant. He is Armand, from the novel of the same name, of Anne Rice's Vampire Chronicles.
(Cynthia Netherton 4:42pm July 19, 2011)
SOUNDS LIKE A GREAT BOOK CANT WAIT TO READ!!!!!!!!
(Jennifer Beck 5:17pm July 19, 2011)
I think I anticpate a 2ndary character in some reading and hope for the later development of a book based on them.
(Marcelle Cole 5:27pm July 19, 2011)
Secondaries seem to fit right into the story without even realizing it. As to whether or not they get their own story, I would leave that up to the author. She knows best lol. Your books sound great!
(Jeanne Sheats 6:53pm July 19, 2011)
I love a good series that gives us secondary characters through future stories. My favorite character is Jenks from the Rachel Morgan series. He steals the show for me and though he has gotten a story already focused on him, would always love more.
(Cathy MacDonald 7:20pm July 19, 2011)
You must do a book on the secondaries. Love to have these great characters to read about over and over! Can't wait to read this latest in the series. Keep on writing!
(Constance Biller 7:20pm July 19, 2011)
It's hard to pick secondary characters that don't have what it takes for a hero/heroine. These days they often end up as the focus of a novella, sometimes with an anti-hero slant.
(Carol Drummond 7:28pm July 19, 2011)
The entire series looks amazing.
(Mary Preston 7:29pm July 19, 2011)
I have read all of the books in this series so far and I love them all. My favorite secondary character in the series who needs their own book is Oliver, (Simon's cousin and ward) in a A Certain Wolfish Charm. I can't wait to see more about him and the woman he falls in love with when he grows up. Please write a book featuring him.
(Nina Campbell 7:34pm July 19, 2011)
One of my favorite secondary characters is Sarah from Megan Hart's books. She is in Broken, Stranger and Naked. She is a funky Goth chick who is a straight shooter. I love her philosophy of life. I also want to see her finally get Jack, the guy she has been crushing on forever.
(Stacie Deramo 8:17pm July 19, 2011)
My 2 favorite genre's combined: paranormals and historicals. I must read thes books. Thanks so much for sharing with us!
(June A, Manning 9:41pm July 19, 2011)
I like those unusual characters who won't end up with books of their own.
(Maureen Emmons 9:45pm July 19, 2011)
I love your creative titles and gorgeous covers!
Good luck and happy writing!
(Tracie Travis 10:01pm July 19, 2011)
My earliest recollection of such a character would be Nancy Drew's best friend Bess Marvin! However, Bess remains best as a support interest and the always constant friend.
(Carla Schuller 10:29pm July 19, 2011)
I love this series. I would love to win this. I tend to get all excited and want stories about all the secondary characters in books I love. Right now I am reading Gail Carriger's Heartless. I really want a HEA for Professor Lyall and Lord Akeldama. But, the sereis is about Alexia so I know they won't get their own books.
(Jennifer Beyer 10:37pm July 19, 2011)
I have been wanting to readthese books for some time!! Enter me please
(Martha Lawson 10:42pm July 19, 2011)
These books are great and I can not wait to read IN THE HEAT OF THE BITE. I am a fan and want o say thank you for offering your books in e-book form.
(Vickie Hightower 10:54pm July 19, 2011)
In the J.D. Robb series I love the secondary character Peabody... At least her story gets developed along the way in the books, including her love interest!
(Robin Daily 11:40pm July 19, 2011)
One of my favorite secondary characters recently was Jillian from the Kindred series by Evangeline Anderson. I'm not sure she has enough substance to hold her own book though.
(Lisa Kendall 11:48pm July 19, 2011)
Book sounds awesome. Would love to read it!
(Vicki Hancock 1:27pm July 20, 2011)
Rathborne - i want him to get a book next :) I thoroughly
enjoy all of the books by the team Lydia Dare - i can't put
them down as soon as i open them
(Seducedby Books 3:41pm July 21, 2011)
About as far away from paranormal romance as you can get, but Simon R. Green writes these absolutely fabulous secondary characters that I always, ALWAYS want to know more about. However, I don't think most of them could carry their own book. Possibly a short story or a novella, but not a book.
(Nicole Telhiard 4:52pm July 21, 2011)
Thank you for for sharing so great thing to us. I definitely enjoying every little bit of it I have you bookmarked to check out new stuff you post nice post, thanks for sharing.
buy ritalin online
(Alex Stewart 1:17pm January 27, 2012)
Registered users may leave comments.
Log in or register now!