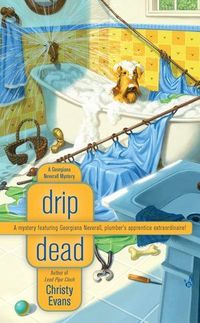 Purchase
Berkley
February 2011
On Sale: February 1, 2011
Featuring: Georgiana Neverall
248 pages
ISBN: 0425239896
EAN: 9780425239896
Kindle: B004GXC8CA
Mass Market Paperback / e-Book
Add to Wish List

When plumber's apprentice Georgiana Neverall crawls under her mother's house to check the pipes, she's horrified to find her mother's flashy fiancé, real estate mogul Gregory Whitlock, dead in the dirt. Instead of a wedding ring, Georgiana's mother is soon wearing handcuffs, accused of killing the man she loved. To clear her mother's name, Georgiana's going to have to crawl into a few more dark spaces and uncover secrets Whitlock was hiding.
Comments
32 comments posted.
Re: Drip Dead

I think that being at a funtion like that would be worse than being at a book signing or a convention. Kids can be so unpredictable, but it looks like things turned out well for you, and in that respect, I'm happy for you!! There are some very smart kids out there, and they're at that age where they're very impressionable. Congratulations on your new book. I love the cover, and can't wait to read it!!
(Peggy Roberson 9:33am April 14, 2011)
Thanks for the comment, Peggy. The visit was nerve-wracking for sure, but the kids were great! I love the covers myself - the artist is a fabulous guy named Brandon Dorman (he's got a gallery on the Web) and the cover designer did a great job. Enjoy!!
(Christina York 12:30pm April 14, 2011)
I think it's just wonderful that you take the time to educate kids about your books and being an author. Maybe someday, some of them will follow in your footsteps.
(Cheryl English 2:05pm April 14, 2011)
And Middle School kids can still be excited about new things! I'm sure you sparked some new writers! Update us if you hear more from any of them...
(Cate Sparks 2:59pm April 14, 2011)
I don't blame you for being nervous/apprehensive. Kids can be so critical, yet I am sure they were interested in what you had to say. It's important for adults to "reach out" to kids and talk with them like you did. I bet you created an interest in many of them to read more and possible try to "author" or write more.
(Leanna Morris 3:54pm April 14, 2011)
I am interested, I've never seen your books. They look like good reads!!!!!!!! I do hope I win them........as we all do..lol
(Joanne Bozik 3:56pm April 14, 2011)
I've heard that middle schoolers are the hardest age group to reach so you should consider yourself a big success---plus just think how much you learned from them, maybe even something that you can use to inspire another good book.
(Sue Farrell 3:57pm April 14, 2011)
I love the titles of your books and look forward to reading them. The cover art pops!
(Ivy Pittman 3:59pm April 14, 2011)
Welcome to my world! As a teacher, I get insane questions some days, and mine are high schoolers. Kudos for going and opening their minds to the world of writing. Thanks for going there.
(Renee Brown 4:00pm April 14, 2011)
It's great to read about how interesting they were and how much they got into it! I have known a number of middle schoolers who will barely make conversation and never read. THAT makes me sad. Your column gives me hope!
(Robin Daily 4:27pm April 14, 2011)
Wow, I'm impressed with all the great advice you gave and patience you had to take the to give them that great advice. Most kids just want the question to be acknowledged and a lot of times adults just brush them off. Kudos to you!!!
(Felicia Plastini 4:38pm April 14, 2011)
Anyone that spends time with middle schoolers and enjoys themselves is a hero in my book!
(MaryEllen Hanneman 4:44pm April 14, 2011)
Sounds like it was a fun day for both you and the kids. We never had anything like that when I was in school. I hope it encourages the kids to read mysteries. Just remember we're still like the kids ... only a little older.

I have Sink Trap but haven't read it yet. I love cozy mysteries. I didn't know you wrote stuff like Star Trek and other sci fi/fantasy, but I think I read about you also being known as Christina York.
(Michelle Fidler 4:50pm April 14, 2011)
Yes, Michelle, the Christina F. York that writes SF/F and Star Trek is also me. I took some of the Trek books with me and met a couple Trek fans at the Career Fair.

Robin, I wasn't expecting them to carry on conversations, but I was really pleasantly surprised at how easily they interacted with the adults.

The kids were great, and I'll go back next year if they invite me.
(Christina York 5:21pm April 14, 2011)
Enjoyed your comment about Career Day at school. I'd like for my 8th grade grandson to show even a little excitment about books.
(Sheila True 6:10pm April 14, 2011)
Good for you, encouraging young people to read!
Blessings,
Marjorie
(Marjorie Carmony 6:18pm April 14, 2011)
Sheila, I know exactly how you feel! It took a while for my daughter to find her way into reading. My feeling is that if they are reading ANYTHING - comic books, blogs, magazines - it's going the right direction. Maybe you can find something he's excited about - a novel or graphic novel based on a game he loves, a story based on his favorite TV show, or the novelization of a movie he likes - and get him started that way. I do know - from my experience with my daughter - that once they understand reading can open up new worlds or explore ones they already love, the battle is over.

Good luck!
(Christina York 6:56pm April 14, 2011)
Wonderful to be able to share with children who actually had intelligent questions to ask.
(Susan Driskill 7:01pm April 14, 2011)
I am really impressed by the student reactions. I wish we would have had career days in school when I attended. I would have loved to had an opportunity to meet an author like you; perhaps I would have been a writer. I am an avid reader and take a book along wherever I go; am happy to see that the youth of today are interested in reading and writing!
(Jody Hollenbeck 7:18pm April 14, 2011)
I tell anyone who asks: It doesn't matter if a child is reading Archie or Robert Munsch so long as they are reading!
(Diane Sadler 7:20pm April 14, 2011)
Middle schoolers can be a scary group. Glad you had the courage to meet them & find out how great they can be. Would love to win your books. Plumbing - a new adventure....
(r w 8:29pm April 14, 2011)
Oh Christy, It takes a brave soul to venture back down the halls of middle school. The minds of the younger people are
so much more advanced than when I was there. You did a wonderfuf explaination of writing, etc. Just being honest and telling it like it really is did you proud. They will remember you in many years to come.
(Rosemary Simm 8:31pm April 14, 2011)
Kids are so cool sometimes. I volunteer at my daughter's school and I am always amazed! Love the cover!
(Jennifer Beyer 8:46pm April 14, 2011)
Sharing your passion is never a bad thing. It's funny how when we are young it is about fitting in by "being unique the same your particular group is ie. all having the same unique hairstyle lol, when you become a grown up it's all about being unique for real, when it is actually cool to just be who you are!
(Darci Paice 9:21pm April 14, 2011)
I love a good mystery and I love dogs so of course I'd love to read these
(Catherine Myers 9:41pm April 14, 2011)
I do love a good mystery.
I would love to read these.
(Brenda Rupp 11:04pm April 14, 2011)
That is encouraging to know that there are kids out there who aren't just interested in computer games or only things digital, bec I know kids that don't want to write w/ hand and pen any more and mothers just encourages it, here's the keyboard, it's becoming a lost legacy of literacy in America while there are millions of kids else where who would be so thrill to have a book of their own to read and can write. I'm new to your books, but I'm a doggie person and seeing a Lakeland or is it an Airedale terrier on your covers, that caught my interest and curiosity, and mystery novels? I think I should check your "Plumber" series out. :)
(Joy Johnson 1:21am April 15, 2011)
Glad to see all the comments! This was a great experience. I know there are kids who are not interested in books and reading, but I really believe there is a way to reach nearly every one. I would encourage anyone who loves reading to spend some time with the kids in your life and find something you can share with them.

Thanks, everyone, for coming by today, and for reading and commenting. I hope some of you will find the Lady Plumber boos and take a look!

Best Wishes,
Christina York/Christy Evans/Christy Fifield
(Christina York 3:45am April 15, 2011)
I work in a local Junior school in England (age 7-11). I work with the 9-10 year olds and they are amazing. The questions they ask and they will not be fobbed off! They are so interested in lots of different things and it is amazing to realize that I am helping to shape them. My youngest daughter (18 now) learned about Egypt in year 3(age 7) and has since wanted to be an Egyptologist - she is just about to sit her exams before University and this is still her job choice - AMAZING.
(Barbara Hanson 9:46am April 15, 2011)
It's good to hear about good and smart kids. Too many negative stories nowadays on TV
(May Pau 9:50am April 15, 2011)
Joy, Georgie's dogs are Airedales named Daisy and Buddha. Buddha, the male, is sweet-tempered and obedient. Daisy however lives up (or down) to her name - never name a dog after a flighty fictional heroine!

I think my wonderful artist did a great job, and I am sure that it's Daisy on the covers. Buddha would never be so badly behaved!
(Christina York 4:05pm April 15, 2011)
The kids asked some revealing questions, obviously with a lot of thought behind them. Sounds wonderful!!
(Mary Preston 7:50pm April 15, 2011)
Registered users may leave comments.
Log in or register now!