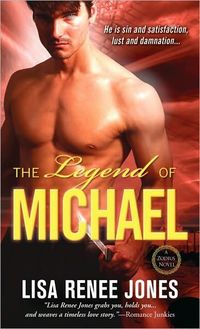 Purchase
He is sin and satisfaction, lust and damnation, a lethal weapon created from greed.
Zodius #1
Sourcebooks Casablanca
May 2011
On Sale: May 1, 2011
416 pages
ISBN: 1402251564
EAN: 9781402251566
Kindle: B004TTS2PS
Paperback / e-Book
Add to Wish List

He's a Lethal Weapon... One of an army of human soldiers injected with alien DNA, Michael is a legend within this new race, split between good and evil. Untamable, he has walked on the dark side and returned to the light. Feared and misunderstood, he leaves everything behind, including the one woman destined to be his mate. He is her Enemy... And her Destiny... Cassandra holds the key to Michael's power, and his pain. With loyalties divided and against insurmountable odds, Cassandra's heart propels her to Michael's side—but can her love do anything but destroy him... No ordinary woman can control a creature such as Michael, and only one thing is clear—the world will never be the same...
Zodius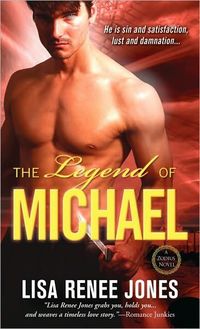 The Legend Of Michael
#1.0
Amazon.com | BN.com | | |
Comments
56 comments posted.
wow first one well i like the book and would be interested reading it and blogging on it
(Desiree Reilly 12:34pm May 2, 2011)
Strength of character & honor.
(Mary Preston 12:46pm May 2, 2011)
I like a hero who knows what he wants, is strong, but soft for his woman, knows when he needs his woman.
(Lisa Kendall 1:14am May 2, 2011)
My perfect hero would be someone I can love if he existed in real life, AND a character who has a fascinating story going on. Rarely can I find one who fits both descriptions.
(Mary Anne Landers 1:20am May 2, 2011)
Loyalty, Compassion and Courage.
(Ilona Fenton 1:47am May 2, 2011)
I'm not really sure what makes a perfect hero.It totally depends on the situation. Someone who helps others and sticks to what they believe in maybe? Although that sounds a little cliche.
(Jessica Sutton 1:51am May 2, 2011)
Who doesn't love a hot Alpha,but I also think a real hero is a man that sticks with a woman after the steamy battle is won and doesn't go running the other way if she has kids or other issues-if he truly loves her beyond the 'bedroom' and takes on ALL the challenges then he's a true hero! P.S.-book sounds awesome-I love the 'enhancement' storylines!
(Kim Adsit 2:00am May 2, 2011)
Sounds like a good read!
(Renee Gschaid 2:02am May 2, 2011)
Honesty, Passion, and tenderness would be a Real Hero for me! Knowing what a woman needs and giving it to her.
(Cheryl English 7:08am May 2, 2011)
I like loyality, intelligence and dedication to their partner. I like there to be some flaws, maybe something they have to overcome, so the hero seems realistic. I would love to read the book, it sounds really good.
(Debbie Penny 7:16am May 2, 2011)
Strong and kind-hearted describe my hero. Your book sounds great, love the concept and I always love star-crossed lovers.
(Jody Hollenbeck 7:48am May 2, 2011)
sounds like an awesome book!
(Julie Barett 7:49am May 2, 2011)
A strong character and a big heart.
(Birgit Lehner 7:51am May 2, 2011)
Congratulations on your most interesting book.
Blessings,
Marjorie
(Marjorie Carmony 7:58am May 2, 2011)
I think control of anger,respect,and a strong moral code make
a wonderful hero.He doesn't have to be physically strong to
be hero.He just has be be a decent person who might not
always want to do the right thing,but does it anyway.
I can't wait to read Michael.
(Michelle Bledsoe 8:07am May 2, 2011)
I can't wait to get this book. The writing is breathtaking.
(Renee Brown 8:31am May 2, 2011)
Ok, this book looks amazing! For me, the hero can be strong, but he also needs to have some hidden sweetness. Something to balance him out.
(Beth Foster 8:57am May 2, 2011)
I think a man who is loving and tender with his partner but who is also strong (not necessarity physical strength)and intelligent makes a good hero. Michael sounds like a great book. You are a new author to me and I think I would like to read this series.
(Sue Klepinger 9:00am May 2, 2011)
my hero loves me for who i am and is strong enough to let me go my own way when I need to
(Audra Holtwick 9:19am May 2, 2011)
A perfect hero is someone who knows the proper time to be strong, yet gentle. He has a good sense of humor and is also sensuous. He doesn't have to be good-looking, but should be a good person, yet bad at the right times, if you get my drift. :) Your book sounds very steamy and just right for Spring reading. I'm anxious to get my hands on a copy. The cover is pretty hot, too!! Congratulations on your new book!! I'm sure it will do well. The story line sounds like a real page-turner.
(Peggy Roberson 9:32am May 2, 2011)
I love the alpha heroes! The concept of your book is so cool! You have a heck of an imagination!
(Renee Pajda 9:40am May 2, 2011)
The Elite soldiers who took out Osama bin Laden May 1st. Those are the heroes of today. But I love your stories about the Super Alpha heroes.
(Pat Wilson 9:58am May 2, 2011)
can't wait to read this book it sounds wonderful. i love the characters already.
(Tammy Ramey 10:05am May 2, 2011)
Strong, determined, brave and a loving heart!!
(Dawn Staniszeski 10:10am May 2, 2011)
Alpha or Beta it depends on the story. Michael sounds hot!
(Kathleen Bianchi 10:36am May 2, 2011)
I always enjoy your books so I would love to read this one.
(Linda Henderson 11:01am May 2, 2011)
The perfect hero, though bigger than life, has got to be
believable. He has got to be putty in he's woman's hands
without being weak. I especially like one that likes kids and
old people.
(Lisa Richards 11:10am May 2, 2011)
My perfect hero is usually an Alpha in stories.
(TinaMarie R 11:44am May 2, 2011)
My perfect hero is strong but lovable.
(Anna Speed 12:34pm May 2, 2011)
Honesty, Courage and strength
(Shirley Younger 12:38pm May 2, 2011)
A hero can set a good example to follow, courage in what they belive, and show compassion. Book sounds great.
(Sheila True 12:39pm May 2, 2011)
Sounds very interesting! Gonna have to pick it up. The perfect hero always does what is right, even if it is not right for him.
(Kelli Jo Calvert 1:25pm May 2, 2011)
Books sounds Fab. and your cover is HOT. I'll be getting it soon.
(Vickie Hightower 2:08pm May 2, 2011)
The perfect hero would be thinks of others before he would think of others. He would know he can not save the entire world but be content on the ones that he can save. He knows his limitations, will push himself a little further but not too suicidal.
(Rachel Flesher 2:32pm May 2, 2011)
Who doesn't love a hot Alpha hero?! Must get this book. Sounds right up my alley.
(Summer Sharp 2:47pm May 2, 2011)
The perfect hero... one that is smart, dependable, that has courage and strength.
(Colleen Conklin 2:48pm May 2, 2011)
Hi everyone! I am reading through the comments and loving them. Thank you all for the congrats and I am seeing lots of inspiration for my next book!
(Lisa JOnes 3:16pm May 2, 2011)
It looks really great! Can't wait to read it!
(Judith Mor 4:20pm May 2, 2011)
Oh Man! This series looks so good.

A perfect hero is alpha to the core, but with a heart of gold which doesn't show very often. He is loyal, protective, and giving. He will always come to the aid of his friends. Most of all, he knows how to satisfy his woman!
(Cynthia Netherton 6:26pm May 2, 2011)
Loyal, giving, honest.Sounds like a great book
(Tabitha Monroe 6:33pm May 2, 2011)
Strong but one who is willing to learn who and what he is and what he truely wants. Your books sounds great. Would love a chance to read it.
(Maude Allen 6:46pm May 2, 2011)
this sounds like a great book and i can't wait to read it!
(Jennifer Beck 7:14pm May 2, 2011)
sounds like a really unique twist on the military hero theme. The imagination of you writers is a constant surprise - Thanks!
(Diane Sallans 7:16pm May 2, 2011)
Yummm, sounds like a great read :) My perfect hero would have a few tat's of course. I'm a sucker for tat's, motorcycles and a bit of a bad boy persona who doesn't answer to no one until in walks the heroine and throws him through a loop. Can't wait to read this, congrats on the new release
(Jolene Allcock 7:34pm May 2, 2011)
I dont think the perfect hero has to be an alpha male. The perfect hero will protect, love, and support his mate. He will be of strong moral character and someone that will be willing to listen to his mate.
(Suzy F. 8:29pm May 2, 2011)
Loyalty, fidelity, love; wanting to be with you, helping, sharing. Those are what make a great hero!
(Diane Sadler 8:38pm May 2, 2011)
I'd love to read this book, looks real good.
(Wilma Frana 8:51pm May 2, 2011)
I love books where there'sa Gorgeous Alpha Hero, bring it on!, and count me in.
(Lisette Reyes 9:29pm May 2, 2011)
A hero should be smart, strong and a little vulnerable. It doesn't hurt if he's good looking and rich!
(Jennifer Beyer 10:06pm May 2, 2011)
Morals, passion, intelligence, honor and heart. Being gorgeous doesn't hurt....
Ivy
(Ivy Truitt 10:13pm May 2, 2011)
The relationship between the heroine and hero must be believable. If the love seems true and real, I will like the hero- no matter what type he is.
(May Pau 10:36pm May 2, 2011)
He has to have a goal and let the reader find out how he handles the journey.
(Leni Kaye 11:46pm May 2, 2011)
I think I'll love reading this book.
(Frances Namuth 1:46am May 3, 2011)
A hero to me has honor and a caring heart..I would love to win this book..
(Leisa Prater 10:56am May 3, 2011)
Michael is the Bomb!!!!! A hero is someone who is willing to do anything to help other, even if it could cost him everything... and being Super Hot helps too... ;)
(Kelly Mueller 1:41pm May 3, 2011)
Someone who is strong, determined but does not have to abuse or insult others to feel good about themelves.
(June A, Manning 4:31am May 4, 2011)
Registered users may leave comments.
Log in or register now!