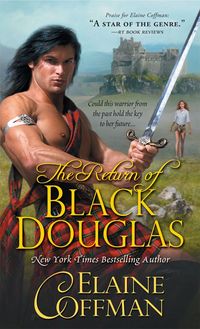 Purchase
Could this warrior from the past hold the key to her future...
Mackinnon-Douglas #2
Sourcebooks Casablanca
April 2011
On Sale: April 5, 2011
Featuring: Isobella Douglas; Sir James, the Black Douglas; Alysandir Mackinnon
419 pages
ISBN: 1402250746
EAN: 9781402250743
Kindle: B004MMEG52
Mass Market Paperback / e-Book
Add to Wish List

Romance Time Travel | Romance Historical
The Return of Black Douglas tells the tale of Isobella Douglas who is transported to 16th century Scotland by the powers of the mischievous ghost of Black Douglas, and finds herself among the Mackinnon ancestors. Dropped in the middle of a clan skirmish, Isobella is at Castieal Marrach, the seat of the Mackinnon clan.
Alysandir Mackinnon rules his clan with an iron fist. He has no time for softness or as he sees it, weakness, in his life. But when he encounters a bewitching English "spy," with her strange magic contraptions-an iPod?-Alysandir's hard heart softens toward the intriguing, if at times infuriating, lass. But the more time they spend together, the more Isobella begins to wonder if this is where she belongs after all.
A classic Highlander tale with the twist of at time-travel, this is Elaine Coffman at her best! With her signature wit and sensual romance, readers will revel in the lush Highland setting, captivating clan clashes and two people fall fast and hard in love.
Comments
41 comments posted.
Re: The Return Of Black Douglas

This book looks great...and I love the cover!
(Leanna Morris 1:24am April 1, 2011)
I didn't realize that Gaelic referred to both people of Irish and Scottish descent. That is very interesting. I had always thought of them as completely separate groups.
(Stacie Deramo 6:56am April 1, 2011)
Thank you for the great information. I found it quite interesting and informative. I was under the incorrect assumption that Highlander referred to Scotland. I enjoy the books but don't know alot about the research behind them. As a reader, learning more about the behind the scenes helps to enhance my reading experience. Thank you for the great post. Congratulations on your upcoming release.
(Christine Stack 8:53am April 1, 2011)
I appreciate when a writer does her research! I'm Welsh so I found it interesting that Scots Highlanders are similar to the Welsh. And I love time travel fiction!
(Renee Pajda 9:15am April 1, 2011)
Oh wow.. I didn't know that it's so complicated... Always thought that Gaelic and Celtic meant the same thing.... Great that I learned something today.....

Your book sounds interesting...
(May Pau 9:33am April 1, 2011)
Your books are the greatest
(Frances Namuth 9:58am April 1, 2011)
I have tried to explain some of this to friends and it was very confusing to them. I am Scots/Irish or Irish/Scots as you have shown. Your explaination is so much easier to understand. Thank you for your research. I look forward to reading this book.
(Cindy Olp 10:15am April 1, 2011)
It's obvious by the amount of data that I just read that many man hours were put in to get the information that Elaine got to make her books as accurate as possible -- otherwise, she wouldn't have gotten all of those awards!! Who would have thought that those clans were exiled from other countries and brought together, in a sense through fate? It's amazing how history works!! I am looking forward to reading her latest book. The plot sounds very good!!
(Peggy Roberson 10:45am April 1, 2011)
This book sounds great, that was great information you gave us, found it all fascinating. Thank you for all the research you do to bring us these wonderful stories.
(Jean Patton 10:56am April 1, 2011)
My head is spinning with this info about the Highlanders. I guess the further back in time you go, the harder the history is to find. I'm in awe at all the research which needs to be done.

I love reading books set in Scotland. Please enter me in the contest.
(Susan Davco 11:11am April 1, 2011)
The historical backdrop is very interesting! I've always been disappointed by books where the references were blatently wrong... Which is why I so enjoy your work! Thanks for the explaination.
(Cate Sparks 11:14am April 1, 2011)
I LOVE TIME TRAVEL HISTORICAL ROMANCES! I have been dying to find a new one, and this is it! It sounds amazing! My all time favorites have Highlanders in them. I am so happy to have found Fresh Fiction, as I have discovered so many new fabulous authors here! Please enter me in your contest :~) >3
I just saw your "Graham Series" on your website! Can't wait to read them too!
(Stefanie Finn 11:46am April 1, 2011)
I didn't know all of that information about the Highlanders and Lowlanders! Amazing! I love time travel historical romances set in Scotland. Sounds like a great book!
(Robin Daily 11:54am April 1, 2011)
I did not know all of this information. I love finding out stuff like this, and reading books that include some historical facts in them.
(June A, Manning 12:10pm April 1, 2011)
What fascinating information! This makes me realize how little I know about the history of Scotland.
(Anna Speed 12:17pm April 1, 2011)
You have certainly given us an insight into the amount of research authors put into their work - really amazing! I found this very interesting and will - quite frankly - have to read it a couple of times to really understand. I'm supposed to be part Scot and that has taken on a new meaning now; think I might need to do some research! Thank you. I love the cover and have added The Return of Black Douglas to my TBR list!
(Karen Cherubino 12:17pm April 1, 2011)
Sounds awesome. I love ancient history. I had to take an ancient history class in college and was like ugh until I got going in it. Then I couldnt get enough info. Love, love, love it!
(Vicki Hancock 12:49pm April 1, 2011)
I have always been fascinated by anything about Scotland. One branch of my family actually came from Scotland, so I have a special interest about Scotland.
(Marguerite Guinn 12:56pm April 1, 2011)
I am amazed and thankful for authors like you that do all of this research to give us some facts and history behind characters and places... you help us with your words step into the lives of such wonderful characters and their stories!
(Colleen Conklin 1:34pm April 1, 2011)
My favorite subject is "the Scots", this is very dear to my heart and my learning was just updated with your information, Even the word "Scots", is a direct reference to the Highlanders and not the whole of Scotland. Thanks for this bit, and now I know everything, LOL!
(Debra Simning-Chapman 1:36pm April 1, 2011)
Well, I must say I hopped on to leave a note saying I had been here, not expecting more than a couple of posts so early after the blog was posted. Boy, was I in for a surprise, and how wonderful it is to see that romance is still in full bloom and as beloved by its readers as it was when my first book came out in 1988. I'm also humbled by your responses, for I wondered how all of you would feel about my Highlander's history lesson (yes, I was a school teacher once upon a time). I think it is wonderful that you not only enjoy our books, but that you truly are interested in the stories behind the story. Thank you for your wonderful posts and thank you to freshfiction for having me here. I do hope you enjoy THE RETURN OF BLACK DOUGLAS as much as I enjoyed writing it.
(Elaine Coffman 1:45pm April 1, 2011)
I love your historical research- Highlanders are the hottest men in history!!!!
(Audra Holtwick 2:01pm April 1, 2011)
I practically inhale these kinds of stories. Now I've got another to look forward to reading!
(Lynn Moon 2:36pm April 1, 2011)
Thank you for the time and effort you went through in your writing. It is always interesting to learn about the area and the culture of the characters I read about in a book.

Good luck with THE RETURN OF BLACK DOUGLAS.
(Robin McKay 3:03pm April 1, 2011)
So glad to have you back with The Return of Black Douglas. Your research is impressive!
Blessings,
Marjorie
(Marjorie Carmony 3:25pm April 1, 2011)
Thanks for all your hard work. I love to learn about history. And I love the Scots.
(Diane Sallans 4:41pm April 1, 2011)
Elaine, I really appreciate when an author takes the time to do the research before writing a book. I guess I'm one of the readers that notices when an author pays attention to the details. I know it may be time consuming but it is appreciated!

The Return of the Black Douglas sounds fascinating and since I have ancestors from both the Lowlands and the Highlands I particularly enjoy all the facts I learn reading historically accurate books.
(Jeanne Miro 5:30pm April 1, 2011)
The information on the Gaels & Celts was very interesting. I probably won't remember the details in a few days but the general picture will linger. Now what was that remark about the wrong assumption of kilt wearing all about?
(r w 5:37pm April 1, 2011)
When I read a historical novel I always feel I learn something. I have always
enjoyed your books and it is really great to know that what I feel I am learning
has been thoroughly researched. If I read something interesting like that I like to
tell my husband who is a great reader of nonfiction. If he doubts what I tell him
he grabs his laptop and researchs until he is satisfied whether it is right or wrong
(Sandra Spilecki 5:37pm April 1, 2011)
I always find it interesting the many different terms that are interchangeable when referring to lineage and region and those that are not interchangeable but we try to use them as if they are. I read all types of books but right now I am on an historical kick. Love, love, love a man in a kilt!
Good luck and happy writing!
(Tracie Travis 5:48pm April 1, 2011)
Wow, do you have a diagram of all that? I'm glad you can pull away from your research long enough to write the book! :) Thank you!
(S Tieh 5:58pm April 1, 2011)
I never knew that of the Gaels. But lets face it,the Highlanders are so cool.
(Deb Pelletier 6:19pm April 1, 2011)
Personally, I can't see how anyone can think that history is boring!! There's always so much going on!

I had actually known most of that information regarding the Gaels and the Celts, and was somewhat aware of the Scots/Irish/Welsh connections.

Looking forward to this book.

Later,

Lynn
(Lynn Rettig 7:16pm April 1, 2011)
I'm glad you explained the difference between the two, because I thought they were the same. Thanks for clearing up another mystery and for writing books I want to read.
(Alyson Widen 8:15pm April 1, 2011)
I am so intrigued by the Scottish roots and history of the people (Sigh). I thought Gaelic was the language spoken :) you can always teach an old dog new tricks :) Keep writing your fantastic reads!
(Darci Paice 9:34pm April 1, 2011)
Wow that was a lot of research! Congrats on your new book!
(Brenda Rupp 10:01pm April 1, 2011)
I love Celts and Highlander stories! Bring 'em on Elaine!
(MaryAnne Banks 10:46pm April 1, 2011)
I can remember way back at school learning about the Picts, Scots, Gaels and Celts, but I must admit that I'd forgotten most of it. I want my books to be as historically true as possible. They don't even necessarily need to have romance, because history has always been one of my favorite subjects, almost as much as languages. Or is it the other way around? Since you also added time-travel, the plot should be even merrier. Thanks for the history lesson. I'll take those wherever I can get them. Cheers!
(Sigrun Schulz 1:17am April 2, 2011)
Being of Irish and Scottish decent, I loved this post! Thank you for sharing what you learned.
(Molly Wilsbacher 8:38am April 2, 2011)
Loved your first "Douglas " book which I bought just because of the name. My grandmother was a Douglas & of course that was another chance to learn about "them". I did so enjoy that you do work hard at getting the history in the right direction. Time & an interest in history has proven more times than not that you & other authors have been doing your homework. My "Douglas" group in the US has been involved in a DNA study the last couple of years that puts a lot of us with a genetic flag to an ancient king of Ireland, "Neils of the Nine". I think it amusing to look back at those wild & passionate people & think, "hey we've got their DNA in us" & maybe a little more shows up in our desire to learn about all things pertaining to them. Thank you for more enlightening on our Pict, Irish, Scot, Celts, & gaels ancestors. Will certainly look for this new Douglas book.
(Jean Merriott 2:10am April 3, 2011)
Hi Elaine,
I enjoyed your post and have to say I have the highest respect for Authors. Not only are they elling a story but they spend an awful lot of time researching to tell that story accurately. I love History and always enjoy saying I have learned more about History through the books I've read then in any classroom. Thanks for sharing this info with us. My favorite read is always the Highlanders. :)I'm off to your site to check out your books.
Carol L
[email protected].
(Carol Luciano 4:54pm April 3, 2011)
Registered users may leave comments.
Log in or register now!