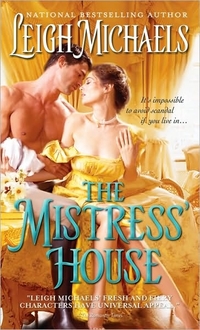 Purchase
It's impossible to avoid a scandal if you live in ... the Mistress' House
Sourcebooks Casablanca
February 2011
On Sale: February 1, 2011
Featuring: Georgiana Baxter; Anne Keighley; Anne Keighley
320 pages
ISBN: 1402241356
EAN: 9781402241352
Kindle: B004ISLNVA
Paperback / e-Book
Add to Wish List

Three beautifully intertwined love stories...
The Rules are made to be broken...
When the handsome rakish Earl of Hawthorne buys the charming house across the back garden from his town home, he never expects the lovely lady he installs there to ensnare him completely.
Again and again...
After Lady Anne Keighley marries the earl, it seems a shame to leave the house empty, so she offers it to her childhood friend Felicity Mercer, who discovers that the earl's gorgeous cousin is precisely the man she's been waiting for...
Finally, feisty Georgiana Baxter moves into the house to escape an arrange marriage, and encounters the earl's friend Lord Julian Silsby late one night in the back garden. The handsome soldier is more than willing to give her the lessons she asks for...
The house's ownership, proximity to the earl's townhouse and the beauty of its successive inhabitants leads to plenty of gossip, scandal and torrid speculation, while behind closed doors, passions blaze.
Comments
53 comments posted.
I have read a lot about you and would love to be able to read
this book! Thanks!
(Stephanie MacDonald 4:05pm February 9, 2011)
These sound like such fun stories!
(Robin Daily 12:38pm February 10, 2011)
I have not read any of your books yet but would love to. This story sounds great, with the 3 stories connected. Sounds great.
(June Manning 12:58pm February 10, 2011)
Just what I need: hot stories for a cold winter!
(Diane Urbanec 1:57am February 10, 2011)
Ah, the romance of the lost times!
(Joanne Reynolds 6:14am February 10, 2011)
sounds like the perfect read for Valentines day!
(Karen Gervasi 6:40am February 10, 2011)
I have just discovered Georgette Heyer and really love her books. I will add yours to my "to read" list.
(Pam Howell 6:43am February 10, 2011)
Oh, I love your books!!
(Clio Teixeira 8:00am February 10, 2011)
I have yet to read one of your books and this one sounds so good. You
are so right in that these days, nothing is left to the imagination.
Understated romance is so much more appealing. And I enjoyed the
excerpts.
(Mona Garg 8:37am February 10, 2011)
would love to read this book! my best friend and i love trading books after reading them and this sounds like a great one to share!
thanks!
(Diane Roscoe 8:38am February 10, 2011)
I agree w/ you about the "undercurrents". What a wonderful way to put it!
(Laura Lanemann 8:42am February 10, 2011)
I would love to read this book--and I'll buy it even if I don't win. The Regency time period is one of my favorites!
(Lynne Mauro 9:03am February 10, 2011)
Historial Romance...my favorite!! Can't wait to read it. Love + Romance = Great Reading!!
(Dawn Staniszeski 9:25am February 10, 2011)
I would love the opportunity to read one of your Regency romances. As a child I always loved fairy tales. As an adult I have been drawn to regency romances for the same reasons.
(Christine Stack 9:58am February 10, 2011)
I'm interested!
(Renee Pajda 10:05am February 10, 2011)
Leigh - What a perfect month to release this book and I'm thrilled it's set during the regency period. I love a time when a touch was exciting and a flash of skin was scandlous. This books sounds triple times good!
(Jeanne Miro 10:54am February 10, 2011)
Hi, everyone! Thanks for the warm welcome at Fresh Fiction! I'm so pleased that readers are embracing the idea of this slightly different approach to romance, with the triple story, and to my change of direction from contemporary sweet traditionals to historical sensual romances.

Romances are a fairy tale, aren't they? -- especially the Regency period!
(Leigh Michaels 11:31am February 10, 2011)
Can't wait to read a romance that you have written. I have just now discovered you thru Freshfiction.
(Theresa Richardson 12:00pm February 10, 2011)
i will enjoy this book
(Debbi Shaw 12:49pm February 10, 2011)
I do enjoy a well-written historical and have read many. I also love the sexual tension that builds up between the characters...it's much better to let that build up than for them to get between the sheets right away...hehe!!!

Valerie
in Germany
(Valerie Bongards 1:55pm February 10, 2011)
Ah, sounds like a great contest and book!!!
(Joanne Bozik 2:03pm February 10, 2011)
Thanks for stopping by! I hope you'll enjoy reading The Mistress' House as much as I enjoyed writing it.
(Leigh Michaels 2:07pm February 10, 2011)
Love historicals... would enjoy reading your book... adding it to my list!
(Colleen Conklin 2:22pm February 10, 2011)
I would love to read this book. I am new to your blog.
(Soha Molina 3:20pm February 10, 2011)
A newbie to fresh fiction, I have been at my desk since 9:30am and haven't started any work yet (I guess it's good that I work with my husband - a man with his own undercurrents!) Definitely an addition to my late night, feel-good reading time. Thank you for sharing you stories, I am headed to your web site now..........
(Theresa Thompson 3:33pm February 10, 2011)
Your book covers are enticing!
(Joanne Hicks 4:18pm February 10, 2011)
I really enjoy reading stories with intertwined love interests and where more than one couple end up together at the end of the story. I feel like they are a "bonus" to the main story.
(MaryAnne Banks 5:00pm February 10, 2011)
Your new book sounds so good!!!! I love the cover.
(Danielle DeBuono 5:44pm February 10, 2011)
Isn't that cover just toe-curlingly wonderful? A friend who's in her seventies took one look at the hero and said, "He can eat crackers in my bed anytime." And I think a lot of women will agree. There's just something about a hero in boots... :-)

I'm glad to know how many readers enjoy the intertwined stories. There's potential for a great deal of humor when all the characters are interating -- sometimes hiding from each other!
(Leigh Michaels 5:52pm February 10, 2011)
Please.....could you share the address of this fortunate house immediately?!!! One of my dearest friends and I would welcome the opportunity of its promise! How clever this device!
(Carla Schuller 5:59pm February 10, 2011)
Congrats on the new release, Leigh. I'm intrigued by the premise.
(Jane Cheung 6:15pm February 10, 2011)
I completely agree about Jane Eyre. I cannot wait until the new movie is released in March. The actor playing Mr. Rochester is perfect! Congratulations on the new release!
(Stacie Deramo 6:21pm February 10, 2011)
I love reading romance books, This would be my first book of yours ,I would love to add you to my list of favorite authors
(Fran Scocchera 6:38pm February 10, 2011)
I hear about this book,Mistress House ,but not sure where. Anyway I hope I win. I love Jane Eyre.
(Deb Pelletier 8:17pm February 10, 2011)
Oh my! 3 in 1 sounds like a winner to me! I love your books and this one sounds delightful!
(Pamela Stewart 8:20pm February 10, 2011)
This is a book I'd like to read (and win).
(r w 8:32pm February 10, 2011)
I'm so pleased with the number of new readers -- ones who haven't read my other books but are excited about the new direction I'm taking with historicals and triple stories. Please let me know what you think -- you can find my email address on my website, and I'd love to hear from you again! Thanks so much to the people at Fresh Fiction for hosting me today.
(Leigh Michaels 9:08pm February 10, 2011)
Cool Cover...Cool Sounding book. Would love to win this copy and follow your career. thanks for the chance
(Carol Conerly 9:40pm February 10, 2011)
Love reading historical romance.Beautiful cover on this book. Thanks for the contest.
(Teresa Ward 10:02pm February 10, 2011)
After reading your blog, it's no wonder why you've been a RITA finalist 6 times!! I don't know how I have overlooked you, but you are now on my TBR list!! Thank you for a most refreshing blog, as well as a new book to warm me on a cold Winters' day!! Congratulations on what I'm sure is going to be another hit!!
(Peggy Roberson 10:28pm February 10, 2011)
I love this kind of book! Have added you to my TBR author list. Keep up the good writing!
(Diane Sallans 10:59pm February 10, 2011)
I love reading historical fiction. This romance story sounds great.
(Ginger Hinson 11:27pm February 10, 2011)
I love everything about Historical Romanance books. I know I will love this book. Thank you.
(Barbara Ryan 12:45pm February 11, 2011)
A touch, a glance. The rules & manners make it like a dance. Must read!!
(Mary Preston 1:25am February 11, 2011)
Love the cover
(Pam Hager 1:29am February 11, 2011)
I love historicals too! Don't you find the "society rules" fascinating. The
contrast of the Regency rules to those of the mid to late 1700's is like night
and day. From Bawdy to Prudish in so short a period of time. I like Regency
best because I prefer hints of things rather that being smacked in the face.
To start with tight rules and to gently bend and break them makes such a
better story. Congratulations on your new book I like the three in one idea.
(Sandra Spilecki 6:35am February 11, 2011)
I Love Historical romance thats what I read most, I enjoy your books and would love to read this one.
(Vickie Hightower 10:50am February 11, 2011)
Leigh--JANE EYRE is my FAVORITE Classic. I'm looking forward to the new movie, too. I love reading Regency Historicals, and your plot sounds riveting. Thanks for the chance to win a book.
(Ann Garland 1:06pm February 11, 2011)
I love the whole idea of this... and what I love about historical romance is that there are those hidden parts that in the current day are completely out in the open..
(Cate Sparks 4:22pm February 11, 2011)
Three in one--what fun!
(Sue Farrell 7:33pm February 11, 2011)
I'm sorry I have not read any of your books yet! I say yet because I know I will at some time in the future. I've takent note of your name!
(Brenda Rupp 12:47pm February 12, 2011)
It sounds as if you've got some luscious couples here.
I'm just reading WOMAN'S OWN by Robyn Carr, set around 1876 Philadelphia about four women in one family: grandmother, daughter and two grand-daughters. I mention this here because it contains the longest, the best, the most sensual and most tender description of a kiss that I've ever read. Yumm
(Sigrun Schulz 12:59pm February 14, 2011)
A threesome twice has got to be good as long as the characters keep their distinction and voice. I'm sure they all want to step over the boundaries and meddle to place the object of their affections within sight.
(Alyson Widen 10:19pm February 27, 2011)
Registered users may leave comments.
Log in or register now!