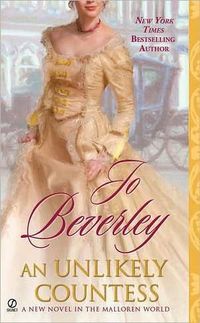 Purchase
Company of Rogues #4
Signet
March 2011
On Sale: March 1, 2011
Featuring: Prudence Youlgrave; Catesby Burgoyne
432 pages
ISBN: 0451232712
EAN: 9780451232717
Kindle: B004H4XI2W
Mass Market Paperback / e-Book
Add to Wish List

Prudence Youlgrave is out to marry above her station and secure a happy life. Catesby Burgoyne is out to continue his noble family's good name. When fate pushes them together, they are married-but this inconvenient marriage of convenience quickly turns into something much more...
Comments
86 comments posted.
I do love to see how the "other" side lives as in your books, but when you move a hero or heroine into less luxurious circumstances the contrast is eye opening to say the least. Of course a Jo Beverley novel is a good romp through history/mystery/action AND romance! And now with you living in England we get to see through your eyes all those lovely places!
(Jean Merriott 1:58am March 19, 2011)
I see I didn't really answer the question! I think that the hero/heroine is often portrayed as mostly comfortable in their place in society, but as a story progresses we find maybe they don't always love the place they are in. And that is what makes for a good novel. Maybe they learn that "the grass IS greener" on the other side of society, or maybe not. The freedoms that one of lesser status has might not be as great as they thought..in that the hero/heroine has to be creative and even hustle just to get food/clothing etc. that they'd not had to even give thought to before. Therefore, no, if they always love their place in society, I think it would be a boring story.
(Jean Merriott 2:58am March 19, 2011)
I love how marrying up to further one's position is highly commendable. This makes for great reading.
(Mary Preston 3:40am March 19, 2011)
In a story, the hero and heroine is often described as someone who live in luxurious circumstances. But I think it's not the most important thing in a story. It depend on writer's ability to create an intersting story, even if the hero and heroine not live in luxurious circumstances.
(Dinda Lestarini 4:10am March 19, 2011)
I don't see how anyone would prefer to live in poverty. I would think anyone would like to have lived in high society. I like characters who try to better their lives and who are willing to work hard to do this.
(June Manning 4:16am March 19, 2011)
Thank you for your post and question, Jo.

Most historical romances take place in settings in which there was little if any social mobility. Therefore, in order to be true to the mindset of the period, characters would typically take for granted the notion that they would spend all their lives in the class into which they had been born.

Indeed, I doubt members of the lower and middle classes gave the idea of rising above their station any thought. How could they, if they didn't know of any examples? It simply wasn't done.

But as for aristocrats who lost their fortunes and had to live well below the manner to which they had become accustomed---well, they'd probably move heaven and earth to get back on the top rungs of the social ladder. I can't picture someone like that becoming content with genteel poverty, or the not-so-genteel kind.

Bitter, angry, resentful, yes. Some might become resigned to their fate, but never happy with it. And others would resolve to return to what they no doubt regarded as their rightful place in the world, no matter what rules they had to break or whom they might hurt.

To answer your question about which classes I'd like to read about, personally I wish there were more historical fiction that focuses on characters from the lower and middle classes. Therein lies so much literary potential, so many stories that can't be told if writers deal exclusively with upper-class protagonists.

I might get kicked off "Fresh Fiction" for saying this, but I vastly prefer a romantic hero who must work for a living; who isn't rich, powerful, and notorious. To me at least, ordinary guys are far more appealing. But they're few and far between in contemporary fiction, and even harder to find in historicals.

Good luck with your new release.
(Mary Anne Landers 4:36am March 19, 2011)
Thanks for the comments, everyone.

Mary Anne, I take your point about the working hero, but what bugs me in historical romance are the peers who don't seem to do any work.

If they're heroes, in my way of looking act things they do their job conscientiously. Their job is to at least oversee their vast estates, to be sure that their tenants and servants are taken care of, even if through deputies, and to take their place in the House of Lords and help govern the country. We can add in, and include the ladies, being patronesses of charities of many kinds, and patrons of artists and musicians.

I'm not saying this should be a big factor in a romance unless it's part of the plot but I like it when I read something like "when he returned from the House..." or "He reviewed some letters his secretary set before him and signed them, and then he looked up into her angry eyes..."

Just that sense of a greater world around him.

Anyone agree with me?

Jo
(Jo Beverley 5:07am March 19, 2011)
I agree. I think the problem is "the spare". What does he do? The military or
the church. In that time period the servants believed that everyone should
stay within their own class and many were very rigid about it. When a heroine
falls to a lower class set of circumstances the feeling of the day was that she
didn't belong there. She must feel "set apart". Therefore to desire to get back
what she lost is not snobbery. However to "climb" to even higher levels wasn't
seen a right either. But let's face it every society is filled with climbers, right
or wrong.
(Sandra Spilecki 7:13am March 19, 2011)
I love the "glitz and the glamor" in books. My life has no glitz or glamor so it's sheer escapism to read about it in stories.
(Karen Gervasi 7:14am March 19, 2011)
I do like reading about the glitz and the glamor, I have to
admit!
(Margay Roberge 7:49am March 19, 2011)
I like reading about the high life they people of society get to experience. I also like to see how a character reacts when they are put in an environment they are unaccustomed to. I don't think the heroine is wrong for wanting to go back to her former position. It doesn't make her a snob in my opinion. I think it just makes her human.
(Stacie Deramo 8:04am March 19, 2011)
I LOVE READING ABOUT GLITZ AND GLAMOUR OF BYGONE ERAS..AND THE UPSTAIRS/DOWNSTAIRS RELATIONSHIPS THEY ENGENDER!
(Silvana Moscato 8:06am March 19, 2011)
I don't blame anyone, real or fiction, for wanting to live as well as possible.
Just absorb the criticism.
Blessings,
Marjorie
(Marjorie Carmony 8:47am March 19, 2011)
Looks like a great read... cant wait to spend a lovely afternoon lazy in the sun book in hand! Wishing for a castle of my own!
(Sue Nodes 9:07am March 19, 2011)
Glad to see a lot of votes for glitz. :)

Jo
(Jo Beverley 9:19am March 19, 2011)
I actually liked Prudence. She may not have liked her present circumstances but she didn't whine about it! You made her very believable, for a character of that time. That being said, I hate the poor me syndrome but what a lot of people don't realize is that these women were not like us..they had NO sense (literally) of empowerment. I would like to think that I would try to change my world (circumstances) but at what cost and would it be enough? Hard to say unless you were living in an era (or area) with NO rights.
(Scarlet Wharton 9:45am March 19, 2011)
Oh, I definitely love to see them come "up" into the world. Which means luxury! I love when everything is described so wonderfully, that I feel as if I am right there in the room. The clothes, the way they talked, foods they ate, all of it!! To follow them through love, tears, especially when they end in high society.
(Mary Alice Goss 9:49am March 19, 2011)
I believe Prudence is behaving quite normally when she feels out of place in the poor section in which she lives at the beginning of the story. We all feel most comfortable when we are in surroundings that are familiar to us no matter the economic level, so I think an improvement in her situation would also cause some anxiety until she adapted. But, to answer your question, I enjoy reading about the upper class with the attendant glamour, but I would welcome some stories about the middle class life, mainly because I know (from my novel reading) much less about the reality of that level in Regency or Georgian times.
(Dolores Feagin 10:13am March 19, 2011)
Though I'm quite satisfied with my role in life, I certainly don't mind reading about glitz and glamour. In fact, I've experienced some glitz myself in France, courtesy of an international conference that my father attended while I was au pair in a family with seven children in a suburb of Paris. As closure to the conference, we attended a banquet in the Salle des Batailles in the Palace of Versailes, as well as a tour of the whole palace. Having something glitzy like this occur once in a while is certainly more memorable for me than living my whole life under such circumstances. But on the other hand, who knows how I'd have felt if I'd been born into them. Probably a taste of "normal" life would have been memorable.
On the other hand, if I'd had to go from glitz to ordinary, I might have been like Prudence and tried to keep up my spirits and my mindset on something I'd been more used to.
(Sigrun Schulz 10:17am March 19, 2011)
I would hate to go from "riches to rags". I much prefer all the glitz, luxury and everything that goes with it. Had I lived in that time era, I'm afraid that I would have wanted to belong to the "ton" and not the lower classes. I guess that makes me a snob but come on, let's be realistic here, who wouldn't want the more luxurious life. Partying, balls, beautiful clothes, every need catered to compared to scrubbing steps, doing laundry till your hands are raw and red and, wearing drab clothes. Ooops, I could go on and on so, had better stop now.
(Diane Diamond 10:26am March 19, 2011)
Sorry, I just read Jo's comment about aristocrats now. I think that everybody, including "spares," should have some sort of task to look after. Being totally idle isn't good for anybody. After all, even the Queen has tasks she has to do. It's not hard manual labour but she still gets reports on world news, takes care of personal correspondence, etc.
(Sigrun Schulz 10:26am March 19, 2011)
I am like you in that I like to read about the glitz and glamour. I already know what is like to struggle in life financially, it's nice to know that even the "rich" have some kind of problems though :)
(Denise Branigan 10:26am March 19, 2011)
Anyone who is honest with themselves would not prefer being poor. And especially back then the ability to move up was a lot more limited. And I like to be able to experience through reading how the various classes lived at different times in history.
(Pam Howell 10:27am March 19, 2011)
Prudence was one step away from plunging down the slippery slope of life to someplace worse than White Rose Yard. What would have happened to her if the rent was raised? or she got sick. Her brother blamed her for her poverty and never acknowledged what she and her mother gave up for him. The men in Northallerton weren't looking for a trophy wife to sip tea and order others about. They were looking for a woman who would bring something substantial to the table. So, she stiffened her backbone and confronted her brother and his family. How many of us just want what we believe we are due out of life? How many of give up our dreams and settle in and make the best of what we have? Good work Jo!
(Iva Steele 10:40am March 19, 2011)
I think heros and heroines of all social status are interesting---I just don't like the phony assumptions of some novelists that those in the lower classes actually could rise to the upper classes---it just didn't happen---and doesn't happen much now either. I don't think anyone needs to be content with their lot in life, but I do think they do need to be realistic. I do like to read more about the working class than the nobility.
(Sue Farrell 10:52am March 19, 2011)
I enjoy reading all books. We've been spending winter months in Arizona and certainly have had the warm weather to sit out and read.
(Pam Alderson 11:11am March 19, 2011)
What gets me about that heir and spare thing is that given the mortality rate, one would have thought both sons would have been trained to be the Lord of the Manor. Ton familys complained about their sons' playboy lifestyles, yet many enabled them to continue if they didn't want to face scandal. That lifestyle is still is being repeated. We all saw the directions Princes William and Harry were headed in as teenagers. Thank goodness someone, Prince Charles perhaps, let them have some fun, but stepped up and got them off the garden path and on the road to maturity.
(Iva Steele 11:12am March 19, 2011)
I can't wait to read this; it sounds like a great read!
(Mary Smith 11:20am March 19, 2011)
I really enjoy your historical fiction stories. They are great!
(Molly Wilsbacher 11:25am March 19, 2011)
I enjoy reading stories from all walks of life in a variety of time periods. Just give me a good story, a likeable hero/heroine, and a HEA, and I am happy.
(Cheryl Castings 11:37am March 19, 2011)
Can't wait to check this one out. Sounds great!!
My daughter already wants to read it too!! LOL!!
(Jack Davis 12:03pm March 19, 2011)
Historical glitz and glamour!
(Robin Daily 12:10pm March 19, 2011)
Actually I like reading about both sides, not necessarily in the same book though :-) 1
(Birgit Lehner 12:21pm March 19, 2011)
Sue wrote "I just don't like the phony assumptions of some novelists that those in the lower classes actually could rise to the upper classes"

Ah, yes. There was social mobility in Britain and we do have men from the lower classes rising through their own endeavours, but it wasn't easy. More importantly, they weren't easily accepted within the upper circles. If they handled things right, their children might be. Something like that happened to the Georgian owners of Aske Hall, mentioned above.

Generally, a woman took the status of her husband, so if a middle class woman married up, she rose, but if she married down, she sank. That's why some women didn't marry. They might have been able to get a husband from a lower rank, but they didn't want to "lower themselves."

It's also why rich "cits" were so keep to marry daughters into the aristocracy. Their grandchildren would be part of the elite. And why later, American Robber Barons wanted to do the same thing.

All this kind of thing fascinates me, and I try to stick as closely as possible to plausibility in my novels.

Jo
(Jo Beverley 12:26pm March 19, 2011)
Prudence must have had a lot going for her, such as intelligence, beauty and good manners. She didn't have the opportunities we have today and a good marriage was her only way of improving her lot in life. I like to read about ladies who find a way to improve their way of life, and more important, it sounds like she found love.
(Anna Speed 12:39pm March 19, 2011)
Adaptability to one's circumstances is an admirable trait. I like reading historicals that feature a variety of economic situations. Thanks for visiting today.
(G S Moch 12:41pm March 19, 2011)
I've always been sort of a rebel growing up against those who think they are better then anyone. And it would not bother me if both the hero and Heroine went from riches to rags as long as they were happy and in love......food to eat,etc...........I wouldn't enjoy reading of them living on the streets.......lolol But maybe they can start their own plantation, etc........and become rich in their own right.
(Joanne Bozik 12:57pm March 19, 2011)
I love your books and I agree, she does not belong there and knows it. How could anyone expect her to accept when she has lived better. As for being a snob, I think that depends on each person. At school I was considered a snob - I have no idea why - I was brought up in a council house (rented) all my clothes were hand me down and we had very little. I don't regret it but had I been given the choice I would have chosen to live with riches rather than povety!
(Barbara Hanson 1:19pm March 19, 2011)
I wouldn't respect a heroine or hero who was banished to a poor area and did nothing to make it better. Your characters have spunk and don't whine! Nothing worse than 'woe is me' characters. I do enjoy learning about how they lived in the past, especially like the photos you posted of what the homes and buildings looked like.
(Sherry Weddle 1:27pm March 19, 2011)
i always liked both, but combining the upper and lower classes together always makes for an interesting romance!
(Meaghan Koci 1:41pm March 19, 2011)
I love the hero or heroine in any class enviroment. But the more eccentric and unusual they seem to be is what I enjoy the most.
(Chris Mickels 1:41pm March 19, 2011)
It depends on the story, but I don't think my hero would be satisfied staying in a bad situation. He is smart, driven, handsome, and able to better himself. Ah, if only the perfect mad existed!
(Pamela Stewart 1:42pm March 19, 2011)
I think that this follows in the classic tradition of a romance as written by Jane Austen and the Bronte Sisters. Someone down on their luck who tried to make their station better and in the bargain finds someone they can truly be passionate about. Its a great escapist read as most romances are. I love Jane Austen I love Ernest Hemingway I love many thought provoking writers. And I love to escape wtih this novel.
(Carol Donnermeyer 1:42pm March 19, 2011)
In this case, perhaps the reviewers are the snobbish ones. It was your story to tell, and obviously they didn't get the objective of the storyline. I'm very anxious to read your book, because I'll be able to relate to it. In the past 3 years, I went from living a comfortable life, to losing everything, and having to live in a pop-up camper for a while. Fortunately, I have now found a new place to live. It's not anything near what I had before, and starting over is hard, but I'm making the most with what I do have. It all depends on your perspective. I believe that the reviewers have never been through anything like that, so they didn't understand your book. I'm just glad it's doing so well, and you have enough of a following that will ignore them anyway.
(Peggy Roberson 1:51pm March 19, 2011)
What I look for is the journey and interactions the characters have... Whether rich, poor, or middle class... I want to see the characters get past their obstacles to find their HEA!
(Colleen Conklin 2:02pm March 19, 2011)
I love the glitz and glamour. I live vicariously through your heroines and it wouldn't be escapism for me to read about the lower classes, since that's my everyday lifestyle. Through your books, I travel to country estates where I join picnics, visit ruins, attend balls and masques, go to house parties in amazing homes, and be romanced by the most amazing men! I also get to wear wonderful gowns and be served by maids; someone helps me dress, does my hair, cleans my house...ahhhh, the joys of reading your novels!
(Michelle Campbell 2:03pm March 19, 2011)
I do love to read about glitz and glamour b/c it's fun to live vicariously thru
the characters.

I think I would prefer that the characters are outside of their comfort zone.
It's interesting to see how they manage to resolve the situation.
(Mona Garg 2:10pm March 19, 2011)
I think it depend on why they love "their place". If it is where they really want to be, as opposed to where others say they should be, then yes, they should love it. The hero & heroine I enjoy makes where they want to be, with whom they love, their own place, regardless of what others think.
(Diane Sallans 2:14pm March 19, 2011)
Most readers feel they live fairly ordinary lives, and heroes and heroines who have more extraordinary circumstances in society are an escapist opportunity--a vicarious adventure. But the heroes and heroines who live in our hearts are characters who grow and transcend either luxury or penury--characters who become real as they face and overcome challenges of any kind.
(Janet Martin 2:46pm March 19, 2011)
I think it is good to want to stretch yourself to be better or your best. I think it is also true nature to wonder of what you are not, whatever it is...
(Debra Simning-Chapman 3:18pm March 19, 2011)
I think you have to treat people equally whether rich or poor. Class distinction is what separates American and Regency historicals. However, if you lose all your money of course you want to get back your standard of living.
(Kim C 3:32pm March 19, 2011)
i think it's human nature to want better (particularly if we've tried it before) otherwise we'd still be living in caves & tents and the lottery wouldn't be big business for the state treasuries. I don't think a hero or herione who got knocked down and was happily content would be interesting as one who struggles to improve their circumstances (whether they started down or are attempting to reclaim a prior status). one of the charms of regency romances is some of the glitz & glitter of the aristocrats and their "world".
(d Kenney 3:41pm March 19, 2011)
I think it is always interesting to see how their lives change. But the servants status is reflected by their masters' status during those times. I do think that sometimes the tremendous amount of responsiblity to keeping an estate running at a profit so that everyone one from the lowly boot boy & tweeny; maids & footmen; cooks; butler, etc can live & earn whatever income it was they were paid. They lived in the house, were clothed & fed and earned some sort [but probably not much by our standards] income. What really changed in the early 1900's was that people realized that they didn't have to remain in the 'class' that they were born into; they could move up, but it was difficult; until the First World War, when so many died either on the battlefields or due to illness spread by people being more mobile -- ie, the Spanish Flu... But even today, people are cliqueish; snobbish; prone to bully those they can; etc. the world and its people don't really change..
(Cate Sparks 3:44pm March 19, 2011)
I don't think the hero or heroine should always love their place in society. No one wants to live in the bottom of the heap, but hopefully you can work and strive for what you want out of life and achieve your goals. Jo, I love to read about glitz and glamour, but it depends on the characters in the story. Mostly, I guess it's the way the author weaves the story together.
(Cathy Phillips 3:46pm March 19, 2011)
I don't believe it's necessary to love your place in society, rather it behooves you to be aiming for a goal or some higher level to reach in mind, body and soul.
(Alyson Widen 3:56pm March 19, 2011)
From all the romance books I read, the bastards and the 3rd, 4th..sons, some younger male twin usually resent their place in society. With a few exception, such in the latest book from Laura Lee Gurhke I just read when a duke wasn't thrilled being a duke, he's an adventurous type and resented this "fluke of birth".
(Joy Johnson 4:08pm March 19, 2011)
I'm an equal opportunity reader..all over the place. I find often a combination of the 2 to be the best though.
(Ivy Truitt 4:32pm March 19, 2011)
I'm sure there are plenty of people who aren't satisfied with
their 'place' but the conflict can certainly bring a lot of
personal growth.
(Lori Howe 5:06pm March 19, 2011)
I love to see both sides of how people live and how they deal with everyday whether it be rich or poor.
(Barbara Ryan 5:16pm March 19, 2011)
hi i like the book and cover and then i would love to read
it and then blog on it
(Desiree Reilly 5:19pm March 19, 2011)
I prefer reading about Regency glamour. With romance and if the heroine moves up,all the better.
(Deb Pelletier 5:21pm March 19, 2011)
I don't have a problem with characters being unhappy with their station in society but they have to be working at coping with their problems. The effort to cope can be what makes heroes/heroines.
Because most historicals focus on the upper class, it is interesting to read some that have heroes and heroines who are working folk.
(Carol Drummond 5:29pm March 19, 2011)
I enjoy reading about lives from both sides of the stairs-up
and down.
(Lisa Richards 6:19pm March 19, 2011)
I like the Regency glamour period. As well as other timeframes. They are like mini time machines that give us a glimpse of what life was like in the past. It's fun to live vicariously through the books characters ;-)
(Gail Siuba 6:29pm March 19, 2011)
I like the glitz and glamour. I sometimes like to imagine myself in luxury. Like your heroine, if I did live in luxury and lost it, I'd try to get it back. I enjoy when the characters' stations in life change for the "fish out of water" element.
(r w 6:59pm March 19, 2011)
I enjoy reading about the middle class, book sounds great.
(Sheila True 7:00pm March 19, 2011)
I don't think Prudence is a snob. How does one adapt to their circumstances? My younger sister has never lifted a finger in her whole entire life before college. All of sudden, she entered into college life. She couldn't even figure out how to boil water or do laundry. I had to explained and show her what to do.

She was close to commuting to and from college but she tough it out. That's who Prudence reminds of.
(Kai Wong 7:53pm March 19, 2011)
I love reading about the glamour and luxury of the upper class. It's much more interesting.
(May Pau 8:08pm March 19, 2011)
i have you on face book and the blog is super
(Desiree Reilly 8:48pm March 19, 2011)
Since it seems to be part of human nature to want to better oneself, or be ambitious, trying to find a way to do that can be seen as pretty normal. And given the time frame in which you most often write (and I so love!), pursuing that goal through marriage was a pretty acceptable form of advancement. Besides, how boring would the story be without a little spice!
(Mary Allen 9:48pm March 19, 2011)
I read to escape...and fantasize! Why would I want to read
about something I'm already living--middle class?!? Bring on
the aristocracy! I love "rags to riches" stories -- even if
it's only in the pages of a book.
(Laura Henderson 9:52pm March 19, 2011)
I have to agree with you on wanting to be "in our own world". I don't think that this is snobbish. It has been found in studies that it is as difficult for the poor, middle class or rich to relate to those outside their comfort zones. I really think that is why the new show The Secret Millionaire is doing so well. We all want to see a happily ever after. The trials to get that are the best part of the story.
(Cindy Olp 10:01pm March 19, 2011)
I don't think it is wrong for someone to want to get into a better social set but it would be really hard once they reached it.
(Denise Boyd 10:08pm March 19, 2011)
I love reading your books,keep them coming. Thanks for giving me a Chance to win this one.
(Linda Hall 10:26pm March 19, 2011)
Jo - I love your books and no I don't read the excerpts because that takes the fun out of opening the cover and starting on a new "adventure".

Why would someone be upset because the hero or Hero or Heroine don't always lovet their place in Society? They could be in a situation where their parents had died and they had to go live with a guardian who shipped them off to the country or they could even be abused. I think a reader with that attitude should put themselves in the character position. Right now with the economy we all know at least one person who is living in "reduced" cifrcumstances and because we are friends or even just acquaintances we feel empathy for them. Why should our feelings be so different when it's a character in a book instead of someone we know.

Thanks for in your own way bringing some of the hardships being faced by people today into your book!
(Jeanne Miro 10:52pm March 19, 2011)
I love the glitz and glamour, it's such an enjoyable escape :)
(Athena Da Rosa 11:05pm March 19, 2011)
Georgian Romance...love it!!!
(Dawn Staniszeski 11:19pm March 19, 2011)
If the heroine is unhappy she should compalin and put up to a point as whining is no fun. Hopefully she will have a plan to change her circumstances. I read historical romance for all teh details of clothes and balls.
(Lindsey Ekland 3:45am March 20, 2011)
I think that in a society where you are rigidly defined as a person by the class
you are born into, it would be natural to feel out of place and depressed if you
found yourself in "reduced" circumstances. Your lack of funds would not only
cut you off from the circle of society you were used to, but the people in your
new setting would never quite accept you as one of them. I look forward to
reading An Unlikely Countess.
(Mary McCoy 5:00pm March 20, 2011)
I like glitz and glamour and I love the photos you posted.
(Renee Pajda 6:22pm March 20, 2011)
I love reading about the glamour too; sometimes it is such a nice "escape"
(Barbara Studer 10:57pm March 20, 2011)
Jo:
I don't think Prudence is snobbish. I compare her to a
contemporary woman who puts her husband/boyfriend through
college to make a better life for themselves and then finds
herself divorced/left behind because she doesn't fit his new
world. She just wants what is due to her.

As far as your book not being "hot" enough, pffft. Why does
every book have to have x number of sex scenes. Each couple
is different. What I have really liked about your books is
the sense that we are reading about different characters
each time, not the author(ess) and her fantasy lover over
and over again like some authors tend to do.

The heated scenes in this book were apropos to the story.

I don't have a preference for class of hero/heroine; just
that the story be believable and fun to read. You hit the
mark every time.
(Bonnie Prater 8:27am March 21, 2011)
Bonnie wrote "I don't think Prudence is snobbish. I compare her to a contemporary woman who puts her husband/boyfriend through college to make a better life for themselves and then finds herself divorced/left behind because she doesn't fit his new world."

Bonnie, I had to admit I saw the same parallel. It used to be very common -- at least for the wife to work so the husband could get a qualification -- but I hope it's not so much these days.

As I said in the author's note, it's based on a true story of the 18th century.

Jo
(Jo Beverley 11:33am March 21, 2011)
a book based on a true story is the best of all.
(Kathleen Bianchi 12:05pm March 21, 2011)
Certainly not a snob just because she doesn't like her current postition. If we were all satisfied with what we had, there would be no urge to achieve and to do well. We'd all stagnate.
(Heather Pearson 12:42pm March 21, 2011)
I think UC works because she starts her life in the middle-
class, falls to proverty, raises back to middle class, then
is confronted with a titled position. Between your knowledge
and research, you're able to give us a look at life at all
levels. This makes the story all the more fascinating.
Although I enjoy the "regular" romance novels in the refined
drawing rooms, it's hard to relate to something I've never
known. So UC was a breath of fresh air.
(Judy Dawe 4:43pm March 26, 2011)
Registered users may leave comments.
Log in or register now!