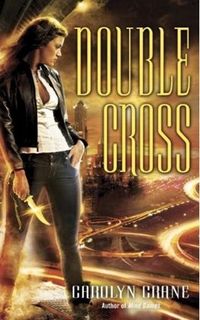 Purchase
Disillusionists #2
Spectra
October 2010
On Sale: September 28, 2010
Featuring: Justine Jones
384 pages
ISBN: 0553592629
EAN: 9780553592627
Mass Market Paperback
Add to Wish List

SOME SECRETS COME BACK TO HAUNT. OTHERS COME TO KILL...
Justine Jones has lived her life as a fearful hypochondriac until she's lured into the web of a mysterious mastermind named Packard. He gifts her with extraordinary mental powers-dooming her to fight Midcity's shadowy war on paranormal crime in order to find the peace she so desperately craves.
But now, serial killers with unheard-of skills are terrorizing the most powerful beings in Midcity, including mastermind Packard - and his oldest friend and worst enemy, Midcity's new mayor, who has the ability to bend matter itself to his will.
As the body count grows, Justine faces a crisis of conscience as she tests the limits of her new powers and faces an impossible choice between two flawed but brilliant men . . . one on a journey of redemption, and the other descending into a pit of moral depravity.
Comments
35 comments posted.
Re: Double Cross

I would fill like I Just fit in with this book.
sasluvbooks(at)yahoo.com
(Stacey Smith 1:02am December 22, 2010)
Wow! What a great concept - I love the idea - can't wait to read it.
(Barbara Hanson 5:54am December 22, 2010)
This story sounds compelling!
(Joanne Reynolds 6:25am December 22, 2010)
Sounds interesting like rooting for the underdog but with a twist. Happy holidays to you!
(Karen Gervasi 9:33am December 22, 2010)
My power would be boredom. I get bored easily and have to move onto
something else even if I'm not finished with what I was working on before. I
have a tendency to start a project and get past the fun part, then I set it aside
to do something else. So I guess that would have to be my super power. Well,
that and the fact that I can read, watch t.v. and talk to hubby all at the same
time and know what is going on in each.
(Nikki Cooley 10:26am December 22, 2010)
If I could turn one of my faults into a super power it would be me ability to
procrastinate. I could make the bad guys decide to take over the world some
other time LOL
(Lesleyanne Drake 11:01am December 22, 2010)
This is one of the books that has a lot in it and much more depth. I know this book is going to be a interesting read
(Anthonia Sharp 12:08pm December 22, 2010)
This is a very unusual sounding character...you have me curious about this story! I would have to think on what would my greatest "fault" power! :) Happy Holidays!
(Colleen Conklin 12:19pm December 22, 2010)
What an unusual premis....sounds really interesting and I would love to read it.

I guess I could get people to to get extreme about their hobbies....why take over the world when there is a cross stitch sampler to get done first....hehe.

Valerie
in Germany
(Valerie Bongards 12:40pm December 22, 2010)
My fault to change into power would be indecisiveness--no one would ever be able to choose which harmful thing to do first.
(Joan OToole 1:06pm December 22, 2010)
This series sound really interesting - cant wait to read it...
Lethargy might be a good power - no one would have enough motivation to do anything.
(Devon Gainer 2:25pm December 22, 2010)
My fault would be procrastination. I would love if I could get rid of that altogether. I have gotten better with the kids now I don't postpone as much cause you never know what will happen with kids.
(Chris Swanson 3:16pm December 22, 2010)
What would your disillusionist power be?
That is a good question... I would guess mine would be the power of positive thinking....

Thank you for a chance to win your book... Looks really good...
Kelly
[email protected]
(Kelly Mueller 3:35pm December 22, 2010)
I have two major faults: procrastination and indecisiveness.
(Cherie Japp 4:06pm December 22, 2010)
Oh, I would love to read this book and the series.
Now, about disillusionist power ..wow!! I really need to think about this, maybe cynicism or too much realism...LOL
(Clio Teixeira 5:30pm December 22, 2010)
I'm a neat freak. It's a blessing & a curse.
(Mary Preston 5:46pm December 22, 2010)
OK, my entire life has been one big Murphy's Law episode. I MUST READ THIS BOOK. BTW, what was that terribly depressing book you read? Any hints?

My power would be...ummm. I don't know. My issues are affirmation (real affirmation and not that [email protected] people dish out just because it is expected of them)and security. How would those turn into powers????
(Michele Powell 6:01pm December 22, 2010)
I would guess that we all win a few and loose a few, and hope life balances out OK.
Blessings,
Marjorie
(Marjorie Carmony 6:19pm December 22, 2010)
I think mine would be fear of bugs. LOL

Sounds like a very interesting book.
(Larena Hubble 6:25pm December 22, 2010)
I'm a detail person. I sometimes drive my family crazy with the notes I've written. Plaster them with paper, that's my motto. Your books sounds so interesting. Would love to win the copy.
(Maude Allen 7:00pm December 22, 2010)
I have a hard time making decisions.... at least my husband says I take too long to make them. So I guess doubt would be mine!
(Brenda Rupp 7:36pm December 22, 2010)
I tend to be shy. Wonder what I could do with that?
(Lisa Garrett 7:42pm December 22, 2010)
Oh, mine would be the tyranny of the weak that ultimately control the strong.
Would love to read the book though.
(Maria Antunes 7:43pm December 22, 2010)
Hm, what would my power be? Probably that I worry too much
about everyone, which can literally make me sick.

This sounds like a really fun and different book!
(Margay Roberge 9:17pm December 22, 2010)
Looking forward to reading this series. Thanks for the contest to win a copy. Merry Christmas
(Teresa Ward 9:50pm December 22, 2010)
Definitely a lovely idea. Where do I sign on? I'm another worrier.

Merry Christmas to all!
(Sigrun Schulz 10:00pm December 22, 2010)
Thanks for the chance to win. Merry Christmas
(Gail Siuba 10:19pm December 22, 2010)
Well, I do have a severe disinterest to dusting. Can that
even be turned into a superpower?
(G. Bisbjerg 10:39pm December 22, 2010)
I agree losers have more intriging stories to tell than winners. Justine in your book sounds just like that. Can't wait to read it.
(Diane Chenier 11:00pm December 22, 2010)
I think it would be great to be able to be able to have the power to cause a timid, stressed person to swap their problems with a bold, anti-social person with no fears whatso ever for 48 hrs so each can experience these victims can become the bullies and each can change their lives when they return to themselves.
(Susan Lathen 12:07pm December 23, 2010)
If I'm understanding the question correctly, I would give certain people who are weak or on the quiet side, abilities to be more outgoing, or let them think they're stronger than they really are. In the past, I have come to let people like that realize their strengths, and they have become better people for it. I wouldn't do it for evil purposes, just to level out the playing field a little. They need a chance to succeed, just like everyone else!!
(Peggy Roberson 8:29am December 23, 2010)
I'm afraid that people will critize me--so I'm afraid to go to large gatherings, etc---what kind of superpower could come from that?
(Sue Farrell 11:03am December 23, 2010)
It's so hard to take over the world when you're agoraphobic. It's hard to walk outside to the mailbox when you're afraid of walking outside your home. Christmas shopping by computer is easier than getting a gallon of milk to go with your cookies. Just think of all you would do with just a few hours of this problem being gone. You could visit people, walk in the park, go somewhere and meet a guy, see what's new on the shelves of the grocery store.

The whole idea is crazy, but it could make for a fun book. This new one looks like it's full of fun.
(Christina Harrison 2:06pm December 23, 2010)
What fun working on the psyche and seeing what good comes of it or not.
(Alyson Widen 7:24pm December 27, 2010)
Great review! I think this book is really worth reading. I like the plot; it is very interesting and intriguing. I always prefer to read the quality content and this thing I found in you post.
(Alice Simson 3:42am March 2, 2011)
Registered users may leave comments.
Log in or register now!