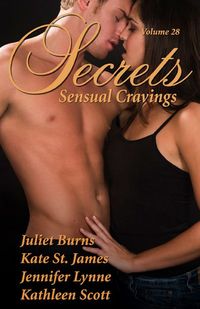 Purchase
Red Sage
February 2010
On Sale: February 1, 2010
ISBN: 1603101209
EAN: 9781603101202
e-Book
Add to Wish List

The Pirate's Possession by Juliet Burns
When Lady Gertrude Fitzpatrick tries to bargain with a fierce pirate for escape across the water to her childhood home, she unwittingly becomes the possession of Merciless MacGowan, a fierce privateer on the run from Cromwell's army. Ewan MacGowan has been betrayed and mistakenly exacts revenge on this proud noblewoman.
He may have stolen the lady's innocence, but buried beneath her plain exterior lies a hidden treasure he never thought to find: the true woman of his heart.
Seducing Serena by Jennifer Lynne
Serena Hewitt has given up on love. Her experience has taught her there's no such thing as 'Mister Right', but when she interviews for a potential partner she's not prepared for her overpowering sexual attraction to Nicholas Wade, a fun-loving bachelor with badboy good looks and a determination to prove her wrong. But Nick's hiding a secret that might just do the opposite. Can two people afraid of love risk exposing their hearts one last time?
Mind Games by Kathleen Scott
Damien Storm is a Varti-a psychic who can connect to one special person to communicate with telepathically. For three years he's tried in vain to get his Vartek partner, Jade, to acknowledge their link, but fear has made her keep him at a distance, even as he's bared his heart and soul to her in order to gain her trust. He will do anything to know the sweetness of her body and mind in closer proximity, but first he must save her from the forces of the government who wish to see all Varti destroyed.
Kiss Me at Midnight by Kate St. James
TV co-hosts Callie Hutchins and Marc Shaw fake an on-air romance to top November sweeps, but before long the battle of the sexes burns up the sheets and the ratings. Callie thinks Marc is a womanizer who should help her snag her dream job...on the other side of the country. As the month progresses, however, she realizes Marc isn't the handsome playboy he portrays on their show--he's funny, kind, and too sexy for words, damn it.
So...can she give him up when November ends?
Comments
No comments posted.

Registered users may leave comments.
Log in or register now!