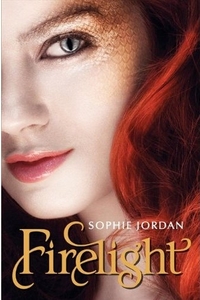 Purchase
HarperTeen
September 2010
On Sale: September 7, 2010
Featuring: Jacinda
336 pages
ISBN: 0061935085
EAN: 9780061935084
Hardcover
Add to Wish List

When sixteen-year-old Jacinda, who can change into a dragon, is forced to move away from her community of shapeshifters and start a more normal life, she falls in love with a boy who proves to be her most dangerous enemy.
A hidden truth.
Mortal enemies.
Doomed love.

Marked as special at an early age, Jacinda knows her every move is watched. But she longs for freedom to make her own choices. When she breaks the most sacred tenet among her kind, she nearly pays with her life. Until a beautiful stranger saves her. A stranger who was sent to hunt those like her. For Jacinda is a draki—a descendant of dragons whose greatest defense is her secret ability to shift into human form.
Forced to flee into the mortal world with her family, Jacinda struggles to adapt to her new surroundings. The only bright light is Will. Gorgeous, elusive Will who stirs her inner draki to life. Although she is irresistibly drawn to him, Jacinda knows Will's dark secret: He and his family are hunters. She should avoid him at all costs. But her inner draki is slowly slipping away—if it dies she will be left as a human forever. She'll do anything to prevent that. Even if it means getting closer to her most dangerous enemy.
Mythical powers and breathtaking romance ignite in this story of a girl who defies all expectations and whose love crosses an ancient divide.
Comments
3 comments posted.
Re: Firelight

I am not a teen (I am old, LOL) but I truly enjoyed reading about Jacinda and Will, and the new world of "draki." The cover of this book caught my initial interest, and reading the description of the book prompted me to purchase it. Of course, reading Sophie Jordan's historical romances had previously introduced me to her writing talent. Sophie kept me interested in the "draki" from the beginning to the end of book. I can't wait for the next book in the series.
(Janet Ashmore 7:40pm September 13, 2010)
The Y.A. book I am reading right now is "Unravled" by Gena Showalter. This is the sequal to "Intertwined". So far I am 150 pages into the book and it is proving to be a quick read and LOVING how it just picks up on the relationships and charecters just like the first in the series never ended!
(Laura Parmentier 7:19am September 15, 2010)
Im reading Crank (book 1 in Fallout series) right now actually :)
(Bella Franco 1:52am September 19, 2010)
Registered users may leave comments.
Log in or register now!