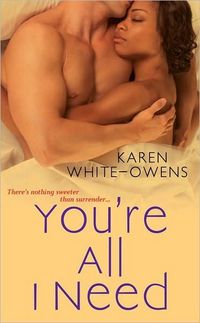 Purchase
There's nothing sweeter than surrender...
Kensington
October 2010
On Sale: October 1, 2010
Featuring: Tia Edwards; Christophe Jensen
356 pages
ISBN: 0758229607
EAN: 9780758229601
Paperback
Add to Wish List

Karen White-Owens-s compelling tale of love, loyalty, and the law, spans the continents as an irresistible Frenchman turns the life of an ambitious young woman upside down-
Making it as a hotshot legal eagle takes smarts, savvy-and acceptance to a prestigious law school. That-s exactly what independent beauty Tia Edwards has when she-s hit with a thunderbolt on her way up the professional ladder-a request from her boss to help Christophe Jensen, a charismatic new attorney from France, feel right at home-
Sparks fly when the two first meet, yet both are wary of taking things to the next level. But when Tia catches her man with someone else, she lets her connection with Christophe heat up. Happier than she-s ever been, complications arise when Christophe is summoned back to France. Suddenly, the best time of Tia-s life starts falling apart, as she-s forced to choose between her family and her future-with a man whose home is on the other side of the ocean...
Comments
6 comments posted.
Adding this to my wishlist. I hate it when all of the really good books haven't come out yet.
(Brandi Evans 6:20pm September 3, 2010)
It pays to be organised.
(Mary Preston 5:22pm October 24, 2010)
I think a lot of us take it for granted that writing the book is the end of the project. There's obviously a lot more to it than that. Thanks for giving us insight into your writing process and what comes after it.
(Jill Hayden 6:10pm October 24, 2010)
Writing is no easy task, and there is so much more than the end product. I was aware of a lot of it but your article gave me more insight.
Cudos to you!
(Brenda Rupp 8:27pm October 24, 2010)
Having goals in writing and other nearly daily activities gives you something to aim for rather than being totally spontaneous which doesn't get you real far in the long run.
(Alyson Widen 8:46pm October 24, 2010)
In order to have books that your followers are going to want to read, you have to have a good plan in motion. Sitting down and just writing a book, won't get it published. There has to be some heart involved, and also some time. Time for constructive criticism, time for story development and flow, and time for the author to think deeply, have a plan, and give herself ample breaks to get a fresh perspective when nearing a brick wall. If a book comes out well enough, it can evolve into a series, which would be more than the author would ever expect. I'm sure you've learned plenty since you've sat down to write your very first book, and are to be commended. I've learned that nothing comes easy.
(Peggy Roberson 12:39pm October 25, 2010)
Registered users may leave comments.
Log in or register now!