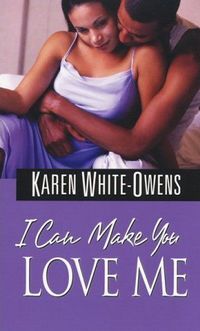 Purchase
What makes up a family?
Dafina
October 2009
On Sale: October 1, 2009
Featuring: Adam Carlyle; Wynn Evans
356 pages
ISBN: 0758229593
EAN: 9780758229595
Paperback
Add to Wish List

Romance Contemporary | Multicultural African-American
Love appears in the most unexpected places… For Wynn Evans, her first marriage proposal was little more than a childhood crush. Twenty-five years later, Adam Carlyle has grown up into a gorgeous package of handsome, smart, and successful. But the single mom in Wynn is still reeling from her painful divorce and isn't looking for love—especially not with a younger man. But as she's about to discover, Adam is a man who doesn't take no for an answer…
Real estate attorney Adam has never forgotten Wynn Evans, who's even more beautiful than he remembered. Convinced he's found his match, he knows he can satisfy Wynn's deepest desires—if only she'll let herself trust again. But when someone else's desire for vengeance puts Wynn's family in danger, the power of Adam and Wynn's new love will be put to the ultimate test…
Comments
8 comments posted.
Karen White-Owens: Thank you for your article.

I wonder how many popular novels were inspired by actual events. I suspect the number might be pretty high.

Has anyone done a survey about this? The results would be interesting.

I can see the advantage in this process of art imitating life for both the author and the readers. It gives both something they can easily relate to. It anchors the fictional story in the real world.

Of course, it's important to change the names and other details to protect the innocent. And the guilty!

Keep up the good work.

---Mary Anne Landers
www.facebook.com/maryannelanders
(Mary Anne Landers 4:26am September 17, 2009)
Life imitates all that stuff going through your mind. What you surround yourself with becomes your truth. It's sad how many kidnappings are in the news. They pull at your heart to get them solved or figure out a motive, so the family can have tiny semblance of peace.
(Alyson Widen 2:56pm September 17, 2009)
To never see your children again - there are no words! How could one parent be so cruel, not only to the other parent, but to the children! That would be an interesting topic to read about. Thanks!
(Kelli Jo Calvert 3:58pm September 17, 2009)
Does life imitate art? I truly believe that it does. You find these true-to-life stories in our books and on television. We can't escape the reality of life today. Even if we want to. The pain, tragedy and fear are there.
(Rosemary Krejsa 4:27pm September 17, 2009)
When my kids were young I sometimes worried about my kids being kidnapped/abused by a stranger. But having someone you once loved taking them away, how horrible that would be. That's a form of abuse not only for yourself but also the children. For a parent to seek revenge like that, it's evil.
(Theresa Buckholtz 5:17pm September 17, 2009)
I think that anything negative happening to my daughter would be the worst thing I could think of - especially if done by a family member.
(Karin Tillotson 8:54pm September 17, 2009)
Know of one case where a mother lost
custody because she was a drug user
and had her boyfriends with her while
her 3 year old was in the room. The
father petitioned to have her parental
rights terminated and he won. The
little girl was adopted by his older
brother (the father was young). She
was in a healthy family and happy.
About 3 years later, the mother
petitioned the court in another state
to regain custody of her daughter. The
old judge went by the outdated
thought that a child belongs with the
mother and reversed the earlier ruling
over objections of the father, adoptive
parents, and the doctor. The father,
not wanting her to be subjected to the
open sex, drug use and neglect, took
her from his brothers house and
disappeared until she was 18. Every
once in a while he would call a family
member to let everyone know they
were OK. It was a heartbreaking
situation and I still am not sure what
the right course of action should have
been. Everyone lost so much.
(Patricia Barraclough 12:31pm September 18, 2009)
Life DOES imitate art. We see it everyday on the news. These wack jobs that steal children are not creative enough to think out their own scenarios.
(Susan Lathen 3:43am September 18, 2009)
Registered users may leave comments.
Log in or register now!