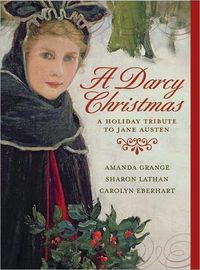 Purchase
A Holiday Tribute to Jane Austen
Sourcebooks
November 2010
On Sale: November 1, 2010
304 pages
ISBN: 1402243391
EAN: 9781402243394
Paperback
Add to Wish List

Jane Austen | Holiday | Historical
From two bestselling and a debut author comes heartwarming Christmas tales sure to delight Jane Austen fans
From Amanda Grange, the bestselling author of Mr. Darcy's Diary and Mr. Darcy, Vampyre, Christmas finds the Darcy's celebrating the holiday with preparations for a ball, but the festivities are interrupted by the arrival of a very special gift...
Ever sensual and romantic, Sharon Lathan highlights everything that's best and most precious in the celebrations of the holiday season. After a quarter of a century together, Darcy and Elizabeth reminisce...
Jane Austen meets Charles Dickens! Carol Eberhart's Mr. Darcy's Christmas Carol finds Darcy encountering ghosts of Christmas past, present, and future, who show him his life if pride keeps him from his one true love.
Comments
46 comments posted.
I think it is so powerful to be able to watch a child and the personalities that they exhibit all through babyhood. You drew me in with your excerpts.
(Joanne Reynolds 6:24am October 22, 2010)
I love children...I have eleven of them and they are each special.

Loved the excerpt, you depicted a baby and it's parent so well.

Valerie
in Germany
(Valerie Bongards 8:39am October 22, 2010)
Excellent excerpt, children are endlessly fascinating. Do/did you find it difficult to follow in Austen's footsteps? There are quite a few out there now I've noticed.
(Ivy Truitt 9:04am October 22, 2010)
Ah, literary children! As a youngster, I loved Rebecca of Sunnybrook Farm and Anne of Green Gables! Stubborn, independent, slightly unusual for their time - and they reminded me of myself! The maturation process is so interesting, and it's so great that you are teasing us with one so young!
(Jl Welling 10:24am October 22, 2010)
Good morning everyone. Nice to see so many up and about already. Here on the west coast it is still early, or at least early for me. :-)

I agree, Joanne. A child's personality is an evolving thing although the traces are there from birth. I am pleased I have enticed you.

11 children Valerie! Egads!! You are my hero. 2 was sufficient for me. But then I am able to satisfy any maternal urges at my job. Coming from a true expert in parenting like yourself I consider your praise of my depiction high indeed. Thank you.
(Sharon Lathan 11:25am October 22, 2010)
Thanks for the question, Ivy. "Following in Austen's footsteps" is a complicated phrase. Personally I don't think anyone can fully capture how another writer writes, especially someone as brilliant as Austen. I have never claimed to be like her or asserted that my saga is what she would have written. It is my vision written in my voice. All of the authors who take on Austen's world will tell you the same.

The difficulty is not in taking on her world since I did it out of love and with great respect. The difficulty is in trying to convince certain readers of the above fact! Too many want it to BE Austen and are then disappointed or downright angry when it is not. In my opinion they miss the joy to be found in varying visions of her story by expecting the impossible.
(Sharon Lathan 11:32am October 22, 2010)
This is rather embarrassing to confess but for some reason I never read the Sunnybrook Farm novels. I have read Anne of Green Gables, but my favorites were the Laura Ingalls Wilder and Louisa May Alcott novels. Of course the similarity in all of these classic children's literature series is, as you stated Jl, in watching the characters mature. Thanks for the comment!
(Sharon Lathan 11:35am October 22, 2010)
The children from the Chronicles of Narnia - I loved all of them, but especially the main four - Peter, Susan, Edmund, and Lucy.
(Kelli Jo Calvert 1:31pm October 22, 2010)
That is one of the most amazing things in life. Watching a child develop their own little personalities. They are truly miracles.
(Vicki Hancock 1:39pm October 22, 2010)
I lovr children, I have 4 and thay are different and wonderful in there own way.
Being a Mom is the best thing in my life.
(Vickie Hightower 1:48pm October 22, 2010)
Anne of Green Gables and Avonlea almost had the pages worn out, Mom read them first out loud to four children at night in the hall, two kids per bedroom. Then, I had a go at them with daylight fading and nighttime flashlights pulled out to keep reading with the lights out. Thanks for including children as an essential part of your stories, making them richer relatively speaking.
(Alyson Widen 1:50pm October 22, 2010)
Oh, thanks for mentioning the Pevensie children from Narnia. I love those books. Lucy was always my favorite. Thanks Kelli.

Two Vicki(e)s in a row! Welcome ladies. My children are grown for the most part. My baby is a senior in HS now. Time has definitely flown by, but I agree that being a mom is the best.

You are welcome, Alyson. I love writing the Darcy children. It was the best part of approaching A Darcy Christmas as I did. I wanted to create an entire family in case I did not have the opportunity later.
(Sharon Lathan 2:11pm October 22, 2010)
Jane Eyre as a child was so put upon and abused that I really felt for her. JANE EYRE is my favorite classic.
(Ann Garland 2:14pm October 22, 2010)
I just love romance stories that are historical too.. I cant wait to read.
(Danielle Pontow 2:18pm October 22, 2010)
I love historical romance! :)
(April Young 2:41pm October 22, 2010)
Laura Ingalls Wilder... I loved her.
(Michele Powell 2:44pm October 22, 2010)
How very clever! The on going saga..as the story continues with new parents, new characters (as babies ARE characters!), & the rest of the Darcy community blossoming forth with their stories. I don't remember a novel that had a little one that was my favorite when I was a child. Did love the poetry of Robert Louis Stevenson with his "babies & children". Started my three reading poetry to them as newborns & that led to Narnia, Little House, The Hobbit (no children in there), & now they are grown & reading to their own "little characters"! Love, love your "on going story" line. Will certainly look for your books.
(Jean Merriott 3:04pm October 22, 2010)
What a wonderful story. Keep at it!
Blessings,
Marjorie
(Marjorie Carmony 3:36pm October 22, 2010)
Great excerpts! It's fun to read of babies interacting with adults in a more meaningful way. Thank you.
(S Tieh 4:06pm October 22, 2010)
Jane Eyre is so sad! I have a difficult time watching or reading that part of the story. It does help that her life ended well. Great mention, Ann.

Thanks Danielle! I do hope you love my saga. You too April! I add lots of history amongst the romance. Or is that lots of romance amongst the history? Either works!

No kids in The Hobbit, Jean, that is true, but then there were all those dwarves and Hobbits are somewhat child like. :-) Tolkien is my favorite writer of all time. Yes, even over Austen, but don't tell anyone I said that! Thanks for all the "loves" and I do hope you love my series.

I will keep at it as long as I can, Marjorie!

Hi S Tieh. I really loved writing Alexander. His personality was clear to me even before he was born. Another Darcy shows up in the fifth volume of the saga - The Trouble With Mr. Darcy - and this one is very different than Alexander!
(Sharon Lathan 4:24pm October 22, 2010)
Love this series of books.
(Sherry Russell 4:27pm October 22, 2010)
I love the sisters from Little
Women.
(Margay Roberge 4:47pm October 22, 2010)
Some of my favorites are Laura from Little House on the Prairie and Anne from Anne of Green Gables.
(Maureen Emmons 5:01pm October 22, 2010)
Anne from Anne of Green Gables is one of my favorite literary children. She is so precocious. Loved the excerpt. Looking forward to reading this book. I read the first book of the series and loved it.
(Cherie Japp 5:35pm October 22, 2010)
I just can't get enough of Darcy.
(Mary Preston 6:04pm October 22, 2010)
I am looking forward to reading all about Darcy now.
(Jackie Preas 6:11pm October 22, 2010)
I loved the Happy Hollisters!
(Lisa Garrett 6:56pm October 22, 2010)
I love your books Sharon and have Mr. and Mrs. Fitzwilliam Darcy: Two Shall Become One,, and My Dearest Mr. Darcy. I'd love to get my hands around this book as it sounds great.

I loved Anne of Green Gables and it wasn't that far back that I started reading some books again.
(Robyn Lee 7:06pm October 22, 2010)
your boo sound great and many more i love to be able to read it
(Desiree Reilly 7:52pm October 22, 2010)
What a wonderful idea to continue the saga. I love to find out what happens to characters as stories continue in a series.
(Diane Sallans 9:24pm October 22, 2010)
sounds like a very fun read
(Heather Pearson 9:36pm October 22, 2010)
I have been fascinated by the number of Darcy inspired books that have come out lately. This sounds like it will be a good one.
Little Women was a great family story. The girls are older, but you still see growth and the relationships.
(Patricia Barraclough 10:01pm October 22, 2010)
It's obvious by your writing skills that your work is with babies. Just reading those passages, I felt as if I was in the same room, watching the story unfold!! Having no children of my own, due to doctor's orders, I tended to shy away from this genre. I always felt they would be too painful to read. Your books, on the other hand seem to be a delightful read, and the setting of the book makes it all the more charming.
(Peggy Roberson 10:10pm October 22, 2010)
This sounds like a really interesting book!
I'd love to win so that I could read it. :)
(Wendy Sachs 10:18pm October 22, 2010)
I saw your book on the self at
Barnes & Noble and bought it for
my friend for Christmas. I might
just have to read it first! :)
(Jennifer Crocker 10:31pm October 22, 2010)
I haven't read any of your books yet!! But I am looking forward to reading them!! :)
(Tammy Hallock 11:15pm October 22, 2010)
Looking forward to reading this.Love to read romantic historical fiction. Thanks for the contest.
(Teresa Ward 11:21pm October 22, 2010)
I have always love Mr Darcy's character. It's also good to know that Mr Darcy's character is in tact. Not too authors will keep Mr Darcy just the way Jane Austin has him.
(Kai Wong 11:56pm October 22, 2010)
When I was younger, I read "Little Women," and "Anne of Green Gables." Those are characters that I'll never forget. Your book sounds great and I can't wait to read it.
(Ginger Hinson 11:59pm October 22, 2010)
Sorry to be absent but a spider bite has my eye swollen and me under the weather. Seeing so many wonderful comments cheers me considerably. Thanks all!

It is great to read references to the classic family sagas such as the Little House books, Little Women, and Anne of Green Gables. Obviously I do not write for children but I do approach my series in a family saga themed way.

Mary, none of us can get enough of Darcy!

Thanks Robyn! I do think you will enjoy In The Arms of Mr. Darcy as much as the others. Maybe more!

Diane, It is a joy to carry on these characters and doing so in a continual manner gives me the chance to touch on everyone.

Yes there are a great many "Darcy inspired books" aren't there Patricia! It still boggles my mind. Good thing I was unaware of how many there were before I started writing or I may have changed my mind!
(Sharon Lathan 12:26pm October 23, 2010)
Peggy, I am very sorry that children were not a possibility for you. I can't imagine how painful that must be. Yes, I work with babies. I have been an RN in the Neonatal ICW for 25 years. That is a lot of babies passing me by! Thanks for you kind words.

You have time, Jennifer! She will never know ;-)

Kai, I do my best to capture Darcy and all Austen's characters as I interpret how she wrote them. But, this is open to wide interpretation so I can only follow my heart and vision.

Thanks to everyone who has commented. I really appreciate it and love interacting! I will continue to check in.
(Sharon Lathan 12:33pm October 23, 2010)
I love the continuation of the story. An earlier poster mentioned Anne of Green Gables. I only read the first few while a teen but recently I went back and read the entire series and the best part for me was following the continued journey as Anne grew up and was married. Your book takes one of my absolute favorite stories and lets me see where the characters went after the end of Pride & Prejudice. I hope there are more books to come.
(Pam Howell 8:46am October 23, 2010)
Looking forward to your newest book. Sounds great.
(Sheila True 11:19am October 23, 2010)
Pam, Next April the 5th book in the Darcy Saga series will be released - The Trouble with Mr. Darcy - and in the fall Georgiana Darcy's love story will be released. So more to come!

Thanks Sheila!
(Sharon Lathan 2:24pm October 23, 2010)
Historical romance is my favorite genre. And I absolutely love Pride and Prejudice!
(MaryAnne Banks 4:38pm October 23, 2010)
The Suki Novels are fun then theres the Book My Family And Other Animals.I love the Wesleys in Harry Potter.
(Catherine Myers 8:03pm October 23, 2010)
Registered users may leave comments.
Log in or register now!