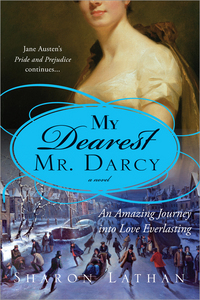 Purchase
An Amazing Journey Into Love Everlasting
Sourcebooks
January 2010
On Sale: January 1, 2010
320 pages
ISBN: 1402217420
EAN: 9781402217425
Paperback
Add to Wish List

"I love you, my Elizabeth. You are my soul, my blood and bone, my very life."
Darcy is more deeply in love with his wife than ever. As the golden summer draws to a close and the Darcys look ahead to the end of their first year of marriage, Mr. Darcy could never have imagined his love could grow even deeper with the passage of time.
Lizzy is full of surprises. She is unpredictable and lively, pulling Darcy out of his stern and serious demeanor with her teasing and temptation. Looking ahead and planning for celebrations and life events large and small, Lizzy can still catch Darcy unawares when he least expects it.
But surprising events force the Darcys to weather absence and illness, and to discover whether they can find a way to build a bond of everlasting love and desire.
The romance and bewitchment is never-ending...
Comments
67 comments posted.
This sounds fascinating! The research must have been fun, what with the field that you are in.
(Joanne Reynolds 6:17am January 7, 2010)
The movie with Dudley Moore comes to mind when his wife and his girlfriend are both have a baby at the same time in the same hospital. I can't remember the title of the movie but it was a funny movie.
(Sherry Russell 8:39am January 7, 2010)
I can't imagine the amount of reasearch that went into your books.

I wouldn't say it's a "favorite" birth scene, but the one from the movie "Children of Men" is pretty memorable.
(Shannon Rogers 9:02am January 7, 2010)
Sharon I love Prissy's line also, when I don't know how to do sosmething I actually use that line! My husband just shakes his head and laughs!! I am jelous you arewhere it is sunny and warm, its -22 here today LOL! Have a wonderful day!
(Jane Lange 10:02am January 7, 2010)
I love the line where Lizzie tells Darcy that he's about to become a father---so calm and matter-of-fact!
I think "Father of the Bride 2" has a fun and funny scene where Steve Martin's character is going back and forth between his wife's and his daughter's room.
(Deb H. 10:06am January 7, 2010)
Sound like a great book. I just love anything to do with Lizzie and Darcy.
(Rebekah Elrod 10:10am January 7, 2010)
I like the Father of the Bride 2 where Steve Martin's wife and his daughter are giving birth at the same time.
(Crystal Broyles 10:17am January 7, 2010)
I have racked my brain to think of a memorable birth scene other than the one from "Gone with the Wind", but I cannot. Guess that implies they weren't all that memorable. :) Your scene, on the other hand, sounds truly memorable if only because we are so familiar with and enamoured of the characters. Would love to read all your books! I have to say also that I love Sourcebooks as a great place to find books set in Austen's world.
(Deborah Anderson 10:19am January 7, 2010)
I think I'd have to go with Father of
the Bride 2 as well.

Your books sound great - definitely
adding them to my wishlist.
(Alanna Kurt 10:38am January 7, 2010)
Rachel in Friends was memorable for me
(Margaret Armitage 10:38am January 7, 2010)
Good morning to all from a waking up author here on the west coast. Wow, so nice to click over and see so many great comments! Something about babies and birth scenes are always fascinating to us women.

The one from Father of the Bride 2 is a great mention. I love Steve Martin in that scene, and Martin Short as the gay decorator. Priceless!

I vaguely remember the one with Dudley Moore, Sherry, but can't think of the name either.

One of my favorite TV births is from Friends when Rachel takes FOREVER to deliver while mom after mom after mom is wheeled into the room to deliver before her. Exaggerated humorously, of course, but I have seen each one of those types of laboring women in my life!

Another fav is the older movie with Kevin Bacon called, ironically, She's Having a Baby. A very funny movie, but the scene where his wife needs to have an emergency c-section is heart wrenching. Seen from his perspective, the emotion upon his face, and then relief when all is well, was beautifully conveyed by Bacon.

I avoided anything ridiculous within Lizzy's birth, although there is always some humor, and tapped into the emotions of such an event from both of them. It was really fun.

I'll be checking in so keep any comments coming! Now I need my espresso latte!
(Sharon Lathan 10:50am January 7, 2010)
Ah, I see Margaret thought of Rachel in Friends too! That was so hysterical.

Good luck in the contest, everyone. I forgot to say that before.

And Deborah, thanks for mentioning Sourcebooks. They truly are the leaders in Austen fiction. Anyone wishing to read the best novels related to Jane's world, just go to the Sourcebooks website for the complete list.
(Sharon Lathan 10:52am January 7, 2010)
I have lots of friends who are Jane Austen/Mr. Darcy fans, but I've never really gotten into their books too much. This series sounds like a great place to start!

Thank you so much for this wonderful opportunity. :)
(Lori Smith 11:11am January 7, 2010)
I love Gone With the Wind. I read it when I was 10 and would use a little flash light to read it at night lol.

I think the most memorable birth scene would be from the newest Star Trek movie. I won't give any spoilers, but it's done beautifully and I cry every time. Bless you for being a NICU nurse. You gals are saints to us NICU parents. Thank you.
(Cathie Veres 11:19am January 7, 2010)
This book sounds delightful!

As far as birthing scenes, nothing comes to mind from any movies, T.V. or books. I will say however that I have witnessed live births because once upon a time I was a surgical technologist. Non practing now so I can raise my two young daughters. I was always so glad to be apart of any birthings because it truly is an amazing experience.
(Kate Mobley 11:22am January 7, 2010)
I love that phrase. It must be great to say it where you work.
(Lena Lee 11:31am January 7, 2010)
Oh Cathie! Thanks for mentioning the new Star Trek. Yes, indeed, that was a very emotional scene. And thanks, not sure any of us NICU folks are saints, but we do our best! We do love those babies, that's for sure. And I never tire of witnessing a birth, although some of them are not so pretty! LOL!
(Sharon Lathan 11:41am January 7, 2010)
I watched GWTH right before Christmas, great movie! Yes we all love out babies! There is just nothing like going and visiting the new babies at the hospital! This book sounds fabulous and I can't wait to read it!
(Gail Hurt 11:51am January 7, 2010)
would love to get a chance to get these, but as for memorable birthing scences.nothing comes to mind....perhaps it was to traumatizing
(Elizabeth Weiss 11:58am January 7, 2010)
I love Prissy's line about birthin babies. Steve Martin's running between his wife's and daughter's hospital rooms as they are about to give birth is pretty funny. Can't wait to read your book.
(L Green 12:07pm January 7, 2010)
Thanks for having this contest! Looking forward to reading your books!
(Katherine Reese 12:14pm January 7, 2010)
I love P&P so these are definitely going on my to-read list! As for birthing scenes, nothing comes to mind except for Bill Cosby's "Himself" where he describes his wife's labor. Our whole family loves his description! LOL
(Theresa Dunlap 12:35pm January 7, 2010)
One that stands out for me is from the book SCARLETT by ALexandra Ripley... it is not funny but very dramatic... dark stormy night on All Hallow's Eve...
(Colleen Conklin 12:42pm January 7, 2010)
Pride and Prejudice is my favorite
book of all time. I would love to get
acquainted with your books. I hope
I win!
(Molly Wilsbacher 12:55pm January 7, 2010)
Sharon Lathan and Sherry Russell: The Dudley Moore movie you're referring to is "Micki & Maude" (1984), a comedy directed by Blake Edwards. The two title roles (played by Ann Reinking and Amy Irving) are Moore's fertility-challenged wife and too-readily-pregnant girlfriend, who go into labor at the same time at the same hospital.
(Mary Anne Landers 1:14pm January 7, 2010)
Sounds great! Pregnancy trials and tribulations are awesome comedy material :)
(Mary Lynn Hayes 1:18pm January 7, 2010)
Thanks for thinking of the movie title, Mary Anne. Things like that bug me!

I don't think I have ever hear Bill Cosby's birth comedy, but I can imagine how hysterical that would be as he is a terrific stand up comedian.

I appreciate all the positive comments regarding my novels. Good luck to everyone in the giveaway! Sadly, only 2 can win. :( But, my novels can be found everywhere! LOL! :)
(Sharon Lathan 1:38pm January 7, 2010)
I pretty much shut my eyes during birth scenes (but do like the line from Gone With the Wind -- especially because she assured everyone she was an expert).
(Shannon Scott 1:40pm January 7, 2010)
I have not read any of the three books, but I would love very much to be able to.
(Jeri Daniel 2:05pm January 7, 2010)
The books look great! I'm an avid reader and just stumbled upon this but these books have definitely made my to read list! The writing looks incredible, thanks!
(Kellie Conklin 2:08pm January 7, 2010)
I love the Gone with the Wind scene too.Definitely a classic. I had a hard time "birthin babies" so don't have the best memories. My first went well and the 2 boys both were in the NICU. It's a very scary experience having a child there but mine were healthier and bigger than alot of the babies in there even if mine were very early. It's an experience to never be forgotten though. Makes you realize how lucky you are and how precious life is.
(Vicki Hancock 2:09pm January 7, 2010)
I actually like the birth scene in "Look Who's Talking". The dialogue between Kirstie Ally's character and the baby's is great! I also like the birth scene in "The Nativity". Book - wow, there are so many - I like the ones in Lisa Kleypas' Wallflower series. Anyone where the dad is just entralled at the birth of their child.
(Josie Roetemeyer 2:15pm January 7, 2010)
The first one I remembered was on Murphy Brown. Jeepers, that was funny the way she kept grabbing all the guys in those death holds. Thanks for the memories.
(Elaine Seymour 2:36pm January 7, 2010)
I love Gone With the Wind too, and especially love that era! The clothing and styles I love. I think you wrote a wonderful book, and I would most enjoy reading it! On my tbr list!
(Freda Mans-Labianca 2:53pm January 7, 2010)
Father of the Bride2 had the best birthing scenes. I however fill my own child birthes were enough for a movie because my labor pains were not strong and when the doctors realized my children were actually coming their was no time for drugs. The doctors just had to stand there and catch.
(Annetta Stolpmann 2:55pm January 7, 2010)
All this activity is fabulous. I can't keep up! Thank you, everyone, for reading and commenting. Since most of us are female hereabouts, birth scenes are something we can usually relate to.

Annetta, Awesome that your birth was so swift! My sister-in-law was like that. 6 hours start to finish. My sister and I still tease that we have never forgiven her for that! LOL! Our labors were considerably longer!

I never saw the Murphy Brown one, but I can imagine it was quite funny. And as over the top as those kind of crazy TV delivery sequences often are, I have actually seen a number that are just like it!

Look Who's Talking - great mention! I love that whole movie. Love the line, "You try squeezing something the size of a watermelon out of a hole the size of a lemon and see how hot you look!" I may not have quoted that precisely, but you all know the one I mean!

Vicki, I am so glad your boys did well. The NICU environment is very scary and the staff is conscious of that fact, thus always doing our best to ease the parents' distress.
(Sharon Lathan 3:22pm January 7, 2010)
That was a classic line from Gone With The Wind. Although, when I read about childbirth during English historicals I sort of cringe dreading if the heroine will survive or not because of horrors of medicine during that time. But of course, we know the heroine always survive her childbirthing.
(Armenia Fox 3:27pm January 7, 2010)
Ironic that today you have the sweepstakes when only yesterday I finished reading Gone With The Wind for about the 40th time. I can't wait to read the books!
(Danelle Drake 4:08pm January 7, 2010)
I cannot wait to read these books. I love anything set in any century before the 20th century. I am amazed by how they survived without all the gadgets and stuff that we do not have.
(Dianne Barskey 4:12pm January 7, 2010)
I've used Prissy line thousands of times when I don't know how to do something. I just recently told my hubby this when our goats started kidding. I've learned that I do know something about birthing babies. The kids are so beautiful. I marvel at the miracle of birth and the drive of mothers whether human or animal to take care of their young. Congrats on your latest. They sound so interesting.
(Maude Allen 4:18pm January 7, 2010)
I sure need a steamy romance to warm thinhs up here in Omaha, it's -20 below zero!!
(Deb Soula 5:12pm January 7, 2010)
When Lucy told Desi Arnaz that she was going to have a baby while he was conducting his orchestra. Then when Lucille Ball had her first baby on the TV show and everybody was rooting for her and saying "Ahhh." But Desi said, "I, yi, yi," and went back to leading the band with a grin on his face.
(Alyson Widen 7:18pm January 7, 2010)
I had always love the characters Mr. Darcy and Elizabeth from Pride and Prejudice.
(Kai Wong 7:38pm January 7, 2010)
I cannot believe that no one has listed Bella in Breaking Dawn giving birth!! Or at least I did not see a post about it. Now that was a memorable birth!! I saw that someone mentioned the birthing scene in the new Star Trek movie. That scene made me cry. Thank you for the chance to win your books. I love Pride and Prejudice.
(Cindy Teague 7:48pm January 7, 2010)
Yes, childbirth has never been an easy or "natural" process in some respects. Far too much can go wrong, let me tell you. Even today. Luckily Lizzy had very accomplished medical professionals at her birth. And if you wonder who that was, well, you need to read the book! LOL!

Here I quoted this line from Gone With The Wind and it has actually been years since I read the book or saw the movie! Now you all keep referring to it even more! Perhaps it is time for a reread! Thanks. :)

Funny how certain movie lines stick with us, isn't it? And some, like this one, seem apropos in many situations!

Stay warm, Deb. No offense, but I sure am glad it is you and not me. LOL!

Ah yes, I Love Lucy. Good one!
(Sharon Lathan 7:49pm January 7, 2010)
Oh Cindy! Yes, Bella! OMG! I can't wait to see how they do that for the movies. It will be spectacular!
(Sharon Lathan 7:50pm January 7, 2010)
I know this is probably not what you are
looking for, but I loved the movie Junior
and the birthing scene in there. I just
wish mine were so comical! :)
(MaryAnne Banks 8:14pm January 7, 2010)
I really didn't like Bella's birthing
sequence. It reminded me too much of
the first Alien movie. When reading it,
that's the image I saw in my mind. Yuck!
(MaryAnne Banks 8:17pm January 7, 2010)
I love Prissy's line, when I
don't know how to do something
I have been guilty of actually
using that line but my
favorite steal is "Toto, I
have a feeling we're not in
Kansas anymore." Oh, and the
best is "I'm melting!"(though
that's one strictly used on my
hubby)
(Lisa Richards 8:59pm January 7, 2010)
Hmmm...I can't think of too many birth scenes. The only one that comes to mind is from "Friends" when Rachel is in labour and various other couples are also in the room and annoy her.
(Jennifer L. 9:41pm January 7, 2010)
'Gone With The Wind' when Scarlett is forced to deliver Melanie's baby is my favorite & the most memorable. Prissy is the star.
(Mary Preston 10:15pm January 7, 2010)
The birth scene on "Murphy Brown" sticks in my mind, But I don't really know why!. LOL
(Marie Messa 10:29pm January 7, 2010)
When Baby Grace is born on Little House on the Praire. All along Ma said it was a boy,then had a girl, but loved her just the same.
(Theresa Buckholtz 10:59pm January 7, 2010)
My favorite scene is from the Doris Day movie "Lover Come Back" where Rock Hudson asks her to marry her while being rolled into delivery, she says yes, the minister is there, and the hospital staff comment about them getting hitched just in time.
(Susan Kuchta 11:36pm January 7, 2010)
Great scene. Never having had a child of my own, I have no idea what a pregnancy is like. One of my friends told me just after her first child was born, "Everything you've heard about the pain of delivery is true and worse, but I'd go through another one in a heartbeat." She had three more.
(Sigrun Schulz 11:52pm January 7, 2010)
The event of an infant's birth is near and dear to my heart, as I too am a NICU nurse. There is nothing quite like the joy in the eyes and hearts of a family after an infant is born. Don't know have the people I am in deliveries for, but I have to say, I still get choked up after the infant is born, it is such a beautiful time. I am looking forward to reading about lizzy's pregnancy and living the Darcy's experience of child birth. I CAN'T WAIT.
(Lisa Ewing 12:39pm January 8, 2010)
One of my favs was the movie with Hugh Grant...I think it was called Nine Months???

I remember having my 2 babies like it was yesterday...and it has been over 33 years (as of 2 days ago).

My hubby also sais that he thought I was beautiful while big and round with his child...and that made dealing with the uncomfortable situation easier.
(Mitzi Hinkey 4:29am January 8, 2010)
The only scene I can think of is "Gone With The Wind". The best birthing story I have ever read is the Bibical account of the birth of Jesus. There are few details, but it is full of promise and hope for all.
(Mary Mclain 8:42am January 8, 2010)
@Mary Mclain, That's a wonderful scene for all of us to remember. You are so right! :)
(Deb H. 9:44am January 8, 2010)
It is Friday the 8th, so I know the contest is closed. I am not sure who the lucky winner is, but I do hope you are happy with your prize and that you will enjoy reading my novels.

Thanks again to Fresh Fiction for giving me the opportunity to talk a little about my Saga. And thanks to everyone for commenting! I couldn't keep up! Yesterday ended up being very busy with, among other things, a surprise interview with a reporter from my local paper. So I do apologize for being a day late, literally.

You know, Molly, the whole idea of the movie Junior was both creepy yet funny. Not a bad choice at all!

Many of these other mentions inspire great memories and I want to dash to the DVD rental place or scour through my TiVo guide to find old episodes of Little House or Murphy Brown! And I definitely have to find Bill Cosby's routine as that sounds hysterical.

Laura, I do hope you manage to find the time in your busy reading schedule to tackle my books. I don't think you will be disappointed.

Lisa!!!! My NICU buddy! Thanks for stopping by. :) And I totally agree with you. Even after all these years it still is exciting and moving to witness a birth. Especially those ones where the family is so obviously ecstatic. I love watching the first time dads. I have seen so many amazing men gazing in immediate love at their new son or daughter that it was easy to write that into Darcy.

Oh yes, Mitzi, we NEVER forget our own deliveries! No matter what anyone says. LOL!

Mary, yes, indeed, the birth of our Savior, although not given in any detail, is the most moving one of all. Amen.
(Sharon Lathan 11:09am January 8, 2010)
Well I have to say my favorite funny birth scene would have to be in "Look Who's Talking"...You know what I'm talking about...lol
(Jeri Daniel 1:08pm January 8, 2010)
I made sure I was 'busy' alot during my wife's pregnancies, but looking back I guess it was funny, to me anyway :P
(Willard Wheeler 1:28pm January 8, 2010)
Father of the Bride where the wife and daughter are both giving birth at the same time.
(Robyn Lee 2:42pm January 8, 2010)
I found the interview very interesting and would love to read the book!
(Brenda Rupp 9:25pm January 8, 2010)
I love both versions of "Your, Mine and Ours." They are both great stories!
(Lisa Glidewell 11:16pm January 8, 2010)
The only one I have ever remembered was Prissy. It is a classic. Great book.
(Barbara Ryan 10:39am January 9, 2010)
My favorite birth scene wasn't from a movie or book. It was from watching my two grandchildren being born. Now that's a classic that will never go out of style.
(Pamela Stewart 1:45pm October 22, 2010)
Registered users may leave comments.
Log in or register now!