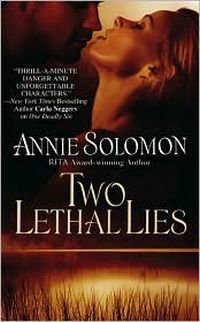 Purchase
Deadly Sins #2
Grand Central Publishing
October 2010
On Sale: October 1, 2010
Featuring: Mitch Turner; Nessy Brown
400 pages
ISBN: 0446178454
EAN: 9780446178457
Mass Market Paperback
Add to Wish List

A love to die for...
On the run since his daughter was born, Mitch Turner has concealed a truth so dangerous, its discovery could jeopardize both their lives. But when a series of shocking murders hits their newfound home, the trail leads straight to Mitch. With the police out for blood and his daughter ripped from his arms, he has nowhere to turn--until a beautiful stranger offers her help.
Neesy Brown has made mistakes in her life, yet she refuses to believe this mysterious man is a killer. There's a strength in his broad shoulders that draws her to him and a weariness in his eyes that she longs to ease. As the murders tear her small town apart, she vows to help Mitch find his missing child. But a cunning predator is pulling them deeper and deeper into his fatal game. And the price of losing is the child--and the future--they could both share...
Comments
9 comments posted.
Re: Two Lethal Lies

I had never thought of doing that; i just started a new paperback and will have to give it a shot. sounds like MUCH FUN!!
(Barbara Studer 11:16am October 9, 2010)
Storycasting what am idea I love it what fun, now my mind is rolling trying to figure out who fits what I seen in my mind.
(Vickie Hightower 11:32am October 9, 2010)
I'm going to check out the site for one of my favorite books: Archangel's Kiss. And found someone had tried it!
(Diane Sadler 12:55pm October 9, 2010)
Congrats on the new release, Annie. I can see Gerard Butler as any of Julie Garwood's Scottish heroes.
(Jane Cheung 5:52pm October 9, 2010)
I agree about Sam Worthington for Outlander. I must do this more when I read. It IS fun.
(Mary Preston 6:09pm October 9, 2010)
There are two authors that someone got me started on for a change of pace. One is Janet Evanovich. I devoured her series!! I've never given a thought as to who could play Stephanie Plum, let alone the other great characters in her books. Being a knitter, I've also gotten into Jennifer Cheaverini's Elm Creek Quilt books. There are quite a few characters in her books, and it would take quite a bit of thought to figure out who would be cast for her books. It is a fascinating concept, though. I, like you, have always devoured books at a young age of all genres.
(Peggy Roberson 10:04pm October 9, 2010)
Hi everyone! Sorry I didn't
get here yesterday--was at a
book conference and then a
wedding. So glad you enjoyed
reading about storycasting.
Hope you all will take a
chance at looking at the site!

And don't forget to stop by my
web site--www.anniesolomon.com
for an excerpt from Two Lethal
Lies and lots of fun behind-
the-scenes stuff.
(Annie Solomon 10:03am October 10, 2010)
Interesting site. I don't watch enough
movies to know who the current actors
are. looking at those listed, I know
few of the younger ones. I think it is
more valid for the author to cast their
books. They know what they saw in
the characters as they wrote them. It
would give us more of an insight as to
who the character is supposed to be.
Our castings are just our impressions
of who these characters could be. I
guess in a way that does give the
author some feedback about their
descriptions and development of their
characters.
(Patricia Barraclough 1:23pm October 10, 2010)
What fun being casting directior for pretend and using real people. As a voracious reader I never thought about the movie crossover thing, except hearing how a select few bestsellers are optioned for movies.
(Alyson Widen 3:31pm October 10, 2010)
Registered users may leave comments.
Log in or register now!