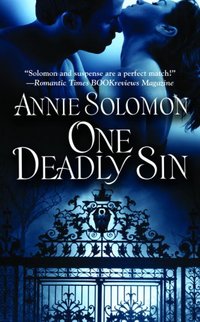 Purchase
Deadly Sins #1
Forever
May 2009
On Sale: April 28, 2009
Featuring: Edie Swann; Holt Drennen
416 pages
ISBN: 0446178446
EAN: 9780446178440
Mass Market Paperback
Add to Wish List

COMING HOME IS MURDER...
Revenge. Edie Swann has hungered for it since she fled her hometown as a little girl. Now she's returned, ready for payback. Armed with a list of names, she leaves each one a chilling sign that they have blood on their hands. Her father's blood. What happens next turns her own blood cold: one by one, the men she's targeted start dying.


Sheriff Holt Drennen knows Edie is hiding something. She has a haunted look in her eyes and a defiant spirit, yet he can't believe she's a murderer. As the body count rises and all evidence points to Edie, Holt is torn between the town he's sworn to protect and the woman he's come to desire. But nothing is what it seems. Long buried secrets begin to surface, and a killer won't be satisfied until the sins of the past are paid in full--this time with Edie's blood.
Comments
16 comments posted.
Re: One Deadly Sin

I love this one it sounds great, I'll be getting it, Thanks
Penney
(Penney Wilfort 10:13am August 15, 2009)
I would really enjoy this book.
(Ann w 10:19am August 15, 2009)
Looks really good!
(Wendy Cueto 10:21am August 15, 2009)
Loved this one, but then I love all of Annie's books.
(Marie-Nicole Ryan 3:02pm August 15, 2009)
Sounds like a great read to me!!!
(JoAnn White 3:37pm August 15, 2009)
Hey. all! Thanks for stopping by. And thanks to FF for picking One Deadly Sin!
(Annie Solomon 3:53pm August 15, 2009)
I just got my copy signed by the author today :). Good stuff!
(Jody Wallace 4:32pm August 15, 2009)
Couldn't decide what to read from my Kindle next until today. Can never go wrong with an Annie Solomon book, they're all great. One Deadly Sin coming up!
(Kim Law 6:28pm August 15, 2009)
Great pick!! Annie Solomon's books are all entertaining reads!
(Monica McCabe 8:34pm August 15, 2009)
Great book with some laughs, some great sexual tension and loads of suspense.
(Amanda Gillespie 9:16pm August 15, 2009)
All of Annie's books are fantastic, with such rich characters, and this continues that wonderful trend.
(Trish Milburn 9:27pm August 15, 2009)
Sounds like a good thriller. Will have to
look into it for our patrons who like
suspense.
(Patricia Barraclough 11:46pm August 15, 2009)
your book is going on my TBR pile, though I've never tried you before
(Diane Sadler 1:17pm August 16, 2009)
After reading the excerpt, I know I'll definitely read this book but it would be awesome to win a signed copy. Thanks.
Lorraine
[email protected]
(Lorraine Larose 1:54pm August 16, 2009)
Lorraine, you can enter to win a signed copy on my website. And for those of you who have a copy or are about to buy one, there's a special photo contest in addition until the end of the month, that you can enter. It's all on my site, anniesolomon.com
(Annie Solomon 9:49am August 17, 2009)
SOUNDS LIKE IT WILL BE A GOOD READ
(Janet Duffey 12:14pm August 18, 2009)
Registered users may leave comments.
Log in or register now!