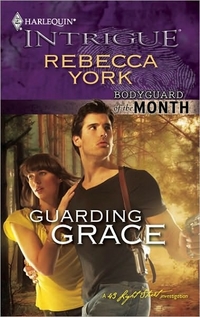 Purchase
43rd Light Street
Harlequin Intrigue
July 2010
On Sale: July 13, 2010
Featuring: Grace Cunningham; Brady Lockwood
224 pages
ISBN: 0373694822
EAN: 9780373694822
Mass Market Paperback
Add to Wish List

Brady Lockwood had no choice but to rescue the woman who'd witnessed his brother's murder. In the wrong place at the wrong time, Grace Cunningham had become a target, and only he could keep her alive. But Brady was convinced she knew more than she was telling….
More than what she'd seen, Grace was haunted by what she kept secret. Things she couldn't tell anyone, especially Brady. Things that went beyond his brother's murder. Her brooding bodyguard had given her not only protection but passion and pleasure. And now Grace feared losing Brady to the killers at their heels—and to a secret that could rip him away….
Comments
28 comments posted.
Re: Guarding Grace

I think vampire mythology should be followed if you don't have enough time to explain why your vampires are different.
(Mindy Ewing 3:06pm August 30, 2010)
Since I'm somewhat new to reading about vampires, and don't know the "rules" about them, I think that authors should have the liberty to write their vampires in any way they wish to.

I believe the only problem comes when an author is known for writing their vampires a certain way, and then for whatever reason abandons their own rules and world and goes off on a different tangent.
(Sandi Shilhanek 3:13pm August 30, 2010)
I think it depends on the hero. I love
my paranormal romance where the
paranormal comes second to the
romance. I am open to new types of
vamps and look forward to reading the
reprint of your story as I have always
enjoyed your storytelling.
(Jennifer Haag 4:38pm August 30, 2010)
I like my monsters with more than a touch of humanity.
(Shannon Scott 4:43pm August 30, 2010)
Vampires have always been a favorite of mine. My Mom and I used to watch Dark Shadows together.
(Teresa Ward 5:05pm August 30, 2010)
Making them "human" is the key. As I said, vampires were impotent until romance writers got ahold of them. I think there are conventions you can change. The way romance writers changed THAT convention.
(Rebecca York 5:22pm August 30, 2010)
Yes, Count Dracula is a good one that scared me when I was 5 years old and you saw him running being chased by black horses and a coach; fell into a pit and turned into a skeleton with clothes on him; SCARY when you are young but I like watching the movies ever since then. Please enter me in your great contest.
God bless you, Cecilia
(Cecilia Dunbar Hernandez 5:23pm August 30, 2010)
My cat will be sitting on my lap and all of a sudden she will look, and look, and look, and I wonder just what she is seeing. I am almost afraid to turn around and look.
Blessings,
Marjorie
(Marjorie Carmony 5:27pm August 30, 2010)
Mine is weird one, I was out of school one day sick at home with my Mom and we had a wringer washer back then, (shows my age) anyways when my Mom went upstairs to answer phone she told me to just let her know when wash was done of course being nine years old, I took clothes out for first time and started putting them in through the wringer, my arm got caught and was screaming for my Mom, every night after that for months I would have a night mare of a man dressed in black couldn't remember his face and he would put my whole family through wringer on washing machine, told you it was weird but it is the truth. Agatha P. Townsend
(Agatha Townsend 5:47pm August 30, 2010)
Vampires are super popular now and gives me the chills. They are monsters too close to humans, but don't keep me up at night.
(Alyson Widen 6:25pm August 30, 2010)
Monsters have certainly come into their own since my early days. I find that refreshing.
(Mary Preston 6:39pm August 30, 2010)
When I read I want to be able to relate to the characters even if they are vampires or shape-shifters. I enjoy the paranormal elements but we have to be connected with them to feel the full impact.
(Rosemary Krejsa 6:40pm August 30, 2010)
That is certainly an interesting topic
for discussion. A vampire wanting a
Cialis moment? Can the little blue pill
increase blood pressure and redirect
what isn't there? A transfusion of
fluids prior to a night of romance
could help.
It seems you can pretty much make up
your own rules for your paranormal
world. It is fiction, unless you have a
vampire hiding in your basement, and
anything is possible, you just have to
write it.
The paranormal/urban fantasy field
has expanded so greatly in the past
few years. The variety of creatures,
worlds, and situations is amazing. It
seems no matter what type of story
you want it is out there. I'm still
sampling what is out there trying to
see what I like best.
(Patricia Barraclough 6:43pm August 30, 2010)
Like a previous poster commented, I too am new to this world of vampires and monsters. I would have no idea whether certain mythology was or wasn't being followed. I don't have a problem one way or another if one author's vampires (or any character(s) really) are different than another's though. It's all fascinating and enjoyable to read, maybe even more so if not everything is the same all the time.
(Laura Albert 6:46pm August 30, 2010)
of all things scary to me as a child were bubbles love reading about all papanormal
(Brenda Hook 7:16pm August 30, 2010)
After I saw Night of The Living Dead I could not sleep. I thought all of the zombies would come get me during the night.
(Lisa Garrett 8:26pm August 30, 2010)
I am just beginning to read about vampires so have not read any of your books but would like to..Hint..
(Brenda Hill 8:33pm August 30, 2010)
Have always been a fan of Count Draula and have just recently read the book. Walking home from my grandmother's house at night when I was a kid I always wore my cross necklace for protection.
(Sheila True 8:34pm August 30, 2010)
I love when the writer takes
the time to build a whole new
world of heroes (vampires)and
then makes it a series where
we get to come back time after
time and play.
(Lisa Richards 8:44pm August 30, 2010)
I like it when writers put a twist on Vampire stories and make them a little human it makes for a good read
(Vickie Hightower 9:03pm August 30, 2010)
hmmm.. I remember in my childhood, it was the werewolf series 'Howling' that was the talk of the town. we lived in the country, farms all around us. One of my chores was to feed the dogs out behind the house before bed. It was near dark, I was about 8 yrs old and a tomboy, so I was carrying the bucket of feed to the dogs. I heard a growl from the edge of the woods, I hushed the dogs thinking it was one of them. Continuing with the feeding, I walked to the last of the dogs, which was closer to the tree line, and heard the growl again. The hairs on the back of my neck stood up, my heart was pounding, and as I peered into the tree line (why didn't I run right away) I saw a shadow of a pretty big animal with many sharp teeth. I started to back away slowly, keeping my eyes to the woods and the shadow. It moved with me. I yelled for my sisters and kept walking backward. Being far enough from the woods in my opinion I turned and ran. Getting into the house, panting and babbling about the animal shadow I saw and the growling, I was informed that one or two wolves had been spotted around the area. Yikes!

As for vampires being closely related to humans, it is said that most of the predators appeal to their prey. It is a way for them to attract, extract, and/or subdue their victim/prey!

As for how an author writes vampires or any other mythological creature, my opinion is, it is up to the creative license of the author. We all have the choice to buy or not!
(Samantha Molesky 10:03pm August 30, 2010)
My obsession with vampires came after I saw Bram Stoker's Dracula. Gary Oldman was so uber sexy in that movie that I was instantly fascinated. Now there isn't a paranormal creature that I don't like (except for ghouls; don't much care for them).
(Brandi Evans 1:21am August 31, 2010)
I prefer shifters for my paranormal reads, if I can't get a mix of them with in a book. I mean if one kinds exists, logically the others do too. My all time fave though are are dragon shifters. Have loved dragons since I was a kid. I love reading about dragons(as long as they are the good guys)whether or not they are shifters. But as shifters, there is usually an HEA.
I do like some of the more unusual vampires, like Lynsay Sands' Argeneau series and Angela Knight's Mageverse books.
(Carol Cobun 4:25am August 31, 2010)
I can't say that I've read this genre of books before, but the slant that you've written about in your blog today, would make things believeable. By that I mean needing blood to stay alive would explain his animal instincts. He's normal, yet, when his animal desires take over, his quest for blood is believable the way you explain it. I would very much like to read one of your books. I too, was afraid of monsters as a child, having watched Frankenstein on tv with my older sister. It gave me nighmares for weeks!! Then Dracula came out a short time after. To this day, I'm not a fan of scary movies, but would give one of your books a try.
(Peggy Roberson 8:14am August 31, 2010)
when i was a kid they scaries was the witch from the wizard of oz (silly now but then man did she creep me out)
(April Strength 8:39am August 31, 2010)
Thanks for all the great comments. the one that got to me the most was the wolf in the woods--because it was REAL!
(Rebecca York 11:27am August 31, 2010)
I like your premise in the book. It is unique and attention-grabbing. The hero sounds great, too.
(Marlene Breakfield 12:09pm September 1, 2010)
I remember Dark Shadows. Coming home from school and watching it! Scared the dickens out of me! The dracula movies with Christopher Lee. Oh so sexy!!
(Anne Harris 10:43am September 4, 2010)
Registered users may leave comments.
Log in or register now!