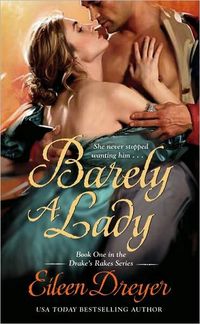 Purchase
She never stopped wanting him...
Drake's Rakes #1
Grand Central Publishing
July 2010
On Sale: July 1, 2010
Featuring: Olivia Grace; Jack Wyndham
432 pages
ISBN: 0446542083
EAN: 9780446542081
Kindle: B003JTHXYK
Paperback / e-Book
Add to Wish List

Olivia Grace has secrets that could destroy her. One of the greatest of these is the Earl of Gracechurch, who married and divorced her five years earlier. Abandoned and disgraced, Grace has survived those years at the edge of respectability. Then she stumbles over Jack on the battlefield of Waterloo, and he becomes an even more dangerous secret. For not only is he unconscious, he is clad in an enemy uniform.

But worse, when Jack finally wakes in Olivia's care, he can't remember how he came to be on a battlefield in Belgium. In fact, he can remember nothing of the last five years. He thinks he and Olivia are still blissfully together. To keep him from being hanged for a traitor, Olivia must pretend she and Jack are still married.

To unearth the real traitors, Olivia and Jack must unravel the truth hidden within his faulty memory. To save themselves and the friends who have given them sanctuary, they must stand against their enemies, even as they both keep their secrets.

In the end, can they risk everything to help Jack recover his lost memories, even though the truth may destroy them both?
Drake's Rakes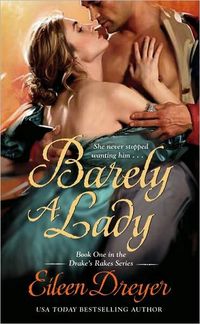 Barely A Lady
#1.0
Amazon.com | BN.com | | |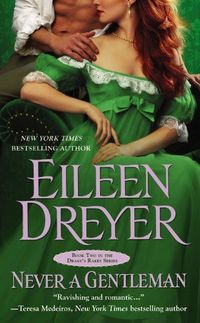 Never A Gentleman
#2.0
Amazon.com | BN.com | | |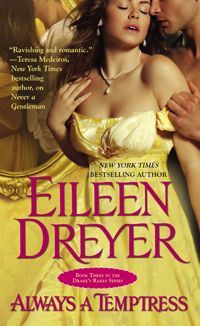 Always a Temptress
#3.0
Amazon.com | BN.com | | |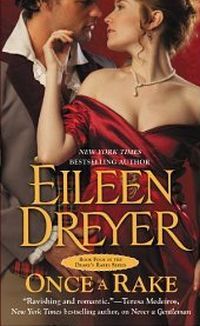 Once a Rake
#4.0
Amazon.com | BN.com | | |
Comments
16 comments posted.
Re: Barely A Lady

I have so many I love. Too hard to choose one.
(Mary Preston 12:53pm July 27, 2010)
When you read about so many villains, you love each one of them, for their own reasons. Therefore, I can't just pick one. I do prefer the bad ones that see the evil of their ways and turn good in the end, though.
(Peggy Roberson 6:52am July 27, 2010)
When I read I always look forward to the villian because without them what would bring out the hero in a person? What's can be even more interesting is when the villian can actually turn out to be the hero instead and think how much fun that would be to write.
(Jeanne Miro 1:35pm July 27, 2010)
I do not have a Fav but I like you love a good villain and you do villians great and I enjoy your books alot, Thank you for books that make us hate and love the villian at the same time. Congrats on the new boos
(Vickie Hightower 2:17pm July 27, 2010)
Oh I love to hate villains, my favorite
villains are not from a romance but
from John Sanford's latest Lucas
Davenport novel where you would find
their description in the dictionary
under stupid.
Deb
(Debbie Haupt 5:03pm July 27, 2010)
You have made me look at the villain in a whole new light. Thanks.
(Robin McKay 7:30pm July 27, 2010)
My fav at the moment, Matt, is
the one in the book I'm
reading, Suzanne's Letters to
Nicholas. It varies with each
book as there are just so many
great villains out there.
(Lisa Richards 2:33am July 28, 2010)
I haven't read about a villain lately, but I do enjoy a contrast between the bad guy and the good guy. Maybe the fellow trying to steal the hero's girl might be considered a villain in the story I am currently reading, but he definitely isn't equal to the hero. LOL
(Gladys Paradowski 4:19am July 28, 2010)
My favorite at the moment is Still Missing by Chevy Stevens
(Brenda Rupp 5:41am July 28, 2010)
Sometimes a villain can chew scenery like no one else. For me, the best character out of "101 Dalmatians" is Cruella De Vil. She gets to LIVE even if she gets her comeuppance in the end.
(S Tieh 3:35pm July 28, 2010)
OK, since we have opened the door to cartoons, my favorite villian is Gaston from BEAUTY AND THE BEAST. He is handsome, the women in town are all drooling after him, and the men admire him. He is a self important, braggart who will do anything, no matterr how vile, to get what he wants. He is the type that hides how evil he is well.
Good post.
(Patricia Barraclough 9:00pm July 28, 2010)
Villains give you someplace to throw your anger and find more ways to be disgusted with their actions. I do enjoy reading about a despicable hero.
(Alyson Widen 6:36pm July 29, 2010)
Personally, I can't think of a good villain at the moment, probably because I don't really focus on the villain. It's true that I find some of them very tedious and just villainous. The book I'm reading just now, one by Jo Bev. has a hero who needs to be a villain in order to accomplish the task he has set himself. In the last few pages I read, however, the real villain has been revealed as being a very clever, motivated person. I'm eager to see how the action continues.

I'm also eager to read your first historical romance. I already have it, but the library wants some of its books back before I can relax with it.
(Sigrun Schulz 7:18pm July 29, 2010)
Patricia, the best part of Gaston is that he really doesn't get it that he's evil. I love him, too. Thanks so much to everyone for the welcome at Fresh Fiction. What fun!
(EILEEn Dreyer 12:44pm July 30, 2010)
Your comment about the evil villans - No villain is truly villainous in his own eyes. - reminds me of a news commentator I heard last night saying the same thing about the terrorists!
(Karin Tillotson 1:58pm July 30, 2010)
Well, Karin, you want a definition of villain, I think that would do it.
(EILEEn Dreyer 1:15am August 3, 2010)
Registered users may leave comments.
Log in or register now!