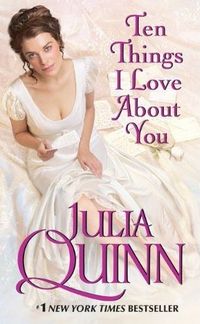 Purchase
Ten Things I Love About You
Julia Quinn
Avon
June 2010
On Sale: May 25, 2010
Featuring: Annabel Winslow; Sebastian Grey
384 pages
ISBN: 0061491896
EAN: 9780061491894
Mass Market Paperback
Add to Wish List

Annabel Winslow is a country girl at heart. She's staying with her grandparents in London for The Season with the intention of finding a husband wealthy enough to save her family from poverty. Annabel dislikes the idea of marrying a man she does not love, but her sense of duty runs deep. She's smart, expressive, and her figure is constantly compared to that of a "fertility goddess."
Sebastian Grey is in limbo. He's next in line to become the Earl of Newbury unless the current Earl, a despicable, portly man in his 60's, can find a bride who will bear him a son. Society is not quite sure what to make of Sebastian — on one hand he's handsome, charming, and may be extremely rich one day. On the other hand, he may wind up poor as a pauper. To complicate matters, the Earl of Newbury despised Sebastian's father, and consequently hates Sebastian as well.
When Annabel (quite inconveniently) becomes the object of both of their affections, a series of whirlwind events ensues. She knows that marriage to an Earl may be the only thing that will save her family from ruin, but the thought of submitting to Newbury disgusts her. And Sebastian's tempting touch certainly doesn't help. It soon becomes clear that Annabel must choose between her family's livelihood, and her one true love...
More Information
Ten Things You Should Know About This Book
1. Sebastian Grey is a devilishly handsome rogue with a secret.
2. Annabel Winslow's family voted her The Winslow Most Likely to Speak Her Mind AND The Winslow Most Likely to Fall Asleep in Church.
3. Sebastian's uncle is the Earl of Newbury, and if he dies without siring an heir, Sebastian inherits everything.
4. Lord Newbury detests Sebastian and will stop at nothing to prevent this from happening.
5. Lord Newbury has decided that Annabel is the answer to all of his problems.
6. Annabel does not want to marry Lord Newbury, especially when she finds out he once romanced her grandmother.
7. is shocking,
8. is delicious,
9. is downright wicked, all of which leads the way to
10 Happily. Ever. After.
Videos
Comments
1 comment posted.
Re: Ten Things I Love About You

Cute video. Sounds like a wonderful
book. Should be fun.
(Patricia Barraclough 9:44pm May 26, 2010)
Registered users may leave comments.
Log in or register now!