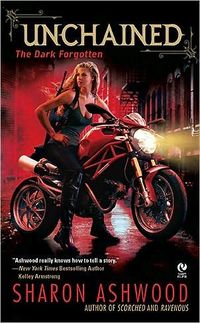 Purchase
Dark Forgotten #3
Signet Eclipse
July 2010
On Sale: July 6, 2010
Featuring: Captain Reynard; Ashe Carver
384 pages
ISBN: 0451230736
EAN: 9780451230737
Kindle: B003NX7OIM
Paperback / e-Book
Add to Wish List

Fantasy Urban | Romance Paranormal
Been there, slain that ... Ashe Carver, monster-killer, has the scars to prove it. But faced with a custody battle, she's hung up her stakes and taken a job at the public library, determined to show the courts and her ten-year-old daughter that she's as good a mother as she is a hunter.
Easier said than done. There are lovelorn vampires haunting the library, a slime demon in the shopping mall, and her new-mom sister needs a hand with her ghostbusting biz. Then, after centuries guarding a supernatural prison, Captain Reynard strides into her world like a hero from the library's Must Reads. Smokingly gorgeous, passionate and courageous to a fault, he has only weeks to live unless Ashe finds the thief who took his soul.
Ashe picks up her weapons to save the day—but not every problem can be solved with a stake. With so much tragedy in her past, Ashe fears the disaster she sees ahead—and prays she doesn't fail everyone. Again. Memories are the hardest monsters to kill.
Awards
Romance Writers of America RITA, Paranormal Romance, July 2011

Videos
Comments
39 comments posted.
Re: Unchained

Looking forward to reading the your book Unchained
(Linda Hall 2:53am July 5, 2010)
My favorite family tradition
is definitely Christmas. It's
the one holiday where
everyone's guaranteed to
appear at the festivities. My
grandmother does most of the
cooking, but my aunts make
some great side dishes. The
best
(Jacqueline Cook 3:19am July 5, 2010)
My favorite tradition would be Thanksgiving. It's family recipes, and whomever you call family present!
(Anne Harris 9:00am July 5, 2010)
Mine is Christmas too. My mother comes to stay and my Grandmother comes too. We remember fondly when my father in law and grandfather came too (sadly departed) and always fell asleep in the armchairs after lunch, my grandfather asking for an orange juice and then would whisper 'put a little drop of whiskey in that' so that Nan did not know.
(Barbara Hanson 9:00am July 5, 2010)
Thanksgiving, because it is all about being together and not so much about gifting and the competitiveness that can go with that tradition. Thanksgiving is just sitting, eating and reminiscing.
(Joanne Reynolds 9:07am July 5, 2010)
Our only family tradition is getting together every Xmas eve. What seems to be an unintentional tradition of the day is everyone standing around gorging on the myriad of delicious appetizers, then eating a little of the huge dinner, followed by barely cracking the surface of the 10 desserts.
(Bethany Cardone 10:53am July 5, 2010)
I LOVE this series and look forward to the next book.

Favorite family tradition lately has been Thanksgiving. ALL the family live close enough to travel to my house for the holiday. It's really nice.
(Susan Davco 12:19pm July 5, 2010)
My Favorite fanily tradition is Easter, we all have a GREAT breakfast and the little kids hunt eggs, the bigger kids have prize hunt and the adults just get to laugh and talk. It is the best.
(Vickie Hightower 12:44pm July 5, 2010)
My favorite family tradition is staying up all night on Christmas Eve baking and wrapping presents.
(Tara Woods 12:56pm July 5, 2010)
Sunday dinners are the best. Everyone helps out and we catch up on whats going on.
(Leni Kaye 1:16pm July 5, 2010)
My favorite family tradition is calling each other when we get a box. When I send my mom and sister a box I want to be on the phone when they open it!
I'm really, really looking forward to reading UNCHAINED!!!
(Melissa Keith 1:58pm July 5, 2010)
Fav family tradition... is Christmas, we put up the tree together, we play music all of the time, we have an early dinner together...
(Colleen Conklin 2:04pm July 5, 2010)
I cannot wait to read UNCHAINED! Love this series & your books!

We always had Christmas Dinner on Christmas Eve with my Mom, but since she passed away in 2004, we've really not done that. Now, my hubby & I usually have a burger on that day. It is a lot of work to make all that food for just us, so we don't.
(Kay Martinez 2:09pm July 5, 2010)
You certainly can't pick your relatives or often how you get along with them. Family is dictated by more than just birth. There are those who become family and are treated as such. I accept people for whom and what they are. None of us is perfect and we can't expect it of anyone else.
My favorite family tradition was getting together for Christmas midnight mass, then going to one set of grandparents for brunch afterwards. We would then go home and open our presents and go back to bed. Christmas Day, we would go to the other grandparents' house. We all live too far away to maintain that tradition and our children don't live close enough to do it. It is unfortunate because it was such an important extended family time.
I like the sound of your series. RAVENOUS is on my TBR Mountain. Hopefully I can read the two books together.
(Patricia Barraclough 2:22pm July 5, 2010)
send it my way i need a new read now! broke my ankle
(Debbi Shaw 3:09pm July 5, 2010)
My favorite family tradition is arriving at my sister's house for every occasion, and not having to cook. Whether it's a birthday, holiday, Mother's Day, whatever, she usually makes wonderful food and the family all gathers at her house for the fun.
(Barbara Elness 4:57pm July 5, 2010)
My favorite family tradition is Christmas. I love cooking the dinner and opening the presents with my family.
(Cheryl Lynne 5:42pm July 5, 2010)
My mom's birthday is in August, and I love it when all my sister's, hubby's and assorted kidlets are together to celebrate with her. Lots of good food and laughter.
(Cathy MacDonald 5:42pm July 5, 2010)
My favorite family tradition is any time I get to see my Grandmother who is 95. I don't get to see her often. We used to be there to celebrate her birthday every year and I always looked forward to it but this last year I was not able to be there. My mother in law broke her hip and has needed my husband and I more on a basis of several times a week, now twice a day every day at the nursing home, so I haven't been able to see my Grandmother. I have to say though spending time with my mother in law watching her make such strides in learning to walk again with her new hip, etc., has been very rewarding. I still miss Grandma! She lives three hours away.
(Brenda Rupp 5:46pm July 5, 2010)
My absolute favorite family traditon is done on Christmas Eve and Christmas. You try to be the first person to say "Christmas Eve Gift" or Christmas Gift to each family member on those days. We've even resorted to texting each other at Midnight. We always end up laughing and remembering how much or parents enjoyed the tradition.
(Maude Allen 5:57pm July 5, 2010)
Unchained sounds like a must read. I can hardly wait to get it!
mom1248(at)att(dot)net
(Patsy Hagen 6:15pm July 5, 2010)
We have a lot of Christmas traditions that I just love. Decorating the tree is such a family affair.
(Mary Preston 6:54pm July 5, 2010)
I am a free spirit, and can't imagine being chained. I am looking forward to winning this book!
(Maria Riedyk 8:49pm July 5, 2010)
My favorite family tradition used to be getting together with the family at Christmas. Now that my Mother has passed away, and I've moved out of town, I still make my Mom's ethnic dishes, but now I share them with my Husband and new friends that I have made. I made my own new traditions to cherish. Your book sort of sounds like my family. It made me chuckle when I read it!! Thank you for making my day!!
(Peggy Roberson 9:13pm July 5, 2010)
My favorite famly tradition is going around town before Christmas and looking at the Christmas lights.
(Julie Swaney 10:19pm July 5, 2010)
Hey everyone, thanks for commenting! It sounds like many family traditions centre around the holidays. It's the same in my family, too. Every Christmas afternoon we go for a long walk along the beach. It can be cold and windy, but the day doesn't feel right without it. It's the one day everyone stops to greet their neighbours.
(Sharon Ashwood 10:34pm July 5, 2010)
We have a traditional family vacation each year. It never the same place but always the same week and we alternate picking the spot. Every 3 years its our turn..we pick Hattaras each time!
(Sue Nodes 11:02pm July 5, 2010)
New Years is the one time of year where
the extended family gets together.
(Sue Ahn 11:34pm July 5, 2010)
My favorite holiday is Chinese New Year. My family goes through the Buddest offering ceremony at dusk to offer the spirits BBQ pork, fish, chicken and wine for a prosperous year of good fortune and health. We then offer a burnt offering of items resembling money and materials objects. These items are to go into the spirit's world so my family's ancestors have some comfort in the spirit's world.

Then the fireworks starts. This is to scare the evil spirits away. Whenever there the fireworks, the dragon dance always occupying the the fireworks.

Chinese New Year has so much ceremoninal traditions going on. That's is why I love this holiday.
(Kai Wong 11:35pm July 5, 2010)
I have to go and get the first book. The story sounds cool and I'm always looking for a good series.
(Ramona Glass 1:23am July 6, 2010)
Summer camping, getting all our gear together to camp and spend a summer weekend as a family kayaking and hanging out.
(Darci Paice 2:14am July 6, 2010)
Christmas is the one time all our family seem to be able to get together: work, friends etc are put aside for that occasion, no matter what.
(Diane Sadler 8:13am July 6, 2010)
You never know what you will find in a library!
(Karin Tillotson 10:12am July 6, 2010)
Over the years, as family members and circumstances change,traditions are harder to hold on to. But, my sister tries to get the family together for a yearly reunion. Looking forward to reading your new book.
(Sheila True 11:36am July 6, 2010)
Our favourite family tradition is getting together for Christmas dinner. There are 11 kids, with girlfriends, husbands, grandkids and usually a couple of friends. We can be up to 20 people and we have great food, and great fun!!!

Valerie
[email protected]
in Germany
(Valerie Bongards 2:50pm July 6, 2010)
Christmas is our favourite holiday. Our tradition is to take turns having the celebrations at each of our homes. One year it will finally be my turn.
(Tiffany Harvey 6:38pm July 6, 2010)
Hello Sharon, Please enter me in your fantastic contest and please let me know when I am a winner too!
God bless you with success,
Cecilia
(Cecilia Dunbar Hernandez 9:03pm July 6, 2010)
I'm reading your "blurb" and I can't get over how easily I too get sucked in over a "drop-dead gorgeous" hunka hunka burning love, so to speak. Count me in please!
(Elaine Seymour 10:38pm July 6, 2010)
Our Christmas is probably the
longest running tradition but
we love to get together
anytime at the drop of a hat
for a meal so that's pretty
traditional for us too!
(Lisa Richards 9:06pm July 8, 2010)
Registered users may leave comments.
Log in or register now!