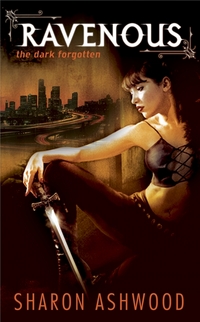 Purchase
One kiss is all it takes to lose your soul ...
The Dark Forgotten #1
Signet Eclipse
February 2009
On Sale: February 1, 2009
Featuring: Conall MacMillan; Alessandro Caravelli; Holly Carter
352 pages
ISBN: 0451226178
EAN: 9780451226174
Kindle: B005OOSZ2W
Paperback / e-Book
Add to Wish List

Holly Carver is a small-time witch who busts ghosts for tuition money, but ends up wrangling a demon when a haunted house job goes bad.
Her Undead business associate, Alessandro Caravelli, suspects the demon is somebody's not-so-secret weapon. The supernatural community is at war, and Holly's unpredictable magic holds the key to hell's doorway. Soon Holly is on everyone's "must have" list, and not in a good way.
Alessandro wants her for more than magic. A lover with six centuries of experience, the vampire is walking seduction, but he's also a predator. Every moment he spends guarding Holly, every second he spends falling under her witch's spell, he becomes more and more of a threat himself. As Holly's grandma warns her: vampires are like a box of rich chocolate—they seem so tempting, but over-indulgence is a killer...
Videos
Comments
25 comments posted.
Re: Ravenous

interesting trivia
(Robyn Lee 1:47pm January 29, 2009)
That would make me single forever. I could never sew a shirt to save my life (or to get married) Thank goodness for brave men getting down on one knee with a nice pretty ring to pop the question here. (0:
(Sandy Lapp 1:41pm January 30, 2009)

(Dorothy Divito 5:35pm February 3, 2009)
Sound yummy does this dish requier any cooking?
(Karen Bueling 1:49am February 8, 2009)
I wonder if the men back then understood that contract. :)
(Gigi Hicks 10:22am February 13, 2009)
Ravenous sounds great. I cant wait to get the chance to read it. I had never written to an author before I started reading blogs. It just never occurred to me.
(Donna Simmonds 12:14pm February 19, 2009)
Ravenous just went to the top of my tbr list. I've found so many new authors via Fresh Fiction's blog.
(Kay Martinez 12:21pm February 19, 2009)
Hi Sharon, I'm looking forward to reading Ravenous soon. I'd probably email more authors if I had more time, I spend too much as it is with all the book sites, blogs, etc., I try and get to. I've emailed some to congratulate them on winning a major award or with a question on a book or series. Sometimes I've won a book and after being notified, might end up going talking a bit more through emails on whatever, just last week it was about book recommendations with an historical author. Now it's easy to get to know more about our favorite authors more with blogs and chatting on book groups.
(Pamela Pellini 3:15am February 19, 2009)
Hi Sharon, I've been reading a lot about Ravenous and it sounds like a great read. I haven't read it yet but from the interviews I've read you are such an unique person I bet the book is incredible.
(Donna Locklin 7:43am February 19, 2009)
Hi Sharon. Ravenous sounds great. I love the cover. :)
(Crystal Broyles 11:13am February 19, 2009)
Hi Sharon, I have been reading about Ravenous on a lot of blogs lately and it sounds like a great read. I also e-mail authors pretty often to let them know that I enjoyed their books. I used to think you guys wouldn't have time to mess with a lot of e-mails but I have found out that author really enjoy hearing from their readers. Oh the wonders of the internet to let us keep in touch with our authors.
(Gail Hurt 12:05pm February 19, 2009)
Hi Sharon,

Your new book sounds like a good read. Have added it to my BTB list.
(Karen Haas 12:27pm February 19, 2009)
I've never actually emailed an author before you, Sharon. I always thought that they didn't have the time. But I'm glad that me emailing you was a lifeline.
If the prize is a copy of Ravenous, don't enter me in the contest, since I already have one and I don't want to take the chance away from someone else who doesn't have one.
(Ashley Madden 3:00pm February 19, 2009)
I've been hearing good things about Ravenous and already have it on my wish list.
(Cathy MacDonald 3:09pm February 19, 2009)
I have to get this one soon! Whenever I win a book I write to the author after I have read it to let them know how I enjoyed it!
(Martha Eskuchen 6:52pm February 19, 2009)
No, I didn't ever write directly to an author purely to tell me reaction to his/her book. However, I have enjoyed online chats since I discvered them and love to let authors know that I had read their work and how very much I appreciate their stories.
(G. Bisbjerg 8:00pm February 19, 2009)
I've been wanting to try this book since I saw the cover. It looks really good! I've emailed a few authors in the past usually with a quick question about their book. I always appreciate when they take a minute to respond as I'm sure they get tons of email.
(Michelle K 8:06pm February 19, 2009)
I really want to read this book:)
(Bridget Hopper 9:14pm February 19, 2009)
I read some really great reviews of RAVENOUS - can't wait to read it.
(Leslie Gladnick 12:00pm February 20, 2009)
I just bought my copy of your book and I can't wait to sink my teeth into it ...... I loved the cover art and the back cover makes it sound like it will be a really great read ... THANK YOU for writing it ... :o)'s ... I LOVE LOVE LOVE books ..... and anything paranormal is all the better .... what can I say I like my books with a bite ...(LOL) to them
(Amber Baldwin 4:25am February 25, 2009)
I love your writing and I would love to have a signed copy of RAVENOUS.
[email protected]
Lorraine
(Lorraine Larose 9:52pm March 17, 2009)
I just finished reading Ravenous. Great charactors and wonderful storyline. I look forward to the next novel with Holly, Alessandro, Mac and the others. (Hope its soon). You have a gift, please keep the stories coming!
(Michelle Smith 12:36pm April 5, 2009)
I've never made pumpkin bread with molasses, sounds yummy.
(Theresa Buckholtz 5:53pm September 29, 2009)
I would love to try this recipe. I'll have to save this one for when my family is visiting!
(Brenda Rupp 12:22pm October 20, 2009)
I really have to stop these tantalizing recipes recipes late at night sounds absolutly delish.
(Susan Lathen 2:27am December 3, 2009)
Registered users may leave comments.
Log in or register now!