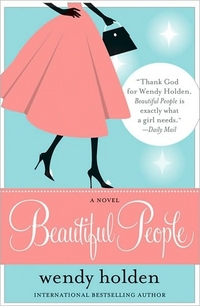 Purchase
Sourcebooks Landmark
April 2010
On Sale: April 1, 2010
Featuring: Belle
432 pages
ISBN: 1402237154
EAN: 9781402237157
Trade Size
Add to Wish List

Romance Contemporary | Women's Fiction
Wendy Holden's ninth novel blissfully returns to the witty, unputdownable style of her best-loved early bestsellers, featuring the trademark Holden wit that prompted the Daily Mail to say: "Thank God for Wendy Holden."
A fabulous romantic romp revolving around the adventures of a struggling actress, a fame-crazed former film star, and a down-to-earth nanny, Beautiful People jets to London, Hollywood, and Italy at a frenzied pace. Holden crafts a tale wicked in its observations yet buoyant at its heart: a masterful return to the swashbuckling verve her adoring fans devour. A confection that's made for summer reading.
Fame, love and happiness.

Can anyone have it all? Darcy's a struggling English-rose actress when The Call comes from LA. An Oscar-tastic director. A movie to make her famous. The hunkiest co-star in Hollywood. So why doesn't she want to go?

Belle's a size-zero film star but she's in big, fat trouble. Hotter than the earth's core a year ago, she's now Tinseltown toast after her last film bombed. Can she get back to the big time?

When the two women lock horns over men, movies and megadiets, there's more drama than even Hollywood can handle. And after a celebrity nanny, reluctant supermodel and passionate star chef enter the mix, things get seriously hot and spicy...
Comments
32 comments posted.
Re: Beautiful People

I have a varied taste in humor. I like everything from wry British humor to slapstick.
(Marlene Breakfield 1:18am April 21, 2010)
I love humor, just sometimes it might take a little bit for me to realize that something was really funny.
(Joanne Reynolds 6:29am April 21, 2010)
The key to humor is to laugh with someone, not at them.
Blessings,
Marjorie
(Marjorie Carmony 7:45am April 21, 2010)
Humor is part of making it in this great world. Humor goies hand in hand with all emotions. Thank you for the laugh.
(Cynthia Plaza-Harney 8:41am April 21, 2010)
I always enjoy romances with one or more characters that have a funny side.
(Sherry Russell 8:43am April 21, 2010)
Laughing with my Husband.
(Pat Wilson 9:13am April 21, 2010)
My husband says I have no sense of Humor, But thats not true. lol I just don't find the same things funny. I laugh when I'm talking on the phone with friends or having lunch with them. I don't laugh at jokes really. Just laugh when I'm having a good time.
(Christine Hirth 10:14am April 21, 2010)
I like physical comedy that you see in many of the classic comedies. As long as it's silly and fun I'll laugh.
(Leni Kaye 12:34pm April 21, 2010)
I love jokes!-
THE SILENT TREATMENT
A man and his wife were having some problems at home and were giving each other the silent treatment.
Suddenly, the man realized that the next day, he would need his wife to wake him at 5:00 AM for an early morning business flight.
Not wanting to be the first to break the silence (and LOSE), he wrote on a piece of paper,
"Please wake me at 5:00 AM." He left it where he knew she would find it.
The next morning, the man woke up, only to discover it was 9:00 AM and he had missed his flight. Furious, he was about to go and see why his wife hadn't wakened him, when he noticed a piece of paper by the bed. The paper said, "It is 5:00 AM. Wake up."
Men are not equipped for these kinds of contests!
(Lori Roche 12:54pm April 21, 2010)
I love humor in books--just like in real life. Your book sounds great. Thanks for visiting.
(G S Moch 1:35pm April 21, 2010)
I find that I have a dry sense of humor. I do like some slapstick if it is done well and believe that laughter will extend your life.
(Cindy Olp 1:37pm April 21, 2010)
I enjoy reading about humorous situations in books., especially when the character can laugh at themselves. However, I don't like "humor" that is at another persons' expense.

Your book sound delightful to read. Thanks for telling us about it.
(Robin McKay 1:44pm April 21, 2010)
The book looks awesome. Can't wait to read it. Thanks for the laughes today. It was a hard day as the spouse of a friend passed away unexpectently this morning.
(Joelle Beebe 4:57pm April 21, 2010)
I can't wait for this book. My husband says I am the only one that thinks I am funny,and I am funny all the time. I can find humor in anything. I would rather laugh than cry.
(Tonya Atchley 5:32pm April 21, 2010)
It's always good to laugh!
(Diane Sadler 7:11pm April 21, 2010)
Clever humor makes me laugh. A dry wit or clever retort.
(Mary Preston 7:37pm April 21, 2010)
Love Groaners - you know, it's really a joke or play on words, but many people don't get it! When you can see the punch line from a mile away the joke can become a yawner! Or, to make a short story long - your Belle is wonderfully dumb!
(Karin Tillotson 7:45pm April 21, 2010)
Love the playful arguing and the give and oh so heavy taking that covers the dilemmas. My mouth hurts from smiling so hard.
(Alyson Widen 8:10pm April 21, 2010)
That certainly sounds like an interesting book. Maybe a bit close to reality for some celebs..
(Vikki Parman 8:22pm April 21, 2010)
I have always enjoy book with humor in them. I definitely picking up a copy of this book.
(Kai Wong 8:27pm April 21, 2010)
I love it when humor is used to break up
a tense scene.
(Sue Ahn 9:41pm April 21, 2010)
My sense of humor is varied from the really stupid stuff like the etrade baby comercials or the macabra.
(Brandy Blake 10:27pm April 21, 2010)
Hmmmm... I've always been a fan of dry wit and sarcastic humor in books and movies. You know, the comments that 30 percent of the people get right away, 40 percent get a few seconds to a minute later, and 10-15 percent never get at all even if you explain it to him. I love PUNS and humor based on what we know... like name humor. Good example, I'm showing photos in an art gallery exhibit next month titled "Little Shop of Flowers" where the theme is oddball or strange floral shots (a humoristic take on Little Shop of Horrors).
(Donna Holmberg 10:39pm April 21, 2010)
Very funny. I do like your sense of
humor.
I like dry wit and the sense of the
ridiculous. Having a character who is
clueless and innocently making
comments which can readily be taken
in a way other than they were meant is
funny. She/he usually doesn't have a
clue what they said, or they only
realize it after it has been said. Funny
for everyone else, but embarrassing
for the individual. Been there, done
that. Call me clueless : )
(Patricia Barraclough 10:40pm April 21, 2010)
I love the (dialogue) portions of novels whether it be funny or serious.

Great dialogue is the key....IMO....to making the reader feel as though they are a witness to the conversation...and ensconces them in the story.
(Mitzi Hinkey 11:32pm April 21, 2010)
I Love humor in romance books & movies. Sandra Hill Books always make me laugh. when i'm feeling depressed i always pick up one of her books. i dont care if i have read it a million times. Hugh Grant always makes me laugh so of coure i pick one of his movies.
(April Kirby 2:26am April 22, 2010)
I love a book that while reading
it will cause me to laugh out
loud. Freeks my hubby and kids
out as they are sure I'm having a
senior moment.
(Lisa Richards 9:50am April 22, 2010)
My kids make me laugh... some of the things that teenage girls come up with is a riot!!!
(Brandy Blake 1:35pm April 22, 2010)
I LOVE LAUGHING WITH SOMEONE ELSE AND THE MORE WE LAUGH THE EASER IT IS TO FIND FUNNY THINGS, i HAVE ONE DEAR FRIEND THAT WE LAUGH AT ALL KINDS OF STUPID THINGS BUT SHE IS THE PERSON THAT I LIVE TO SPEND TIME WITH THE MOST.
(Vickie Hightower 1:36pm April 22, 2010)
I really enjoy books that make me laugh out loud -- bunbling heroes and/or heroines. I also love to laugh with family and friends.
(Cathy Phillips 5:30pm April 22, 2010)
My wonderful grandchildren makes me laugh. You never know what children will say next and it what context. Thank you for this great contest!
(Cilfton Wade 8:17pm April 23, 2010)
Hmm, certainly my type of humor, which depends mostly on the use of language to show something strange or funny, rather than pratfalls and other slapstick humor. I've never found much humor in the latter.
(Sigrun Schulz 1:35am April 24, 2010)
Registered users may leave comments.
Log in or register now!