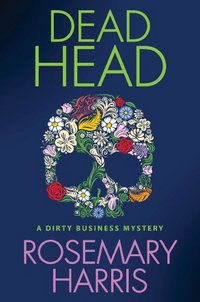 Purchase
A Dirty Business Mystery #3
Minotaur Books
April 2010
On Sale: April 13, 2010
Featuring: Paula Holliday
256 pages
ISBN: 0312569947
EAN: 9780312569945
Kindle: B003GWX8LM
Hardcover / e-Book
Add to Wish List

Other Editions
Mass Market Paperback (April 2011)
When Paula Holliday learns that one of her new friends is actually a fugitive who's been on the run for years, she's hired to find the person who outed the woman and in doing so finds that a lot of people are not always who they seem to be.
The third entry in the suburban noir series which Carolyn Hart called "quirky, original and captivating" and the Connecticut Post called "a sophisticated mix of comedy, romance and murder."
Videos
Dirty Business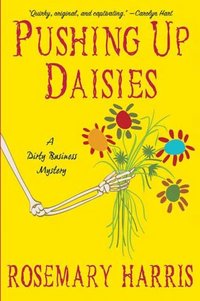 Pushing Up Daisies
#1.0
Amazon.com | BN.com | | |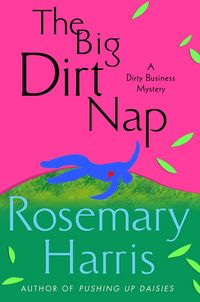 The Big Dirt Nap
#2.0
Amazon.com | BN.com | | |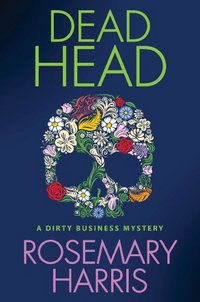 Dead Head
#3.0
Amazon.com | BN.com | | |

Slugfest
#4.0
Amazon.com | BN.com | | |
Comments
67 comments posted.
Re: Dead Head

Go ahead, red is a favorite for dress-up days and wearing it is a real perk.
(Alyson Widen 12:56pm January 21, 2010)
Go for it!! Accessorize well and you'll be a winner. And definitely Macy's for bras and not Victoria's Secret! Their bra straps are too long.
(Kelli Jo Calvert 1:13pm January 21, 2010)
With your dark hair and red dress, you'll be a knock out.
(Robin McKay 1:19pm January 21, 2010)
You were drawn to this dress because you were meant to wear it. The color fits the atmosphere,too.
(Leni Kaye 1:27pm January 21, 2010)
When I was in 4th grade a cute little blond told me that I should never wear red because it made me look as big as a barn. For years I didn't wear red. Now I know that if I look good in it I should wear it - even if it is red!
(Karin Tillotson 1:59pm January 21, 2010)
Love the dress. I hope you feel like a million dollars in it!!
(Mary Preston 3:29pm January 21, 2010)
I love red! I have lots of it in my closet. My tamer colors are beige or tan. I go for brown rather than black for more formal occasions. You sometimes run into a room full of black. Enjoy your red dress. I bet you get lots of compliments on it. Let us know how you felt and any comments. Okay? Have a great time!
(Gladys Paradowski 4:00pm January 21, 2010)
Very nice red dress. Be daring and bold. I agree with Mary, you'll feel like a million dollars in it.
(Armenia Fox 5:11pm January 21, 2010)
Good choice on color, red is a definite pick-me-up. Have a smashing time!
(Theresa Buckholtz 6:12pm January 21, 2010)
red is gorgeous, live dangerously at least once in your life!
(Diane Sadler 7:41pm January 21, 2010)
Just keep thinking about Gone with the Wind and wear the dress!! (I think we all have something like that in our closet at some point!!)
pennyt@hotmail.com
(Penny Tuttle 8:09pm January 21, 2010)
Karen, I think that blonde was just jealous! But amazing how something we're told when we're young can stick with us. If I'm going to wear the red dress I'd better stop eating these chocolate covered pretzels..
(Rosemary Harris 4:24pm January 22, 2010)
Mystery, suspense, humor.. what more can an avid reader ask for. Thanks for the opportunity to enter.
(Brenda Hill 5:34pm April 11, 2010)
Please enter me! Thanks for the chance!
(Nancye Davis 7:36pm April 11, 2010)
Interesting premise. Please enter me.
Dee Feagin
(Dolores Feagin 9:40am April 12, 2010)
I can fully relate to how much you really know about your neighbors. We lived in a very quiet neighborhood that I actually grew up in. In the last year alone the police raided a drug house that we had no idea of the family seemed nice with young children. Then what finally made us move was one of my sons childhood friends was murdered in his own home by his brother. Now this is by no means a large city it is under 60000 people. I can not wait to read your book. Please enter me in your contest.
(Cindy Olp 3:11am April 13, 2010)
Up here in Maine, we don't seem to have as many things happening as some of the larger cities in states outside of New England but one of the first comments you hear from those neighbors who are interviewed after a murder or something like that happens is "They seemed like such nice people and were friendly, quiet neighbors. I just can't believe it". It is the same everywhere I guess, people aren't close to their neighbors like they used to be in the 50's and 60's. Then, you could safely leave your cars and homes unlocked and not worry...your neighbors 'looked out' for you. Now it seems, they 'look out' just to see when you leave with other than "protection" in mind. Your contest is so unique! With all that is going on in my life right now, to be able to "dress up" and "pretend" to be someone else and just disappear for a day sounds so very inviting! Sure hope that I win! :) Thanks for being so generous and offering your fans such an unusual and fun contest.
(Cheri Minott 4:39am April 13, 2010)
This book sounds absolutely fascinating!
(Joanne Reynolds 6:59am April 13, 2010)
All I can say is --- WOW! Okay, maybe that's not ALL I can say... I would love to have a peak into your idea file. What else is in there?
(Rachel Turner 9:15am April 13, 2010)
forgive me... "peek". LOL
(Rachel Turner 9:17am April 13, 2010)
While my children were growing up, we knew all our Neighbors. But times have changed & people are not as open as before. Hi & Bye at the mail box & that's it.
(Pat Wilson 9:55am April 13, 2010)
I love your books. This one sounds like a fun read, too. Thanks for visiting.
(G S Moch 10:20am April 13, 2010)
Going on a cruise in May, would love to take this book. I could use the "lam" items to surprise my hubby. LOL.
(Donna Hay 11:09am April 13, 2010)
Enter me please.
(Sherry Russell 11:14am April 13, 2010)
Everyone has such a hectic life that it would be easy to hide in plain sight. Who would know! Good luck with your new release.
(Rosemary Krejsa 1:10pm April 13, 2010)
We don't know our neighbors very well. Sharon Engel
(Sharon Engel 1:50pm April 13, 2010)
Clever prize for a clever a book.How does your garden grow.
(Catherine Myers 1:51pm April 13, 2010)
A little too well out here!! They always tend to show up when I want to get something done, because they're bored.
(Peggy Roberson 2:39pm April 13, 2010)
I had to LOL when I read your giveaway prizes. You sure do have a GREAT imagination! I thought you gave it a LOT of thought (and time/expense), especially with tying in the book. I look forward to reading your book(s). Thanks for having us here!
(Elaine Seymour 2:59pm April 13, 2010)
I have the best nieghbors there is. Recently my husband had fallen (he's handicaped) and I couldn't lift hin into the chair. I knew my neighbor next door was awake at 6am and I ran over to ask for help. He came over and helped my husband into a chair, then said " Your closest family is your next door neighbor". How true. Thankfully my husband is on the mend and getting better every day. I'd really enjoy reading your book.
(Evelyn Day 3:32pm April 13, 2010)
Sounds like a cool book!
(Lori Roche 4:00pm April 13, 2010)
Ohhh! This sounds like a fun prize!
(JoAnn White 4:02pm April 13, 2010)
I live in an ethnically mixed neighborhood where English is NOT the most commonly heard language; so I agree wholeheartedly that it can be difficult to "make friends" (long-term) with our neighbors. On the other hand, my non-English speaking neighbors would be the first to help if I ever needed it, even if I had to mangle their language(s) asking for it. I think that at some point in our lives we have fantasized about abandoning everything and just starting over with a clean slate. Fortunately, most of us have better coping mechanisms and can sort things out without running away for more than a 'mental health day'.
(Susan Driskill 4:09pm April 13, 2010)
Book sounds great, please enter me in the contest.
(Marlene Breakfield 5:34pm April 13, 2010)
Sounds really good. I love the idea of a Fugitive Survival Kit. My neighbors are great(that I know of). I could use an escape from the kids, and reading is my daily escape from daily life. Thanks for the read.
(Tonya Atchley 5:44pm April 13, 2010)
This would be my first book of yours to read. Sounds great!!! Lisa 4/13/10
Please enter me in your contest.
(Lisa Bolling 5:56pm April 13, 2010)
Looking forward to reading Dead Head. Thanks for the chance to win a copy
(Teresa Ward 6:33pm April 13, 2010)
Great timing for this giveaway...with tax time creeping up on us.
(Cheryl Greenleaf 6:57pm April 13, 2010)
I would love to read this one. Sounds great!
(Arantza Cazalis 7:04pm April 13, 2010)
What a prize .
(Deb Pelletier 7:38pm April 13, 2010)
I can't imagine what it would be like to hide my true identity. It would be too easy for me to fumble details.
(G. Bisbjerg 8:05pm April 13, 2010)
It is hard to disappear these days unless you have alot of cash stash at several locations. Even lying is hard. You have to keep track of what lies you have told to different people and make sure the lies are consistent.
(Kai Wong 9:07pm April 13, 2010)
Hello Rosemary, Please enter me in your fantastic contest. Yes, I would love to win your neat contest and I love entering and winning contests from FreshFiction.com
God Bless Everyone, Cecilia
(Cecilia Dunbar Hernandez 9:23pm April 13, 2010)
This sounds like a fun cozy mystery!
(Christy Hawkes 10:24pm April 13, 2010)
What is that old saying..If first you practice to deceive..you end up in a tangled mess! That would be me! Your books sound like funny, intriguing, & creative reads. I shall look them up!
(Jean Merriott 11:37pm April 13, 2010)
I grew up as a military brat, where neighborhoods were like tight family groups and everyone always knew their neighbors... up one street and down the other, for blocks around. You knew the folks in your entire development and in your Dad's entire unit. Boy have times changed.

Now, as an adult, I have a lot of military brat left in me. I've moved into a small section at the back end of a housing development and set about making this small area more like our old military housing areas were. I've initiated block parties and started summer meet and greets, gotten groups of moms together to do welcome baskets for new familes, and I do small holiday presents for every single family in our little section. I can honestly say that there is more comraderie in our little group than in the rest of the entire development, and each season it gets better and better.... but who knows what lurks in that dark basement of the little old lady who bakes those wonderful chocolate chip cookies for our ice cream socials each summer? LOL
(Donna Holmberg 11:48pm April 13, 2010)
That sounds like some fun I would love to go on the lam for awhile.
(Stacey Smith 1:26am April 14, 2010)
I've read "Pushing Up Daisies" but I think I need to read it again. I try to look at the bright side of my disability and while having such an awful memory (one aspect of my disability) makes a lot of things difficult, it can save money on books and movies! Since I've read a LOT of other books since having read "Pushing Up Daisies" I've forgotten most of the story but I know I loved it or I wouldn't have bought it! I would love a chance to win this prize and I agree with the person who said you even showed your creativity in choosing exactly what to offer! Your post really got me thinking about my neighbors and I have to say, it's kind of scary how true it is that we don't know all that much about our neighbors. I also wanted to add that I would LOVE a look at your idea file too! Not to use your ideas, of course, but because I like the way you think! LOL :-)
(Dawn Detkowski 3:34am April 14, 2010)
Very good point. We always think of our neighbors as being ok until we see them on the evening news.
(Theresa Norris 6:02am April 14, 2010)
Dead Head sounds like fun, just as our neighbors are.
Blessings,
Marjorie
(Marjorie Carmony 7:05am April 14, 2010)
I love your books and this is another one that I can't wait to read. Keep writing so that we can keep enjoying your books.
(Lori Duhoski 7:44am April 14, 2010)
Your book sounds like a fun read. You also bring up a good point...what do we really know about our neighbors? We only see what they want us to see. Anything could be lurking behind closed doors:).
(Robin McKay 8:49am April 14, 2010)
Your book sounds great. I was just thinking the other day as someone walked past my house that I had no idea who they were or if they even lived near here. Sad, isn't it:( Your contest prize is unique
(Barbara Studer 8:58am April 14, 2010)
I grew up in a small town. Our neighbor told my grandmother who I went out with, what color dress I wore, AND how long we stayed in the car when we got home! On the other hand, there were neighbors with tal hedges who talked to no one...
(Karin Tillotson 9:31am April 14, 2010)
We live in a small neighborhood on a lake (and just 3 miles from the ocean beaches) with only 24 houses. We all pitch in to help each other by feeding and walking pets while their owners are on vacation to keeping an eye on each others property. When my husband was out of state working two neighbors came over during last winter and helped me shovel out my driveway and walks so I could get to work on time! Talk about trusting the neighbors - we have lived her since 1974 and don't lock the doors even when we go on vacation!
(Jeanne Miro 11:32am April 14, 2010)
I know what type of music my neighbors listen to. The premise of this book sounds fascinating because it is always fun to find out about others through the characters eyes.
(Leni Kaye 12:23pm April 14, 2010)
With humor and suspense-how can
you go wrong?
(Lisa Richards 2:47pm April 14, 2010)
My neighbors are frustrating, they break into things and steal, but I'm sure there is even more substance to them somewhere. Who knows... maybe they'll move soon.
(Freda Mans-Labianca 2:58pm April 14, 2010)
We know some of our neighbors, but not all...
(Diane Pollock 4:04pm April 14, 2010)
How well do we really know anyone?
(Shannon Scott 4:42pm April 14, 2010)
This sounds like a must read...for me. I don't know many of my neighbors and none of them well. They could be in your book!
(Patsy Hagen 8:46pm April 14, 2010)
This sounds like a fun book. I know a few of my neighbors by sight, only a couple to talk to, and some not at all!
(Cheryl Bradley 10:32pm April 14, 2010)
Sounds like a great book! I can't wait to read it!
(Kristen W. 11:29pm April 14, 2010)
Thanks for all the kind words. Great comments! And some great observations. I was convinced that I'd see one of my neighbors being hauled off by the cops one day. He was a swinging bachelor until one day a woman with a 10 yr old showed up and moved in! Bet there's a story there.
(Rosemary Harris 12:28pm April 15, 2010)
I know my long-time neighbors quite well, it's the newbies that have me peeking out of the curtains.
(Mary Preston 12:08pm April 16, 2010)
I can't wait to read this!! I may read out of order and skip to this one!!
(Kelli Jo Calvert 5:50pm April 16, 2010)
Thanks Kelli! No need to read in order, they all stand alone.
Cheers!
(Rosemary Harris 8:44pm April 16, 2010)
Registered users may leave comments.
Log in or register now!